Table of Contents
2018 BHA AGM President's Report
2018 BHA AGM Secretary's Report
2018 BHA AGM - Treasurer's Report
2018 BHA AGM - Financial Report
BHA 2019 Hobart Convention
Club News
Fleurieu Harmony
SOUNDWAVES
The Blenders
Woolongong Mens Barbershop Chorus
Melbournaires
Hills Harmony
Southlakes Harmony (Our newest Club)
High Altitude Harmony
Vocal Evolution
Festival Statesmen
Novatones
Position Vacant - Music Director - Vocal Evolution
Letters to the Editor
Message from Derek Cosburn
Tongue Twisters
In Praise of Baritones
2018 BHA AGM President's Report
| | |
| --- | --- |
| Type of post: | Minutes, etc |
| Sub-type: | No sub-type |
| Posted By: | Trevor Rootes |
| Status: | Current |
| Date Posted: | Sun, 9 Dec 2018 |
| | |
| --- | --- |
| | Attachment (554kb) |
---
2018 BHA AGM Secretary's Report
| | |
| --- | --- |
| Type of post: | Minutes, etc |
| Sub-type: | No sub-type |
| Posted By: | Trevor Rootes |
| Status: | Current |
| Date Posted: | Sun, 9 Dec 2018 |
| | |
| --- | --- |
| | Attachment (100.9kb) |
---
2018 BHA AGM - Treasurer's Report
| | |
| --- | --- |
| Type of post: | "In Harmony" Newsletter |
| Sub-type: | No sub-type |
| Posted By: | Dick Bushell |
| Status: | Current |
| Date Posted: | Tue, 18 Dec 2018 |
| | |
| --- | --- |
| | Attachment (88.3kb) |
---
2018 BHA AGM - Financial Report
| | |
| --- | --- |
| Type of post: | Minutes, etc |
| Sub-type: | No sub-type |
| Posted By: | Trevor Rootes |
| Status: | Current |
| Date Posted: | Sun, 9 Dec 2018 |
| | |
| --- | --- |
| | Attachment (98.6kb) |
---
BHA 2019 Hobart Convention
| | |
| --- | --- |
| Type of post: | "In Harmony" Newsletter |
| Sub-type: | No sub-type |
| Posted By: | Dick Bushell |
| Status: | Current |
| Date Posted: | Tue, 18 Dec 2018 |
Compliments of the season!
Another year draws to a close and many of you will have retired your pitch pipes (at least for a few weeks) having completed your Club's traditional end-of-year concerts and Christmas sing outs. But even as we start to wind down and relax many have already been busy planning for the coming year. Most Club committees will have started planning their Club events for 2019. Regional boards have locked in dates and venues for their local contests and workshops. Your National Council also has some big plans afoot to support you and keep you inspired, to help you gain maximum enjoyment from this great hobby.

The main focus of my portfolio is our annual National Convention which next year will be in Hobart. It will be held from 18th to 25th September including 3 days at Rokeby for the annual Harmony Academy. The main proceedings will be at the Wrest Point Hotel in Sandy Bay. The event will include some exciting new activities for members to get involved in – we're keeping the details under wraps for now until the launch of the new Convention website early in the new year, however, the plan is to have a broader outreach into the public arena to promote our hobby to the masses.
So, mark those dates in your diaries, start planning your flights and accommodation, and hey, why not stay an extra week or two? Tassie's a great O/S* holiday destination!
Best wishes to all of you and your families for a joyful Christmas.
*over strait
Warm regards,
Richard
Richard Wadick
Vice President - Events
---
Fleurieu Harmony
| | |
| --- | --- |
| Type of post: | Club news |
| Sub-type: | No sub-type |
| Posted By: | Dick Bushell |
| Status: | Current |
| Date Posted: | Tue, 18 Dec 2018 |
The Convention is now well and truly over but we still have good memories of participating and meeting so many of our barbershop colleagues. Now back to learning new Christmas songs and brushing up on the old ones ready for our Christmas events.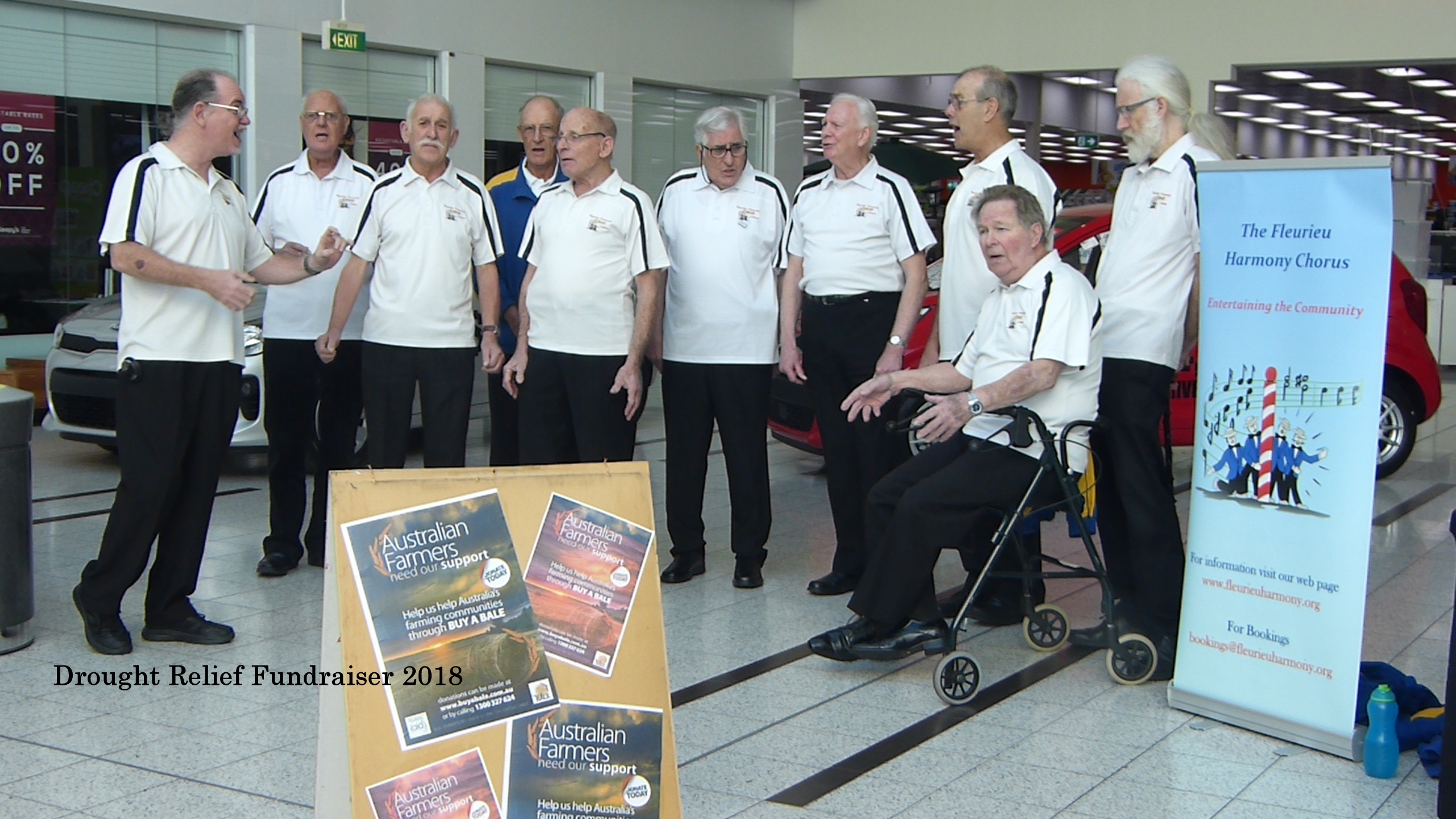 In August and again last week we held drought relief fundraisers for Rural Aid "Buy a Bale"at our local shopping centre Seaford Central and raised over $1,000 thanks to the support of generous shoppers.

We will be holding our end of year break up BBQ on the 14th at a local park , although we still have a couple of singouts before Santa arrives.

Thanks to all those volunteers and helpers that have made it such a successful year and best wishes to all our barbershop friends for a Very Merry Christmas and a Happy and Healthy New Year

Gordon Tomlinson - President
---
SOUNDWAVES
| | |
| --- | --- |
| Type of post: | Club news |
| Sub-type: | No sub-type |
| Posted By: | Dick Bushell |
| Status: | Current |
| Date Posted: | Tue, 18 Dec 2018 |
We have had a busy time with performances and rehearsals in the last few months. We performed at the most recent Australia Day Citizenship Ceremony at Gosford Council Chambers, and have also performed at the 25th Anniversary of Lake Macquarie Probus Club in Toronto, receiving a standing ovation, and have singouts scheduled for Woy Woy and the Central Coast Leagues Club AGM.

With Christmas just around the corner, we are already booked in for singing engagements at Wyoming Shopping Centre and are awaiting on the final listing for the Christmas Carols event at Central Coast Stadium.

We have been advertising our Chorus on local Community Radio, through a Seniors Newspaper and also in other publications, and have been lucky enough to attract 6 new members. We gladly welcome any new members, who wish to experience what Barbershop Harmony singing can offer.

Soundwaves rehearse every Monday night from 7.00pm at Central Coast Leagues Club, Gosford. If anybody in the Central Coast region, is interested, we are always happy to see you. Also, if you are already a BHA member, and wish to join us for a night of great Barbershopping and fellowship, please feel free to drop in.

We look forward to seeing you.

Brian Dye
Publicity Officer
Soundwaves Chorus
---
The Blenders
| | |
| --- | --- |
| Type of post: | Club news |
| Sub-type: | No sub-type |
| Posted By: | Dick Bushell |
| Status: | Current |
| Date Posted: | Tue, 18 Dec 2018 |
THE BLENDERS CELEBRATE 3O YEARS
Way back last century in 1988 a group of men came together to form The Banana Blenders. Little did they know that 30 years later that the club would still going strong albeit with the banana peeled from the clubs name and rebranded as The Blenders.

On Saturday 3rd November, The Blenders held their 30th Anniversary celebration and Awards Night. During the previous six months or so, attempts were made to contact every past Blender and invite them along to join in our celebrations. Without those past members we would not have the club that we have today. So along with VIPs, special guests, Blenders Alumni and current members we gathered to celebrate this major milestone.

During the preceding weeks past members came to rehearsal where they rehearsed with the current chorus so that we could put on a combined performance of Shendoah at the dinner. It was very clear that the past members had not lost their voices.

There were many highlights of the night, however, one was the official launch of The Blenders Alumni Scholarship Fund. The fund is set up to take donations and investments for the furthering of Barbershop through The Blenders, primarily focussed on our youth and assist with skills development. The other major event was the awarding of a Life Membership to Joe Lam. Marty Monson, of BHS, along with others made appearances by video, sharing memories and offering their congratulations and best wishes.

Well the dust has now settled and we move on and also reflect on our year. We have had a big year with the major highlight of singing in the closing ceremony of the Commonwealth Games still etched clearly in our memories. And who could forget the wonderfully organised Convention in Adelaide where we achieved one of our highest scores.

Our last rehearsal for the year has been held, and we were granted an early reprieve from rehearsal where members and Alumni joined together at the pub for a few quiet drinks and of course some singing. Rehearsals may have finished however, we are still have a couple of Christmas gigs to do. Speaking of Christmas, The Blenders would like to wish all our Barbershop friends here in Australia and overseas, all the best for Christmas and the New Year. Have a safe break and we look forward to catching up in 2019.

Ian Mackey
Secretary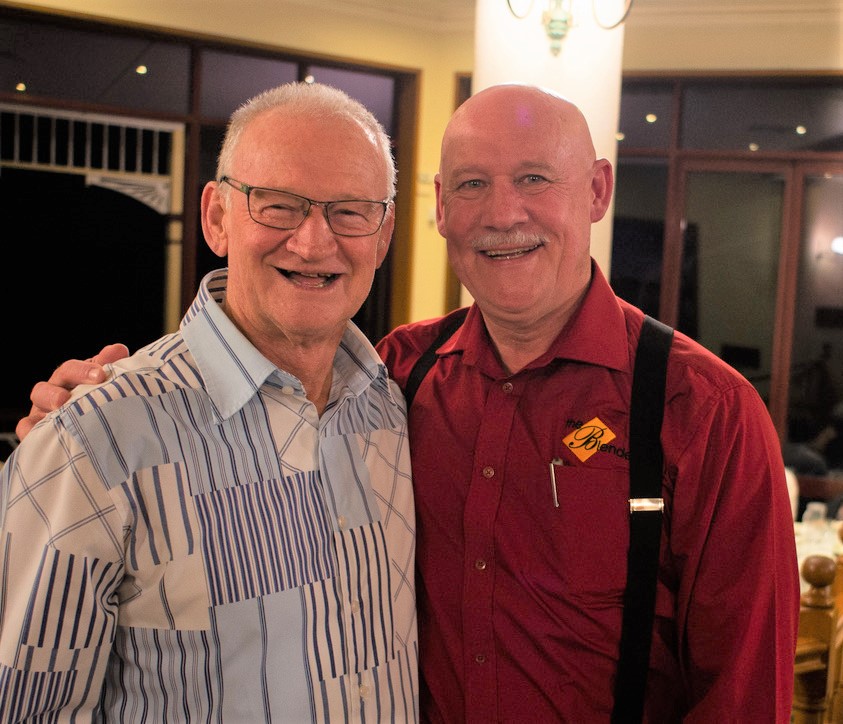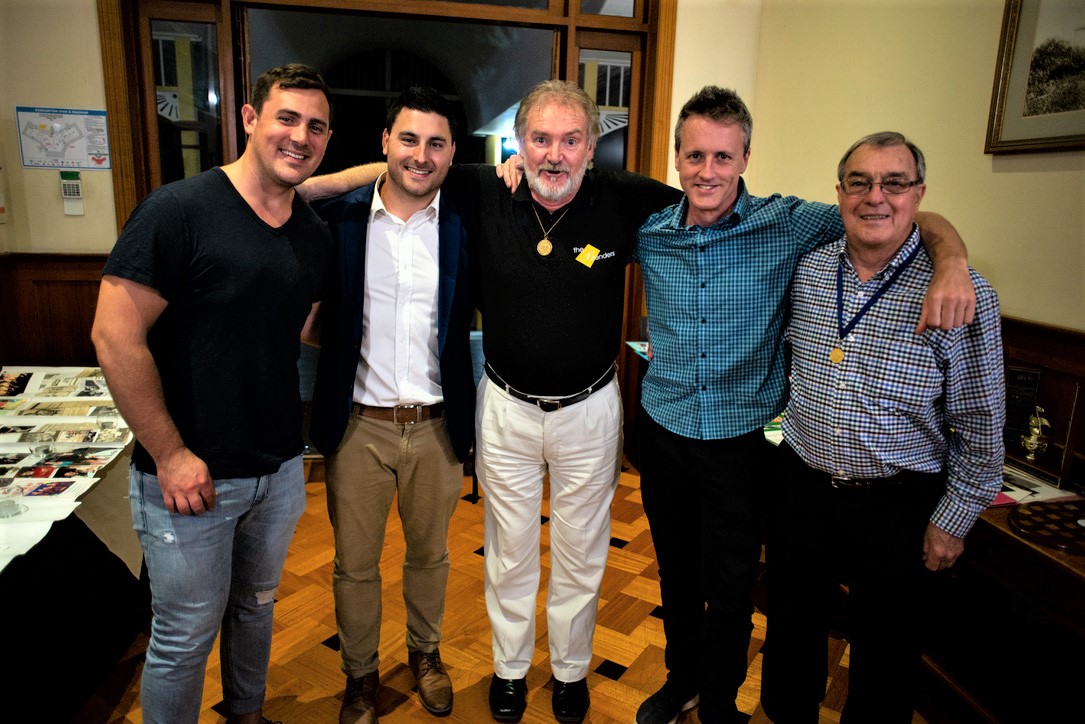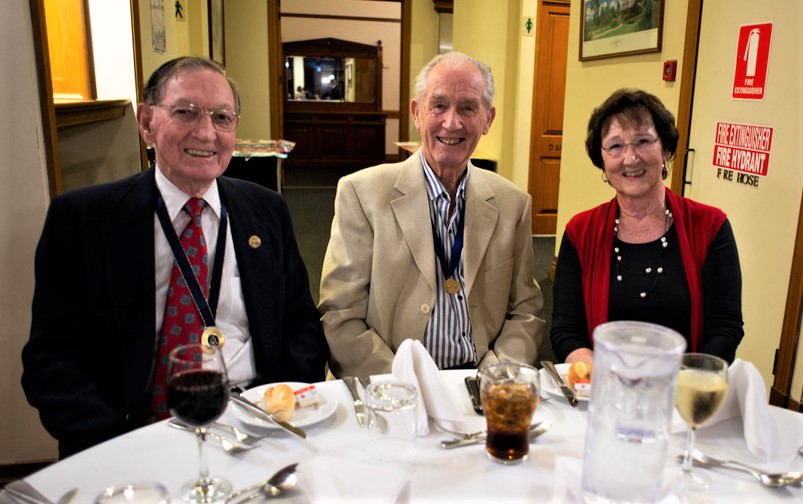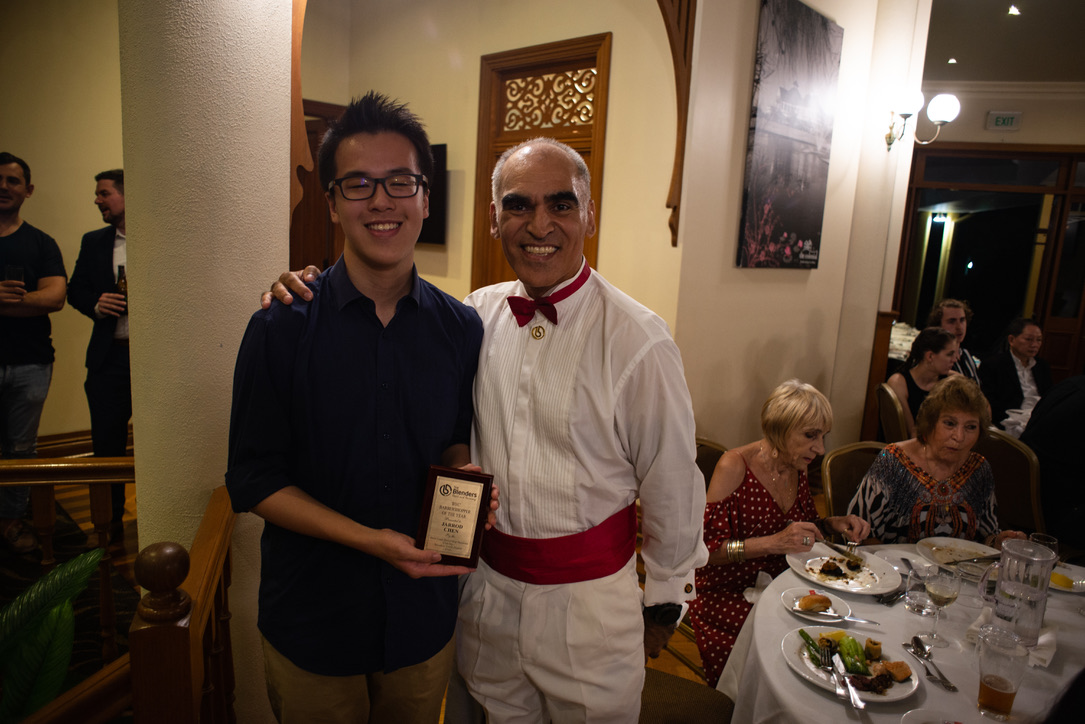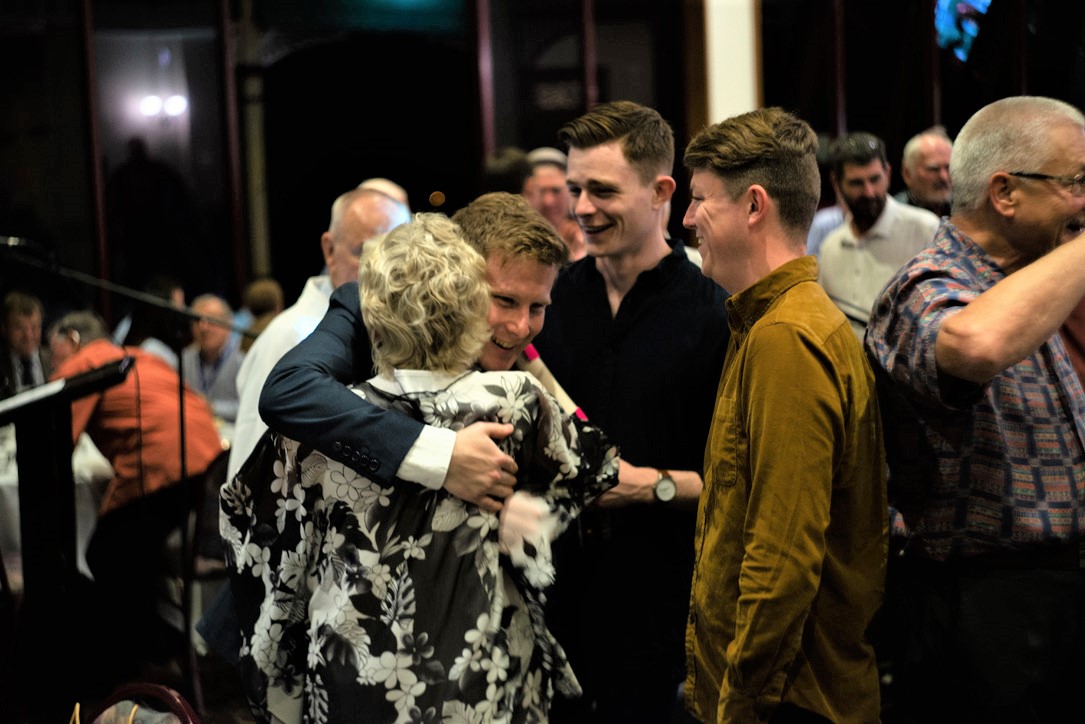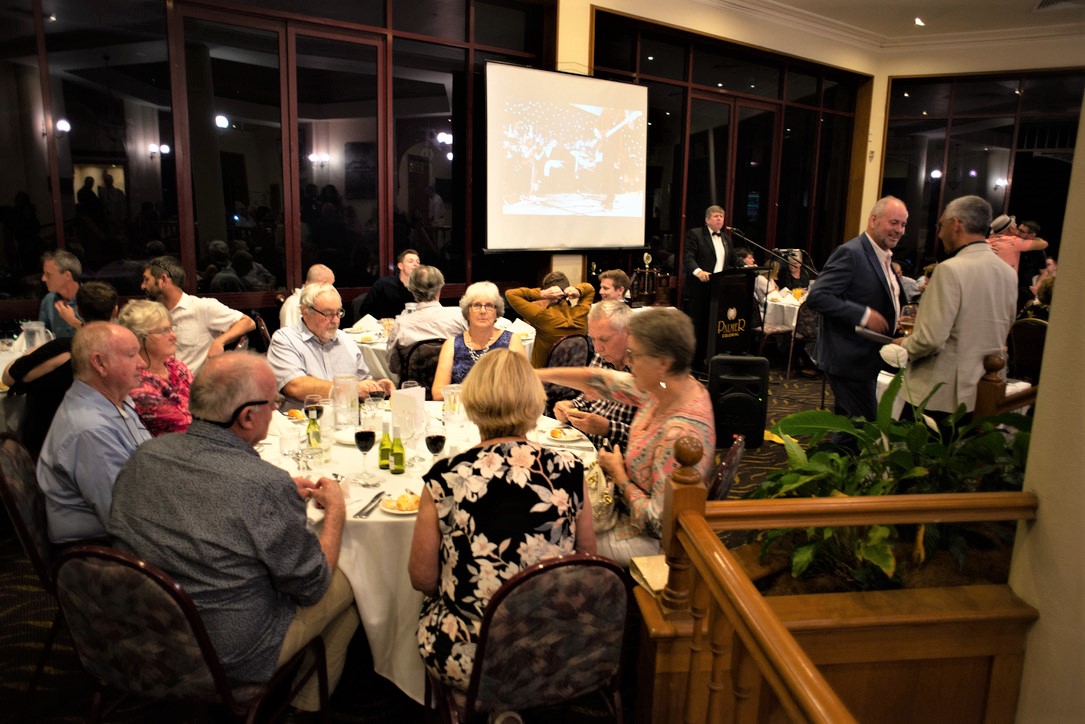 ---
Woolongong Mens Barbershop Chorus
| | |
| --- | --- |
| Type of post: | Club news |
| Sub-type: | No sub-type |
| Posted By: | Dick Bushell |
| Status: | Current |
| Date Posted: | Tue, 18 Dec 2018 |
Wollongong Mens Barbershop Chorus (WMBC), a Small Group with Vision to Go to High Places. With the sign up in July of our Music Director of Russell Bailey, the group has shown a new enthusiasm due to the Guidance and instructions of true Barbershop Style singing from a very experienced MD.


I write from the president (John Toolan) and from all the members to give a Big thank you to Russell and may 2019 be even bigger and better. Russell also organised with the help from John Toolan, myself Claudio Lodi and the Treasurer/Secretary Alex Edler, Contact from a Paul Meller from Hills Harmony and they have a plan in place to show barbershop music to a wider audience. So after some organisation we had eleven members of the Hills Harmony Chorus Visit the Wollongong Mens Barbershop Chorus and we had a informal Workshop with Russell running most of the show. The Workshop was conducted at the home of one of our members, John Toolan. He and his Wife gave up a section of their house enabling the Workshop to be a success. another big thanks to John and Rita from all Workshop attendees for the use of your space. The two Choruses, Hills Harmony and WMBC are now looking to have a joint concert in March 2019, Where WMBC will be utilizing this concert for recruitment. The MD Russel and all members of the WMBC would like to express a big thank you to Hills Harmony for driving down to Wollongong to participate in the workshop and for showing us a little of their MAGIC

TO ALL BARBERSHOPPERS AUSTRALIA WIDE, HAVE A MERRY CHRISTMAS AND A HAPPY NEW YEAR. hope we see you in future years.

Claudio Lodi - WMBC


---
Melbournaires
| | |
| --- | --- |
| Type of post: | Club news |
| Sub-type: | No sub-type |
| Posted By: | Dick Bushell |
| Status: | Current |
| Date Posted: | Tue, 18 Dec 2018 |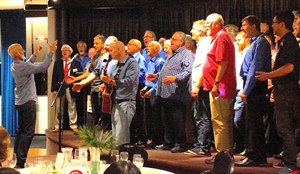 Christmas only comes once a year, although the constant advertising, junk mail, retail sales, and e-mails, make it seem that once a year becomes all year long. The joy of Christmas however, has to be seen to be believed when the Melbournaires and partners and friends congregate to enjoy the company in a relaxed environment to sing with vitality and purpose. Of course the party atmosphere with accompanying raised glasses, ensures well-oiled vocal chords, but the chorus held it together well in a varied programme which included guitar accompaniment by Ralph Dodson for the unusual barbershop number "Africa". This is a song that allows each member to have fun and emulate their ancestors from the African jungle.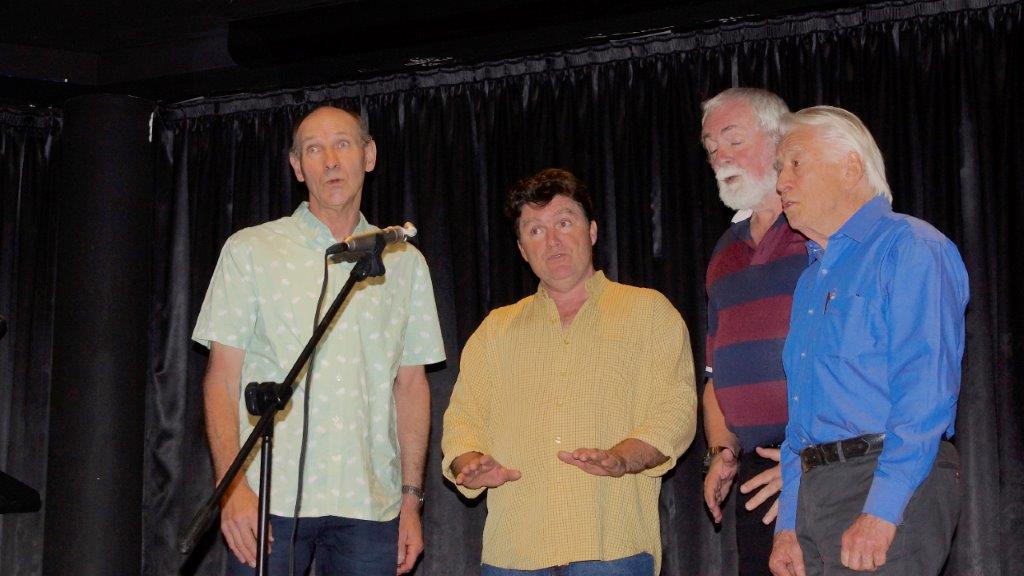 The Christmas party was also a sounding board for an ever-increasing army of quartets. A friendly environment helps newly-formed groups to experience an audience and get valuable feedback. Our more experienced quartets, Sound Check, Harmonic Motion, Boardwalk, and Sound Investment for example, all sang with alacrity and provided beautiful harmonies for the others to enjoy. Our octet "Chordite" performed songs and laughter from their extensive comedic repertoire. To add to the laughter, our resident poet and allround chorus jester Andrew Wright, recited his latest piece, a thinly veiled intense dislike of baritones. His tongue-in-cheek jibes reflect his limited range as a tenor and his absolute awe at how a baritone can really enhance a performance.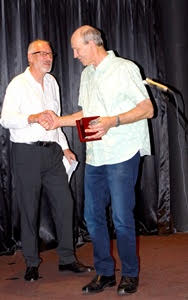 The highlight of the evening was the presentation to the Barbershopper of the Year, which this year went to the well-deserved Lecky Webster. Always the bridesmaid never the bride, Lecky has been placed second many times and does so much for the chorus without needing recognition. A long-standing member and tenor mentor, Lecky has earned the respect of the entire cast.

The organisation for such a night requires many hard-working background helpers, and thanks must go to those members who always come to the party. The evening was memorable for all the right reasons, and nobody would have gone home disappointed.

The Melbournaires would like to wish all choruses throughout the country, a safe, wholesome, and happy Christmas, and look forward to meeting again come September.

Terry Phillips
---
Hills Harmony
| | |
| --- | --- |
| Type of post: | Club news |
| Sub-type: | No sub-type |
| Posted By: | Dick Bushell |
| Status: | Current |
| Date Posted: | Tue, 18 Dec 2018 |
Hills Harmony Roundup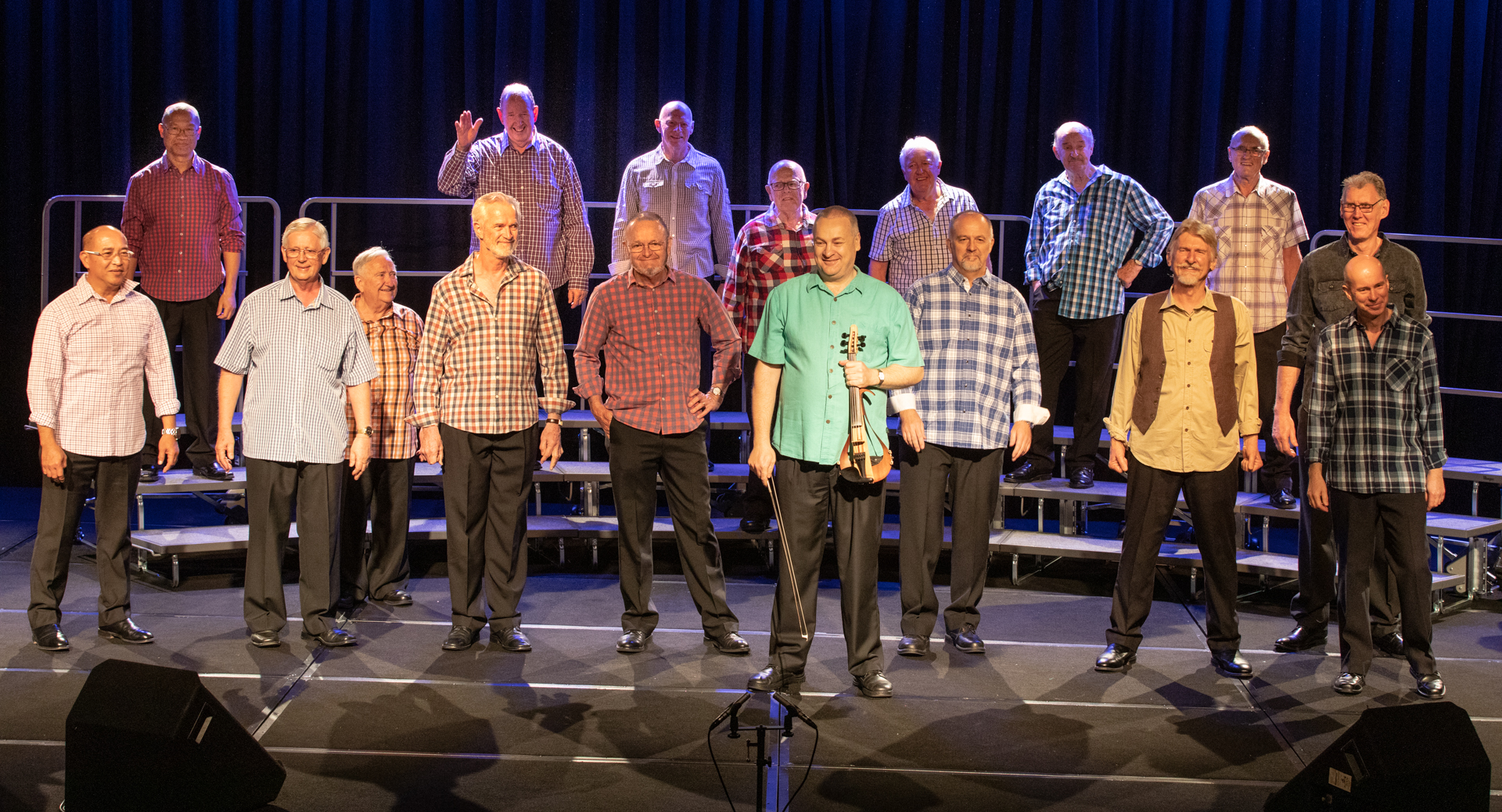 We have taken great encouragement from winning the Andy Aberle Trophy at the National convention and now refer to ourselves as "The good old guys" of Barbershop.

The Showcase Concert we presented on Nov 4 showed us at our best, was thoroughly entertaining and raised $2000 for the Lifeline organisation.

Between the concert and Christmas we have a dozen engagements which is a big increase on past years and is really keeping us involved and singing.

We have performed at the "Broadway 3 Way" choral festival, retirement village and Probus club Christmas lunches, Bunnings Festive Family night, the Christmas memorial service for Castlebrook Cemetery and filled the air with festive spirit through offering seasons greetings to customers in three local shopping centres.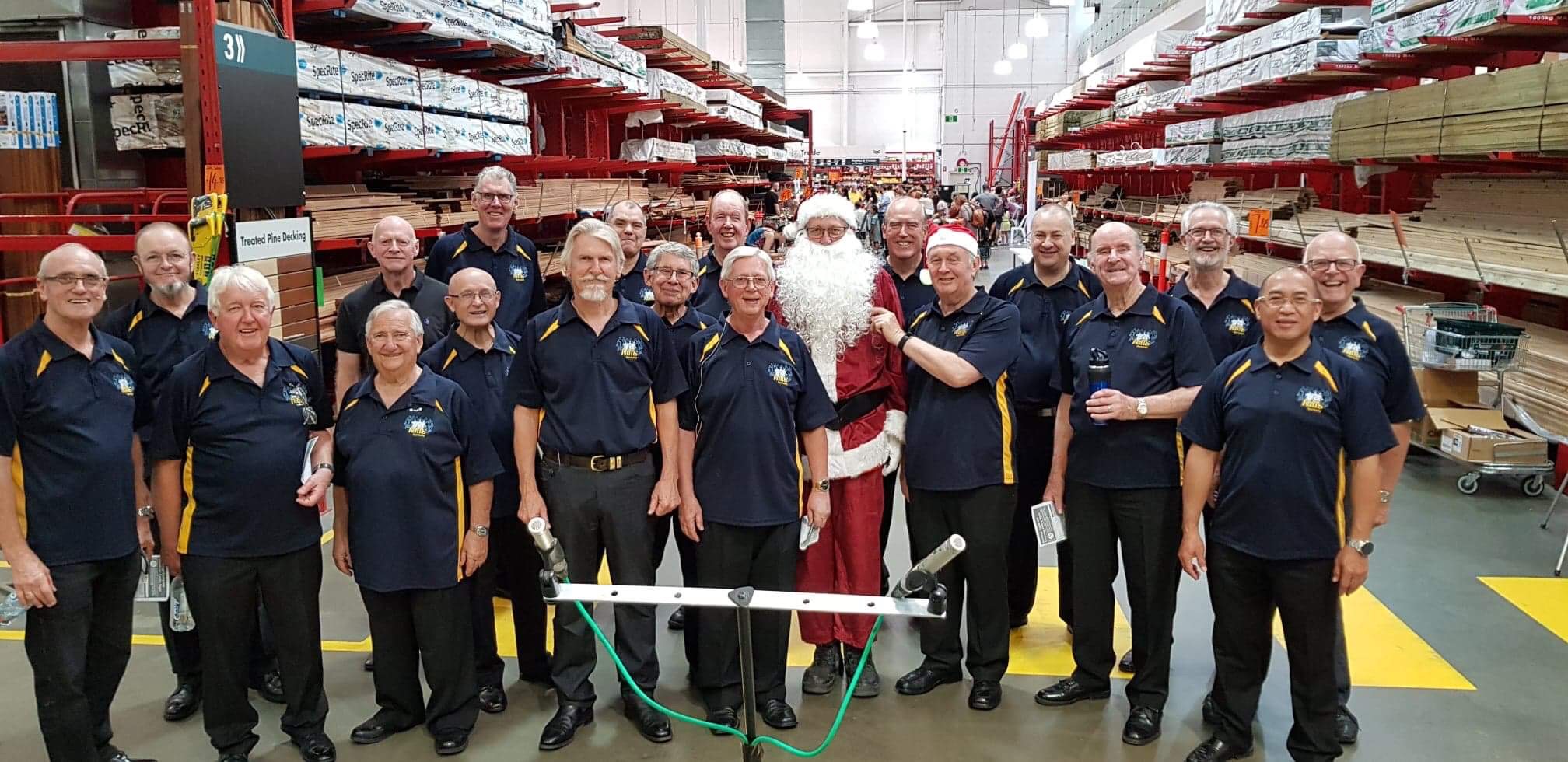 We also spent a day visiting with the burgeoning Wollongong Mens Barbershop Chorus. We welcomed them into the barbershop fraternity, singing some tags and learning a song or two, having some fun and experiencing the joy of harmony singing. Sounds like the beginnings of an outreach program as we are planning another "Barbershop on the grass" day out early next year.

Surely the best way to promote peace on earth and good will among men is to sing in with them.

Seasons Greetings to all our barbershop colleagues and best wishes for 2019.

Paul Meller
---
Southlakes Harmony (Our newest Club)
| | |
| --- | --- |
| Type of post: | Club news |
| Sub-type: | No sub-type |
| Posted By: | Dick Bushell |
| Status: | Current |
| Date Posted: | Tue, 18 Dec 2018 |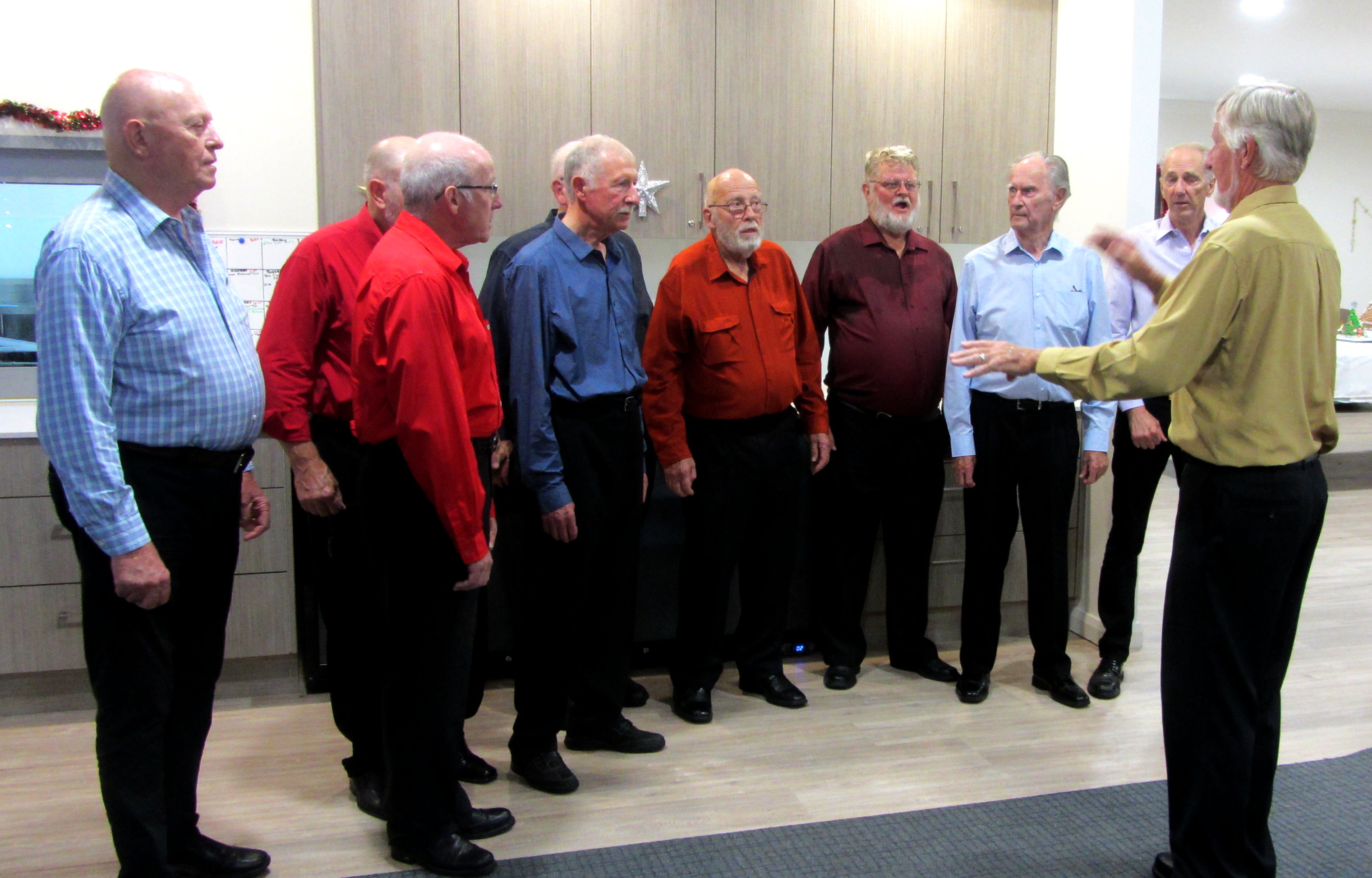 Southlakes Harmony is a small, relatively new chorus with members drawn from neighbourhoods on the beautiful shores of south-west Lake Macquarie. After a couple of years of rehearsing as an informal group (and being identified in this journal as a Club at Large) we have recently completed registration as a new BHA Club.

Formation of the chorus in 2016 was an initiative of Keith Harding and Stuart Adey, who will be known to many readers. Keith sang lead with Hills Harmony and the quartet "Basis" for many years, while Stuart's barbershop experience includes singing bass with both Soundwaves and Novatones. They saw the potential to create an opportunity for men from the southlakes area to participate in barbershop singing closer to home than neighbouring choruses up and down the highway at Newcastle and Gosford.

While most members have some previous singing experience, for several of us this is our first exposure to singing in the barbershop style and so we have much to learn. For the first year or so, as a group of 6 or 7, we rehearsed regularly, relying on guidance from our members with barbershop experience and we made modest progress. We also benefitted from and appreciated occasional assistance from members of others choruses in our region who joined us during rehearsals in the early days to help get us started.

Last year we had the very good fortune to be joined by Ian Miller as our Musical Director. As many readers will know Ian is a vastly experienced and highly qualified singer, director, judge and BHA executive and has been a prominent figure in the Australian barbershop community over many decades. His arrival has created the opportunity for us to more rapidly improve our performance standard and broaden our repertoire.

While we have slowly built up our numbers and now have 12 members, we would benefit from many more voices. We occasionally perform at community events in our area, usually as part of a more diverse musical program. There is still much progress to be made in order to reach our potential and make a more significant contribution to the cultural life of the southlakes region.

Paul Stapleton
Secretary
Southlakes Harmony Chorus
---
High Altitude Harmony
| | |
| --- | --- |
| Type of post: | Club news |
| Sub-type: | No sub-type |
| Posted By: | Dick Bushell |
| Status: | Current |
| Date Posted: | Tue, 18 Dec 2018 |
I was listening to breakfast radio some ten years ago and heard a call out for anybody who would be interested in singing, "barbershop style". It was one of those things I had always wanted to try but, had never had the opportunity.

The next Thursday evening I went along to a Qld education facility and there were a bunch of blokes singing like there was no tomorrow. To meet me at the door was a balding, happy looking chap with a big smile, who greeted me and eased me into the artform I have come to love, and I know you all love.

President Mike Devey shown with Mike Ludwig following the presentation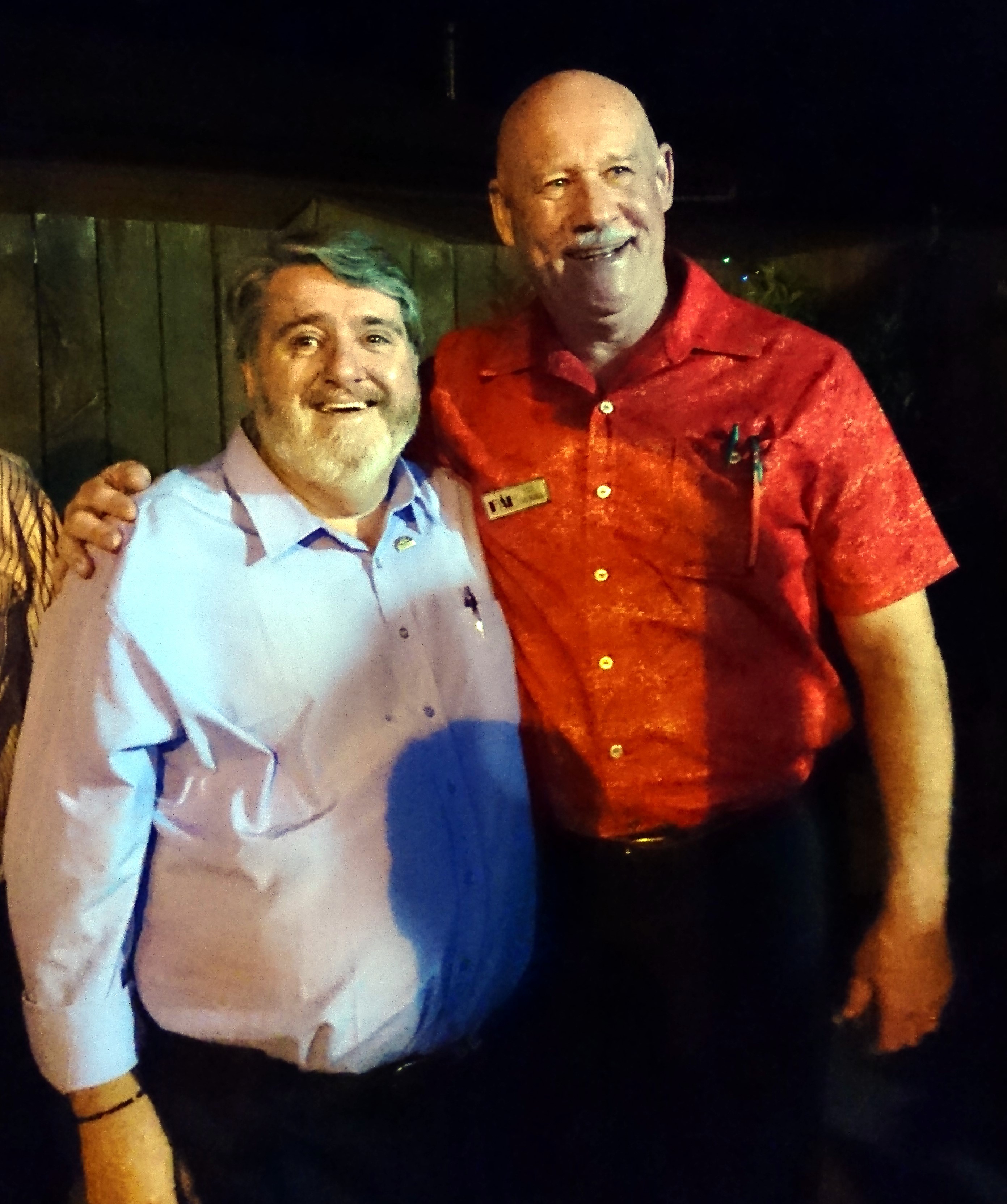 Who was he? None other than Mike Ludwig, the MD and foundation member of High Altitude Harmony. Well, ten years have gone past and it was the outstanding vote of all of us that we awarded Mike the inaugral Life Membership of HAH. Keeping it a secret was not easy but, we prevailed. And at our annual awards night after all of the other deserving members had been acknowledged, one of the Basses, a chap called Shane Graham, better known as the Chairman of Sunshine Region spoke about the year just ending and handed over to Peter Devey, our President to make the award.

Some of the earliest members of HAH were present to join in the congratulations to Mike on his achievement. And a great night was had by all.

In other HAH news. We have celebrated our 10th anniversary and are looking forward to the next ten. In 2019 we will be hosting Sunshine Regionals at the historic Empire Theatre and are really looking forward to catching up with our barbershop friends.

Last October we travelled to Ballina in northern NSW and performed alongside the Ballina Headliners, who readers will remember came to Stanthorpe in 2017 to sing with us. The concert was a great success and we look forward to many more male/female encounters in the future.

From all at HAH…Happy Christmas wherever you are and a joyous and peaceful 2019.

We are continuing our practice of posting interesting stuff on our web-site, haharmony.com.au Check it out. And don't forget to visit us on Facebook.

Paddy Boxall
Secretary
---
Vocal Evolution
| | |
| --- | --- |
| Type of post: | Club news |
| Sub-type: | No sub-type |
| Posted By: | Dick Bushell |
| Status: | Current |
| Date Posted: | Thu, 20 Dec 2018 |
This has been an excellent year at Vocal Evolution with a major highlight being our participation in the the national convention in Adelaide and being awarded our highest contest score since 2013. It was a credit to Bec Hewitt who took over as our Music Director at the end of 2017 and who worked very hard to polish the singing level throughout the year.

Unfortunately, all good things have to come to an end at some point and so it's with a tinge of sadness that we announce that Bec has decided not to renew her contract with Vocal Evolution going into 2019.

We wish Bec all the best as she continues to contribute to BHA and the wider Barbershop community in Australia in her roles as a singing judge, coach, teacher and director and look forward to working with her again in the future.

Expressions of interest are welcome for the position of Musical Director for Vocal Evolution. All Enquiries should be sent to President@vocalevolution.com and a job description will be arranged.

Carl Clapham
President
Vocal Evolution
---
Festival Statesmen
| | |
| --- | --- |
| Type of post: | Club news |
| Sub-type: | No sub-type |
| Posted By: | Dick Bushell |
| Status: | Current |
| Date Posted: | Tue, 18 Dec 2018 |
Although we are well and truly in the holiday season, this has not stopped us from keeping busy.

After the BHA National Convention, we sadly said farewell to our Musical Director extraordinaire Jonathan Bligh as he ventures off to do some study overseas. We wish him nothing but the best for him and can't wait for him to join us soon. In the meantime, we are delighted to have one of our own members John Khammash step in as our Acting Musical Director, and can't wait to continue to develop our skills with him.

Over the past month we have been busking in the Adelaide Central Markets spreading some Christmas joy, as well as preparing for our first ever Christmas Concert this Saturday (15th December). We are also fortunate to have our current Pan-Pacific Youth Champions and brothers from Paragon join us as part of this concert.

We've also started preparations for our 2019 Fringe Show "Choir Boys" as well as being a part of a production in the Adelaide Festival. Despite the fact that we get a 2 week break over the Christmas period, we know that these next 2 months will consist of a lot of singing, and a lot of fun doing it.

We can't wait to see what the new year will bring, as well as hear what you will be up to throughout 2019.

From all of us at Festival Statesmen, we hope you have a Merry Christmas and a Happy New Year.

Kind regards,
Aidan Foyel

---
Novatones
| | |
| --- | --- |
| Type of post: | Club news |
| Sub-type: | No sub-type |
| Posted By: | Dick Bushell |
| Status: | Current |
| Date Posted: | Tue, 18 Dec 2018 |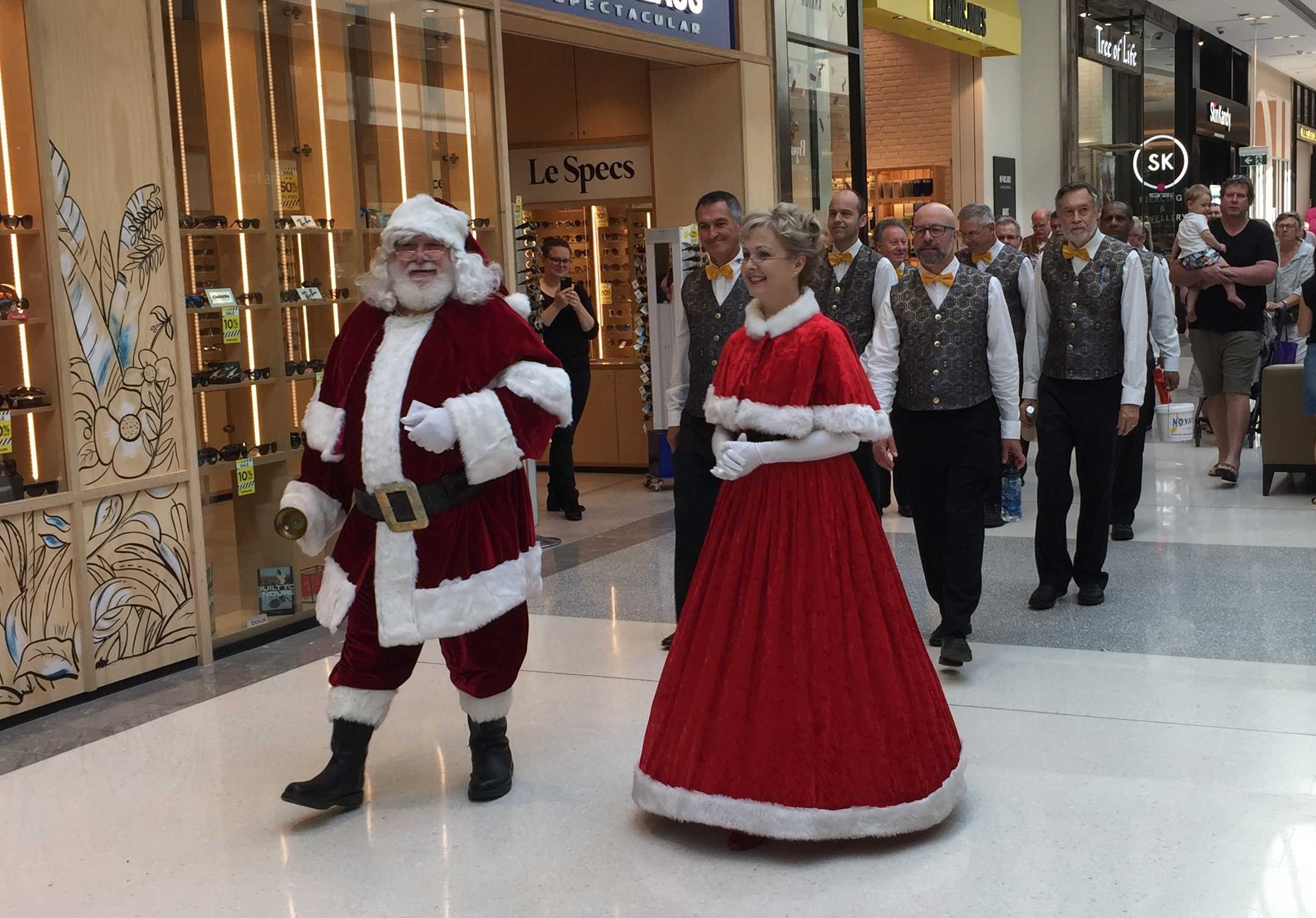 The latter part of 2018 has been a busy for Novatones Harmony Chorus, as well as its enthusiastic committee. As reported earlier this year, our chorus changed rehearsal venues and is now solidly based at Charlestown Bowling Club, which has been very accommodating to the needs of the chorus. The personnel of the chorus continues to change gradually, as new people arrive and others leave, but numbers are generally fairly stable. Very recently we have retained the professional services of our wonderful music director Peter Donald, for next year. Peter, travels up from the Central Coast to attend Novatones' rehearsals and major performances.

Since the last BHA Newsletter in mid-August 2018, Novatones has been involved in a number of interesting and varied activities. Four of our members joined in with other Eastern Region Barbershop members, to perform as 'East Coast Harmony Chorus', at the BHA National Convention in Adelaide in September. This proved to be a great learning experience for those who attended.

Local gigs in the latter half of 2018, included a 'pub-crawl', around the cosmopolitan suburb of Hamilton, a fun-night, singing at the Greek Taverna in Hamilton, and at a rainy Marine-Rescue day on the shores of Lake Macquarie. On that same soggy day, the Chorus also sang at a couple of magnificent gardens, during public open days in the Lake Macquarie Open Garden Competition. At several of our gigs, one of our quartets, Beryllium and Peter Donald's expert violin playing have been great additions to our performances.

The highlight Novatones' gig of the year has to be our October performance at Noahs' Hotel, which overlooks the city and the adjoining Newcastle Beach in the East End of Newcastle. The occasion was the Ionians Annual Convention. The Ionians Friendship Group provides a social, cultural and support network, for female 'newcomer' residents in moderately-remote Australian towns and surrounding districts. The 250 women who attended the Newcastle 2018 convention were finishing off their main course at the gala dinner, when four of us dressed as waiters, entered the hall and pretended to be cleaning up. We made our way to the front and started singing as a quartet. Pretty soon the rest of the chorus filed in and joined us. The large, previously-noisy crowd suddenly hushed and gave us their full attention! For a Barbershop Chorus it doesn't get much better than the accolades we received for that night: "Please pass on our congratulations and thanks to all your members for such a fantastic performance on Saturday night at our Ionian Convention Gala Dinner. Everyone was raving about your talents and harmonies and the choice of songs was just "perfect". Your entry to the room was great - and we loved your finale - the Irish Blessing!"

At our own Christmas Party at a popular local café, a number of our members, who are talented in other musical areas, gave commendable performances. The recital of an epic Banjo Paterson bush poem presented by a 10 yr. veteran and now life-member of the club: Dave Bye, confirmed him as the winner of the coveted annual trophy for the event.

As Christmas rapidly approaches, Novatones singing services are sought after, at the large local shopping malls. These Christmas-related sing-outs seem to be getting earlier and earlier! This year, our Chorus heralded the arrival of Santa at Westfield's Kotara shopping, on 10th November! After we sang carols on stage, a (well-suited) Santa arrived and greeted the audience at the stage. Soon after, the local Marching Koalas' brass band arrived. This large band played and marched past the stage. Santa and Mrs Claus followed the band, and we followed along immediately after the exalted couple, looking a bit like Santa's helpers, waving to the crowds! The procession continued right around the centre. Just recently Novatones returned to the roof-top eating area at that same Centre. This time it was to sing carols on stage at the start of the snow season! Most of us had never sung in falling 'snow' before!

Another memorable Christmas function that we sang at, was at the 41st Annual Multi-Cultural Christmas Carol sing-out in the Sacred Heart cathedral in Newcastle West. We still have a few more Christmas-related gigs to go, before we have a well-earned break.

Our President Brian Bleakley, thanks all our hard working committee for a job well-done in 2018.
Merry Christmas to all other choruses!

Mark Henley
Novatones Bari and Reporter
---
Position Vacant - Music Director - Vocal Evolution
| | |
| --- | --- |
| Type of post: | "In Harmony" Newsletter |
| Sub-type: | No sub-type |
| Posted By: | Dick Bushell |
| Status: | Current |
| Date Posted: | Thu, 20 Dec 2018 |
Vocal Evolution is seeking a new Musical Director. For information, please contact President@vocalevolution.com

Carl Clapham
President
Vocal Evolution
---
Message from Derek Cosburn
| | |
| --- | --- |
| Type of post: | "In Harmony" Newsletter |
| Sub-type: | No sub-type |
| Posted By: | Dick Bushell |
| Status: | Current |
| Date Posted: | Tue, 18 Dec 2018 |
G'day to all our members.
Whatever you do and wherever you go this Christmas,PLEASE have a happy and most importantly a safe one, this time 'round.
For those in the "Sunshine Region", I look forward to seeing you all in Toowoomba next year, and of course, catching up with everyone in Tassie at our next Nationals.
On a different subject.
Judging by the comments people have continued to make to me since our 1st BHA Medal presentation in 2017,it would appear that it is now an event they look forward to each year.
From my point of view, that is sooooooooo encouraging. And I sincerely thank ALL the nominators who put forward their suggestions for this medal.
So I would like all of those nominators from both years to personally please contact me ( at your earliest convenience ) on
0415625882 or dekrose1@gmail.com
Have a great Christmas gents (and your partners of course)
---
Tongue Twisters
| | |
| --- | --- |
| Type of post: | "In Harmony" Newsletter |
| Sub-type: | No sub-type |
| Posted By: | Dick Bushell |
| Status: | Current |
| Date Posted: | Tue, 18 Dec 2018 |
I hope this is a suitable submission.

It is a list of 41 Tongue Twisters, varying in length and degree of difficulty.

Gathered from various sources over the years, my dad to tought "The Art of Oral Communication" at the Orange Tech College in the 60's. Any search on the Internet would bring many more to light.

This is a "Teaching Resource" for our chorus, we are a mixed chorus hence the reference to eye liner!!

The Introduction page explains Why? Tongue Twisters.
Please find the attachment.

If any chorus or individual Barbershopper would like to have this as a teaching resource, I would be happy to email it as a 'Word' document or PDF for personal use.

My Email Address is: lionel.eastwood@gmail.com
and Mobile No: 0438 277 900

If you would like more info or re suitablity please Email or call me.

Yours in harmony,

Lionel Eastwood.

P.S. The 'Integrated Exercise Program' referenced is a fully scripted 12week program, that may be suitable for 'serialization' in future newsletters.
---
In Praise of Baritones
| | |
| --- | --- |
| Type of post: | "In Harmony" Newsletter |
| Sub-type: | No sub-type |
| Posted By: | Dick Bushell |
| Status: | Current |
| Date Posted: | Tue, 18 Dec 2018 |
1. Now in the past I've written verse both topical and witty Relating to the Barber-shopping scene I've covered many topics 'bout conventions and the like But some folk say I've been a trifle mean

2. Occasionally, I've made remarks about my fellow songsters But I've always praised the Tenors from my heart However, in reflection, I admit, I have been cruel To the Baritones who sing the hardest part

3. Now why this is, I can't explain – I've really no excuse But I'm not the only one who takes this view I've read so many articles and poems on the Web About the Baritones - so it must be true...!

4. Of course, I'm always kind when making mention of the Leads And the Basses, they produce such vibrant tones And although the Tenors surely are the greatest of them all Tonight, I wish to 'Praise the Baritones'

5. I must admit I find it hard to think of things to say But I'm determined that the facts be told tonight So, here's a few corrections which I'd like to offer you By which I hope to set the record right

6. It's no fun as a Bari when you're singing in the chorus Since you only have two notes or sometimes three But the Baris gathered here tonight are masters of their craft And they sing their rests in perfect harmony

7. No, No, don't laugh, I'm really trying to be a decent chap And to make amends for what I've said before We've many Baris here tonight and each is made of gold I just wish that we could get a dozen more

8. Now, when we're singing ballads or up-tunes or the like It's the leads who'll always give the music soul The tenors and the basses will provide such great support But the Baris have to fill in every hole

9. It isn't easy, that's for sure, or anyone could do it For a Bari's lot is not an 'appy one It's tremendous that they all can sing this most amazing part When their average age is over eighty-one

10. Praise indeed for the Baritones who stand up here tonight Prepared to put their talents on parade It takes a nerve of steel to sing the Bari's part you know And at least a couple here have made the grade

11. So, in conclusion, let me say I've really done my best To make amends to all the Baritones I've put them on a pedestal and praised them one and all Now, all we need from them – is overtones….!

Andrew Wright – © Dec 2018
---