Table of Contents
BHA Live with the National Council
The Blenders
The Melbournaires
Novatones News
Sydney Harmony in isolation
High Altitude Harmony
Hills Harmony News
Hobart
Barbershoppers on the Airwaves
This is the final edition of IN HARMONY
BHA Live with the National Council
| | |
| --- | --- |
| Type of post: | "In Harmony" Newsletter |
| Sub-type: | No sub-type |
| Posted By: | Dick Bushell |
| Status: | Current |
| Date Posted: | Sat, 20 Jun 2020 |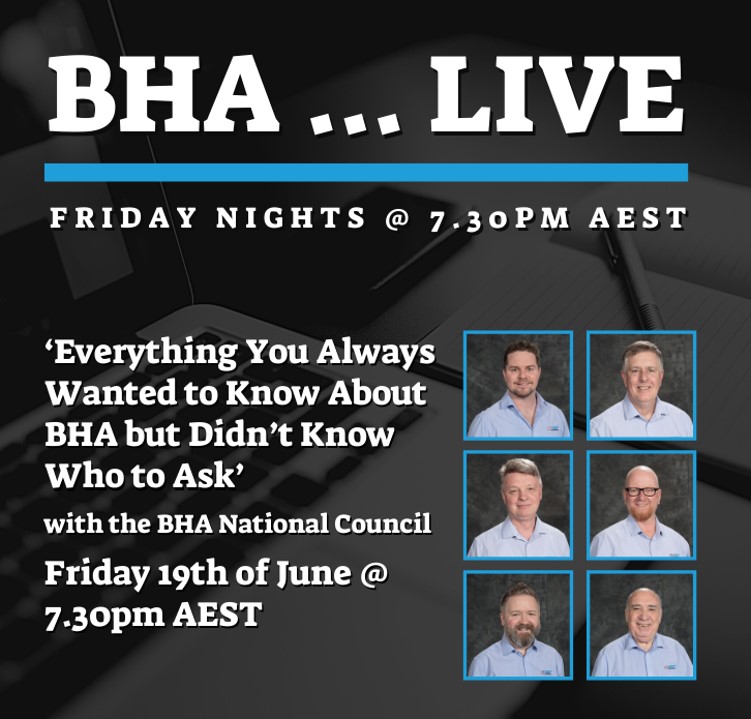 If you missed the BHA Live session with the National Council last Friday you missed a great opportunity to get an update on a number of important BHA matters. It is not too late to view it as it was recorded and available on the BHA You Tube channel HERE

Updates included
Progress with the current BHA membership consultative program
The current BHA position relatiing to singing and the Covid-19 Pandemic
Collaboration discussions with the Australian Sweet Adelines Organisation
BHA Harmony Academy branding
Ongoing Friday night BHA Webinars
A special deal for BHA members to participate in the BHS Harmony University in Nashville
The not to be missed Showcase of International Champions
BHA Quartet eChallenge (Full details soon to be released of this upcoming BHA quartet competition open to all quartets via video entry only)
New mechandise section on the BHA website
BHA National Pub Chorus program in November (in conjunction with Movember) Full details to be released shortly.
---
The Blenders
| | |
| --- | --- |
| Type of post: | Club news |
| Sub-type: | No sub-type |
| Posted By: | Dick Bushell |
| Status: | Current |
| Date Posted: | Sat, 20 Jun 2020 |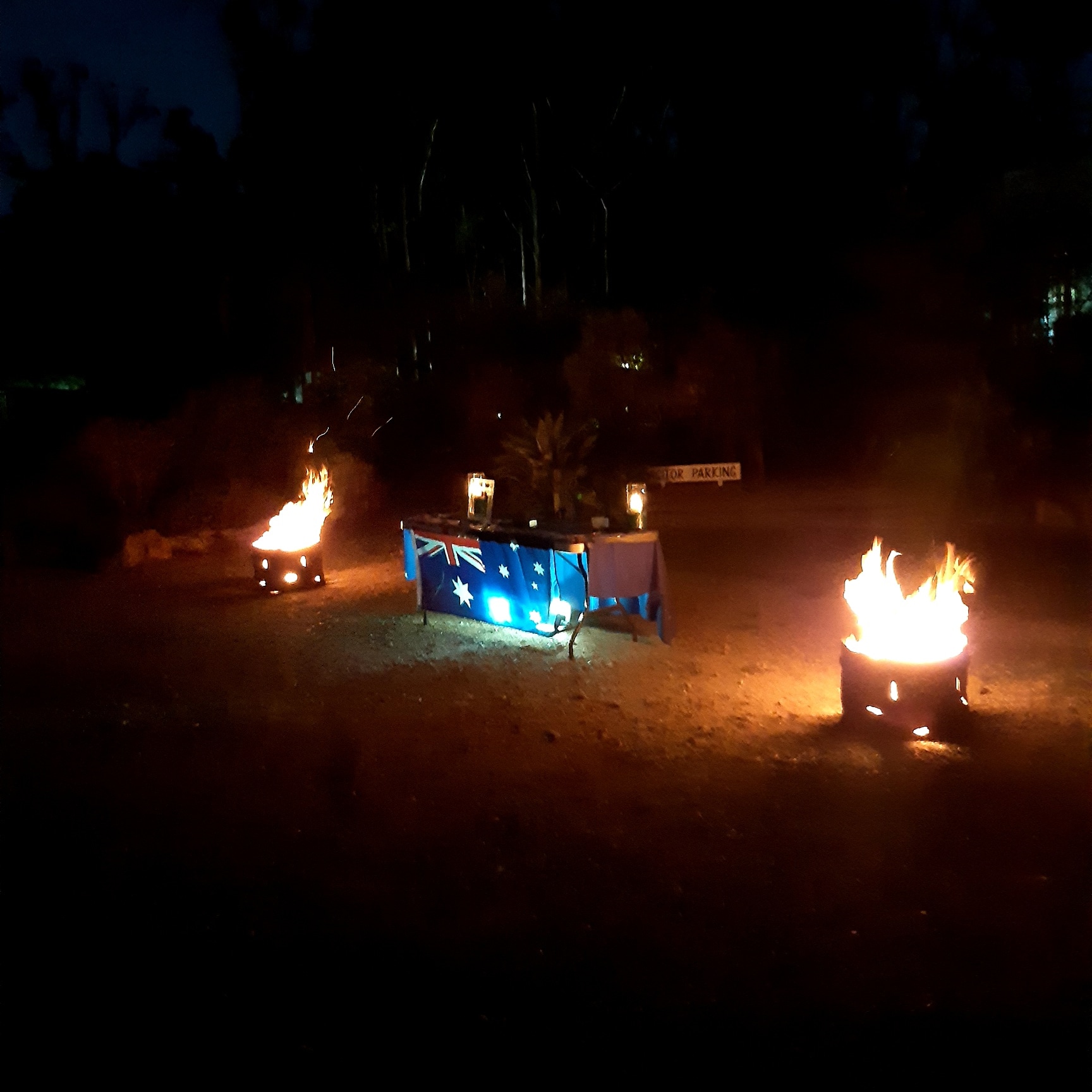 Barry Mallett, Blenders past President and Life member and wife Chris a tenor with our sister chorus Coastal Charisma, have been locked down in their motorhome, for 3 months, at the Barambah Bush Caravan Park near Murgon in the South Burnett region of Qld about 250km NW of Brisbane. They were sharing the 200 acre park with 14 other couples all in the same situation. Most were grey nomads like them accept for a young couple from the Netherlands who arrived in Australia, for a gap year after University, just as the lockdown started. They were travelling in a small SUV with a rooftop tent and were adopted by all the seniors as 'their kids'. Chris thought that everyone should be able to sing some a'cappella and decided to create a Covid19 socially isolated outdoor singing group. She put the word out and managed to get a mixed quintet. The CV19 Baram Bars. The soprano, Carolyn, was a retired school librarian, the alto, Sioban, an Irish nurse, her English husband and doctor, Adrian, the lead. Barry on bass and Chris floated parts to support as needed. The young Dutch couple did not sing. She sent them all learning tracks and coached them all with regular rehearsals. Always outdoors and socially isolated.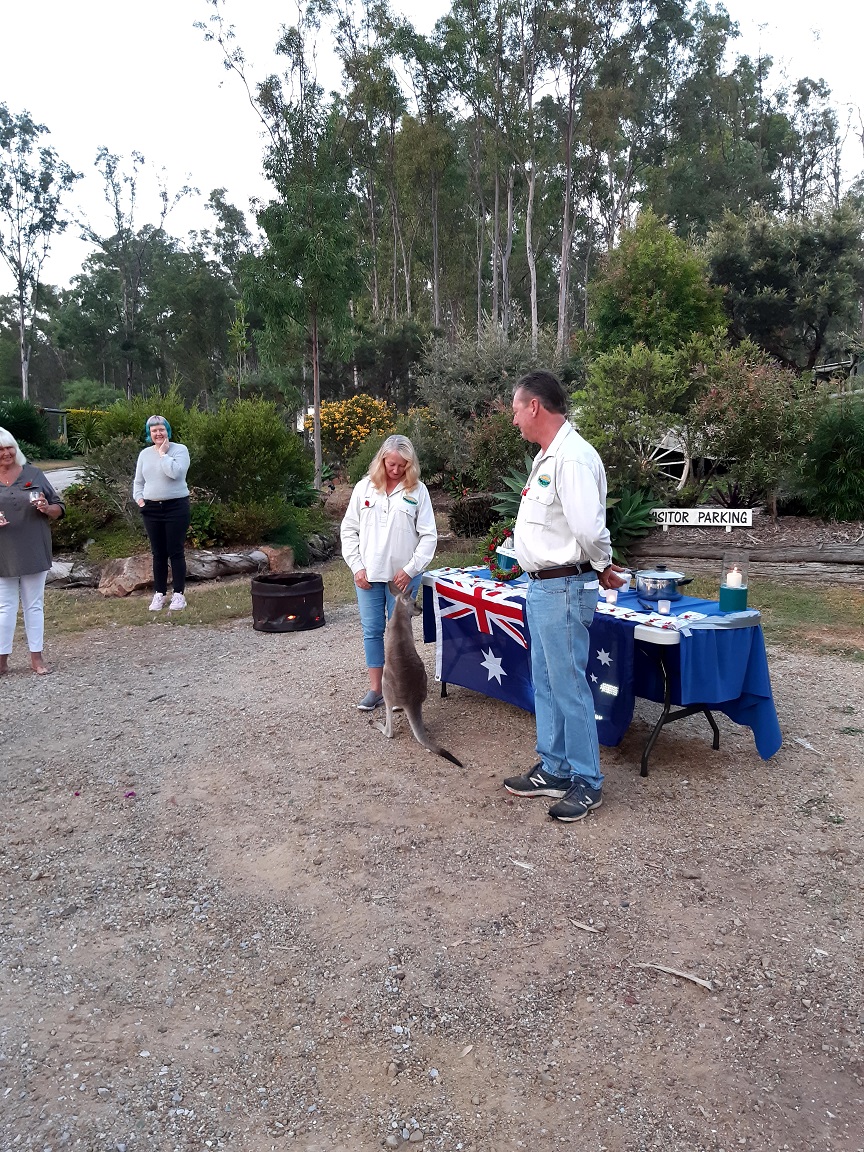 Sometimes they sang for others from a distance, throughout the park. Barry said that some of their audiences were King Parrots, Lorakeets, chooks, ducks and an 18 months old rescue eastern grey kangaroo, Suba(Roo), raised by the park owners, Barb and Rick. Everyone of the group were overjoyed by the emotional bonding and confidence gained by the barbershop singing training. Dr. Adrian said that he could see how beneficial this could be for mental health. He also said it made this time the most memorable of all their travel experiences. All have now moved on travelling and are keeping in touch via WhatsApp.

Park owners, Barb and Rick organised a socially isolated dawn service for ANZAC Day. Chris and Barry lead the group in both national anthems. Hot Toddies and ANZAC biscuits were served hygienically to complete the ceremony. Suba(Roo) stood to attention throughout.

Ian Mackey
The Blenders
---
The Melbournaires
| | |
| --- | --- |
| Type of post: | Club news |
| Sub-type: | No sub-type |
| Posted By: | Dick Bushell |
| Status: | Current |
| Date Posted: | Sat, 20 Jun 2020 |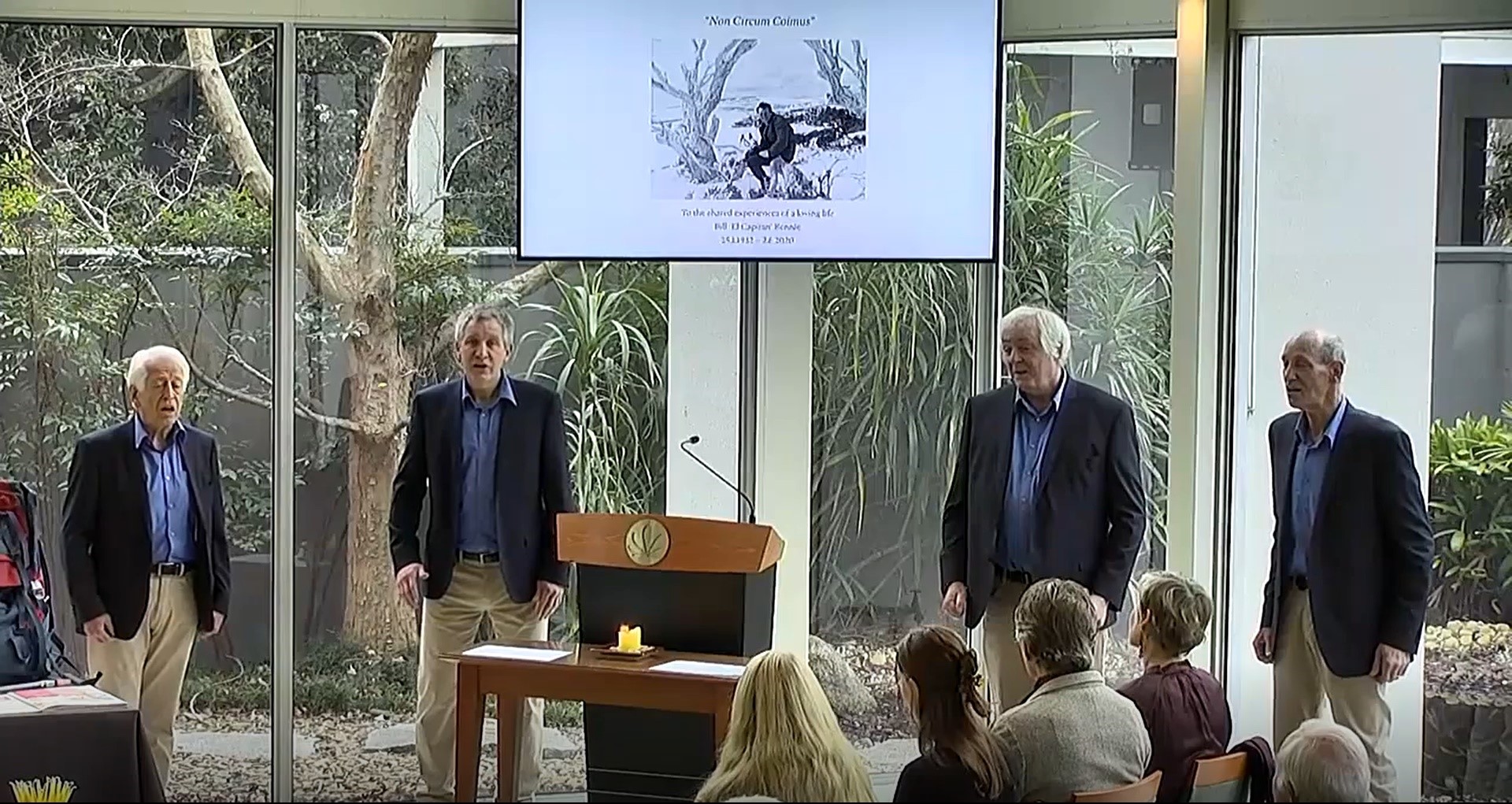 The passing of an old and distinguished Melbournaire Bill Rennie, was sad but unsurprising. Bill was living in a nursing home and astonished everyone by outlasting all predictions of his demise. In his daughters' words, Bill was a fighter.
To honour his work as a former Melbournaire, a quartet was requested to perform at the ceremony, but at short notice it was necessary to put together a scratch quartet consisting of Will Hessler (lead), Steve Carnie (base), Lecky Webster (tenor), and Richard Fisher (baritone). They sang at the beginning of the celebration two appropriate numbers, "You'll Never Walk Alone" and "Breaking Up Is Hard To Do".
One thing the corona virus has taught us is that you cannot sing professionally through a mask; these were quickly discarded and surprisingly the sound was so much better!
We thank the four guys for representing the Melbournaires so admirably.

Speaking of masks, I was talking to a lady in a retirement village who informed me that she belonged to a singing group and noted that she would be one of the last to enjoy further loosening of the current restrictions. This was because when sing you tend to spit, and that could mean you are a potential hazard to your fellow members. I instantly made a mental note not to join the village singers and furthermore to view from afar.

In actual fact, the lockdown restrictions have been a real blessing to some of our members. Never have gardens looked so well kept, garages so clean, and relationships so much put into perspective, (this is my domain, that's where you'll be working). One of our members even claimed he'd spent so much more time getting to know his wife, she is actually a very nice lady.
So every dark cloud has a hidden meaning.

I've often mentioned our resident clown Andrew Wright and the weird and wacky things he foists on his compatriots. Well at last he has come up with something designed to keep us in touch with each other while we are forced apart. He has started a Melbournaires newsletter called The Embassy Eye. It contains collectable examples of his very warped English humour, but with donations from members, it should be newsy enough to keep us all interested. Well done Andrew, one of many things you do to help the chorus.
Incidentally, the rather clever title "Embassy Eye" comes from Melbournaires Barbershop Chorus Incorporated. (MBSI). Get it?

Terry Phillips.
---
Novatones News
| | |
| --- | --- |
| Type of post: | Club news |
| Sub-type: | No sub-type |
| Posted By: | Dick Bushell |
| Status: | Current |
| Date Posted: | Sat, 20 Jun 2020 |
Not a lot has happened in Novatones' Harmony Chorus since last time I wrote. The influence of the Covid19 isolation has had quite a big effect on our rehearsal format and of course there have been no performances. We have become quite adept at using Zoom however, something that most of us had never heard of until this year! Now these little screens are quite familiar to us!



We did try separately recording individuals singing our parts and combining them together, without much success, due partly to synchronising issues. Then the Covid 19 restrictions lessened a bit and we were allowed to have up to ten in a group singing together, but only outdoors. We had to find an open covered area somewhere in town, where we could sing, well-apart from each other and still hear others singing. After scouring the city for a suitable venue, the former railway work-sheds at Newcastle East within the newly constructed Foreshore Park, provided us with a good venue for our wintry outdoor rehearsals. These large steel structures used to be enclosed buildings, however since the closure of heavy rail at this eastern end of town, the walls have been removed. They now provide shade and cover for community events, and combine well with the lovely new parklands adjoining. The shelters however are fairly close to residential medium-density development, so we were careful not to annoy the neighbours, by singing too loudly or making excessive noise. We were well aware that there is a general ongoing 'friction' in Newcastle, between those supporting the live music industry and increasing residential development. Recent Letters to the editor have mentioned instances of inner-city residents clashing with Music Venues regarding noise and disturbances. Varying uses of quiet residential living and entertainment have long been at odds, but, as one wag put it, this friction has become more vocal, since Newcastle City became a 'retirement village'
Director Peter Donald has been able to run the group in spite of lots of difficulties- always aware of doing the right thing by abiding by Covid19 rules, but with the group's interests at heart. He achieved this by having smaller groups arriving at the shelter sheds at differing times, often with one or two singers from one group, doubling up to sing in the next group. This was needed as some of the parts had low numbers. We did manage to sing a combination of new and older songs at each sitting. Then, last week came the news that we were all waiting for- 'Rehearsal allowed back at the Club! Monday Night saw some resemblance of normality return to the group. That was when Novatones Chorus met back at Club Charlestown and the general feeling was of relief! It certainly was good to be back singing together, out of the cold, windy and wet outside-conditions, like in the photo above.

We realise that we have a lot to catch up on and perhaps have not progressed as much as we could have during the difficult isolation period, so it was good to see a strong rollup at our first session back at the Club and to see everyone being enthusiastic towards getting back to our common passion of singing together in harmony!

Mark Henley Novatones Committee Newcastle NSW
---
Sydney Harmony in isolation
| | |
| --- | --- |
| Type of post: | Club news |
| Sub-type: | No sub-type |
| Posted By: | Dick Bushell |
| Status: | Current |
| Date Posted: | Sat, 20 Jun 2020 |
While we have been unable to sing together in-person since mid-March, we have been busy working on new songs and refining some of our established repertoire at our weekly online Zoom rehearsals.
In May we began the process of producing our first "virtual chorus" video. We asked all our guys to record audio of themselves singing along to a guide track made especially for this project. Once all the tracks were submitted and synchronised, we then got everyone to video themselves singing along to the completed track. Our resident film student Liam Dwyer then did a superb job on the video production. We are so proud of how it turned out!

So for our first isolation project we'd like to share our "at home" version of The Irish Blessing, a song that we've sung at the end of each rehearsal for 20 years but now has become even more relevant to us all in these times. We hope you enjoy it. https://youtu.be/5ZqncOA-AJ8

BREAKING NEWS: In April the City of Sydney announced that they were going to release an extra $7.5 million to help fund local Arts and Community groups who would be struggling during the COVID-19 lockdown. Sydney Harmony submitted an application and we've just received confirmation from the Lord Mayor that our application was successful! We are so stoked! The grant will allow us to purchase new music and to produce more "virtual chorus" videos while we are unable to sing together. The aim is to help us with member retention through the lockdown period - and hopefully with membership expansion once we get through this difficult time.

We can only recommend to all barbershop groups across the country to be vigilant and pursue any opportunities you may come across for funding that may be offered by National, State or Local government authorities. As musicians, as singers - we are a vital part of the community. And we are worthy.

May the Road Rise to Meet You!

Tony Sykes
Sydney Harmony VP Music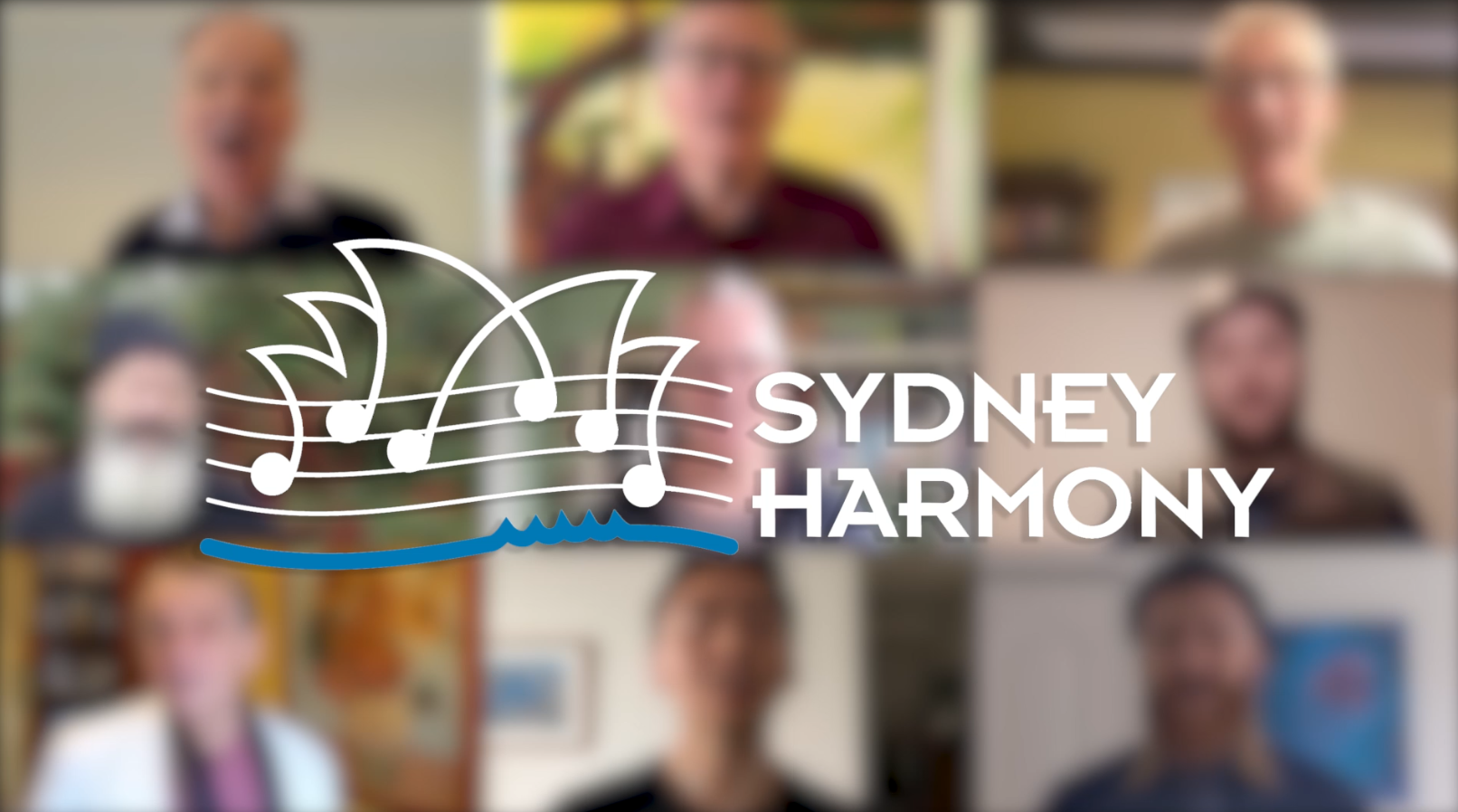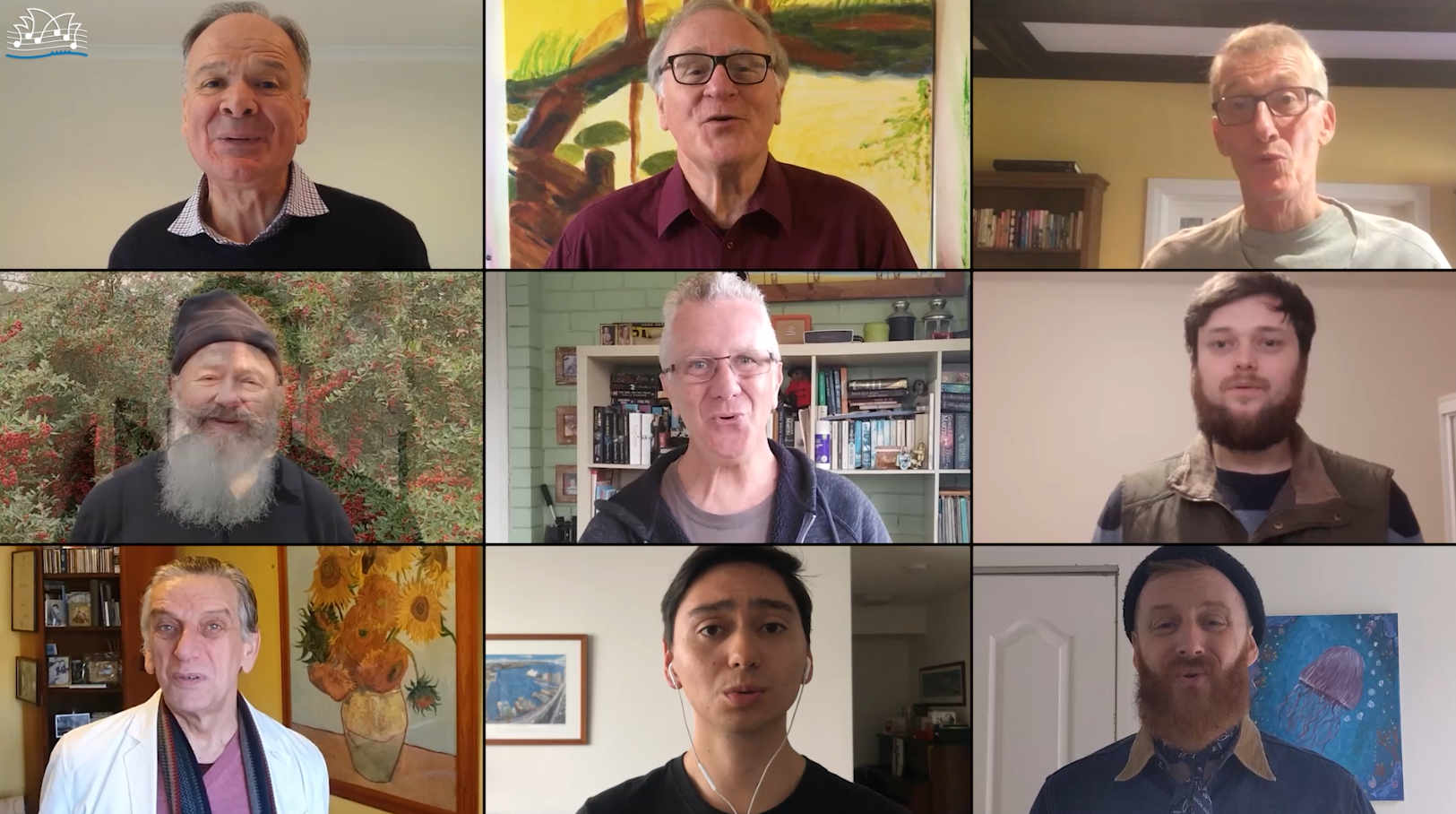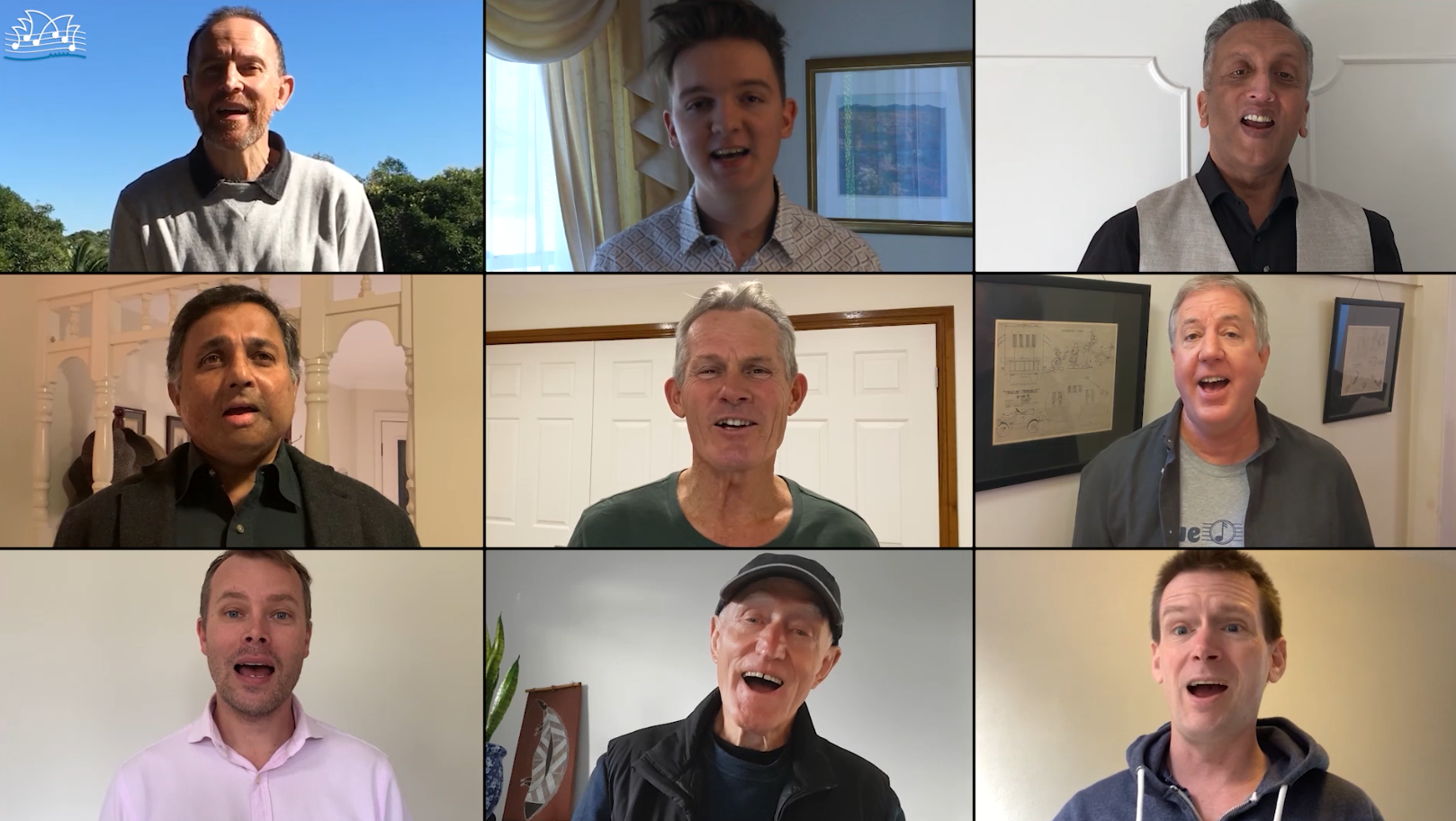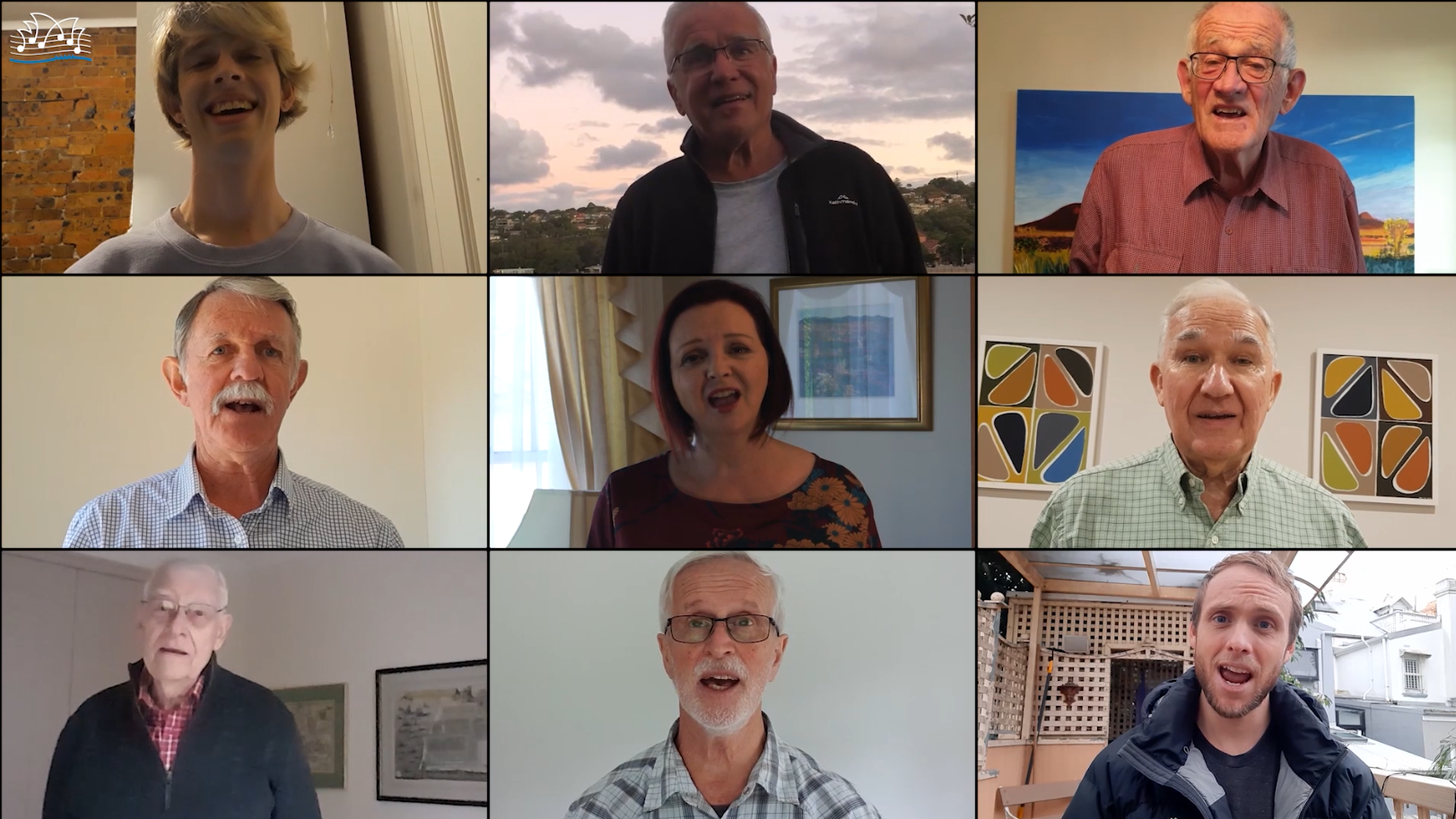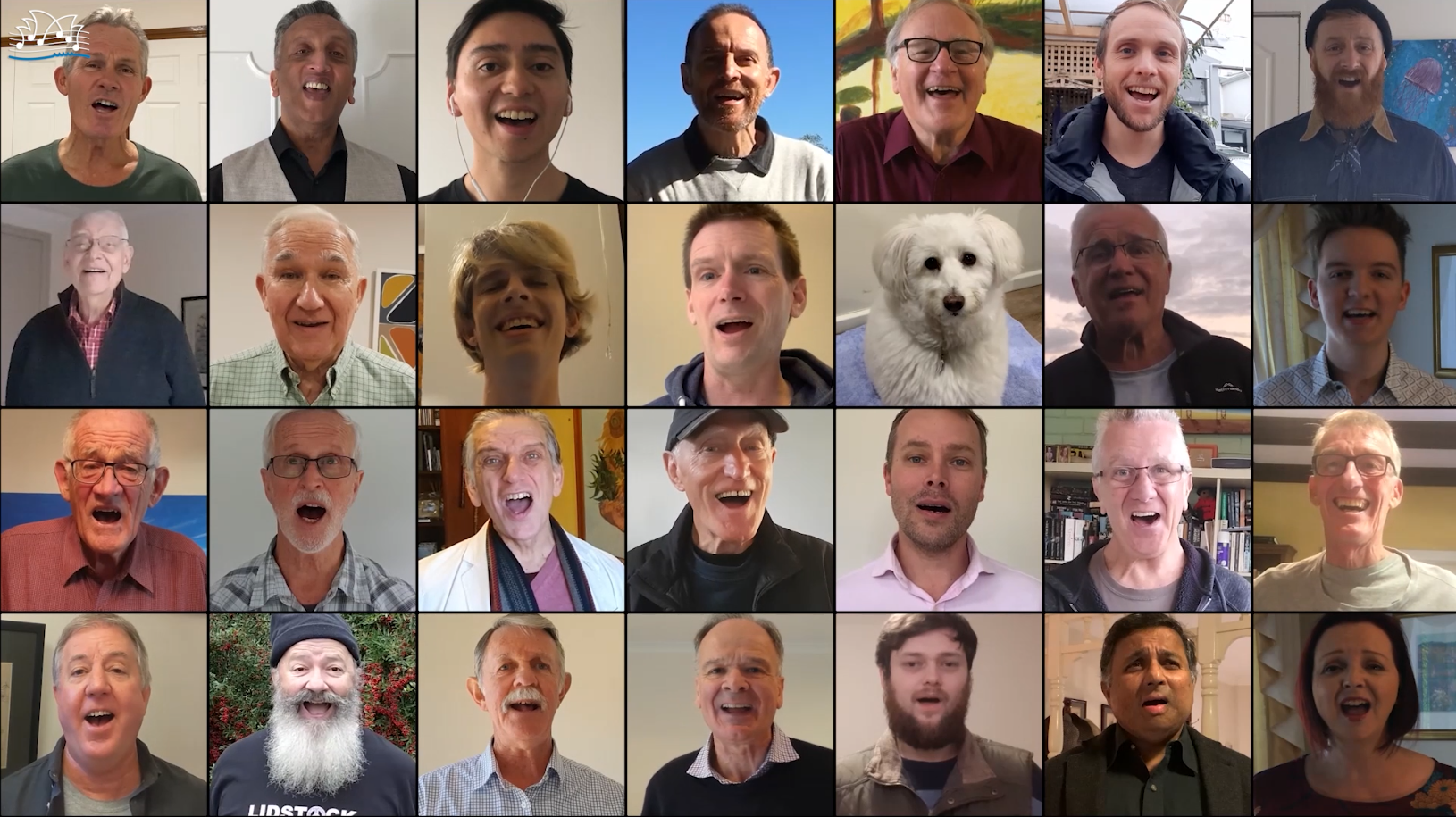 ---
High Altitude Harmony
| | |
| --- | --- |
| Type of post: | Club news |
| Sub-type: | No sub-type |
| Posted By: | Dick Bushell |
| Status: | Current |
| Date Posted: | Sat, 20 Jun 2020 |
Well, it drags on doesn't it. Listening to the members of the entertainment and music world on the TV and radio it seems as though we are going to be the last members of the Australian public that will be allowed to resume singing and entertaining.

In our last article I wrote about our attempts to rehearse via Zoom to try and provide some continuity for our chorus. Most of our members have been attending rehearsals with a few exceptions, mainly due to bad internet connections.

At Fireside Chat last week I asked those attending if they would mind putting their thoughts on this new way of doing things on paper to share with our barber shop mates. Here are a few of their thoughts.

Probably the biggest pandemic issue for a man with severe back spasms is trying to join weekly chorus Zoom rehearsals. I am delighted with the way the guys have taken to virtual rehearsals and it clearly shows the need for the social as well as the learning opportunities as we move ever closer to a face to face resumption.

Overall, I have really enjoyed the Covid restrictions. It has felt like a great time to reflect on how frenetic our lives are. I have missed meeting up with everyone and singing together. I don't enjoy the Zoom sessions at all and don't find them useful.

My favourite story about our Zoom rehearsals has been seeing people, myself included, trying to use the virtual backdrop and end up being a disembodied head floating in the middle of the picture.

I guess the worst thing is the huge disruption to the life we knew and the uncertainty about when and if we may return to "normal". Perhaps that may never happen but I think we should try to return to our way of life before Covid as soon as we can.

For me it has been business as usual as far as working hours. The new environment has meant a lot of new and innovative ways of communication and overall been very mentally exhausting. Zoom rehearsal has been an encouraging alternative to meeting face to face in the current circumstances.

I'd just like to say I am enjoying our Zoom rehearsals and I think it is impressive that we have "virtually" learnt a new song and it will be interesting to hear when we can eventually put it together in person. It has also been great to keep up the social contact.

Mine won't be very exciting though, because other than HAH moving to Zoom rehearsals, not much changed for me. My bosses still wanted some key people in the office to keep things ticking over. The drive to work and the office environment were a bit quieter for a few weeks. We were a lot busier than usual, but that was more, due to tax deadlines than Covid. The only real drama was that emails seemed to multiply at obscene levels & the phones rang non-stop.
As good as Zoom has been, I think the main issue I have had, and will continue to have, is not being able to shake hands. My late grandfather always held out his hand on every visit I made and his grip was firm.

Zoom has helped us to stay together. Communication, including before and after banter helps to keep the group alive.

Trying to fix a webcam and microphone for my desktop was impossible. I used alaptop but, most ot the town was watching Netflix and I kept dropping out. Eventually my Ipad got me through to the end of the night.

Don't forget we try to post interesting stuff on our web-site, haharmony.com.au for everyone's entertainment and education. Check it out. And don't forget to visit us on Facebook.

Paddy Boxall
Virtual Secretary
---
Hills Harmony News
| | |
| --- | --- |
| Type of post: | Club news |
| Sub-type: | No sub-type |
| Posted By: | Dick Bushell |
| Status: | Current |
| Date Posted: | Sat, 20 Jun 2020 |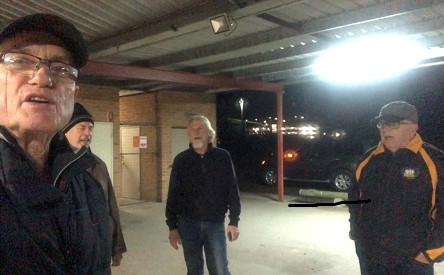 Like everyone else, we have been struggling to keep some momentum and involvement with our singing activities through the Covid-19 restrictions. Weekly Zoom meetings have not really done it for us and provide little more that a quick catch-up with our singing mates.

Our normal rehearsal venue currently remains unavailable to us in spite of the relaxation in restrictions. Alternative semi-outdoor options, including a car park and a dog show pavillion at our local showground, have been investigated as alternative, Covid safe rehearsal venues.

Four of our intrepid members conducted a trial sing at the dog pavillion last Thursday and deemed it to be an acceptable rehearsal venue providing suitable warm clothing was worn.

It is our intention to trial a full rehearsal at this locattion next Thursday for those members who are comfortable in coming along.

Hopefully, we can get back to some form of regular singing.

Dick Bushell
---
Hobart
| | |
| --- | --- |
| Type of post: | Club news |
| Sub-type: | No sub-type |
| Posted By: | Dick Bushell |
| Status: | Current |
| Date Posted: | Sun, 21 Jun 2020 |
The Hobart Club is being very productive. Both before the pandemic and during it, we have undertaken a comprehensive range of activities. Of course, recently, we have had to adapt our approaches. Highlights include:

A Club coaching visit in March with Jonathan Bligh. Everyone benefited; Deep South Chorus, quartets, scratch quartets, and members undertaking PVIs.
We are undertaking a Club review. Initially, this involved a full-day review meeting. Members looked at our past and to our future. Recently, members have made submissions. Now our committee is drafting a vision and strategy for our future. Practical measures include developing a new constitution. Part of the challenge is to ensure it is adaptable to take us into a changing future.
One of our first planned performances for this year was for an ANZAC Day Dawn Service. When the event was cancelled we prepared a Virtual Performance of Homeward Bound (arr. Jon Nicholas). You can view it at

DeepSouth Chorus YouTube Channel

. It was well received. With Jon commenting, "Way to go, guys!"
Deep South Chorus has been meeting online weekly since the pandemic. This has been great for camaraderie and some music theory.
Deep South is now working on its next virtual performance, a pandemic parody. Keep a look out.
We have continued our Youth Development Program. We undertook coaching visits to three schools before school closures. Not to be deterred, we began a Virtual Youth Chorus. We have almost 40 students registered. They have online access to music, learning tracks, and conducting videos. They can also upload their performance at the site emceemc.com.
Club member Daniel Karkoszka developed the site. We gained a Hobart City Grant to help with its development. The emceemc.com site is also being used for the Deep South parody performance. Daniel is available to help other clubs who may wish to use his services through Emcee Marketing Creatives. He is currently working with international gold medal quartet, Signature.
Our seniors' chorus The Silvertones has been in hibernation. It is now starting to consider how it may be able to continue to offer regular programs in seniors' homes.
Deep South is currently completing protocols to go back to live rehearsals. An early July date is anticipated. All in all, we appear to be in good shape to hit the ground running again, with our quartets in full swing gearing up for the e-quartet competition and champing at the bit to perform again in what could be a just a couple of months time in Tasmania, for small gigs.
---
Barbershoppers on the Airwaves
| | |
| --- | --- |
| Type of post: | "In Harmony" Newsletter |
| Sub-type: | No sub-type |
| Posted By: | Dick Bushell |
| Status: | Current |
| Date Posted: | Sat, 20 Jun 2020 |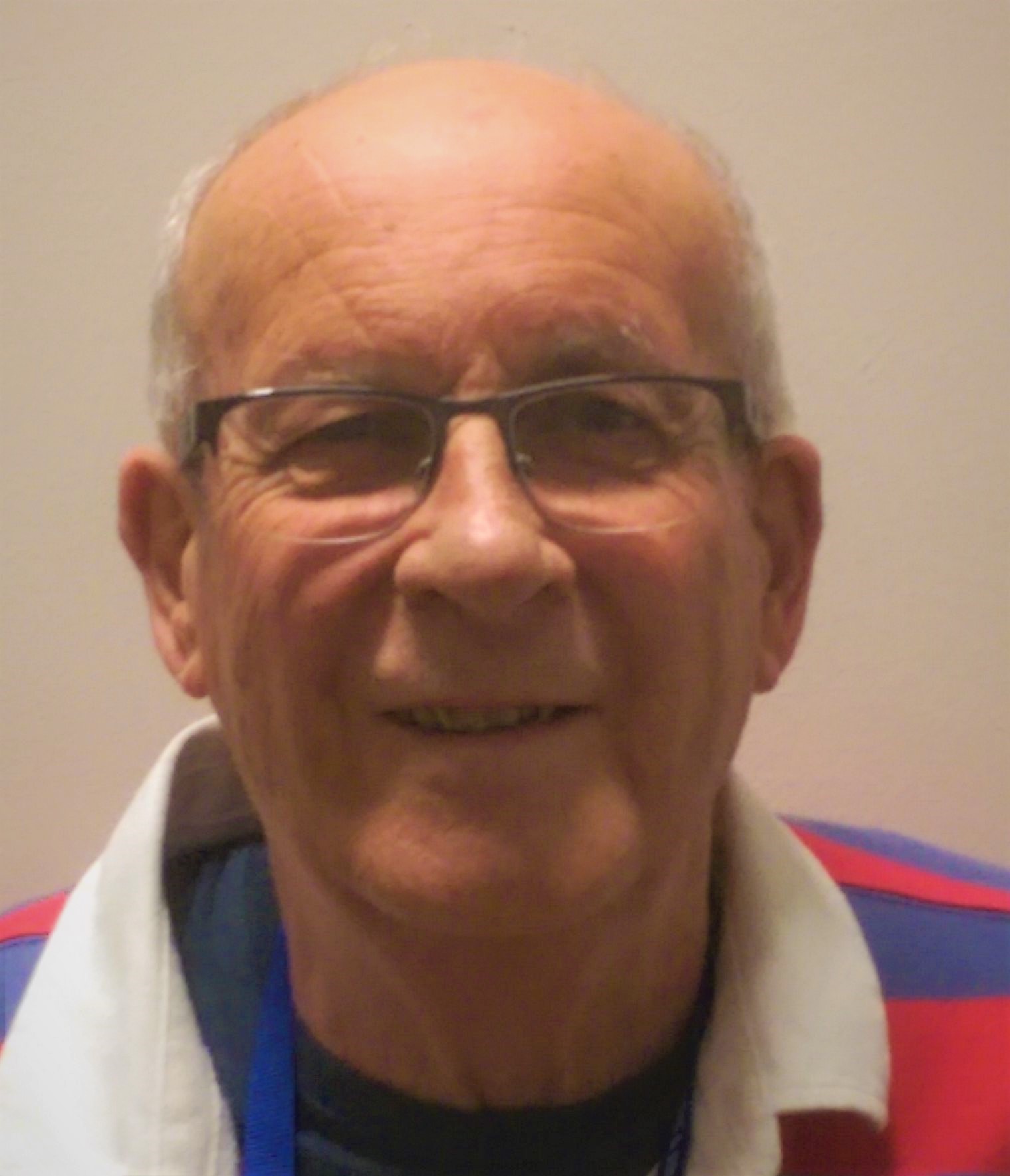 Several of our BHA members have hobbies using their voices in areas other than singing.
Roger Archman from the Melbournaires chorus, for instance, presents a radio show on the 1st Monday of each month on eastern FM 98.1 in Melbourne. Normally at 1.10 pm after the news. The show has been on air for about 15 years and has listeners in Melbourne as well as overseas listeners who also tune in. Eastern FM streams the program so you can listen on your computer at
http://onlineradiobox.com/au/eastern3ecb/player/?cs=au.eastern3ecb&played=1

Jack (centre) is pictured with TV personality Barry Crocker and Producer Neil Gooding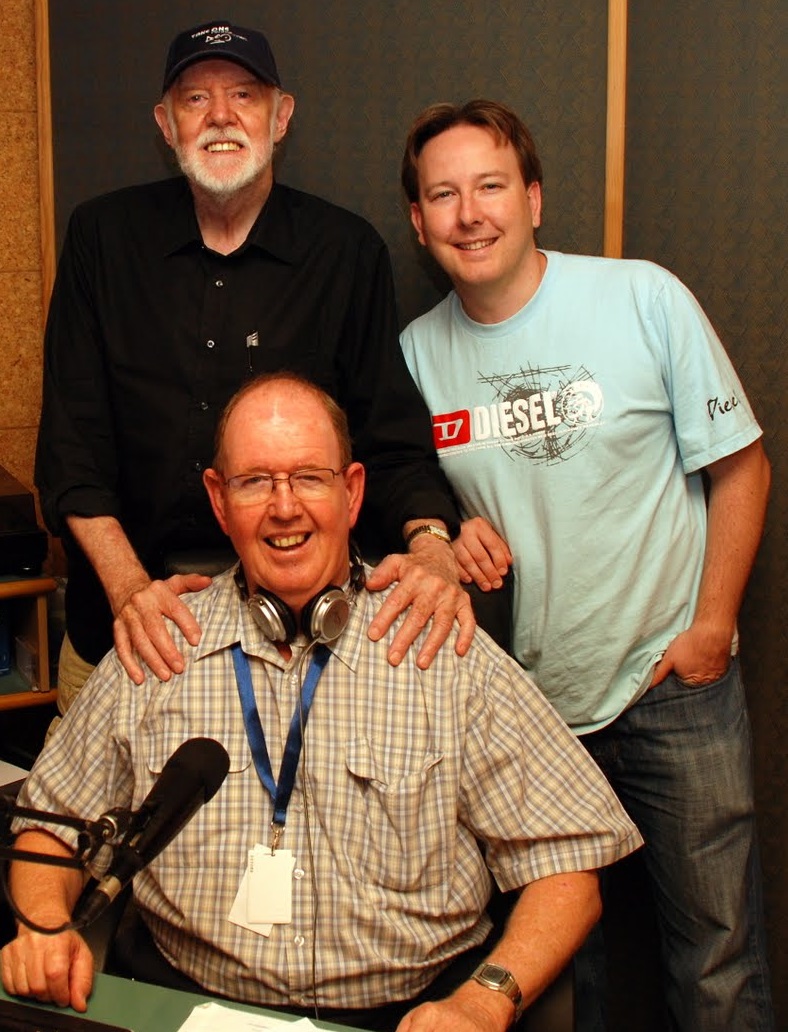 Another radio "Disc Jockey" from our ranks is Jack Bylsma from Hills Harmony Chorus in Sydney.
Jack broadcasts from the Sydney based community radio station Alive 90.5 FM. Jack is on every Monday from 9am 'til noon and also does weekly "Tribute" Specials from Midnight to dawn on Saturdays.
Jack can also be tuned in via streaming at https://www.alive905.com.au/listenlive/
---
This is the final edition of IN HARMONY
| | |
| --- | --- |
| Type of post: | "In Harmony" Newsletter |
| Sub-type: | No sub-type |
| Posted By: | Dick Bushell |
| Status: | Current |
| Date Posted: | Sun, 2 Aug 2020 |
The National Council have been progressively introducing a range of new communication tools to keep members informed, educated and entertained. As this has developed, the more traditional style of newsletter such as IN HARMONY has become less relevant and effective in this communication process.

The Council have now decided to discontinue the bimonthly publication of the IN HARMONY Newsletter in its current form. This is the final edition. (although it was never circulated).

Signing off after six years and thirty seven editions of this Newsletter.

Thanks for all your contributions over the years.

Dick Bushell - Editor (ex)
---