Table of Contents
NEW MEMBERSHIP YEAR REGISTRATIONS
Movember 2019 wrap
2019 BHA Festival Hobart - Delegates Survey
Sunshine Region - Changes at the top
Sound Connection In the News
High Altitude Harmony
Novatones
Festival Statesmen
Melbournaires
Miner Chords
Fleurieu Harmony
The Hills are alive "and kicking"
SydneySiders Express Harmony Chorus (SSEHC) "What a year"
River City Clippers
Escapade
HURRY! Directors' School registrations closing
Save the Date - Sweet Adelines Australia Education Symposia
Welcome to our newest members
NEW MEMBERSHIP YEAR REGISTRATIONS
| | |
| --- | --- |
| Type of post: | News |
| Sub-type: | No sub-type |
| Posted By: | Dick Bushell |
| Status: | Current |
| Date Posted: | Sun, 15 Dec 2019 |
MEMBERSHIP REGISTRATION — WHAT DO I NEED TO DO?
The new membership year begins from 1 January 2020.
You don't need to do anything.
Clubs are responsible for Membership Registrations and Club Registrations by 31 December.
Each Club appoints a representative to complete these registrations on behalf of its members.
These registrations provide the following insurances for the club and members from the beginning of the new year:
o Group Accident Cover
o Volunteer Workers Accident Cover
o Management Liability Insurance
o Public Liability
Registration also provides coverage under the Community Band, Choir or Community Group Licence
covering the performance of music from the APRA repertoire at rehearsal and non-ticketed performances events.
CLUBS ARE ASKED TO COMPLETE THESE REGISTRATIONS AS SOON AS POSSIBLE
QUARTET REGISTRATION
QUARTETS ARE RESPONSIBLE FOR THEIR OWN QUARTET REGISTRATION

Once your Club has completed the quartet members Membership Registration as above, you can register/re-register your quartet.
Quartets planning to enter the regional conventions should register early in the year.
Non-contesting quartets may register at any time during the coming year.
---
Movember 2019 wrap
| | |
| --- | --- |
| Type of post: | News |
| Sub-type: | No sub-type |
| Posted By: | Dick Bushell |
| Status: | Current |
| Date Posted: | Sun, 15 Dec 2019 |
Our first association involvement in the 2019 Movember campaign has delivered some extraordinary results. We all know the health benefits and camaraderie that comes from singing together as part of this wonderful Barbershop family and this activity allowed us to collaborate across our nation as we shared that message with the Australian community.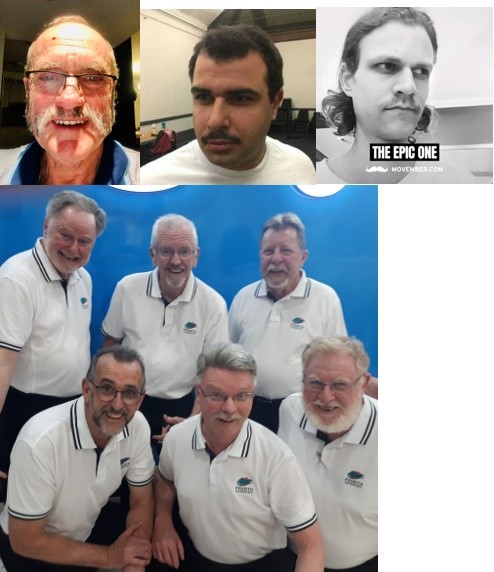 Here is our participation in the Barbershop Harmony Australia Movember Challenge by the numbers:
48 BHA members registered
7 states and territories represented
10 teams involved
$21,566 raised for the BHA Challenge
80th position in all Challenges
$5,941.66 raised by Vox Canvas
$4,070 raised by James Wanjura
3 participants who achieved Platinum Status of over $1,411 funds raised
13 members who raised more than the average MoBro
A hearty well done to all who participated and supported! We set a target of $12,000 and to raise nearly $10,000 above our target is an excellent effort.
Many commented on the fact that it is fully inclusive for any member, from the classic "Mo growing" experience, to Movement challenges, through to simply fundraising with other members of the Movember community. During the month we shared stories, photos, fun and friendship whilst engaging in community events, being covered by the media and sharing our love of Barbershop.
Some of the creations were a sight to behold, and whether they were wispy or bushy, dark, salt-and-pepper or vintage blonde, they all stimulated the conversation on men's health.

And it sounds like a conversation that might continue, with a number of people keen to join in or go around again next year. We will also talk to our Pan Pac neighbours and see if we can get a collaboration the spans the sea!

For shaving off treasured beards or suffering hairy faces or endured aching feet or making donations or helping with fundraising in the pursuit of improving men's health, thank you!

Yours in Hairmony!
Paul Adams
Barbershop Harmony Australia
www.barbershop.org.au


---
2019 BHA Festival Hobart - Delegates Survey
| | |
| --- | --- |
| Type of post: | News |
| Sub-type: | No sub-type |
| Posted By: | Dick Bushell |
| Status: | Current |
| Date Posted: | Sun, 15 Dec 2019 |
Thank you to all those who have completed the delegate survey from the 2019 BHA Festival held in Hobart last September.

To date 113 responses have been received and the process of reviewing the data is underway, but here are some of the highlights.

Some of the early results appear to be supportive of the Festival concept and some of the newly introduced aspects that may feature again in future Festivals.

87% of respondents rated the Festival as Very Good or Excellent and another 11% as Fairly Good, with 74% rating the value for money as Good or Excellent.

The host city Hobart and venue were rated as Excellent or Very Good by 88% of respondents.

88.5% of respondents said the Festival was about the right length and to show that too much barbershop is never enough, 7.1% said it was too short!

91.1% of respondents were Satisfied (36.3%) or Very Satisfied (54.9%) with the Gala Dinner and 94.4% of respondents were Satisfied (37%) or Very Satisfied (57.4%) with the A Cappella Spectacular Showcase of Champions.

The Pub Chorus and Pop-up performances were well supported and of course our guest quartet Signature received huge wraps.

Most found the venue arrangements were good but feedback on the Chorus stage (20.5% Dissatisfied) suggests that it could have been better and is something that despite the best endeavours wasn't quite where the organisers would have liked it to be.

There were a couple of errors in the survey but hopefully most people recognise that we are volunteers who spend time building, preparing and then analysing the survey for the benefit of future events.

Thank you to all those who have participated and it will provide some great ideas and information back to the national council for future consideration.

Paul Adams
VP - Membership
---
Sunshine Region - Changes at the top
| | |
| --- | --- |
| Type of post: | Club news |
| Sub-type: | No sub-type |
| Posted By: | Dick Bushell |
| Status: | Current |
| Date Posted: | Sun, 15 Dec 2019 |
David Reid - Sound Connection - elected as new Sunshine Region Chairperson.

I wish David all the very best in the roll and am sure the SR is in good hands


Regards

Shane Graham
Past SR chair.
---
Sound Connection In the News
| | |
| --- | --- |
| Type of post: | Club news |
| Sub-type: | No sub-type |
| Posted By: | Dick Bushell |
| Status: | Current |
| Date Posted: | Sun, 15 Dec 2019 |
Coaching Weekend with Rob Mance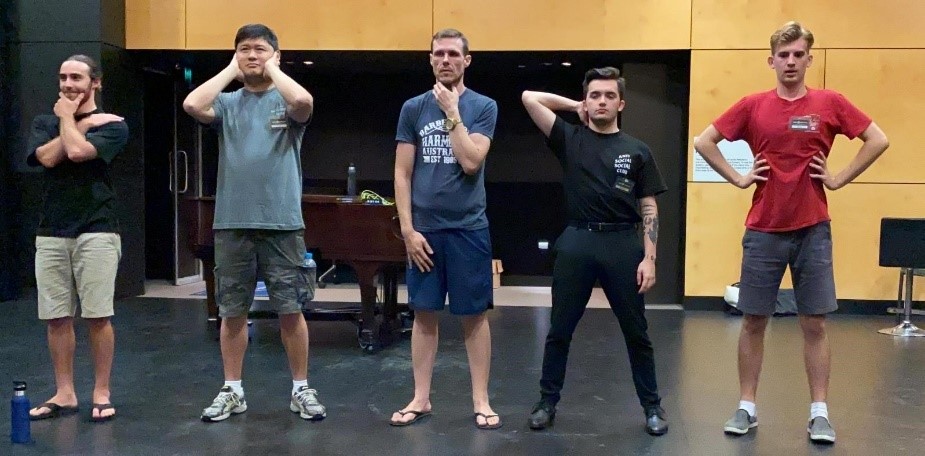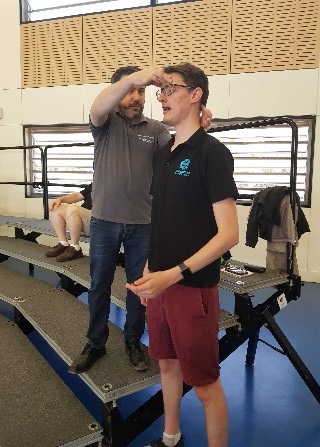 Sound Connection was extremely fortunate to have Rob Mance coach us over the weekend of 22 to 24 November 2019. Rob is the musical director of two award-winning choruses: Vocal Standard (Sweet Adeline's women's chorus) and Central Standard (Barbershop Harmony Society). He directed Central Standard from 9th place when he started in 2011 to 2nd place at the 2016 men's International Competition. Rob is currently pursuing a Doctorate of Musical Arts in Choral Conducting.
Runaway Bay Christmas Carols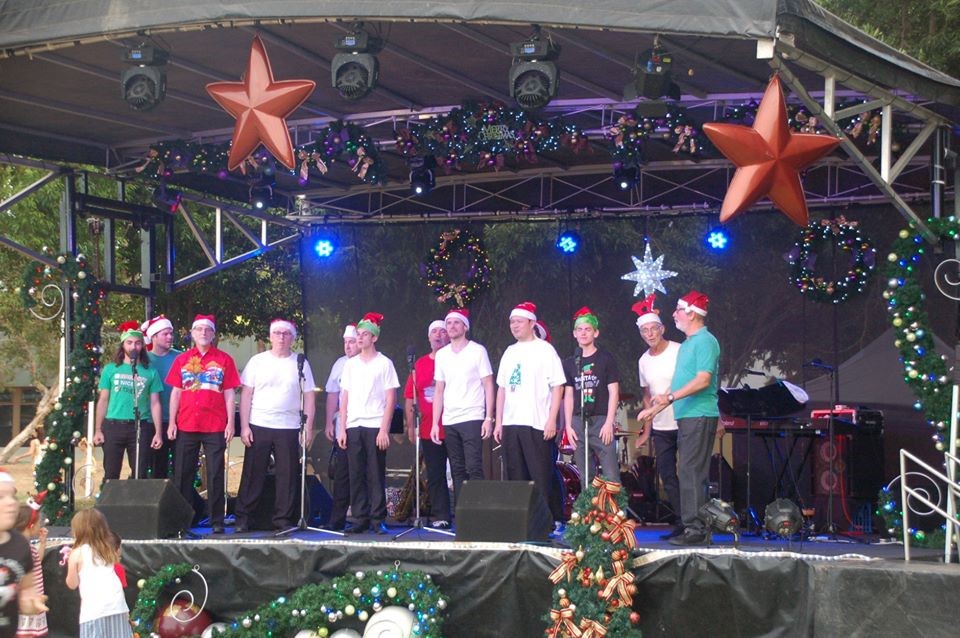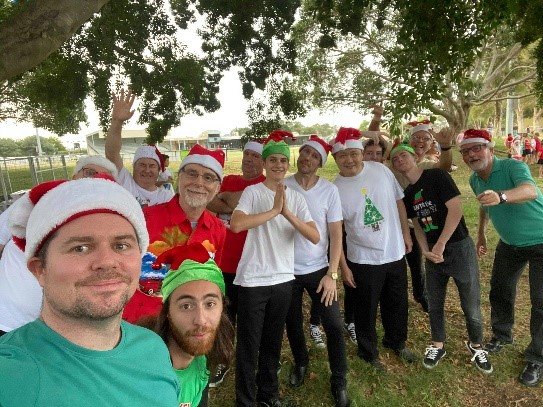 Sound Connection performed at the Runaway Bay Christmas Carols on Saturday evening, 30 November 2019. We shared the stage with many great performers including Santa, Frosty, Molly Roo. Cookie Koala, Panda Boo and Piggy Bank.

Pacific Pines Christmas in the Park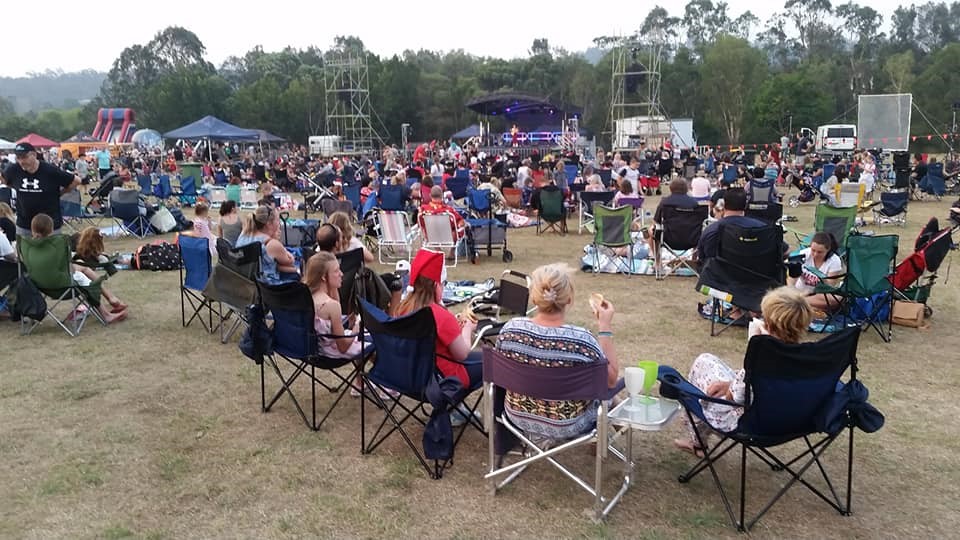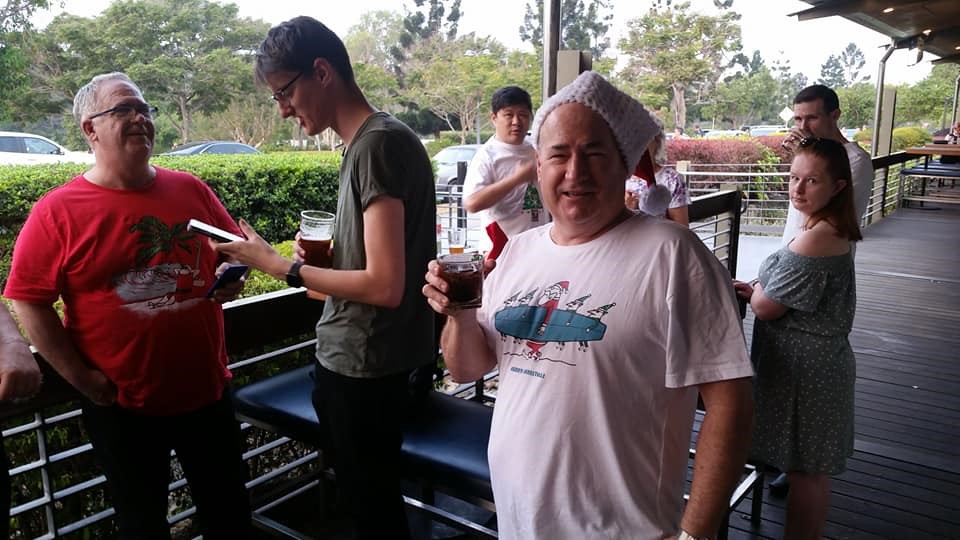 Sound Connection and our sister organisation, Vocalescence, each performed at the Christmas in the Park festival in Pacific Pines on 7 December. We had a few drinks before we performed to keep ourselves lubricated on a hot Queensland evening.

Jerry Sadlowski
Vice-President and Secretary
---
High Altitude Harmony
| | |
| --- | --- |
| Type of post: | Club news |
| Sub-type: | No sub-type |
| Posted By: | Dick Bushell |
| Status: | Current |
| Date Posted: | Sun, 15 Dec 2019 |
Each year the Toowoomba Hospice hosts their Carol service and fete. It has been our pleasure to sing with the crowds and accompany the Toowoomba Municipal Band in doing so. We think that this year it is the seventh or eighth time we have had this pleasure.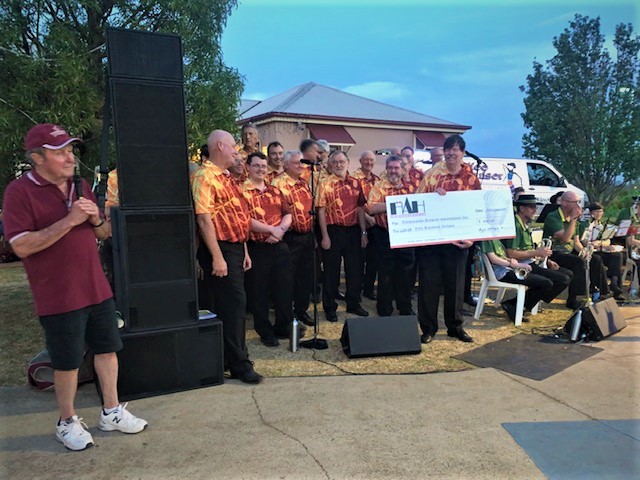 The Hospice caters to people from Toowoomba and the surrounding region caring for people with a terminal illness and is very highly regarded in the community. Their Carol service kicks off the annual Christmas round of festivities and entertainment that is focused on this special time of the year.

Over the years we have tried to support the Hospice in material ways as well as singing for the festival this by way of a donation. Our treasurer and Sunshine Region Chairman, Shane Graham presented a cheque for $1000.00 to Hospice Chairman, Graham Barron, OAM which was very gratefully received.

Additionally a mini chorus stayed on after the Christmas lights had been illuminated and sang to the Hospice clients and staff. This as everyone can attest is considered by chorus members a privilege and an honour. Graham Barron told us that last year when we sang one of the clients had a special request for a carol. Two hours after we had obliged she died peacefully surrounded by family.

Our annual awards night was held last weekend at Downs Steam. Despite the heat we had a great night with lots of food and liquid refreshment on hand, plus of course some "singing". We were privileged to have on hand our honorary HAH members, Escapade, 2019 National Seniors champions to serenade us which was pretty special.

Seasons greeting to all of you out there in Barbershop Land and a great New Year to all.

As is our practice, we are continuing to post interesting stuff on our web-site, haharmony.com.au Check it out. And don't forget to visit us on Facebook.
Paddy Boxall
Secretary
---
Novatones
| | |
| --- | --- |
| Type of post: | Club news |
| Sub-type: | No sub-type |
| Posted By: | Dick Bushell |
| Status: | Current |
| Date Posted: | Sun, 15 Dec 2019 |
Novatones News Dec 2019

As the frantic 2019 Christmas season heats up, Novatones Harmony Chorus has been kept on its toes, with lots of Christmas singing engagements, as well as other fund-raising singing events. This is our busiest time of the year and is the period where we can make some money, not only to cover our chorus and other costs, but also to raise funds for our main charity: Ronald McDonald House.

Currently we are committed to a multi-weekend pre-Christmas singing engagement for Newcastle Council at a popular Sunday visitor hub on the edge of Newcastle Harbour next to the big Christmas Tree at Queen's Wharf.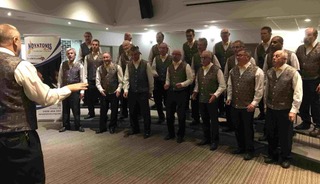 As well we have been in demand at the big local shopping malls at Kotara and Charlestown, singing carols at various locations around the centres. The Christmas season seems to be starting earlier and earlier! On 9th November at Westfield Kotara Shopping Centre, we joined in the fun of 'Santa's arrival' where we sang on stage to open the event and afterwards joined in the procession which was led by a small New Orleans'-style jazz band, all around the centre. The large entourage included Santa & Mrs Santa, Novatones, a couple of local sporting teams and a bevy of actors dressed in kid's hero costumes. We attracted a lot of attention, especially by highly-excited shop workers, who get little access to interesting events within the confines of their small shops.

Other more-formal functions that we have also been happy to be part of, included singing at the opening of a designer-awards day at Newcastle TAFE and taking part in the annual multi-cultural mass-choir singing event at the Sacred Heart Cathedral in Newcastle. Less-formal events have been good fun as well- particularly a memorable night at our own Christmas party in our own room at the 16 Footers Yacht Club on the edge of Lake Macquarie and a pub-crawl in Beaumont St Hamilton.

Before Christmas, there are a number of Novatones singing events still to come. There will be more carolling around the shopping centres and other Christmas-party obligations to come. However it is often the little things that stick out in our minds, things that make singing in public so worthwhile! One such occasion epitomised what singing in a barbershop chorus means to the group- This impromptu 'feel-good' moment happened while we were singing outside Coles at Westfield. An older chap came up to us and said that he had heard us before and wanted to know if we would sing 'Barbara Ann'? Of course we complied and he loved it! With tears in his eyes he told us that his wife, who had passed away recently, was named Barbara. He gratefully put $10 in our bucket.

Mark Henley - Reporter
---
Festival Statesmen
| | |
| --- | --- |
| Type of post: | Club news |
| Sub-type: | No sub-type |
| Posted By: | Dick Bushell |
| Status: | Current |
| Date Posted: | Sun, 15 Dec 2019 |
The end of a very busy fundraising year is coming to a close for the Festival Statesmen.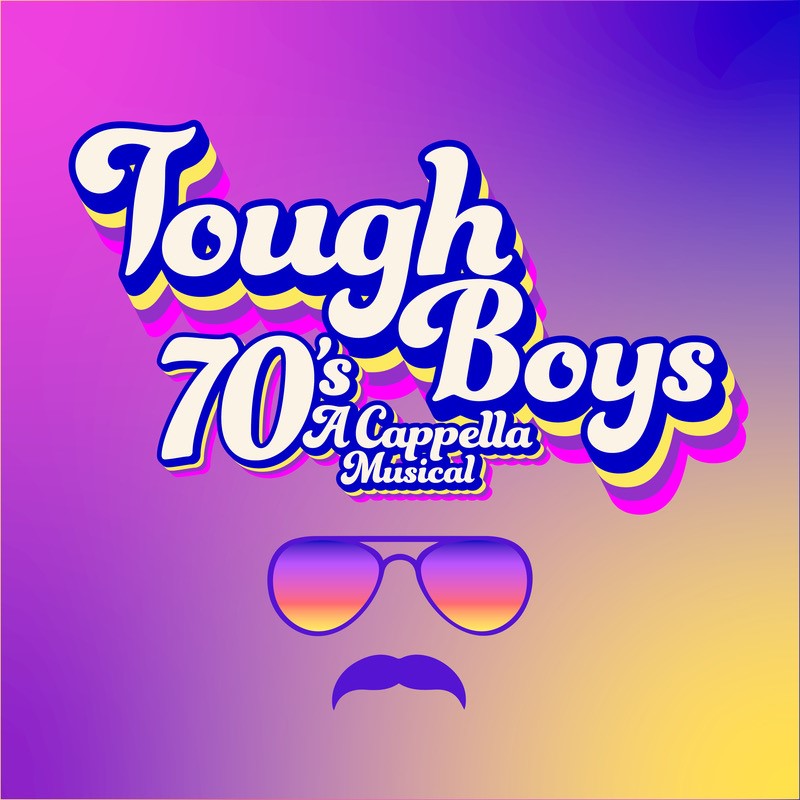 This coming weekend December 14 we celebrate Christmas with an exciting concert collaboration with High Spirits Harmony. The program will feature many beautiful traditional and contemporary Christmas pieces. The following day we perform on the same stage as Guy Sebastian in the Civic Park Carols in Adelaide, with an estimated Audience of over 40k.

Planning for 2020 is well underway for Festival Statesmen with our Fringe Show 'Tough Boys' a 70s A Capella Musical well into rehearsal. If you are in Adelaide on 22-23 February we would love to see you in the audience. Tickets available at www.adelaidefringe.com.au.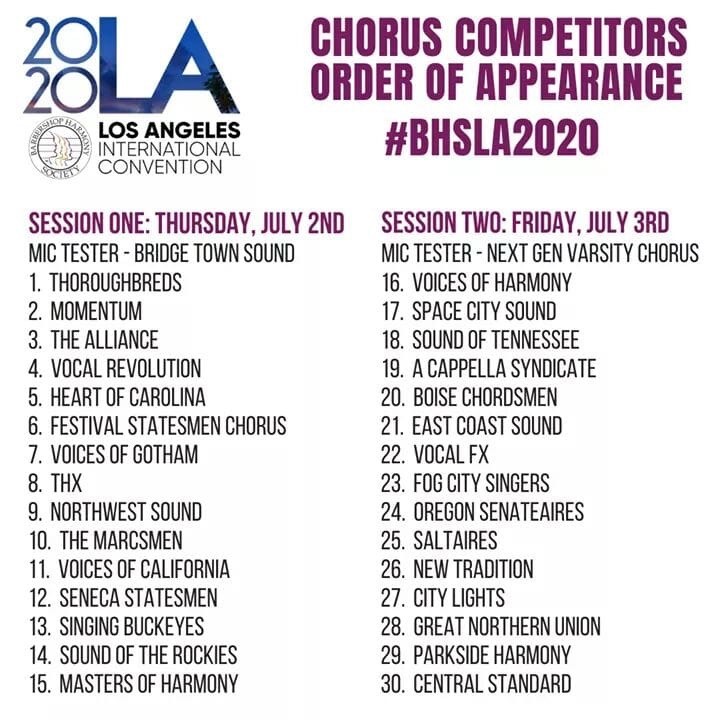 We cannot believe that in six months we will be getting on a plane to represent BHA at the International Competition in Los Angeles. Next year we kick it all off with a Los Angeles retreat on Australia Day weekend, then the rehearsals start. Planning for our 'on the ground' tour in Los Angeles is well underway, flights and accommodation booked, and with the current plans to be in Los Angeles area for a week prior to the convention. We hope to acclimatize, relax, rehearse, join some Los Angeles Chorus' and make sure that everyone is in the best voice to represent all of you. We have been placed at Chorus number 6 in the performance Schedule on Thursday July 2 in the morning session. I am sure that all our BHA friends will be tuning in to see what Festival Statesmen can do on the world stage.

My final message for 2019 is to thank everyone who has supported Festival Statesmen this year on our road to Los Angeles. We are very proud of our efforts this year keeping our momentum and trajectory firmly focussed on Los Angeles. Festival Statesmen look forward to bigger and exciting times in 2020. It's getting real and we cannot wait for Los Angeles. Thank you for your support and wishing you all the very best for the new year!

Anthony Little
President
---
Melbournaires
| | |
| --- | --- |
| Type of post: | Club news |
| Sub-type: | No sub-type |
| Posted By: | Dick Bushell |
| Status: | Current |
| Date Posted: | Sun, 15 Dec 2019 |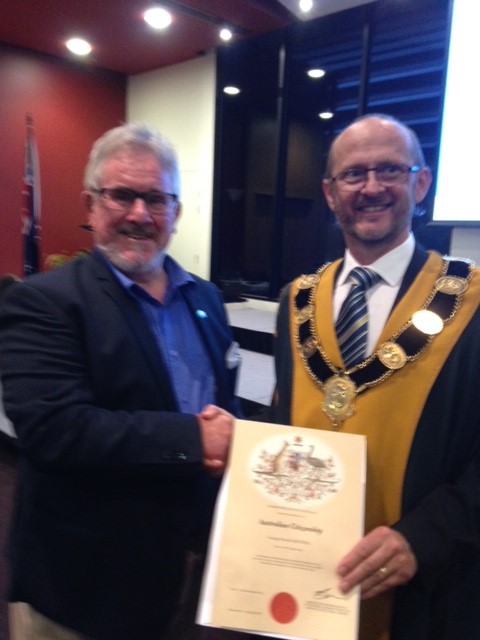 The Melbournaires recently welcomed another 75 new Australians at the latest citizenship ceremony in the Shire of Manningham. Among them was a well-recognized face, one of our own, the all-singing, all-bagpiping, George Arundel. George has lived in Australia for 53 years, and after casing the joint out for so long, decided he would settle here and become a real Aussie. Of course it helps if you are friends with the mayor. He has been a member of the Melbournaires for almost 20 years, and is also a member of Phoenix Chorus, one supported by the Melbournaires. It is said a Scotsman never loses his accent, and George is living proof. His melodious bass voice can be heard at rehearsals where he is trying hard to match vowels.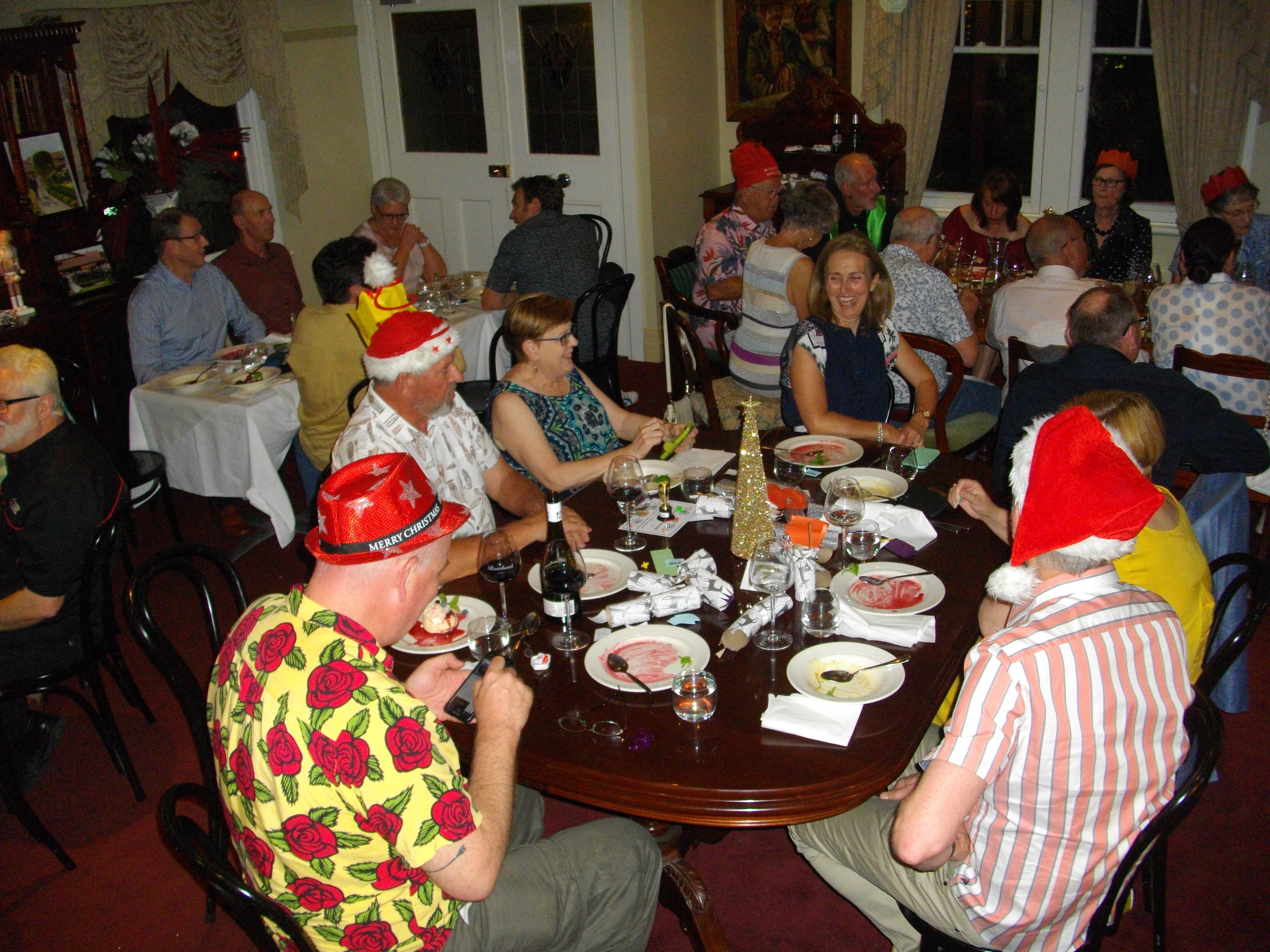 The Melbournaires Christmas party was held on the 9th December at a new venue in North Ringwood. From comments from many members, thanks to the likes of our resident clown Andrew Wright, the evening was an obvious success. About 100 members and partners and friends attended, and were treated to waiter service and excellent food. There was even room in the restaurant to put up two sets of risers providing a more than friendly disposition for a crushed and bursting at the seams chorus. Nevertheless, the singing was enjoyed, both from the chorus and quartets, who performed under less than easy circumstances.
One of the highlights of the evening is always the naming of the Barbershopper of the Year. There are many deserving members of the prestigious trophy, and this year the winner was Andrew Wright. So no more a clown, but an honored member of the Melbournaires, well recognized for all the behind-the-scenes work he puts in. Over all, a great night and one that will possibly be replicated next year.
The Melbournaires would like to wish all barbershoppers a very happy and healthy Christmas season, and an exciting and successful New Year.
Terry Phillips
---
Miner Chords
| | |
| --- | --- |
| Type of post: | Club news |
| Sub-type: | No sub-type |
| Posted By: | Dick Bushell |
| Status: | Current |
| Date Posted: | Sun, 15 Dec 2019 |
The Miner Chords have finished the year very well. We had 4 performances in 2 weeks and we did well at all of them, even though we had only 8 voices at one of them. I'm proud to say that 3 of those performances helped our fundraising efforts – is there a better way to fundraise than doing what we love to do? We were very much aided and abetted by our new MD, Glen Windle who spent her first couple of months polishing our performance skills. She has signed on for next year too and we're looking forward to learning new songs under her tutelage. Glen also sings with the Sweet Adelines so we're in good hands.
Miner Chords at the Legacy Lunch on 6th December 2019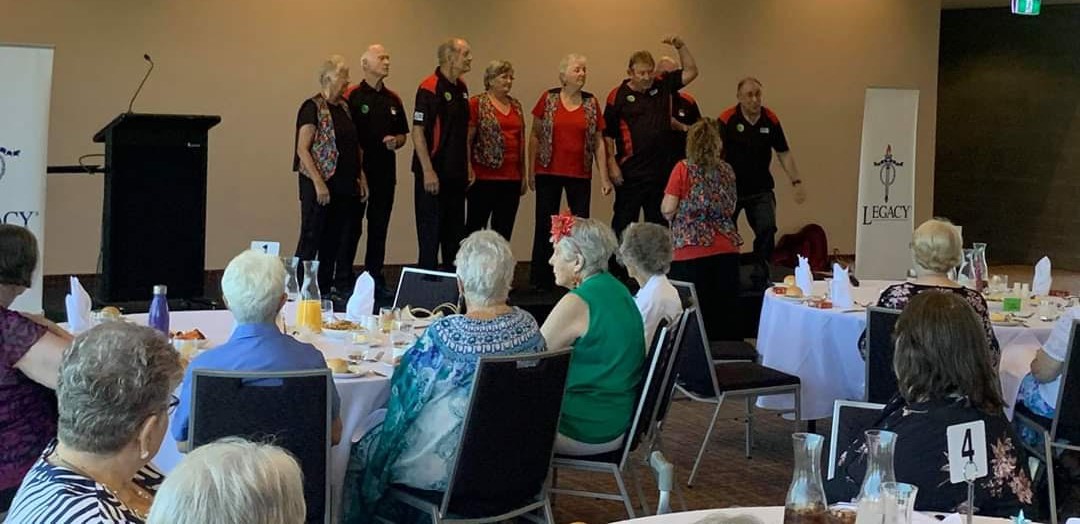 We also received a grant from the Ipswich City Council for uniforms for the women in the group. The first prototype has already been made and we hope to start 2020 with performance uniforms.

Our Christmas breakup was fun. Lots of singing and eating. We had 3 MDs present, plus a guitar and recorder so we were able to sing a whole range of songs. It was lovely to see Gordon Dryden, our previous MD, and a few old friends as well. Gordon and Mark presented our new MD with a badge – we made a bit of a ceremony of it.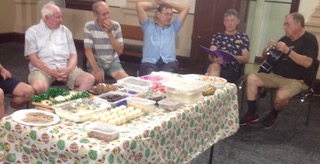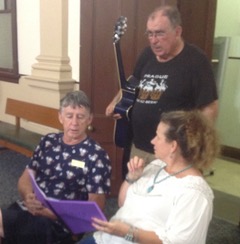 Our final effort for this year will be a sausage sizzle at Bunnings. Singing and sausages, hopefully we'll do well financially, and recruit a few new members as well.

Merry Christmas to you all, and tuneful New Year.

Norid Krausz - President
---
Fleurieu Harmony
| | |
| --- | --- |
| Type of post: | Club news |
| Sub-type: | No sub-type |
| Posted By: | Dick Bushell |
| Status: | Current |
| Date Posted: | Sun, 15 Dec 2019 |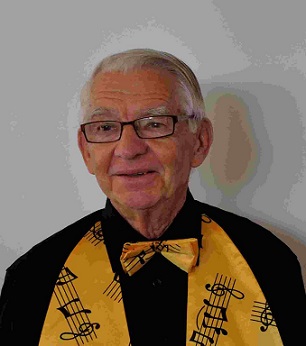 It is with great sadness to report that our member Geoff Hill passed away last month after a year of having health problems, he did not let it get him down and stayed positive coming to rehearsals and singouts until the last 6 weeks. Geoff was 85 years of age and a member from the start of the chorus in 2000. He was the lone baritone for a long time and eventually became the leader of the baritone section, he was a committee person and held the Treasurers position for several years. In 2014 Geoff was awarded life membership for his services to the chorus, he was a thorough gentleman and will be greatly missed by all our members.

Geoff receiving life membership from the President Rod Whyte in 2014 along with L-R Gordon Tomlinson, Michael Cunnington, Geoff Hill & Michael Wood For their special services to the chorus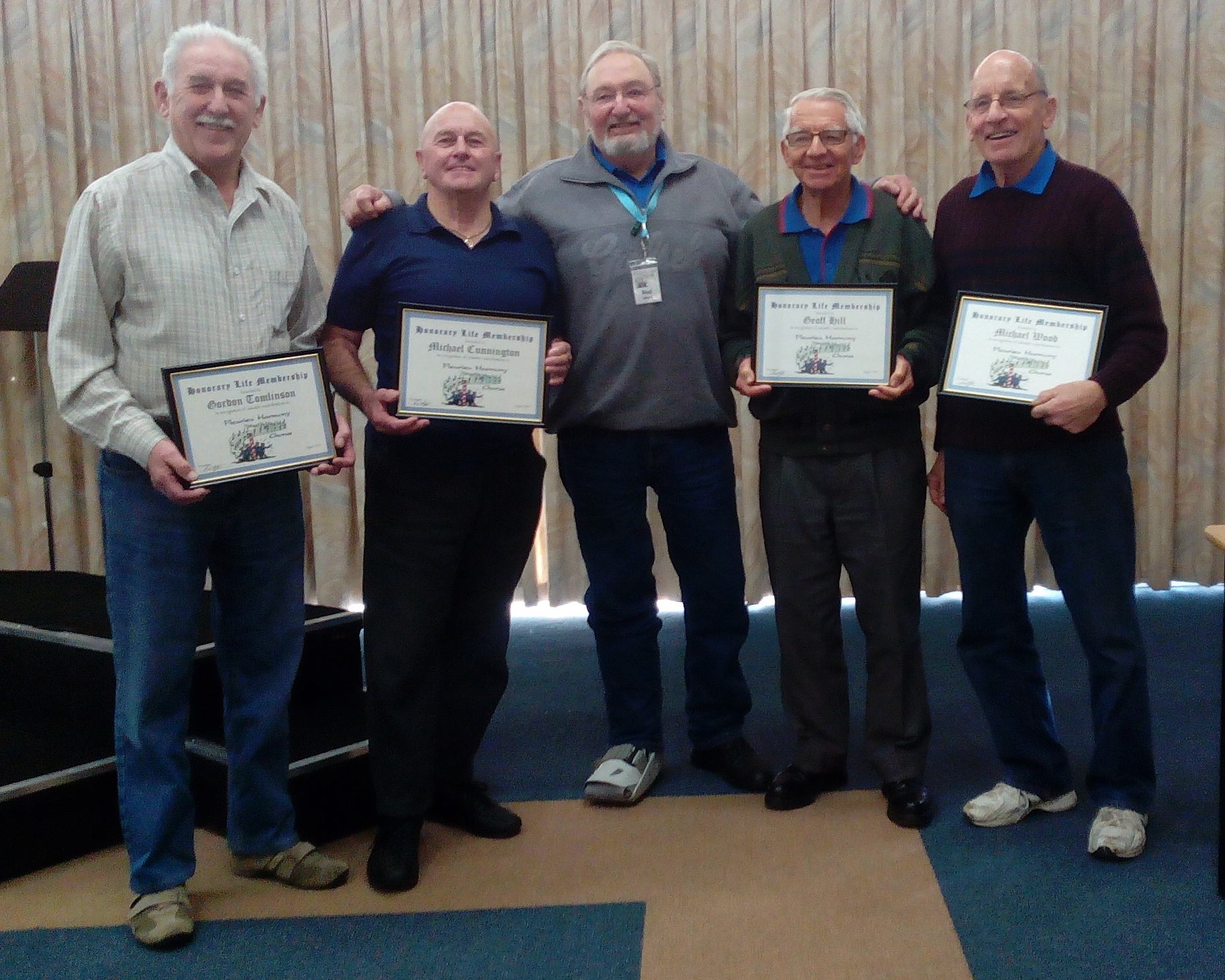 Besides the usual singouts at local service clubs, nursing homes etc. we have had a retired music teacher running a short series on 'understanding written music notation' as most of the chorus, including myself, have managed to avoid this and have learnt from recordings.

We also formed a sub committee to look at recruitment covering a radius of 20 kilometres with advertising posters in shops, clubs, churches, men's sheds and any where else we found, including talking to the people in the organisations. That was 3 months ago and we have not had one enquiry from it to date. Friends and singouts are still our biggest way of getting new members. We also use our electronic media ie. the Facebook site and of course our Web page to advertise on a regular basis. The good news is that a member who retired to look after his sick wife has returned as she is now well, and also two members brought friends along recently who thoroughly enjoyed the chorus and will be be joining us in the new year . The Chorus members and their partners will hold our Christmas break up celebration on Friday 13th, despite the fact that this year we have a Bunnings Sausage Sizzle and a Wedding Anniversary function on the weekend before Christmas.

From all of us, we wish all the barbershoppers and their families a great Christmas and most importantly a Healthy and Happy New Year

Gordon Tomlinson
President
---
The Hills are alive "and kicking"
| | |
| --- | --- |
| Type of post: | Club news |
| Sub-type: | No sub-type |
| Posted By: | Dick Bushell |
| Status: | Current |
| Date Posted: | Sun, 15 Dec 2019 |
Like most choruses, we are finishing our year off with a flurry of Christmas Shows with five performances in December in the lead up to Christmas. We have our usual stints at Stockland Mall, Baulkham Hills as well as a great concert at one of our local Probus Clubs in front of an appreciative audience of over 150 people. We also performed at St Pauls Seniors Group Christmas Luncheon and presented our Christmas show to the residents of Mark Donaldson House at Galston.

Our show consists of a mix of Christmas songs, some of our normal show songs and often includes individual performances by our MD Peter on his violin as well as Craig Rose, our resident Country and Western buff and one or two of our quartets. We invariably get complimented on how entertaining and varied our shows are. It certainly makes this great hobby of ours much more satisfying when you get this type of response.


This will cap off a great year for us where we have performed a record 23 times throughout the year.

Our imperative for the coming year is to boost our numbers and we have a number of new initiatives in the pipeline to help us do this.

Best wishes to all our Barbershop friends for the coming Christmas and New Year period.

Dick Bushell
---
SydneySiders Express Harmony Chorus (SSEHC) "What a year"
| | |
| --- | --- |
| Type of post: | "In Harmony" Newsletter |
| Sub-type: | No sub-type |
| Posted By: | Dick Bushell |
| Status: | Current |
| Date Posted: | Sun, 15 Dec 2019 |
SSEHC enjoy the "Family Night" at Bunnings Rydalmere
Following the Ryde Eisteddfod and concert mentioned previously, we made return visits to several Retirement Communities. We performed at a Seniors' Lunch provided by Lindfield Rotary Club, leaving with an invite to return in 2020. These activities provide entertainment, valued funds for our charity and the opportunity to 'road test' the latest additions to our repertoire: "Summer Time", "What a Wonderful World", "Imagine" and "Perhaps Love"; invaluable experience gained through public performances (17 this year).

This year has seen us seek new venues and several firsts, "The Marion" in Leichardt and "Gracewood" in Kellyville. Our performance at "Constitution Hill" Northmead gained us the invitation to return for their Christmas Party. We also entertained the guests at a Dementia Awareness Week Picnic Luncheon at the Woodcroft Community Centre.


SSEHC in the foyer of The Children's Hospital at Westmead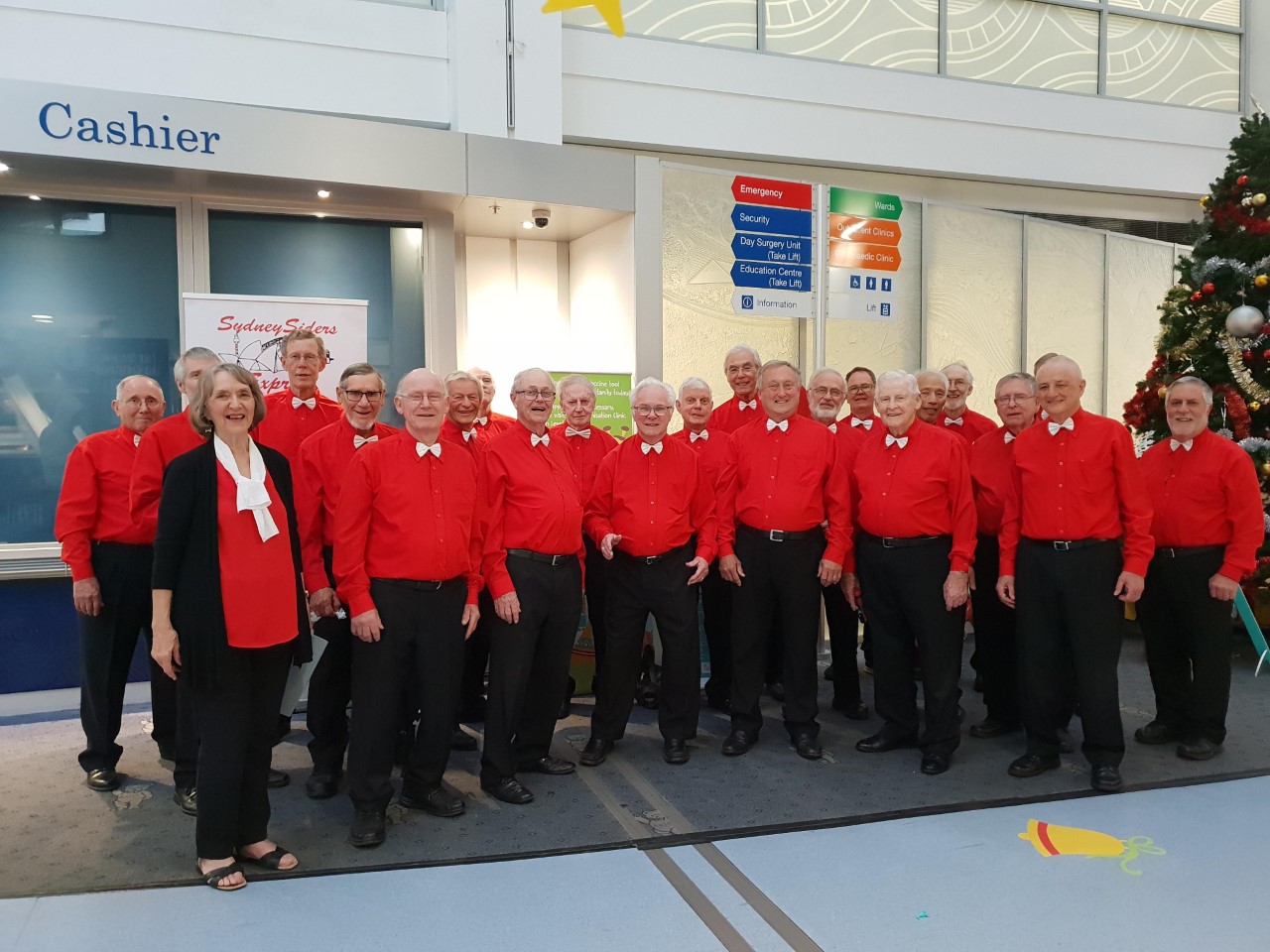 The 'firsts' were efforts to embrace aspects of the BHA Strategic Plan 2018-21, i.e.
'To be a force for good in the wider community and in brand recognition'.

We achieved this, participating in a Citizenship Ceremony here in Ryde, the first time the official songs have been performed by a choral group. We hope to continue with this important civic event. Council requested a PDF of our publicity flyer, which was included in a gift pack for each new citizen.

Also we approached our closest Bunnings (Rydalmere) for involvement in weekend "Sausage Sizzles", and were offered a cancellation. We conducted our first "Sizzle" on Saturday 30th November. On the following Thursday evening we participated in a "Family Night" at the same venue.

The highlight for the year was our visit to our charity, The Oncology Unit, The Children's Hospital at Westmead. We performed in the foyer and at several nursing stations then presented our donation of $4000.

We rounded out the year with our Christmas Party, where the more intrepid members entertained family and friends.

Lionel Eastwood
Events Coordinator
SydneySiders Express Harmony Chorus
www. sydneysiders.org
---
River City Clippers
| | |
| --- | --- |
| Type of post: | Club news |
| Sub-type: | No sub-type |
| Posted By: | Dick Bushell |
| Status: | Current |
| Date Posted: | Mon, 16 Dec 2019 |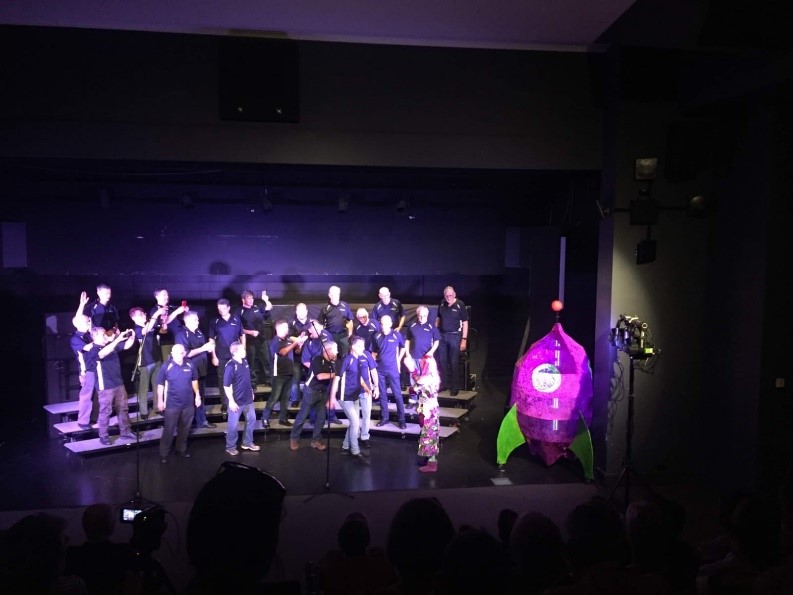 October saw the culmination and delivery of many months of hard work producing our annual concert. This year was quite a special concert, featuring an alien called "No-Tone" who visited a River City Clippers rehearsal on a quest to discover what music was all about.

A huge highlight of the show, besides the Clipper's singing, was an amazing video to start the concert created by one of our talented members, Andi, which we highly recommend BHA members take the time to watch this masterpiece (https://youtu.be/xUt0P_F45-I).

We also welcomed a newly-formed female barbershop chorus as our guest performers, "Blue Sky Harmony", who wowed our audience with their exceptional talent. We also put together a home-grown Clipper's octet just for the concert called, "Just Ate".

In November we were extremely fortunate to host internationally renowned singing coach and Musical Director of the "Central Standard" Chorus, Rob Mance, for an evening of coaching. Rob taught us many new ideas and opened our eyes to techniques for better alignment, vocal production and singing better together as a chorus.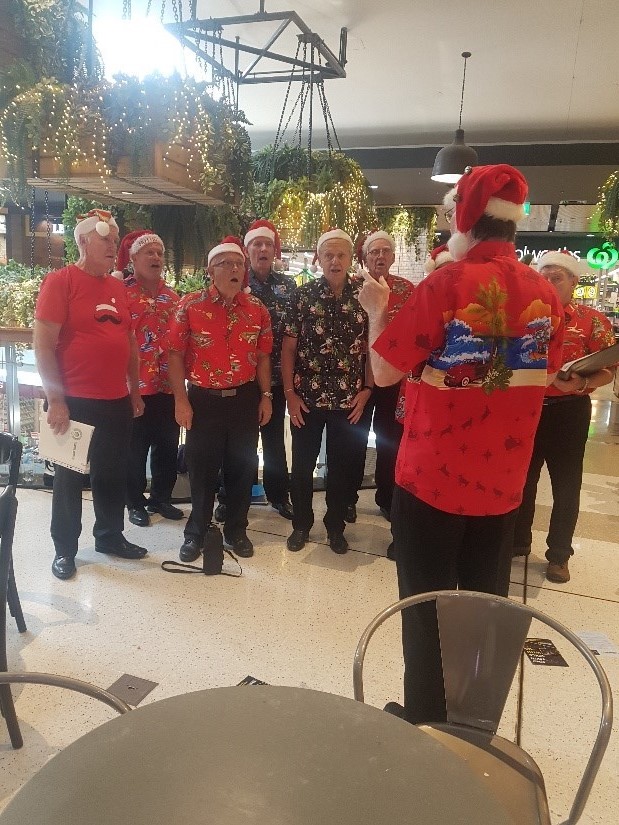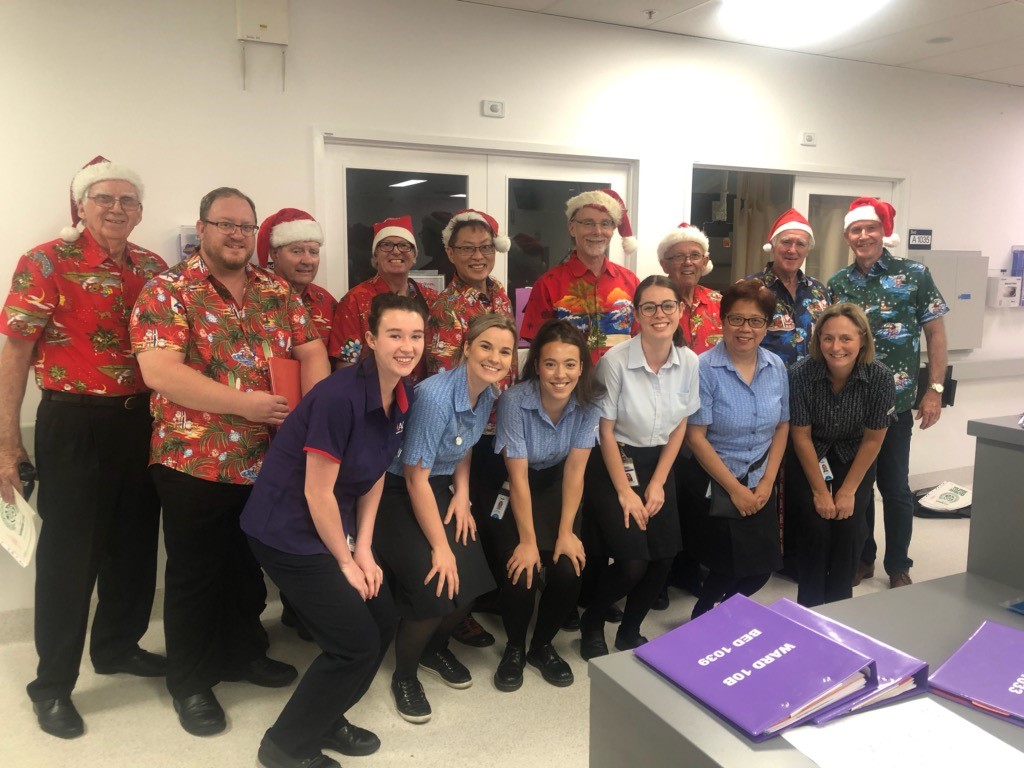 We've enjoyed several Christmas Carol events this December, performing at Westfield Carindale and an upcoming performance at Bunnings in Newstead. Each and every December the Clippers also spread some Christmas barbershop joy to the patients and staff of the Mater Hospital in South Brisbane, visiting the maternity wards - singing well-known Christmas songs of joyful births and the thrill of new life; as well as visiting the adults' hospital to provide comfort to patients who need a ray of sunshine. It is an uplifting experience for our singers as well those who's faces light up with the sound of our harmonies.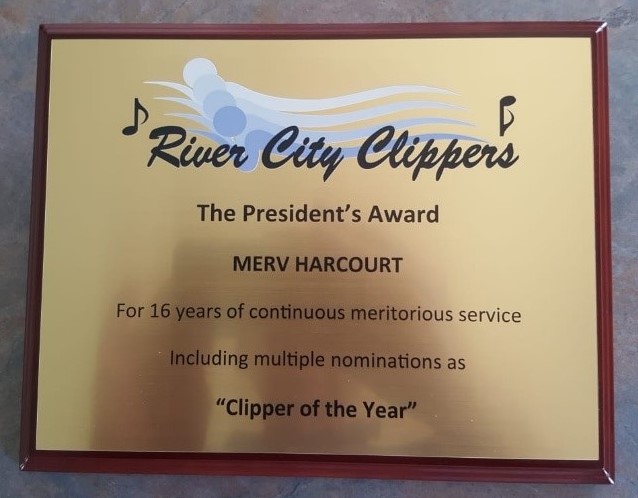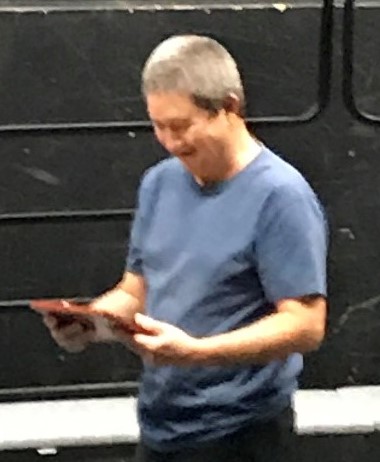 Lastly, we had two chorus members retire this December, Laurel Connolly, who served in the Auxiliary Team for over 12 years performing a number of duties to assist the chorus and Merv Harcourt, who's been singing lead in the Clippers for 16 years and also a list of other duties as long as your arm. We thank Laurel and Merv for their service and wish them well for the future.

We look forward to a successful year ahead and wish the same to our fellow barbershop choruses and quartets.

Steve Deans
---
Escapade
| | |
| --- | --- |
| Type of post: | Quartet news |
| Sub-type: | No sub-type |
| Posted By: | Dick Bushell |
| Status: | Current |
| Date Posted: | Sun, 15 Dec 2019 |
Greetings ya'all
Following the excitement of Hobart which culminated for us in the euphoria of our Seniors Gold Medal win, we've had a bit of a spell and worked with our home choruses (The Blenders and High Altitude Harmony) as they sing into the festive season.

We have however, found time to perform the Kiwi and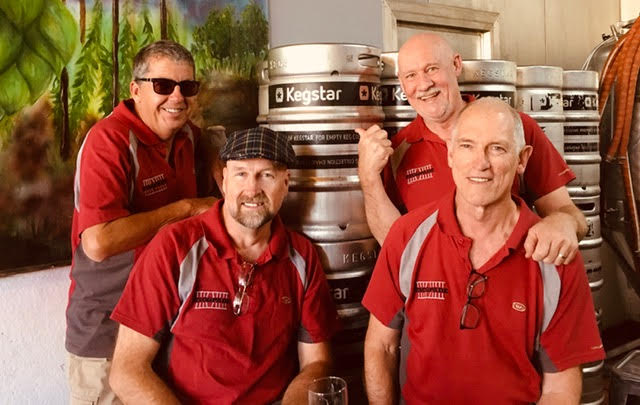 Australian National Anthems at the Tamborine Remembrance Day Ceremony in November. Another highlight was performing and partaking at the very laid back 4 Brothers Craft Brewery in Toowoomba and then at the High Altitude Harmony Awards Night in December. There has even been some chat about changing our name to The Kegstars but I suspect that was the Red Irish Ale talking.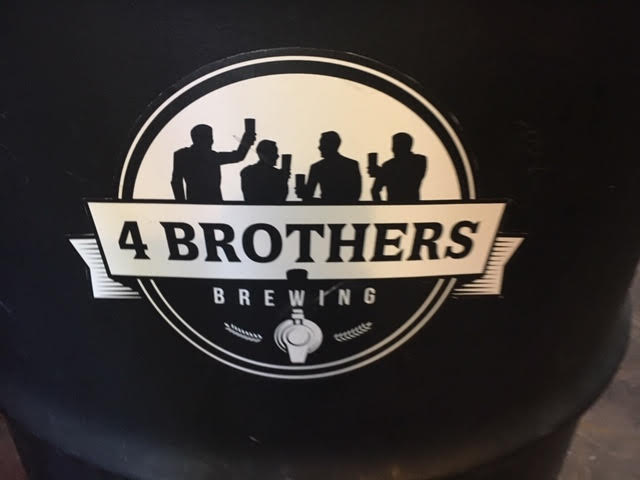 Whilst we are already working towards the 2020 Sunshine Region and Pan Pacific Competitions with some new material, we're also up for some real variety. To that end, we've organised a regional tour to Lightning Ridge with a couple of gigs along the way. We have a couple of other different projects on the table but this is tbc. Finally we'd absolutely love to receive an invitation to sing on your next Chorus show so please contact me at mb_ludwig@bigpond.com to see what's possible.
In harmony
Mike Ludwig
ESCAPADE
---
HURRY! Directors' School registrations closing
| | |
| --- | --- |
| Type of post: | "In Harmony" Newsletter |
| Sub-type: | No sub-type |
| Posted By: | Dick Bushell |
| Status: | Current |
| Date Posted: | Sun, 15 Dec 2019 |
Hi all,

Sweet Adelines Australia is hosting its annual Directors' School this year from 17-19 January in Sydney. All BHA Directors, Assistant Directors and Visual Leaders are warmly invited to join this event with the option of day registration.

The guest faculty is BHS's Cy Wood (bio here: http://www.mrcywood.com/about). Other Directors' School classes will be led by the SAI Region #34 Regional Education Faculty.

Directors' School is always a great opportunity for learning, sharing and networking with chorus leaders from around the country, and (very importantly) is great fun! Participants arrive in time for dinner on Friday, and depart after lunch on Sunday.

The cost is $150 per person, which includes two dinners (Fri/Sat), two lunches (Sat/Sun), morning and afternoon tea, Saturday and Sunday education sessions and handouts. Please note that accommodation isn't included. The registration link is here: http://www.cvent.com/d/1hqzvd.

Registration for BHA members must close by 2nd January so we can notify the venue of the final numbers. For further information, please email Jenni Pyefinch (Sweet Adelines Australia Directors' Coordinator) directors@sweetadelines.org.au.

Andrew Howson, VP Music
Barbershop Harmony Australia
barbershop.org.au
---
Save the Date - Sweet Adelines Australia Education Symposia
| | |
| --- | --- |
| Type of post: | News |
| Sub-type: | No sub-type |
| Posted By: | Dick Bushell |
| Status: | Current |
| Date Posted: | Thu, 19 Dec 2019 |
With our chorus year coming to an end, it's time to start planning for 2020. Yikes!

Next year, in place of August A Cappella, Sweet Adelines Australia will be bringing you the Region 34 Education Symposia. These days will be a fantastic opportunity for your members to experience and work with fabulous visiting faculty. Take this opportunity to save these dates in your chorus calendar, before your chorus retreats and coaching weekends etc. are locked in. Venues are TBA.

JUNE 20-21 – NSW
From the 2018 Champions, Scottsdale Chorus, we have Director Lori Lyford and Assistant Director Jana Gutenson bringing all their wealth of experience and knowledge to share with you.
AUGUST 21-23 – WA and AUGUST 28-30 – QLD
Then in August, we will bring you Rob Mance, sought-after barbershop coach and BHS singing judge.
For more information about our fabulous coaches click here
Although this event is being organised by Sweet Adelines Region 34, all members of BHA are welcome to attend. Save the date now!
---
Welcome to our newest members
| | |
| --- | --- |
| Type of post: | "In Harmony" Newsletter |
| Sub-type: | No sub-type |
| Posted By: | Dick Bushell |
| Status: | Current |
| Date Posted: | Thu, 19 Dec 2019 |
| | | |
| --- | --- | --- |
| Ghandi | Mandel | The Melbournaires Harmony Chorus |
| Trevor | Perera | The Melbournaires Harmony Chorus |
| Chris | Plummer | The Melbournaires Harmony Chorus |
| Jason | Rout | The Melbournaires Harmony Chorus |
| Jarom | Welsh | The Melbournaires Harmony Chorus |
| Peter | Joint | The Melbournaires Harmony Chorus |
| Alex | Jordan | Barbershop Harmony Club Of Canberra Inc |
| Toby | Silcock | Barbershop Harmony Club Of Canberra Inc |
| Andy | Moore | Barbershop Harmony Club Of Canberra Inc |
| Michael | Joost | Barbershop Harmony Club Of Canberra Inc |
| Damian | Rutledge | Barbershop Harmony Club Of Canberra Inc |
| Pete | Thipayaprapai | Barbershop Harmony Club Of Canberra Inc |
| Frank | Bergerson | Barbershop Harmony Club Of Canberra Inc |
| Tom | Kentwell | Barbershop Harmony Club Of Canberra Inc |
| Peter | Brown | Barbershop Harmony Club Of Canberra Inc |
---