Table of Contents
2019 Hobart Festival - Latest News
The BHA Medal nominations - 2019 - Last Call
BHA Club of the year Award
Chorus Member of the Year
BHA 2018 Membership Survey Snippets - Education
Melbournaires - Back to the Future
The Festival Statesmen - 10th Anniversary Concert
Hills Harmony Happenings
Sunshine Statesmen - Seeking risers
Wollongong - First Sing-out
Novatones News
Sydney Harmony 20th Anniversary Concert with The Newfangled Four
SydneySiders Express
River City Clippers
Canberra Chordsmen – A focus on growth and development
The Blenders at Harmony University
The River City Clippers - Valé Dennis Palmer and Myron Loving
Welcome to our newest members
Don't miss the Canberra Workshop with legendary Steve Scott
2019 Hobart Festival - Latest News
| | |
| --- | --- |
| Type of post: | "In Harmony" Newsletter |
| Sub-type: | No sub-type |
| Posted By: | Dick Bushell |
| Status: | Current |
| Date Posted: | Sun, 18 Aug 2019 |
The Latest edition of the Festival News has recently been circulated to all members. This included important information to everyone as summarised herein.
Click the "Read more" link then click on any of the headings to see the latest Festival News
---
The BHA Medal nominations - 2019 - Last Call
| | |
| --- | --- |
| Type of post: | News |
| Sub-type: | No sub-type |
| Posted By: | Dick Bushell |
| Status: | Current |
| Date Posted: | Sun, 18 Aug 2019 |
With the 2019 BHA Festival drawing near this is the last call for nominations for the 2019 BHA Medal and we have extended the deadline for entries to Thursday 22nd August 2019.

First awarded in 2017, the BHA Medal recognises an individual's exemplary contribution to the advancement of barbershop in Australia. It will be awarded to a current BHA member in good standing who has consistently "put in" for barbershop. In limited circumstances, individuals may also be considered for nomination whilst no longer an active member due to retirement on the basis of incapacity.

The award is kindly sponsored by Derek Cosburn, and to reiterate his advice with regards to the nomination:

1. Think about what that person continually does for the benefit of their fellow BHA members. It can be for their chorus, quartet, state, or the nation. In fact any reason is worth mentioning regarding they do when they "put in" their time and effort for the benefit of others. This is the one main reason for the existence of this medal, to acknowledge someone of your choice.
2. Think about re-nominating someone who had previously been nominated. Let's face it, if you believe they deserved your nomination in the past, they are probably still doing their thing for the benefit of us all and they will still deserve you nominating them again.

The passion evident in Derek's words convey the passion that many members hold for this wonderful barbershop community, so we encourage you to actively support this recognition.

So, if you wish to nominate someone, write it all down and send it to BHA Executive Officer, Jeannie Hattendorf admin@barbershop.org.au, by close of business on Thursday 22nd August 2019.

As best you can, please ensure the nomination includes details of nomination, the rationale for nomination and supporting evidence, certification of the BHA members supporting the nomination and contact details for follow up with regards to the nomination. Importantly, in relation to the nomination the evidence of the nominee's contribution to the advancement of BHA needs to be clearly stated.

For clarification on any aspect of the BHA medal purpose or nomination process please contact VP Membership via email on membership@barbershop.org.au

Yours in harmony

Paul Adams
Barbershop Harmony Australia
www.barbershop.org.au
---
BHA Club of the year Award
| | |
| --- | --- |
| Type of post: | News |
| Sub-type: | No sub-type |
| Posted By: | Dick Bushell |
| Status: | Current |
| Date Posted: | Mon, 19 Aug 2019 |
An email was recently sent to all Club Presidents inviting them to submit a nomination for your Club to be considered for the BHA Club of the Year Award. This is a reminder to get your nominations in as the deadline is not far away.

With so much great work happening throughout our organisation we need to take the opportunity to recognise and acknowledge the clubs that are leading the way for Barbershop in Australia. We do this through your participation in the BHA Club of the Year.

All BHA clubs are eligible to submit a nomination for Club of the Year, and the winner will be announced at the Hobart 2019 Convention, as noted below.

The deadline for Club of the Year submissions is Tuesday 3rd September 2019.

BHA Club of the Year

The BHA Club of the Year is an annual award, coordinated by the Vice President Membership and adjudicated by a special Committee of representatives appointed by the BHA Council.

The Award Committee will review each Club's nomination and make recommendations to the BHA Council, with the winner to be announced at the 2019 Hobart Festival.

The following criteria aligned to the BHA Strategic Plan will be considered for the 2019 BHA Club of the Year Award:


Enriching Australia Through Harmony - make our world a better place through the joy of singing barbershop music

Engage - with the community and our members in promoting contemporary Barbershop Harmony

Educate - educate people in high quality vocal production and contemporary Barbershop Harmony

Enjoy - share our enjoyment of contemporary Barbershop harmony and demonstrate our love of singing

To apply, simply address each of the above criteria (in whatever form you like but keep it succinct) and submit on behalf of the Club, including the details of a contact person for follow up as required.

The application needs to reach the BHA VP Membership Paul Adams (membership@barbershop.org.au), by close of business on Tuesday 3rd September, 2019.


I look forward to seeing you in Hobart.

Paul Adams
Barbershop Harmony Australia
www.barbershop.org.au
---
Chorus Member of the Year
| | |
| --- | --- |
| Type of post: | News |
| Sub-type: | No sub-type |
| Posted By: | Dick Bushell |
| Status: | Current |
| Date Posted: | Mon, 19 Aug 2019 |
With so much great work happening throughout our organisation we need to take the time to recognise and acknowledge the individuals that are the backbone of your Chorus.
Every Chorus is invited to nominate their "Chorus Member of the Year." Each of these members will be acknowledged at the Welcome Dinner.
Please note that every club is invited to nominate their "Chorus Member of the Year ", whether or not they are able to be in attendance at the Convention.
Chorus Member of the Year
This important acknowledgement is designed to allow Clubs throughout BHA to take an opportunity to more publicly recognise a member for outstanding service and accomplishments as a member of your Club and as a member of Barbershop Harmony Australia. The criteria for the selection of your Chorus Member of the Year is up to each Club to determine.
All Clubs appreciate having committed members who are willing to go the extra mile, and this award is a timely opportunity for Clubs to show the tremendous gratitude that we have for these members who tirelessly contribute to the success of every Club.
This person's name, photo and a brief description of their efforts should be forwarded to the BHA Executive Officer, Jeannie Hattendorff (admin@barbersahop.org.au), by Friday 6th September, 2019.
The Chorus Member of the Year will be acknowledged at the Welcome Dinner and a list of all nominees will be included in the following edition of In Harmony.
I look forward to seeing you in Hobart.
Paul Adams
Barbershop Harmony Australia
www.barbershop.org.au
---
BHA 2018 Membership Survey Snippets - Education
| | |
| --- | --- |
| Type of post: | News |
| Sub-type: | No sub-type |
| Posted By: | Dick Bushell |
| Status: | Current |
| Date Posted: | Sun, 18 Aug 2019 |
The BHA National Council continues to work through the results of the 2018 BHA membership survey . We are referencing the information contained within the responses in consideration of the key strategies and objectives for BHA. This is in line with our strategic vision of Enriching Australia Through Harmony.

This time we are focusing on the importance of education.

When it comes to personal member satisfaction,

"BHA's Music Education faculty visits are valuable to myself and my club" tops our scores with 82% agreement followed by

"BHA's Music Educator resources are valuable to me" with a 67% agreement across our membership.

This is hopefully contributing to the score for "my Club has good musical leaders" with a 90% agreement.

We didn't specifically survey musical leaders on their group satisfaction with the resources provided by BHA, but as always, we would love to get feedback on ways that we can continue to grow in this area.

Our premium opportunity for personal growth and education, Harmony Academy sees only 47% agreement that "Attending Harmony Academy is valuable to me". This is an area that we will continue to explore. The feedback that we have received from participants in the past few years continues to suggest it is an excellent opportunity and participants attest to significant personal breakthroughs (not to mention a whole lot of fun). Certainly, the plans for the 2019 Harmony Academy in Hobart have an exceptional faculty, including the members of our visiting International Gold Medal quartet, Signature.

The evidence of our development within the key strategic objective of Educate may be demonstrated by the improvements in our open quartet qualification scores, with the 2019 qualification of 63.5 our highest ever level. More importantly, the quality of our education relates to the quality of our ability to do the one thing we are all here for – to sing and ring those chords for the benefit of others!

We know there are still opportunities to grow our education offerings and effectiveness, and welcome feedback and innovations that can support our plans to Engage, Educate and Enjoy.

Paul Adams
VP-Membership
Barbershop Harmony Australia
membership@barbershop.org.au
---
Melbournaires - Back to the Future
| | |
| --- | --- |
| Type of post: | Club news |
| Sub-type: | No sub-type |
| Posted By: | Dick Bushell |
| Status: | Current |
| Date Posted: | Sun, 18 Aug 2019 |
The rain came slowly at first, drop by drop, gradually increasing, until suddenly in a great crescendo of noise, the heavens opened, it teemed down, lightning flashed and thunder roared. Another mid-winter day in Melbourne? No, the Melbournaires were engaged in a special concert, together with the Sweet Adelines ladies chorus at the Karalyka theatre in Melbournes' outer east.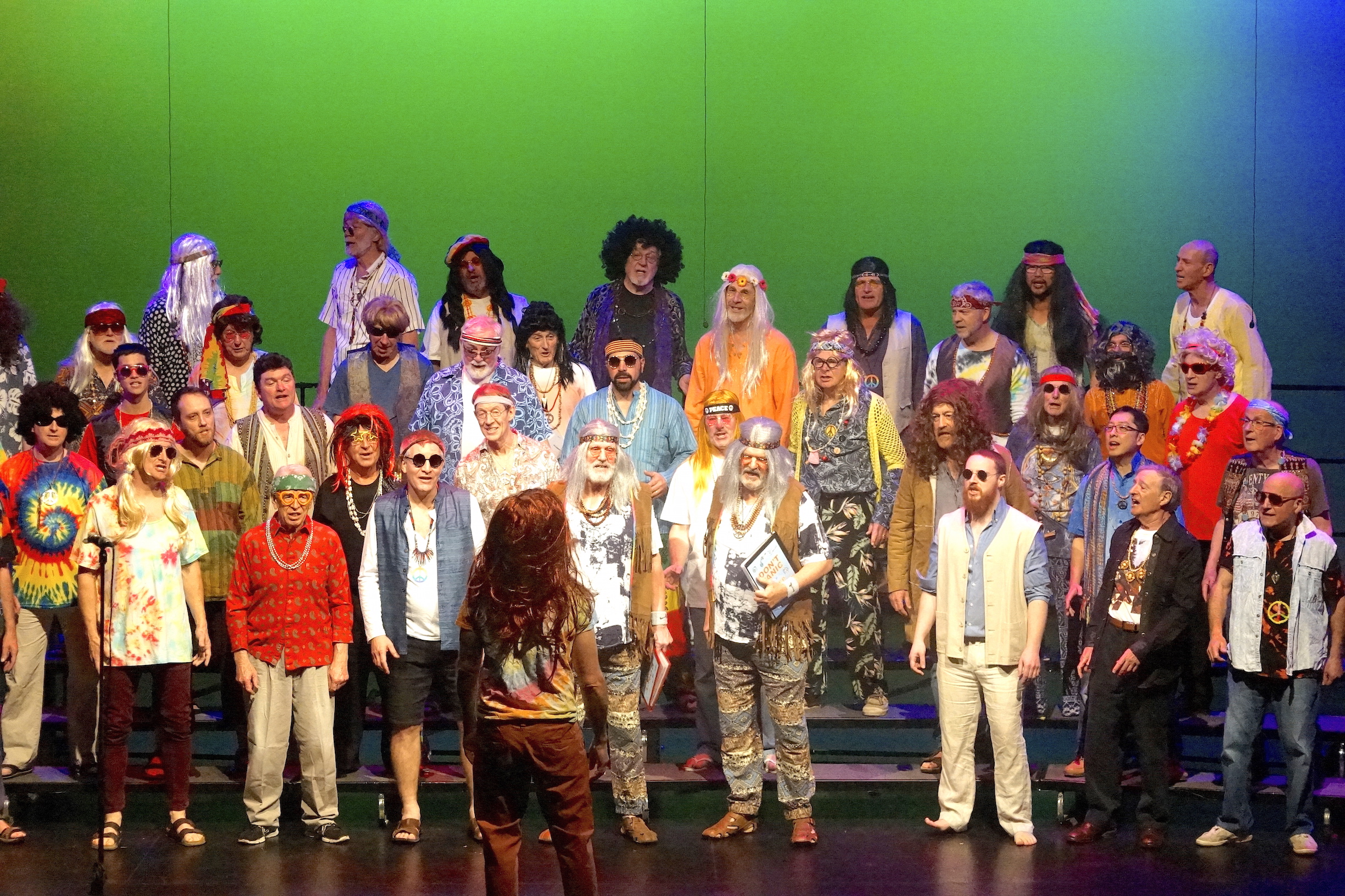 The opening number was "Africa", well orchestrated by our own Clive Metz, and although not barbershop, was endorsed by tumultuous applause and a cheering full house for the self-generated sound effects and spectacular lighting.

The show was a two hour event with five costume changes including having to dress as "Hippies". While for some in the chorus the word Hippies meant very little, for others it was more of a "come as you are" type of dress, but the overall effect was both amusing and colourful and for the audience, well worth the price of admission alone. This was a fund-raising event but also a learning curve for our Committee of Management. To gain maximum benefit from such a large production, ticket pricing plays an integral part, and determines audience numbers, production costs, performance time, intervals etc.. Needless to say, performers and audience alike enjoyed a magnificent Sunday afternoon show.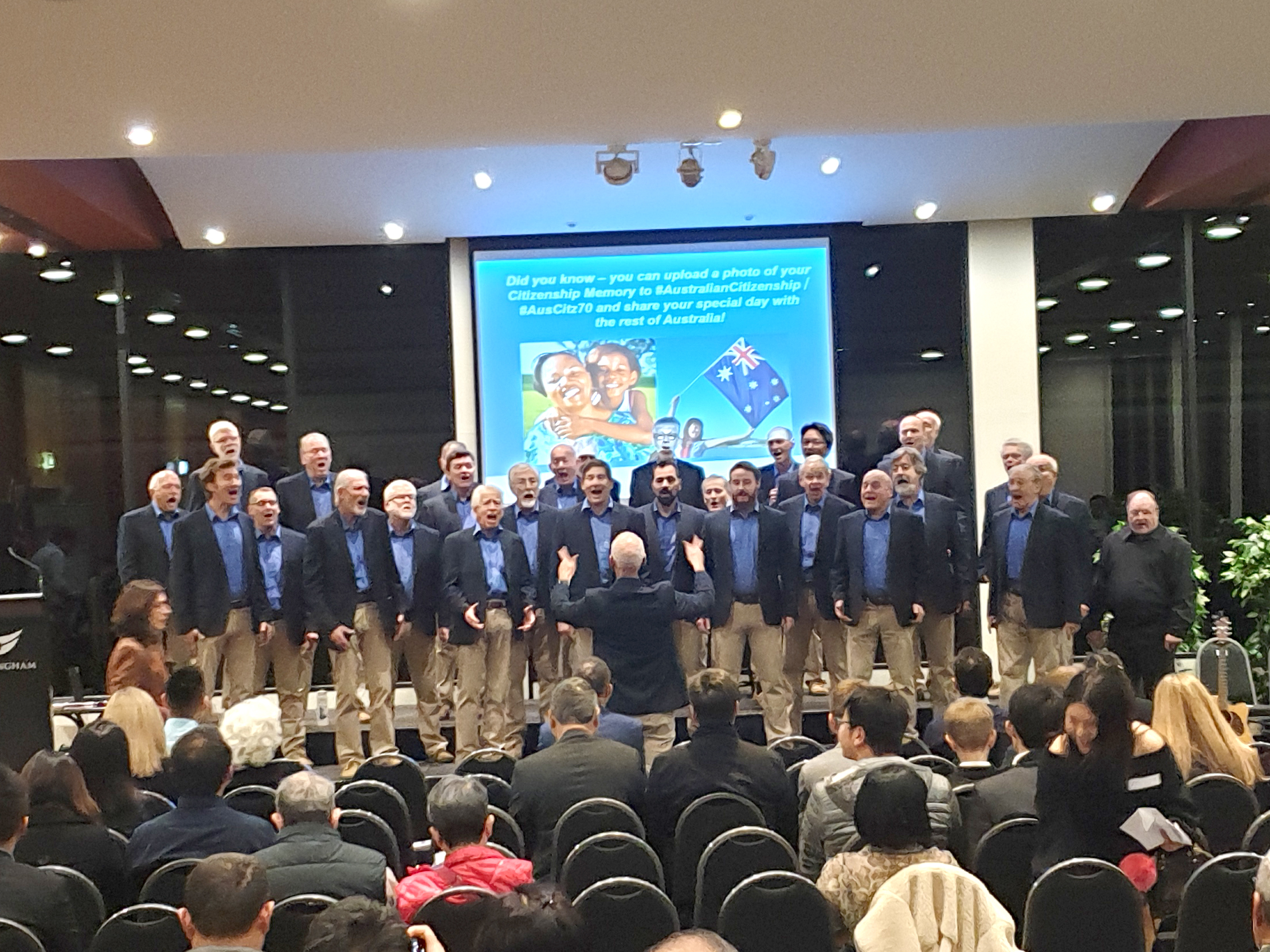 On Monday July 29th the Melbournaires, once again played a role in the induction of migrants to Australian citizens. The Manningham Council in Melbournes' outer East held another citizenship ceremony and invited the Melbournaires to participate. We performed for half an hour while the certificate recipients were arriving, and at the closing stage led the New Australians their families and friends, singing the National Anthem. There were seventy one New Australians from twenty different countries; multiculturalism at its best.

Terry Phillips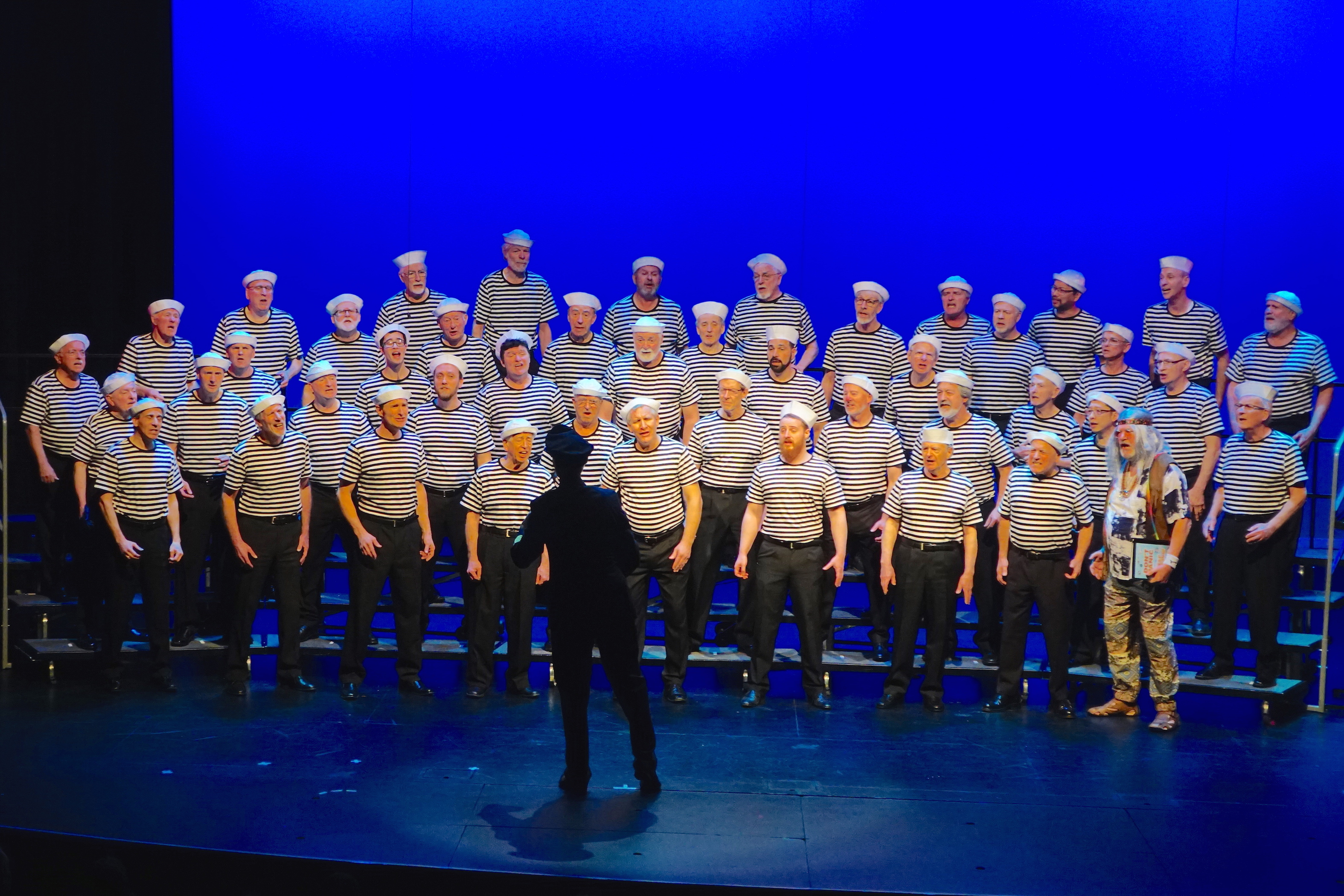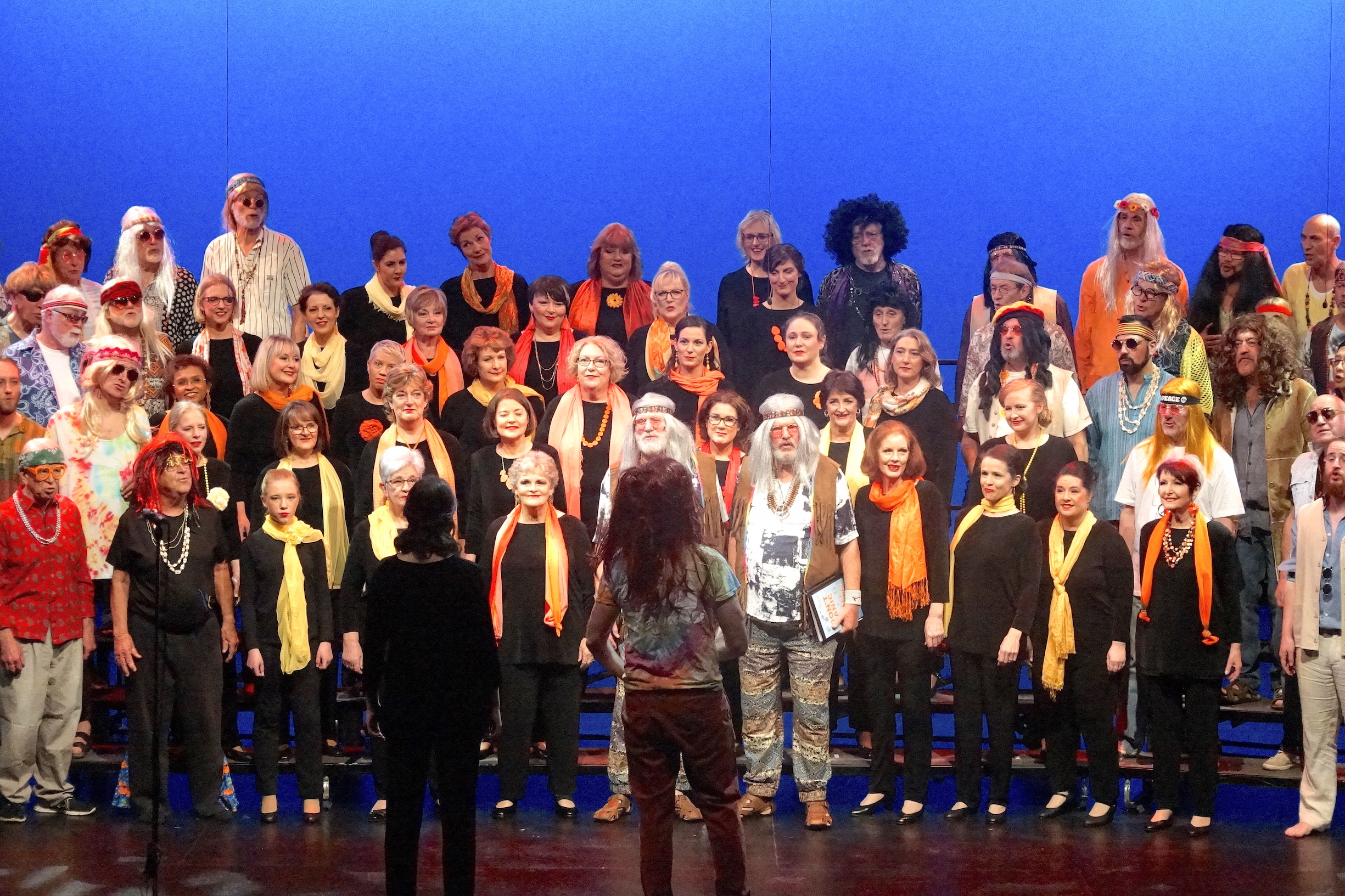 ---
The Festival Statesmen - 10th Anniversary Concert
| | |
| --- | --- |
| Type of post: | Club news |
| Sub-type: | No sub-type |
| Posted By: | Dick Bushell |
| Status: | Current |
| Date Posted: | Sun, 18 Aug 2019 |
The Festival Statesmen Chorus is ready to hit the stage on Saturday 31 August for its 10 Year Celebration Concert. This evening will showcase a selection of songs performed by the Festival Statesmen over the last ten years, plus a few new songs that will be sure to delight. This is another major Fundraiser for Festival Statesmen to get us to Los Angeles in 2020, to compete in the Barbershop Harmony Society International competition.

Barbershop Harmony Festival is getting closer and the Festival Statesmen are excited about heading to Hobart in September. We will be hosting the Chorus Corral as well as performing on the Wednesday 18th, 5pm free concert at the Town Hall. We are excited to see what Chorus' and quartets bring to the stage in 2019. We can't wait to see everyone in Hobart.

Anthony Little
Vice President Festival Statesmen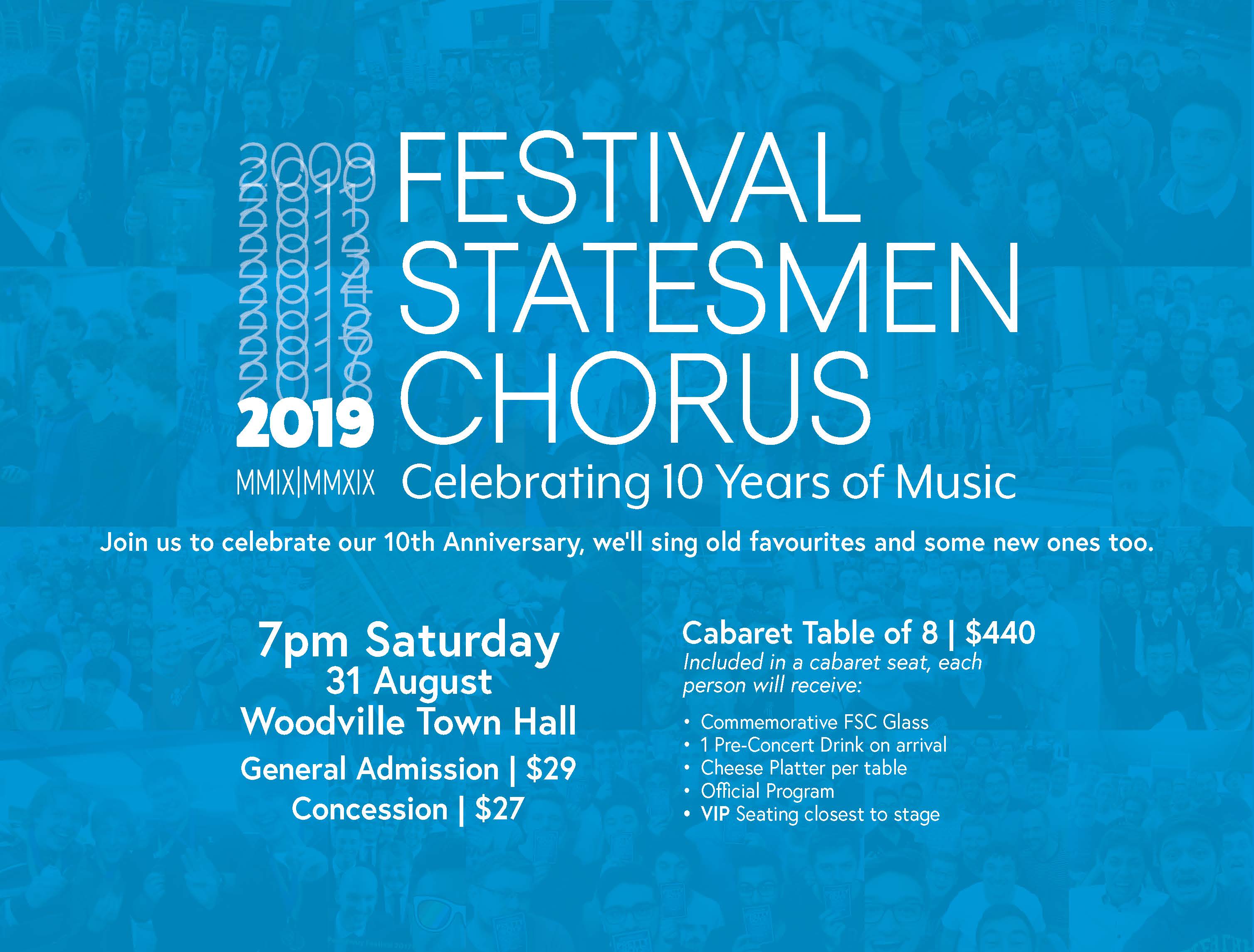 ---
Hills Harmony Happenings
| | |
| --- | --- |
| Type of post: | Club news |
| Sub-type: | No sub-type |
| Posted By: | Dick Bushell |
| Status: | Current |
| Date Posted: | Sun, 18 Aug 2019 |
What fun the "good ole guys" from the Hills have had singing together over the past months.

Saturday 13th July saw us wind our way south once again to visit with Russell Bailey and "new and improved" Wollongong guys. After workshopping a couple of songs in the morning, we had lunch together, then headed off deeper south to the Warrigal Nursing home at Albion Park. Here we provided a combined concert for a very receptive audience.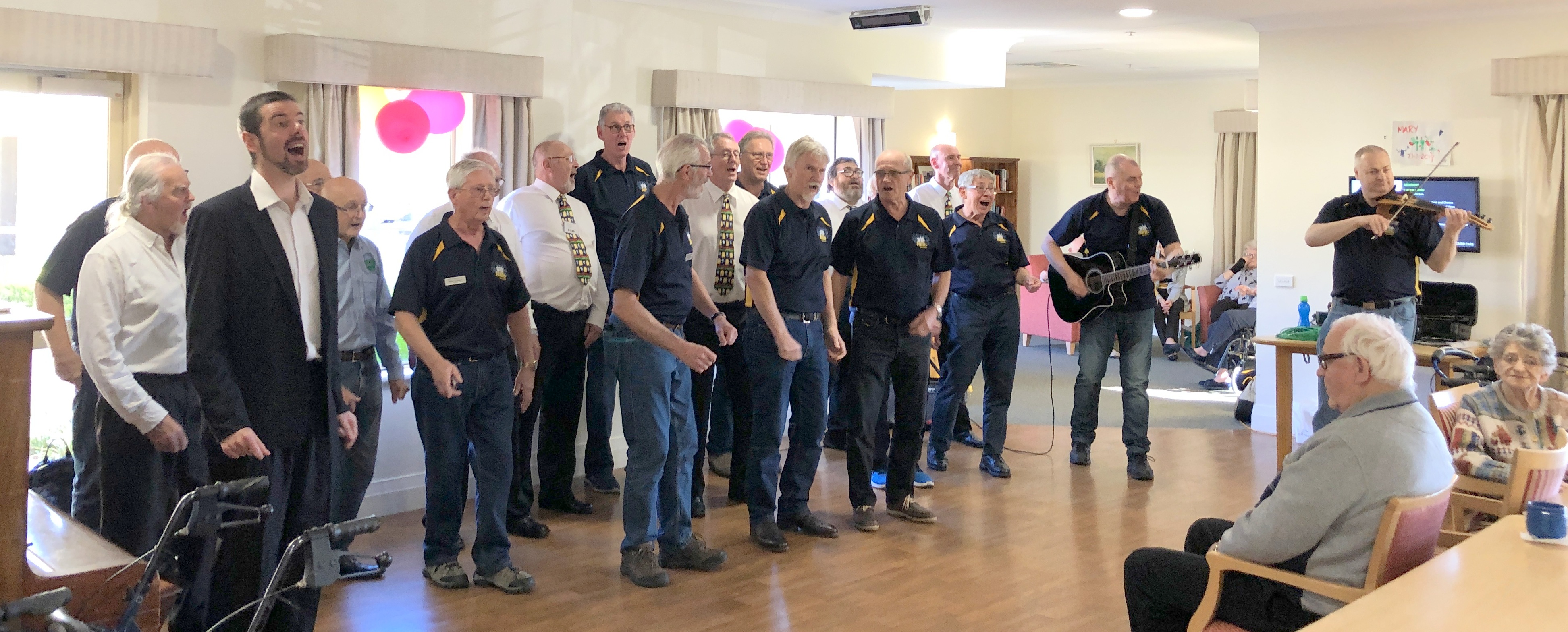 The folks at Warrigal all suffered from age related disabilities and don't get out much. It was a great experience for all of us to share our music with them. In the pause before the tag in Barbara Anne one of the grand dames jumped in with "Oh, that was lovely, you can sing that again". We could see the positive impact the music had on the residents and the workers with many of them responding with big smiles, singing along and moving to the beat. It was great to be part of the first concert for many of the Wollongong guys.






Another part of our outreach program is to actively seek busking opportunities in local shopping centres. This has added some funds to the coffers but more importantly showcases us in the local community. More people hear us, know we exist, that we sing well and we have fun. Our last sing out at Dural made it into the local paper.






Recently we have had great fun preparing our "special" performance piece for the Hobart Festival. Rob Sequeira spent a very productive day with us and it was terrific to have his input. He is a great educator and gave us very positive assistance and feedback. Lots of input, lots of fun, an all singing all dancing spectacular piece. Those Adelaide larrikins had best be on their game. See y'all in Hobart.

Paul Meller
---
Sunshine Statesmen - Seeking risers
| | |
| --- | --- |
| Type of post: | Club news |
| Sub-type: | No sub-type |
| Posted By: | Dick Bushell |
| Status: | Current |
| Date Posted: | Sun, 18 Aug 2019 |
The Sunshine Statesmen Barbershop Chorus in Buderim, on the Sunshine Coast in sunny Queensland, is seeking an additional one or two (1 or 2) Riser Units to help us cope with our rising number of Chorus Members.

We currently have four (4), 72 inch (6 feet), three step Peery Risers (model PPC-PFR72), with attachable Backrails.

If anyone has a spare Riser or two that would be compatible with our present Risers, and that they would be willing to sell, please contact The Secretary (Peter Hall) on 0477 559 205
or at; secretary4sunshinestatesmen@gmail.com
---
Wollongong - First Sing-out
| | |
| --- | --- |
| Type of post: | Club news |
| Sub-type: | No sub-type |
| Posted By: | Dick Bushell |
| Status: | Current |
| Date Posted: | Sun, 18 Aug 2019 |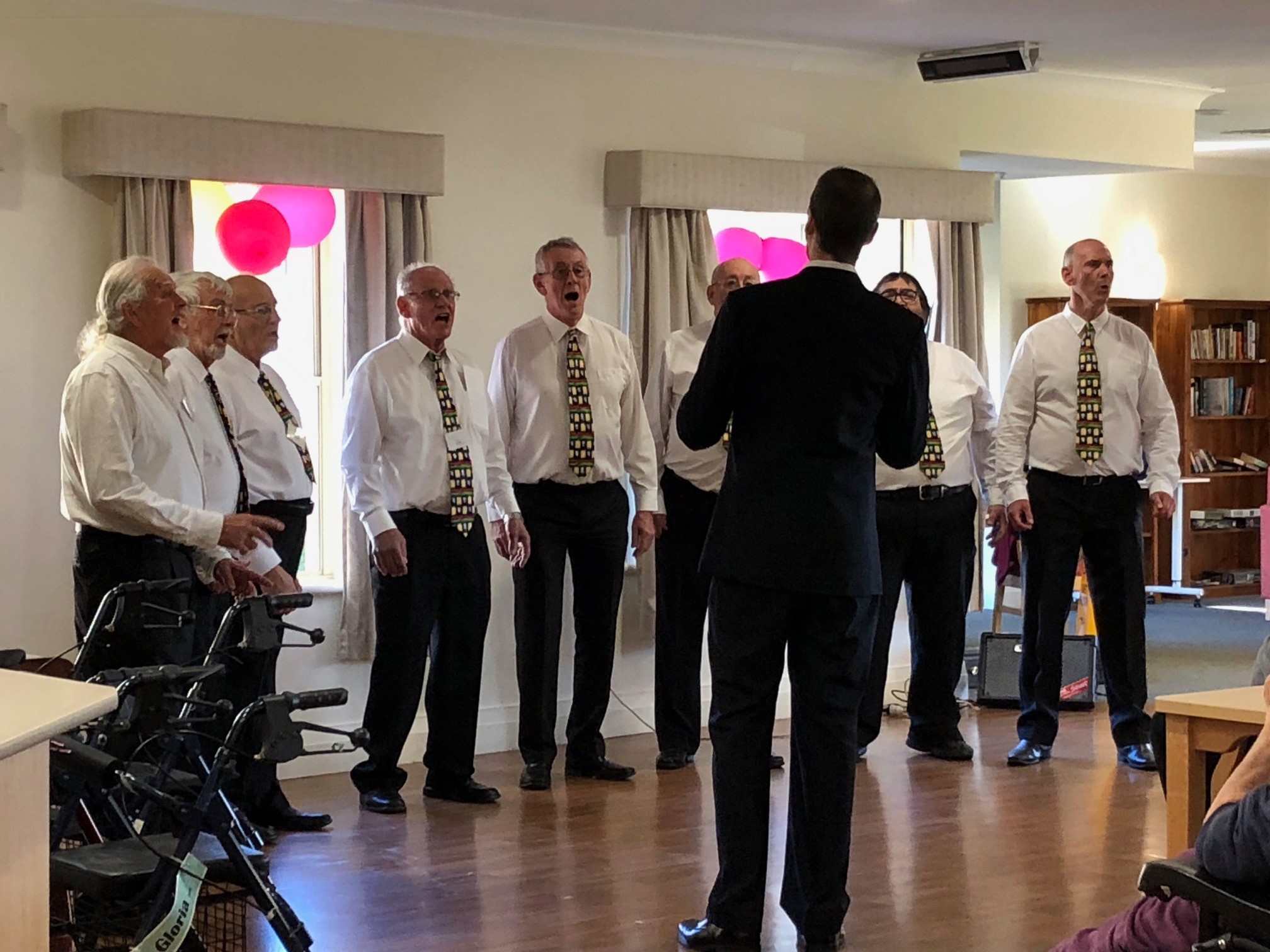 The Wollongong Mens Barbershop Chorus recently had our first sing-out since the introduction of our new Musical Director, Russel Bailey. (see Picture) This performance was the result of a six week project in order to recruit some new members.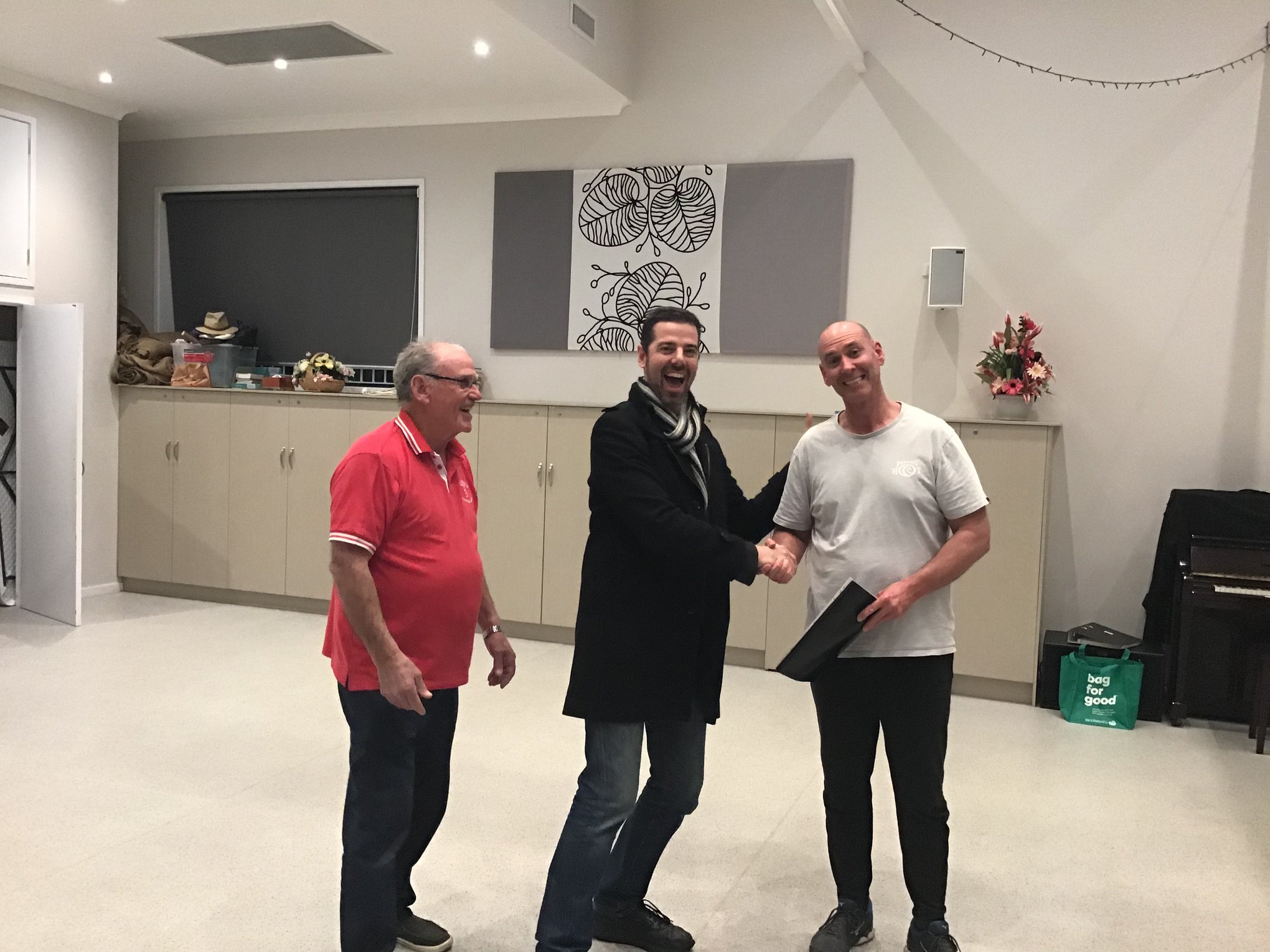 New Member Gary and Returning member Ray were at the performance and Gary received a welcome certificate (see pic). A Big Thank you goes out to all members of the Hills Harmony who also attended and participated at the performance.

Wollongong is slowly but surely starting to show signs of life once again and more projects and performances are on the horizon

Claudio Lodi
Publicity Officer
---
Novatones News
| | |
| --- | --- |
| Type of post: | Club news |
| Sub-type: | No sub-type |
| Posted By: | Dick Bushell |
| Status: | Current |
| Date Posted: | Sun, 18 Aug 2019 |
Novatones Harmony Chorus has once again been busy: meeting, rehearsing and performing at our new home base Club Charlestown, which is a large modern bowling club next to Charlestown Square, about 10km south of Newcastle City. This venue has proved popular with members as it provides underground parking, as well as a large separate room, which gives us great weekly-rehearsal space and an adjoining storage area for our risers. We have been made to feel 'at home' there, with staff very willing to co-operate with our requests. As well there are the usual large, modern club facilities within the same building. Enthusiasm remains high within the group, with much of this keenness due to our very-able and patient musical director: Peter Donald, who travels up from the Central Coast for rehearsals and performances.

Over the last few months we have had a continual list of requests for the services of our chorus and quartets, to sing at a variety of locations and community and charitable events around the Newcastle area. We have sung on very solemn occasions such as the Anzac Day dawn service at Nobby's Beach, as well as at a couple of funerals and in historic churches. Then there have been lots of fun performances as well, like the recent Lion's Club fundraiser and a couple of pub crawls in lively evening venues around town.
Ronald McDonald pleased to accept our Cheque for $3000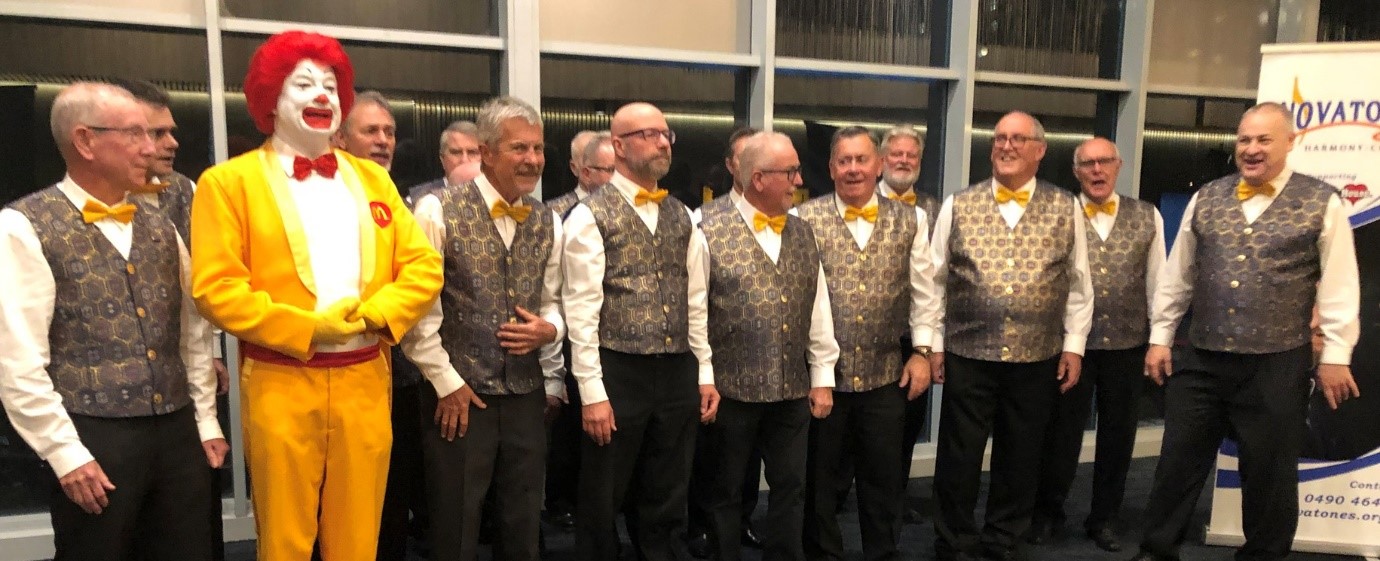 Novatones donate most of the money we receive to charity and this year the organisers of Ronald McDonald House, which caters for the needs of very-sick children and their families at the John Hunter Hospital, were very pleased to receive a large donation from us.

We look forward to the excitement and camaraderie of competing and singing with like-minded people in Hobart- see you all there!

Mark Henley, Novatones Reporter
---
Sydney Harmony 20th Anniversary Concert with The Newfangled Four
| | |
| --- | --- |
| Type of post: | Club news |
| Sub-type: | No sub-type |
| Posted By: | Dick Bushell |
| Status: | Current |
| Date Posted: | Sun, 18 Aug 2019 |
What better way to help celebrate our 20th year than by having international barbershop quartet superstars The Newfangled Four drop by Sydney to share with us four fabulous days of singing, coaching, socialising and fun!

The highlight of their stay was having The Newfangled Four headline our anniversary concert Totally Vocal on Saturday 10th August at Hornsby RSL. A near full house crowd greeted the quartet with unbridled enthusiasm and the boys in return performed an unforgettable, wildly entertaining set. It's no wonder this young Californian foursome is so popular with fans around the world!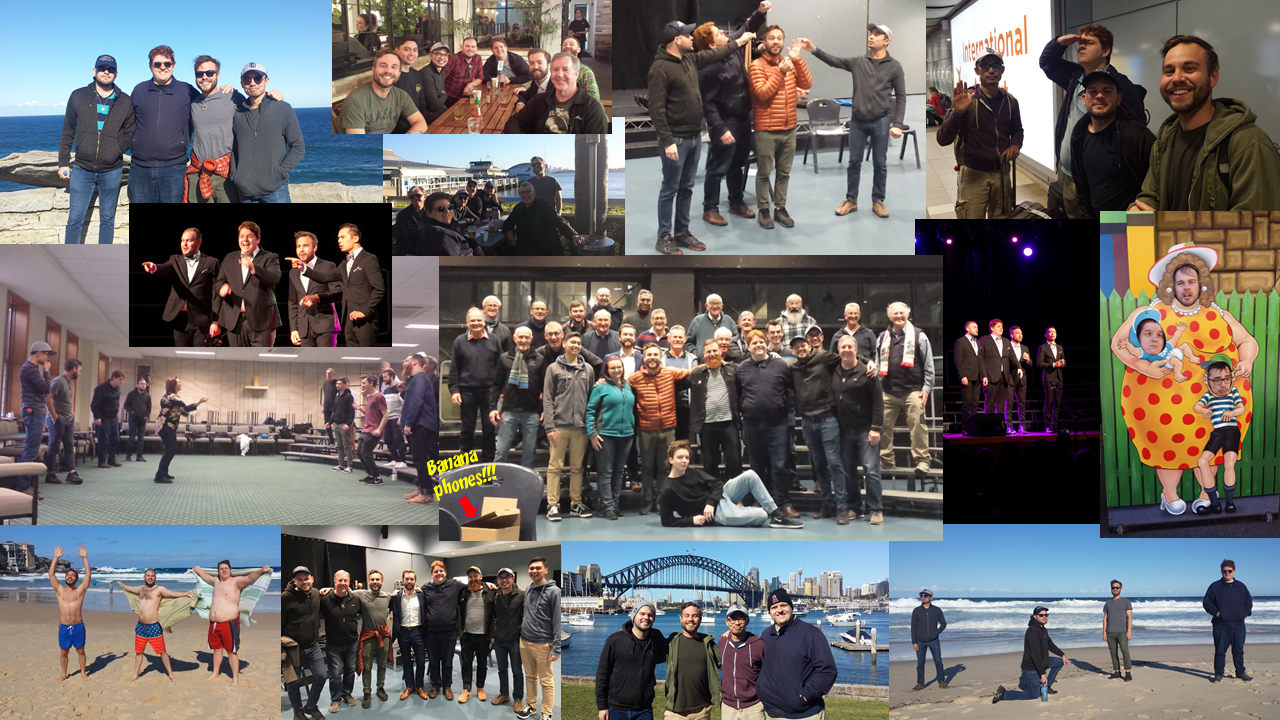 Special guests on the show were our sisters in song, the wonderful Circular Keys Chorus. Led by our common Musical Director, Vicki Dwyer, CKC performed a selection from their wide-ranging repertoire before Sydney Harmony joined them on stage for a set of songs as a combined chorus. The Sydney Harmony/Circular Keys mixed voice chorus has become a crowd-pleasing feature of our shared performances in recent years. And for the show's Finale, the Newfangled Four joined the combined chorus on stage for a rousing rendition of the Pentatonix a cappella hit "Sing". Such fun!

We feel so privileged that The Newfangled Four were able to coach the chorus during their time in Sydney. A full day workshop with them on the Sunday and a visit to our rehearsal on the Monday night allowed us to benefit substantially from the combined and individual talents of these talented musicians. Thanks guys! The chorus is in a really great place now as we head towards the contest stage in Hobart next month.

We'd like to thank everyone who came to our concert - from BHA and Sweet Adelines choruses both near and far – and to all our friends, family and former Sydney Harmony members who have supported us over the years. Special thanks to our friends Vocal Evolution who instigated the Newfangled Four tour and invited us to take part in this awesome local barbershop initiative.
See you all in Hobart!

Tony Sykes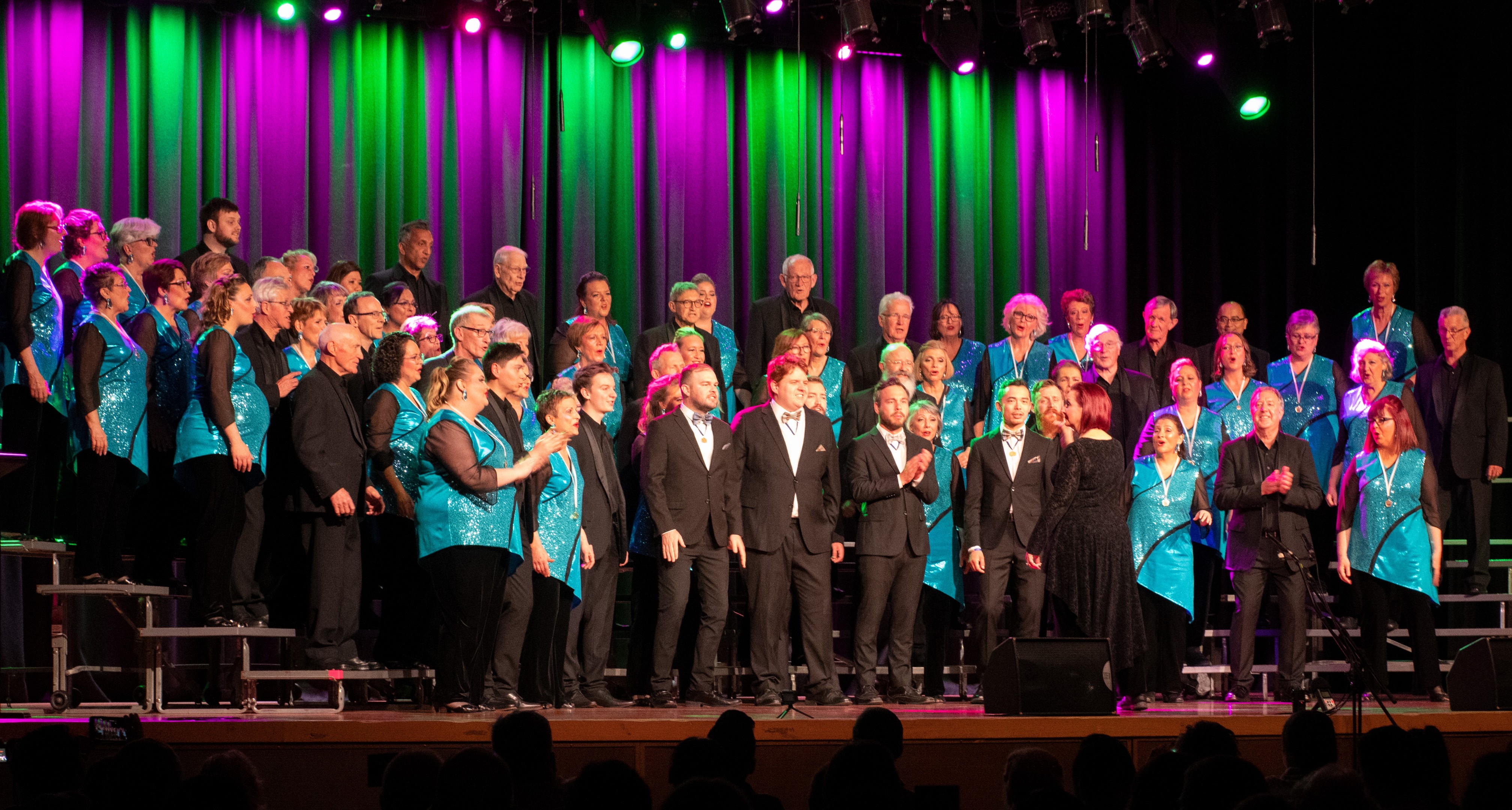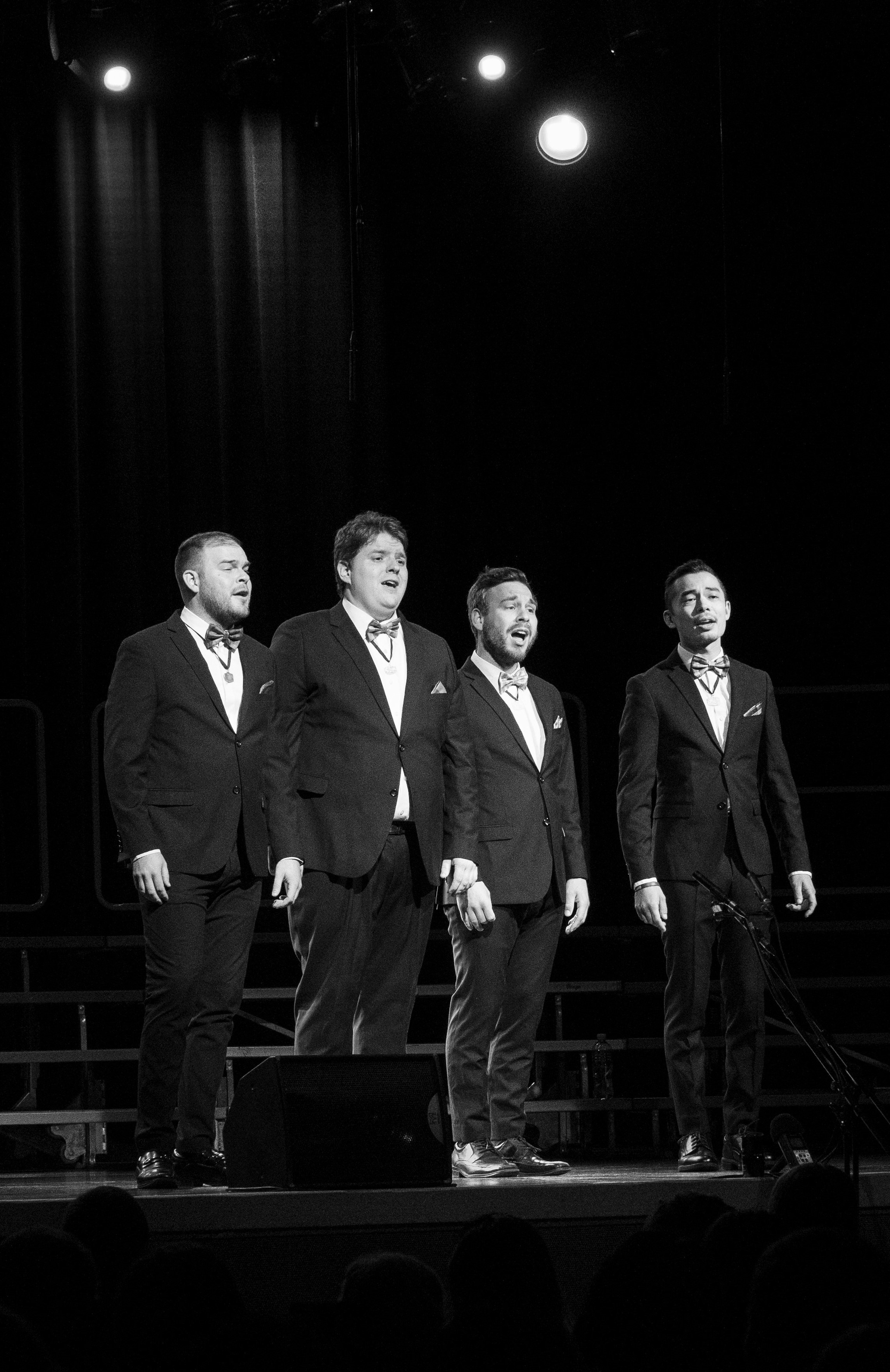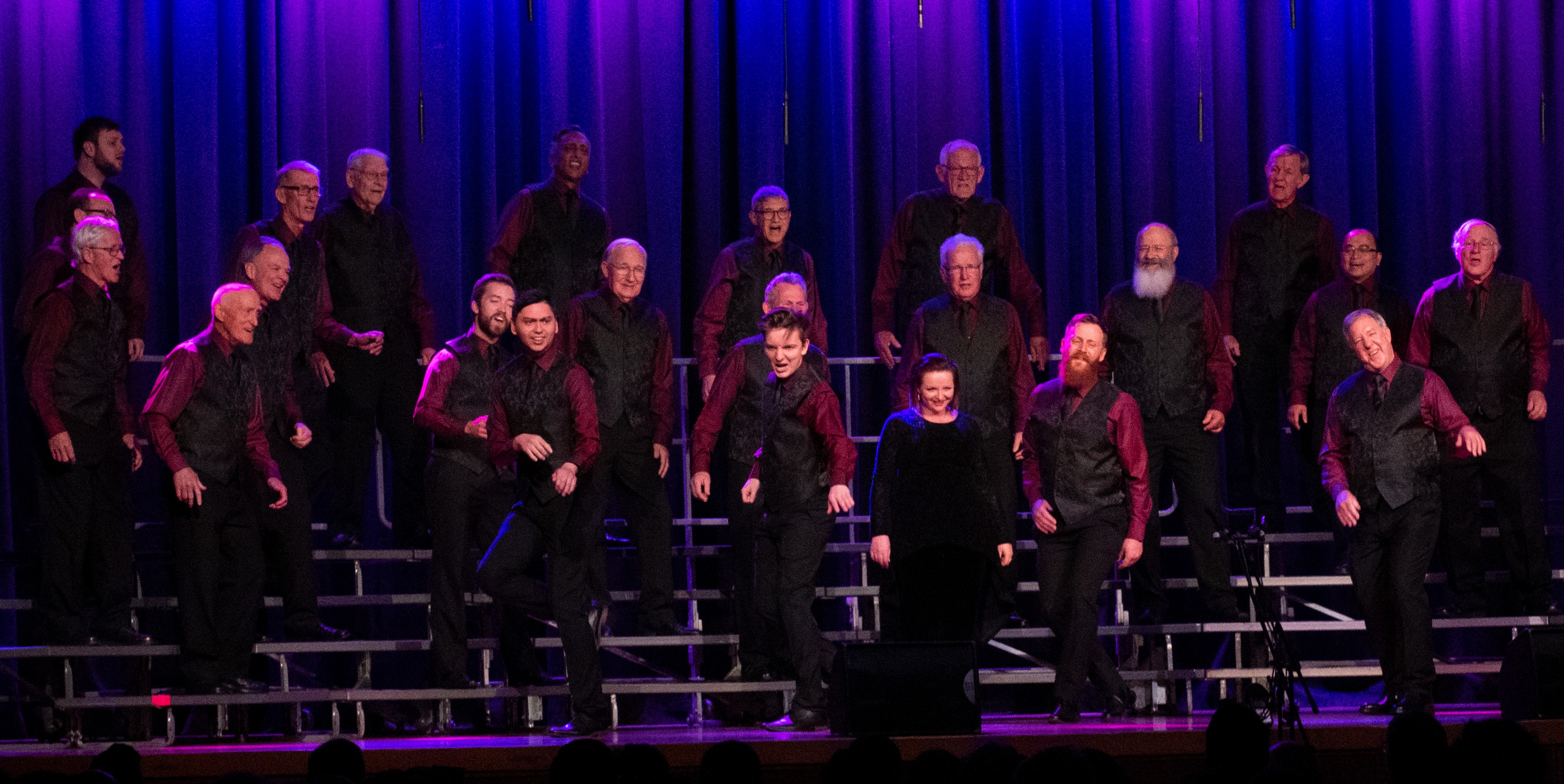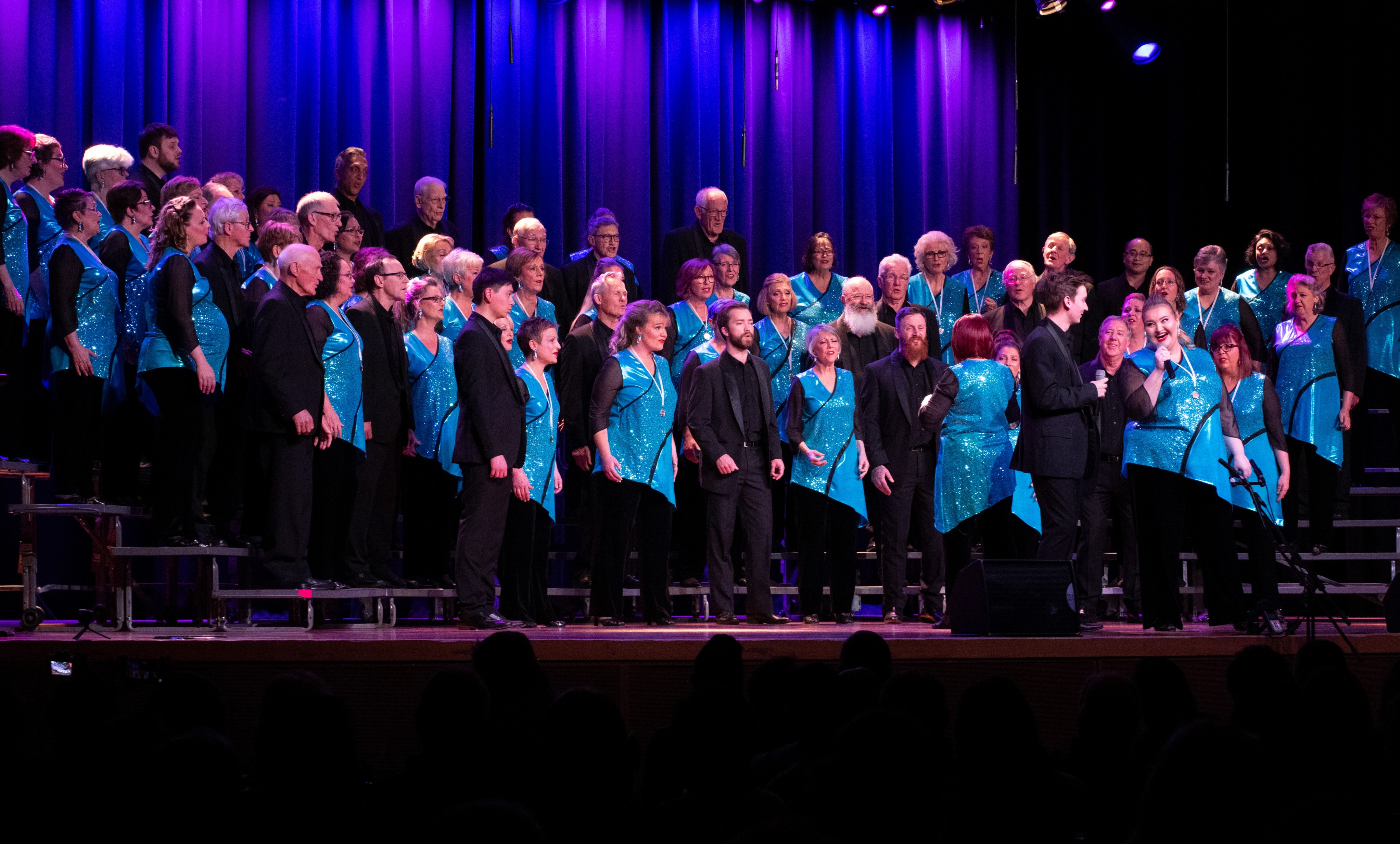 ---
SydneySiders Express
| | |
| --- | --- |
| Type of post: | Club news |
| Sub-type: | No sub-type |
| Posted By: | Dick Bushell |
| Status: | Current |
| Date Posted: | Sun, 18 Aug 2019 |
Regular contributors and readers of "In Harmony" would know the SydneySiders Express has been absent from these pages for several years. This being the case, a potted history may help to address this.

SydneySiders Express Chorus is now known as SydneySiders Express Harmony Chorus, this subtle change acknowledging that we are now a mixed chorus and over the last eighteen months, have welcomed several ladies into the chorus.

SydneySiders Express Harmony Chorus at Ryde Eisteddfod with Doris Ward Acting MD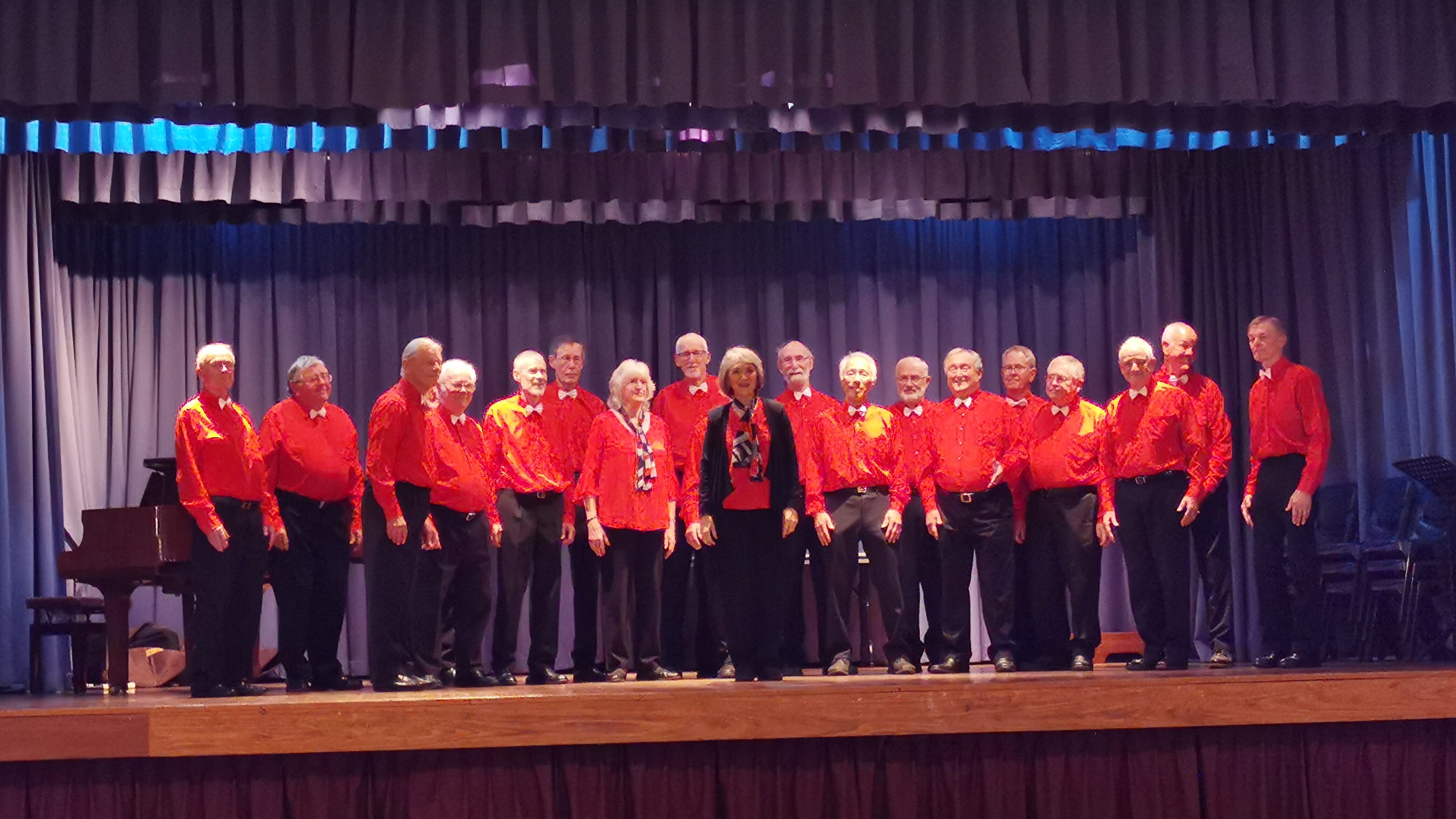 The chorus was formed 30 years ago. It is one of the oldest choruses in the Eastern Region and has, in the past, attended National Conferences although we have not competed nationally for a number of years. Current consensus is that this will not change in the short term. Instead we have chosen to compete at a local level and build up a vibrant sing-out program in Retirement Villages and Nursing Homes.

We also organise a matinee and evening concert biennially. The remuneration goes to our chosen charity, the Children's Oncology Unit at Westmead. Over the years we have raised $170,000 and in 2016 were recognised and are a 'lifetime partner".

Over the years, several members have been made life members and annually the Tom MacManus Memorial Trophy is awarded to a member for their exceptional contribution. We are also generously supported by the City of Ryde Council.

In April, with president George Nade, several of us attended Harmony College, enjoying the camaraderie and welcomed the knowledge gained from the committed leadership team.

Most recently the chorus competed in the City of Ryde Eisteddfod and were awarded a "Highly Commended" certificate.

On a salient note, the current average age is 75 years, within this last twelve months we have mourned the loss of two members and several who have left on health grounds. Strategies to rejuvenate are being developed. Tips and insights are welcome.

Lionel Eastwood
---
River City Clippers
| | |
| --- | --- |
| Type of post: | Club news |
| Sub-type: | No sub-type |
| Posted By: | Dick Bushell |
| Status: | Current |
| Date Posted: | Sun, 18 Aug 2019 |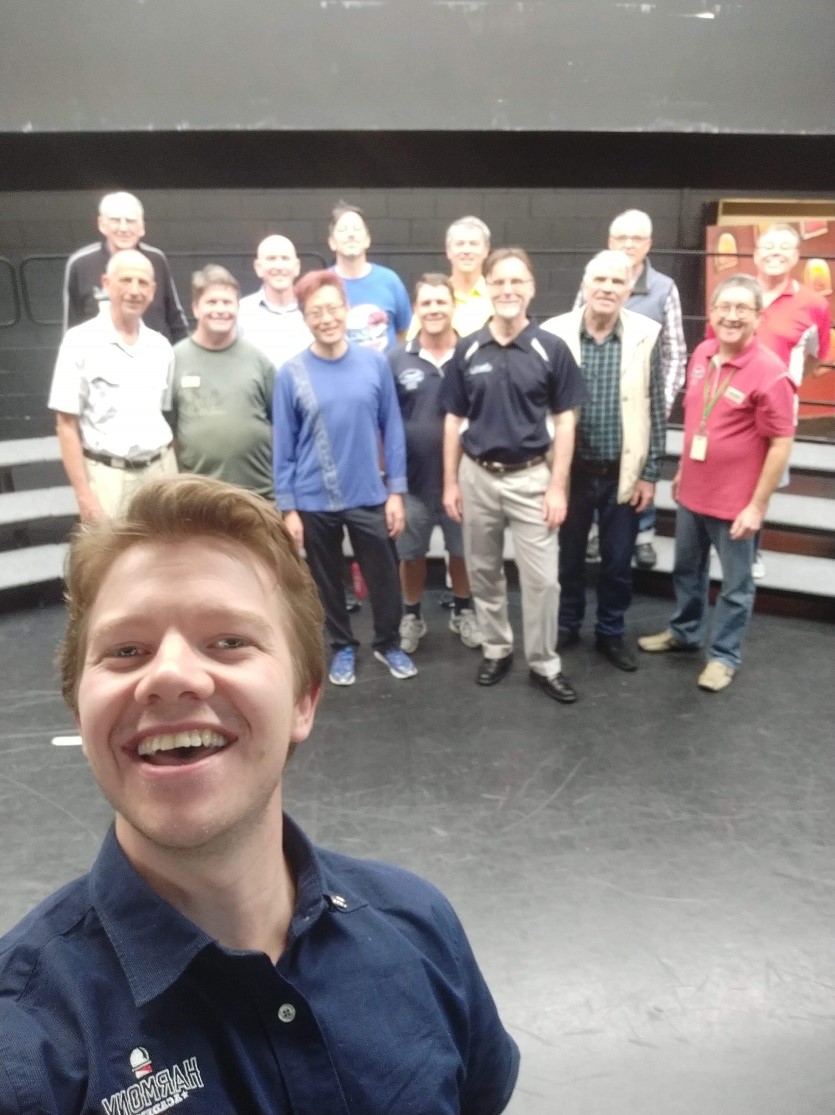 The Clipper's had the pleasure of hosting Kieran O'Dea for a day of guest coaching in June. The day also provided Kieran and the Clippers to work on a theme for the Clipper's annual concert to be held in October… keep an eye out on Facebook and other media platforms for: "Close Encounters of the Musical Kind".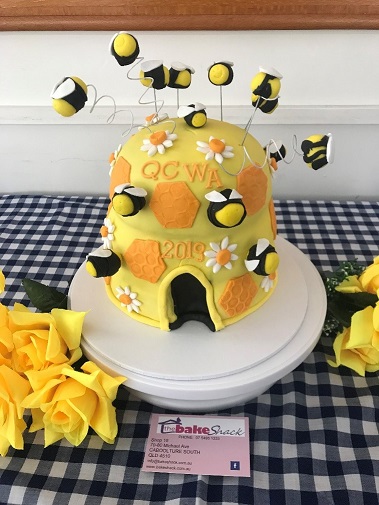 The Clippers also had an enjoyable day performing for the Queensland Country Women's Association regional convention. Some inspiring stories from the QCWA's work made us feel humbled to provide the Ladies with an afternoon of entertainment. We also thanks the QCWA for providing us with lunch.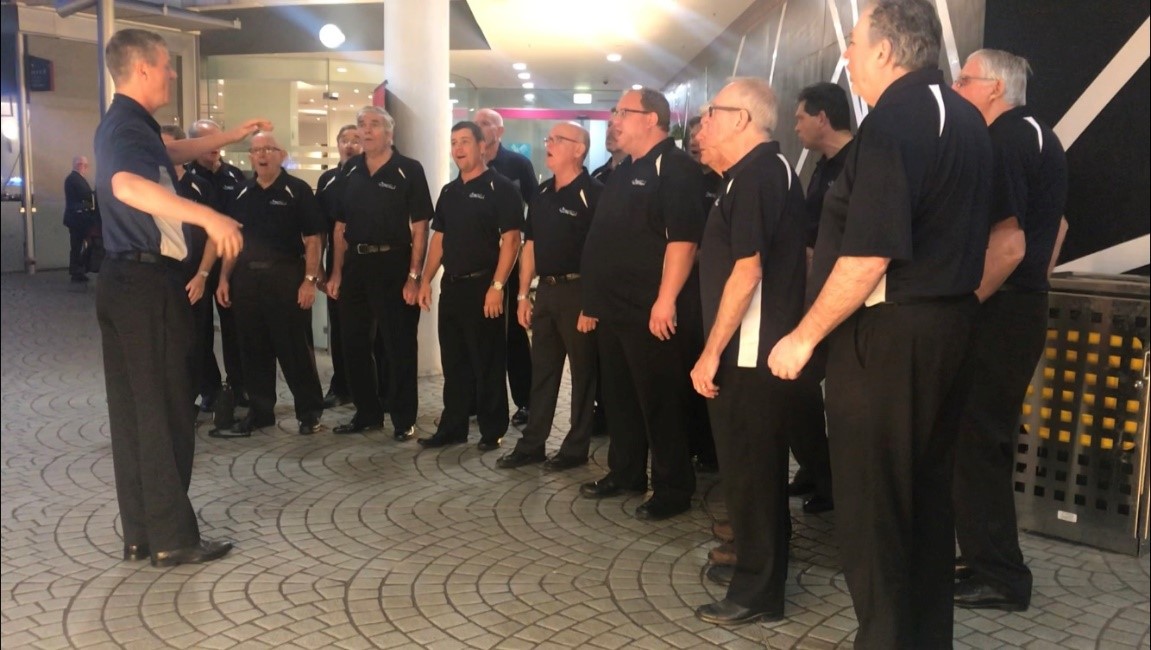 In July, the Clippers took a night off from our usual Tuesday rehearsal to head to the Red Brick Hotel in South Brisbane for an evening of scratch quartetting, dinner and drinks with our families. Some very memorable moments were created with the quartets and some we hope shall remain within the walls of the Red Brick Hotel.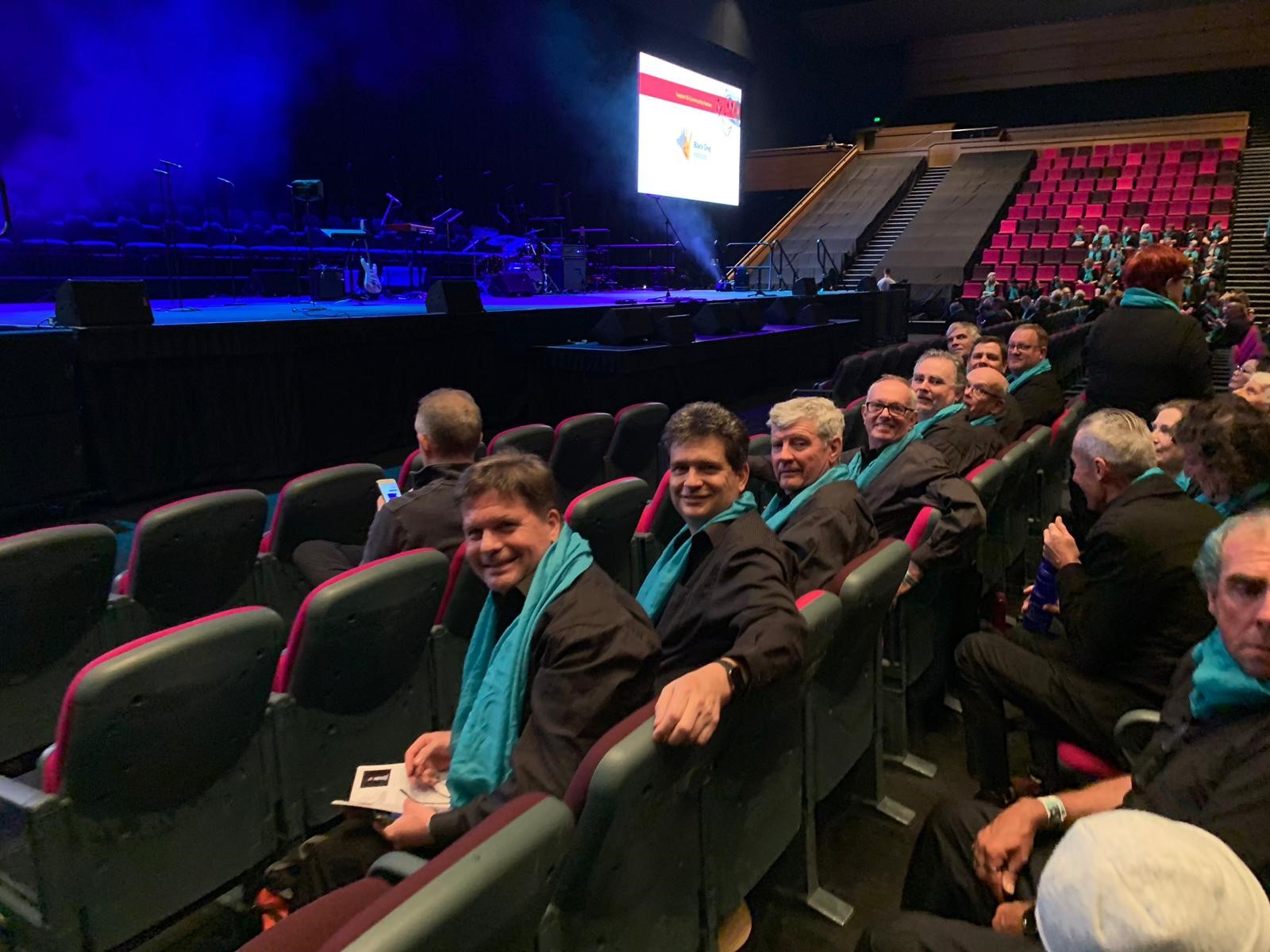 We were very proud to be invited to perform at the Queensland Music Festival this year. Our performances were a pop-up performance at Eagle Street Pier, another at South Bank Parklands, culminating into our attendance as part of a mass choir of 2,500 singers for "Help Is On Its Way" in support of Mens' and Boys mental health.

Finally, we sent our illustrious MD, Nick Ellis, to the USA to attend Harmony University this year. He has gained invaluable knowledge from his experience abroad and we hope that we can learn from his experience. It is great to have you return to us Nick.

Steve Deans
---
Canberra Chordsmen – A focus on growth and development
| | |
| --- | --- |
| Type of post: | Club news |
| Sub-type: | No sub-type |
| Posted By: | Dick Bushell |
| Status: | Current |
| Date Posted: | Sun, 18 Aug 2019 |
We have to admit, the Canberra Chordsmen have been a little quiet in the BHA community this year, but it has been for a very good reason! The Chordsmen have taken a serious and proactive approach to growth and development this year by rolling out our new and improved Sing With Us! program.

While our aim was to get as many members of the public engaged in singing, this program was extremely successful in attracting new members, in fact it resulted in one third of the cohort going on to pass the audition as opposed to the 1 in 10 we have seen previously.

The Sing With Us! program has evolved from 'learn to sing', 'sing barbershop', 'new members night' style events into a learning experience complete with social and performance elements. Over five weeks, guest singers developed their skills and learnt two new songs. Each week focused on a different aspect of singing and performance, starting with the fundamentals of alignment and breath, all the way to storytelling and performance.

The final session was a public performance for friends and family which created an opportunity to apply their new skills. Not to mention a supper for everyone afterwards. One important thing to note is that the rest of the chorus participated too! Everyone was learning together.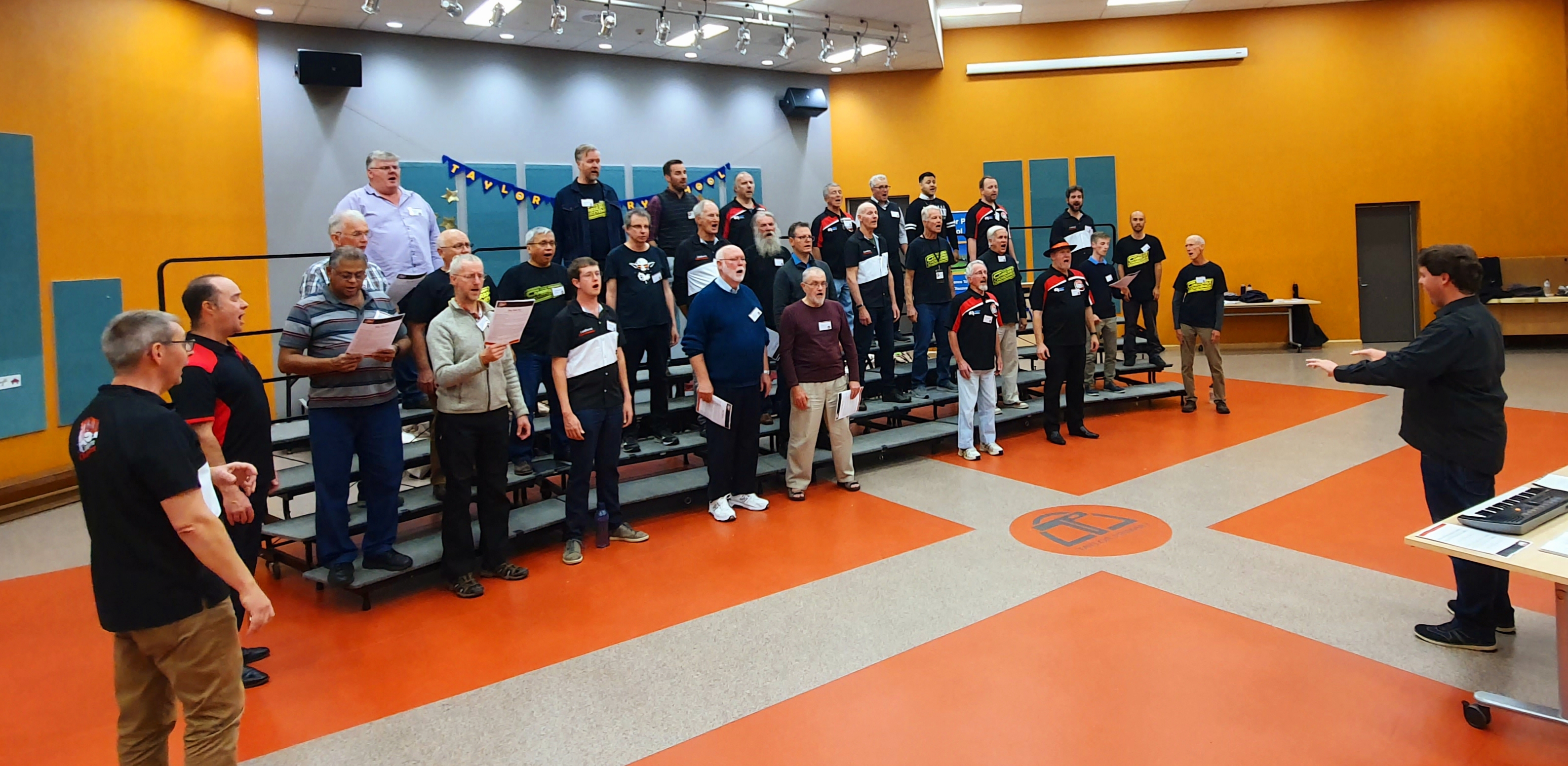 What makes this program different to previous events is a greater focus on structured learning, enjoyment, and a goal to work towards. Guests received all of the materials and learning schedule up front and knew from day one that we had a concert at the end.

At the end of the program everyone was recognised with a certificate, personally thanked by the president, and were now armed with audition songs they knew competently and confidently.

It was a great experience and taught us a lot about motivating the public to engage and ultimately go on to join the Chordsmen family. With a bit more refinement we will make our second program of the year even more successful!

Stay tuned! (pun intended)

Geordie Cullen
---
The Blenders at Harmony University
| | |
| --- | --- |
| Type of post: | Club news |
| Sub-type: | No sub-type |
| Posted By: | Dick Bushell |
| Status: | Current |
| Date Posted: | Mon, 19 Aug 2019 |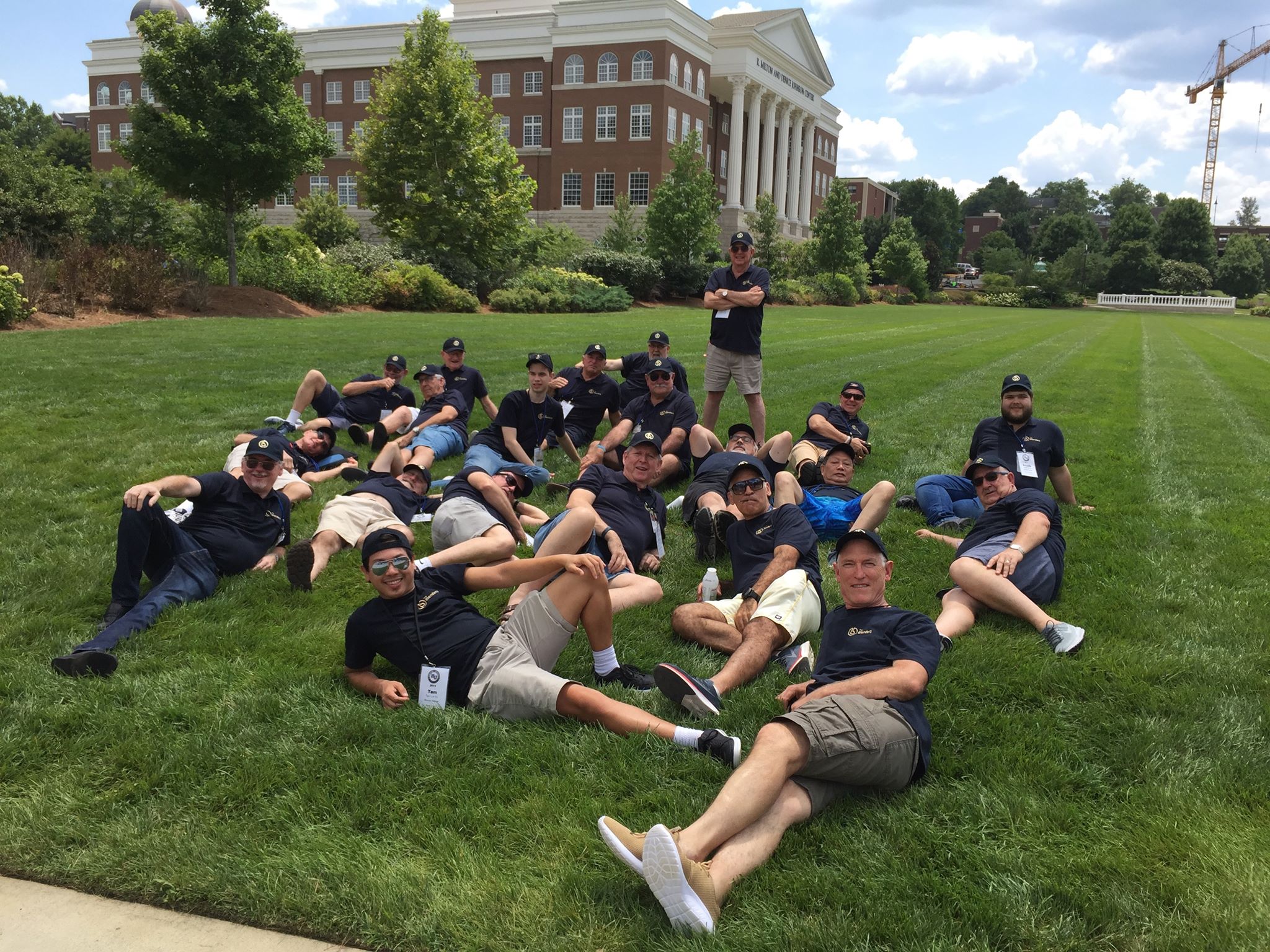 One of the ideas for our thirtieth anniversary was that we should go to Harmony University. As a result of some very hard working people especially our President, Damon Newman, we were able to muster 21 chorus members to attend HU.

HU was held at Belmont University, Nashville Tennessee. Belmont is set in very beautiful gardens. Some of us likened it to a botanical garden. Very green lots of trees, plants and beautiful buildings. Not a blade of grass out of place.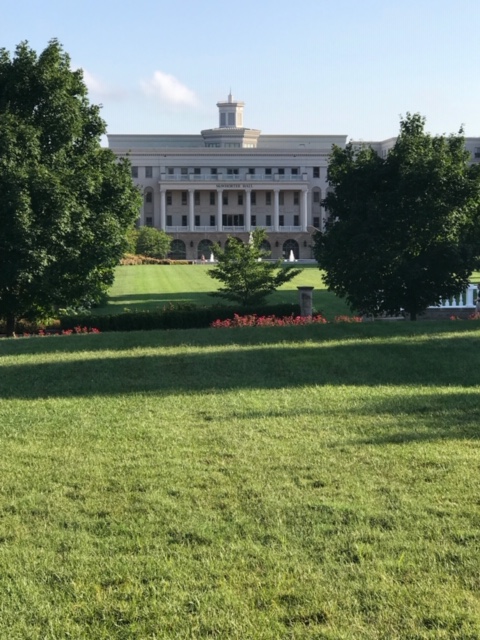 The tone of the week was set in the opening session with the key note address by Shane Scott entitled 'Barbershop and Broken Hearts'. There wasn't a dry eye in the house when Shane had finished. You can see Shane's keynote address on YouTube. Don Rose spoke about HU being a safe place for everyone, catering for a diverse range of people. It didn't disappoint.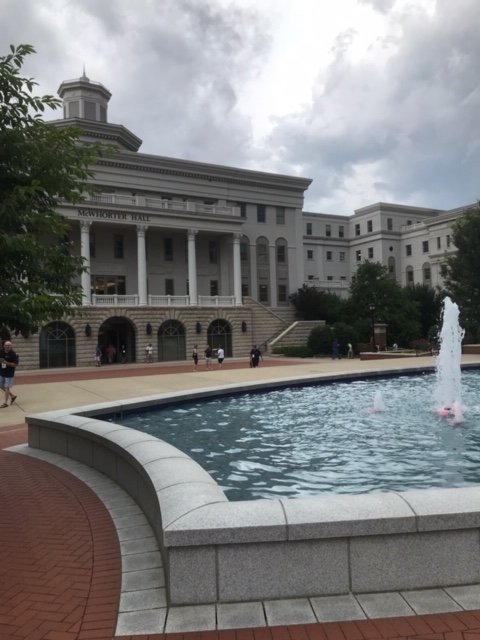 As well as attending various lectures, we rehearsed every day for 4-5 hours under the guidance of the best that barbershop has to offer - Marty Lovick, Joe Cerutti, Anthony Colisimo and Don Rose. Some likened it to 'football without the contact'. We worked very hard but still had enough energy to enjoy a couple of quite drinks at the end of every day.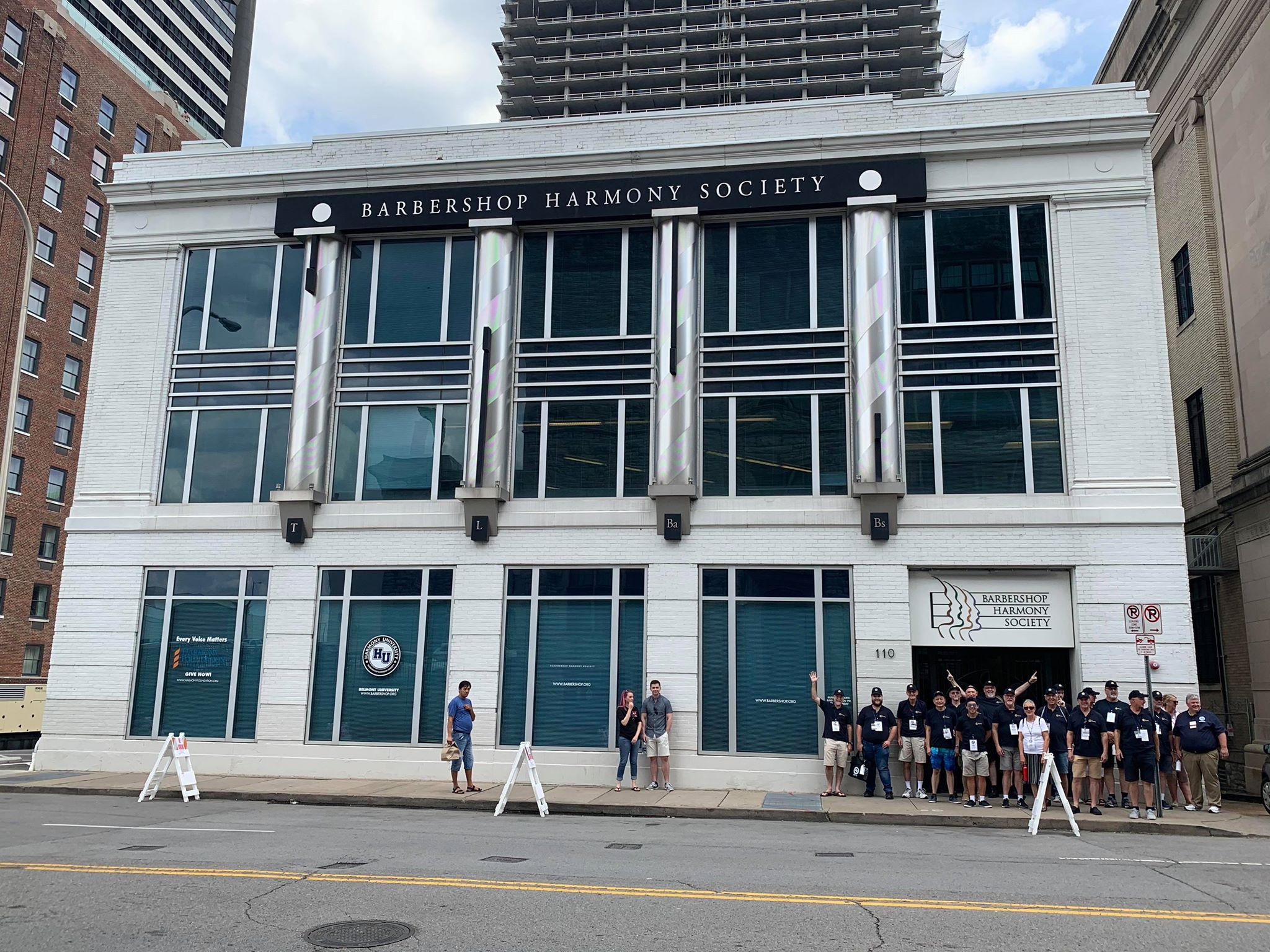 Each day commenced with all participants attending a general session which included a physical and mental warmup and putting together 3 songs that we were given to learn. The session concluded with the tag of the day which was great fun. On Friday night we appeared in a concert with all the quartets and other participants who had been receiving tuition during the week. Saturday night was also a great night with another concert.

Part of our trip was to act as ambassadors for the Gold Coast and Damon Newman and Noel Grummitt presented the Mayor of Nashville's representative with a gift from the Mayor of the Gold Coast. We were all given Nashville pins in return, which we proudly wore during our concert performance.

It wasn't all work and no play and during some down time we got to experience the best of country music and entertainment that Nashville has to offer. One of the highlights for us was a visit to BHS Headquarters where we were given a guided tour of the premises and all the history that entails.

Was the trip worthwhile? We came home exhausted but with lots of knowledge and motivation to continue on our journey, and perhaps in the not to distant future going to HU again. Our thanks go to all the staff of HU who made so welcome.

Ian Mackey
Secretary
---
The River City Clippers - Valé Dennis Palmer and Myron Loving
| | |
| --- | --- |
| Type of post: | Club news |
| Sub-type: | No sub-type |
| Posted By: | Dick Bushell |
| Status: | Current |
| Date Posted: | Sun, 18 Aug 2019 |
Dennis Palmer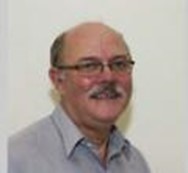 Myron Loving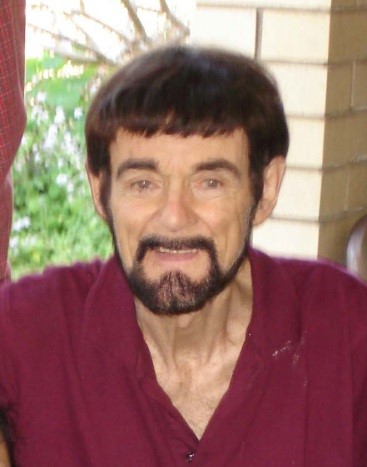 In the past three months two former members of The Clippers and The Sunshine Region have passed away.

Dennis Palmer joined The Clippers in 2017 as a Tenor and, before the advance of cancer, held many positions in the chorus, including acting as Musical Director and then continuing in the music team by managing the music portfolio until his retirement. He continued to sing with retired Clippers until shortly before his death.
Dennis had a wonderful sense of humour and throughout his life contributed to the youth movement within the Uniting Church of Australia.

Myron Loving sang Bass with The Clippers for many years. Myron poured a huge effort into his love of Barbershop singing with quartets and choruses in the Sunshine Region.
Myron was an accomplished musician and used his musical skills in transposing songs, particularly for quartet singing. He was an accomplished artist and performer always full of fun.

Both men will be sorely missed by the Australian Barbershoppers with whom they were associated.

Trevor Remphrey
---
Welcome to our newest members
| | |
| --- | --- |
| Type of post: | "In Harmony" Newsletter |
| Sub-type: | No sub-type |
| Posted By: | Dick Bushell |
| Status: | Current |
| Date Posted: | Mon, 19 Aug 2019 |
| | | |
| --- | --- | --- |
| Gerry | Carney | Riverland Ramblers Mens Barbershop Chorus Inc |
| Edward | Sarroff | Pivotal Point Harmony Inc. |
| Stuart | Creighton | Pivotal Point Harmony Inc. |
| Jackson | Beck | Pivotal Point Harmony Inc. |
| Mark | Sheppard | Pivotal Point Harmony Inc. |
| Stirling | Edwards | Vox Canvas Club |
| Boyd | Blackwell | Barbershop Harmony Club Of Canberra Inc |
| Marcus | Amann | Barbershop Harmony Club Of Canberra Inc |
| Rachel | Ryan | The Baden Street Singers Inc |
| Ted | Nettle | SydneySiders Express Inc |
---
Don't miss the Canberra Workshop with legendary Steve Scott
| | |
| --- | --- |
| Type of post: | "In Harmony" Newsletter |
| Sub-type: | No sub-type |
| Posted By: | Dick Bushell |
| Status: | Current |
| Date Posted: | Sun, 18 Aug 2019 |
A reminder of a fantastic educational opportunity coming up later in the year on 22-24 November 2019 in Canberra. The legendary Steve Scott is presenting a weekend workshop for interested barbershop singers and musical leaders.

On Friday night and Saturday, learn how you voice REALLY works, how to sing your best and how to teach others. On Sunday, watch Steve coach award winning Sweet Adelines chorus Brindabella Chorus as they prepare to defend their title of International Champion Midsize Barbershop Chorus. Watching a masterful coach at work and observing the impact on the singers is a fascinating way to learn more.

Registrations are now open! http://www.brindabellachorus.org.au/stevescottworkshop1

Glenda Lloyd
Brindabella Chorus
---