Table of Contents
2019 Hobart Festival - Latest News
Breaking News - New song release
The BHA Medal Nominations - 2019
BHA Membership survey snippets
New Fangled Four in Perth Concert
Wollongong
Festival Statesmen
Melbournaires
Sound Connection
Sunshine Statesmen
The Blenders
The Baden Street Singers
SOUNDWAVES
River City Clippers
Fleurieu Harmony
Welcome to our newest members
2019 Hobart Festival - Latest News
| | |
| --- | --- |
| Type of post: | Festival News |
| Sub-type: | No sub-type |
| Posted By: | Dick Bushell |
| Status: | Current |
| Date Posted: | Fri, 19 Apr 2019 |
The second edition of the Festival News has now been circulated to all members. This included important information to everyone as summarised herein.
Click the "Read more" link then click on any of the headings to see the latest Festival News
---
Breaking News - New song release
| | |
| --- | --- |
| Type of post: | News |
| Sub-type: | No sub-type |
| Posted By: | Dick Bushell |
| Status: | Current |
| Date Posted: | Tue, 18 Jun 2019 |
Dear Members

A question: Is singing contemporary music important?

As most of you know, we barbershop singers have a bunch of traditional songs that we like to sing together, called the Barberpole Cat songs. This tradition was formed many years ago, when these songs, written in the early 1900s, were perhaps a little more contemporary.

Nowadays, these Barberpole Cat songs are still fun to sing, but in a different way than they were in 1950. They are less relevant, and certainly seem to have less appeal amongst both our members, and the people to whom we perform.

Barbershop Harmony Australia has linked its strategic direction with three simplistic directives – Engage, Educate, and Enjoy.

As an organisation, we strive to engage our communities, aspiring to become leaders in the music scene, educating members and non-members alike, and sharing our enjoyment of our wonderful artform. And we are always looking for ways to make what we do more contemporary, more relevant and more appealing to our members and all of the members of our wider community.

We'd like to challenge the outdated perception of barbershop as simply being "four old guys in boater hats singing My Wild Irish Rose". While this image will forever be an important part of our history, we wish to show an updated, more contemporary side of what we do.

So, your Association is now demonstrating its strong commitment to enabling the creation and performance of high quality contemporary music in the barbershop style.

As an Association, we have an opportunity to expand and improve upon our existing repertoire. We have the opportunity to champion Australian music. We have an opportunity to work with our local arrangers and composers to commission and licence new music that can communicate the best of Australian barbershop and provide us with arrangements into the future.

The grand plan is that eventually we can all have updated and more contemporary repertoire that we can all share, which will become our new Australian Barber Pole Cat series. As such, Barbershop Harmony Australia is proud to be able to provide all of you with a gift – our first in this new series of contemporary Australian songs.

The song we have chosen is "Throw Your Arms Around Me" by the Australian band Hunters & Collectors. Like all good songs, this is a story about love; capturing the intensity of one man's relationship with a woman he was very much in love with, while at the same time portraying its fleeting nature, with lyrics including "And we may never meet again, so shed your skin and let's get started…".

The arranger we selected to begin this series is the very gifted Alex Morris, and we have also provided you with learning tracks for the song to help out. The copyright licencing is already paid for, and you can perform it wherever you like – as a chorus or as a quartet. This song will be featured at our upcoming Festival in Hobart in September, where it will be used for many different events, and no doubt will be heard being sung throughout the venue well into the night.

The sheet music and learning tracks for Throw Your Arms Around Me has been uploaded to the members section of our website. It's ready for you to learn and you can access it here.

We hope you enjoy this new arrangement and we look forward to hearing it performed all over our wide brown land.

Dan Millgate
President
Barbershop Harmony Australia
www.barbershop.org.au

Note : To access the sheet music and learning tracks for this great new song go to the BHA website https://www.barbershop.org.au
Log into the members area using your user name and password > Click on the "Songs" tab under the Members Tab >click on the Song title "Throw your arms around me"

The following link will take you directly to the appropriate page (you will need to be already logged in) https://www.barbershop.org.au/dbpage.php?pg=view&dbase=rep&id=5

If you have lost your user name or password you will need to use the "Lost your user name or password" link on the login page.

---
The BHA Medal Nominations - 2019
| | |
| --- | --- |
| Type of post: | News |
| Sub-type: | No sub-type |
| Posted By: | Dick Bushell |
| Status: | Current |
| Date Posted: | Tue, 18 Jun 2019 |
The BHA National Council is pleased to call for nominations for the 2019 BHA Medal.

First awarded in 2017, the BHA Medal recognises an individual's exemplary contribution to the advancement of barbershop in Australia. It will be awarded to a current BHA member in good standing who has consistently "put in" for barbershop.

The award is made for sustained outstanding contribution which has resulted in an exemplary, transparent and publicly evident advancement of BHA. They will be recognised nationally for their sustained contribution for the association, their club, their community, or behind the scenes. In limited circumstances, individuals may also be considered for nomination whilst no longer an active member due to retirement on the basis of incapacity.

The award is kindly sponsored by Derek Cosburn, and here is his advice with regards to the nomination:

Very soon we will be giving the 2019 "BHA Medal" to a selection of your choice.

If you have someone in mind who you reckon deserves recognition, and most of us have, then please:

1. Think about what that person continually does for the benefit of their fellow BHA members. It can be for their chorus, quartet, state, or the nation. In fact any reason is worth mentioning regarding they do when they "put in" their time and effort for the benefit of others. This is the one main reason for the existence of this medal, to acknowledge someone of your choice.

2. Get in touch with their partner and friends for extra/more information. You can include their pre-BHA life for a more in depth idea of their commitment to people they are in contact with.

3. Think about re-nominating someone who had previously been nominated. Let's face it, if you believe they deserved your nomination in the past, they are probably still doing their thing for the benefit of us all and they will still deserve you nominating them again.

4. I think that all nominees are winners, so let us recognize them for you.

Sing-cerely. Derek.

The passion evident in Derek's words convey the passion that many members hold for this wonderful barbershop community, so we encourage you to actively support this recognition.

So, if you wish to nominate someone, write it all down and send it to BHA Executive Officer, Jeannie Hattendorf admin@barbershop.org.au, by close of business on Friday 9th August 2019.

Please ensure the nomination includes details of nomination, the rationale for nomination and supporting evidence, certification of the BHA members supporting the nomination and contact details for follow up with regards to the nomination. Importantly, in relation to the nomination the evidence of the nominee's contribution to the advancement of BHA needs to be clearly stated.

Further details will be emailed directly to members and clubs in the coming weeks. For clarification on any aspect of the BHA medal purpose or nomination process please contact VP Membership via email on membership@barbershop.org.au

Yours in harmony

Paul Adams
Barbershop Harmony Australia
www.barbershop.org.au
---
BHA Membership survey snippets
| | |
| --- | --- |
| Type of post: | News |
| Sub-type: | No sub-type |
| Posted By: | Dick Bushell |
| Status: | Current |
| Date Posted: | Tue, 18 Jun 2019 |
BHA 2018 Membership Survey Snippets - Recognition
The BHA National Council continues to work through the results of the 2018 BHA membership survey. We are referencing the information contained within the responses in consideration of the key strategies and objectives for BHA. This is in line with our strategic vision of Enriching Australia Through Harmony.

This time we are focussing on recognition and it seems from the survey that it is not an issue of particular importance to our members.

Only 46% of respondents agree that "Recognition for Chorus Member of the Year is valuable to me" and we get the same score for our key member nominated recognition award, The BHA Medal. On average there are another 35% who neither agree nor disagree, so less than 20% say that such a recognition is a bad thing.

We have been pondering this result. Without the efforts of those people likely to be acknowledged through these recognitions, our clubs, communities and BHA would be the poorer for it. We suspect that it may be just a characteristic of what is fundamental to our art form ie it is a collaborative pursuit and without others to create the harmony, we are simply soloists.
So personal accolades are not what drives our members.

Similarly, the Club of The Year Award has a 42% agreement and 41% on the fence. The vast majority of our members do it for the love of the artform, the pure enjoyment of ringing chords and benefiting their communities.

So do we simply pack away these types of programs?

Within the council our answer is, not yet. We would however love our membership to get behind these programs to lift their status. That means nominations and information flowing in to allow those often quiet contributions to gain the recognition they deserve.

In addition, the opportunity to celebrate our history and the contribution of those who have helped BHA become what it is today remains important. We are investigating the possibility of a virtual Hall Of Fame for our website. We would love your feedback on whether you think that would be worthwhile and, if you support this idea, what form it might take. Please email your suggestions to membership@barbershop.org.au

We will continue to analyse the survey information and communicate the lessons we have learned as we move forward with our plans to Engage, Educate and Enjoy.

Paul Adams
VP-Membership
Barbershop Harmony Australia
membership@barbershop.org.au
---
New Fangled Four in Perth Concert
| | |
| --- | --- |
| Type of post: | Club news |
| Sub-type: | No sub-type |
| Posted By: | Dick Bushell |
| Status: | Current |
| Date Posted: | Tue, 18 Jun 2019 |
A Newfangled Harmony: The Newfangled Four and The Baden Street Singers


As announced previously by Vocal Evolution, The Newfangled Four are coming to Perth for a one-night only barbershop spectacular. Supporting them will be none other than three-time mixed chorus champions, The Baden Street Singers, alongside 2016 gold medallist chorus, Vocal Evolution, 2019 Western Region gold medallist quartet the Electric Barbercats and Sweet Adelines International Region 34 winners, Enchant Quartet!
As part of The Baden Street Singers' ongoing commitment to community outreach, we'll also be running a youth workshop on August 14th with The Newfangled Four with the goal of demonstrating the joy of barbershop harmony to a younger audience. Interested singers of any age are encouraged to attend. Details for the workshop are to be made available closer to the date via our Facebook page.

The concert is set to take place at 7:30pm August 17th, at the esteemed Heath Ledger Theatre.
Tickets are available through the Perth Theatre Trust website:

https://www.ptt.wa.gov.au/venues/state-theatre-centre-of-wa/whats-on/newfangled-harmony/

Matthew Chung
Media Officer
The Baden Street Singers


media@baden.st
---
Wollongong
| | |
| --- | --- |
| Type of post: | Club news |
| Sub-type: | No sub-type |
| Posted By: | Dick Bushell |
| Status: | Current |
| Date Posted: | Tue, 18 Jun 2019 |
Wollongong Mens Barbershop Chorus (WMBC) are conducting another recruitment project.

On Wednesday the 5th June at 7:15pm (The WMBC) will conduct its first "learn to sing A Capella"class and will continue this over the next few consecutive weeks to end with a Workshop and Concert on the 13th July.

Russell Baily the NEW MD of the Chorus will be running the Class where he will help/teach any newcomers learn 4 songs and all participants will be invited to perform at the final concert.

Hills Harmony will also be sending some members down to join in the Workshop and the concert
---
Festival Statesmen
| | |
| --- | --- |
| Type of post: | Club news |
| Sub-type: | No sub-type |
| Posted By: | Dick Bushell |
| Status: | Current |
| Date Posted: | Tue, 18 Jun 2019 |
The Festival Statesmen Chorus has not taken a breath since September last year, moving into overdrive to turn 2019 into a major fundraising year to get the Chorus to Los Angeles in 2020. The Chorus will be representing Australia at the International Barbershop Harmony Society Competition.

We welcome back our founder and director Jonathan Bligh who has been studying his Masters at the world renown Westminster Choir College, in Princeton, USA. A massive shout out to our acting director John Khammash who has been steering the ship while Jonathan has been away. Thanks mate!

December was our first attempt at capitalising on the Christmas season, which involved lots of busking, gigs and a magnificent, sold out Christmas concert.


Adelaide Fringe Festival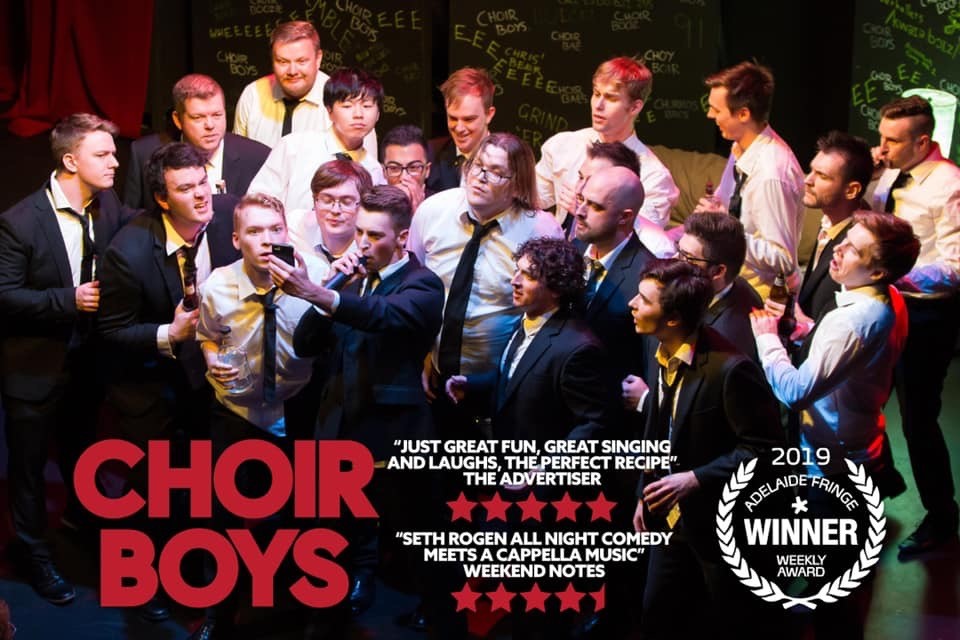 February was a busy month participating in the Adelaide Fringe with 7 sold out shows of 'Choir Boys,' a pop a cappella musical written by us. This was followed by an Adelaide Festival performance where we had the pleasure to sing as part of 'National Geographic's Symphony for our World' where we helped sing the backing to a beautiful documentary.


National Geographic's Symphony for our World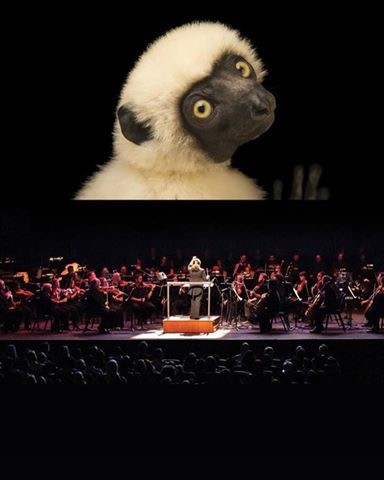 There have been many corporate gigs in the first part of the year, everything from Toyota to marriage proposals. In June, our focus is a major fundraiser Quiz Night, which is going to be an awesome night of singing, games and testing of intellects.

Preparations have already begun for our Ten Year Concert on Saturday August 31st, which will be held in the beautiful Woodville Concert Hall. This show will be an extraordinary evening showcasing everything from Barbershop, to Classical and Pop A Capella music. If you happen to be in Adelaide during this time, we would love to see you there!

September brings us to the BHA National Festival in Hobart. Festival Statesmen Chorus will be there, not competing as a chorus, but we are excited to host the Chorus Corral and to perform a few times throughout the festival.

Anthony Little
Vice President Festival Statesmen
Toyota Corporate Gig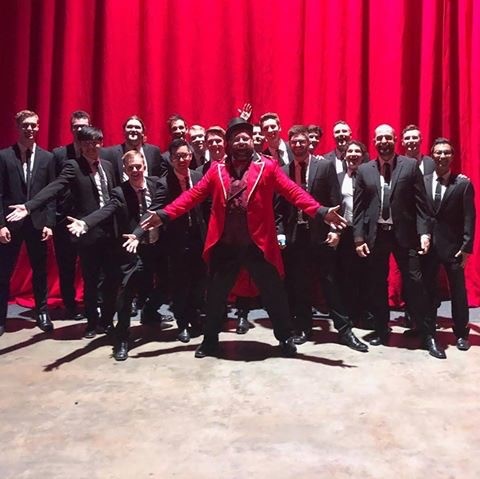 ---
Melbournaires
| | |
| --- | --- |
| Type of post: | Club news |
| Sub-type: | No sub-type |
| Posted By: | Dick Bushell |
| Status: | Current |
| Date Posted: | Tue, 18 Jun 2019 |
The Regional Contests have been run and won, and, apart from the chorus, at least two of our quartets have made the grade and been invited to compete in September at the Barbershop Festival and Convention to be hosted in Hobart.


Boardwalk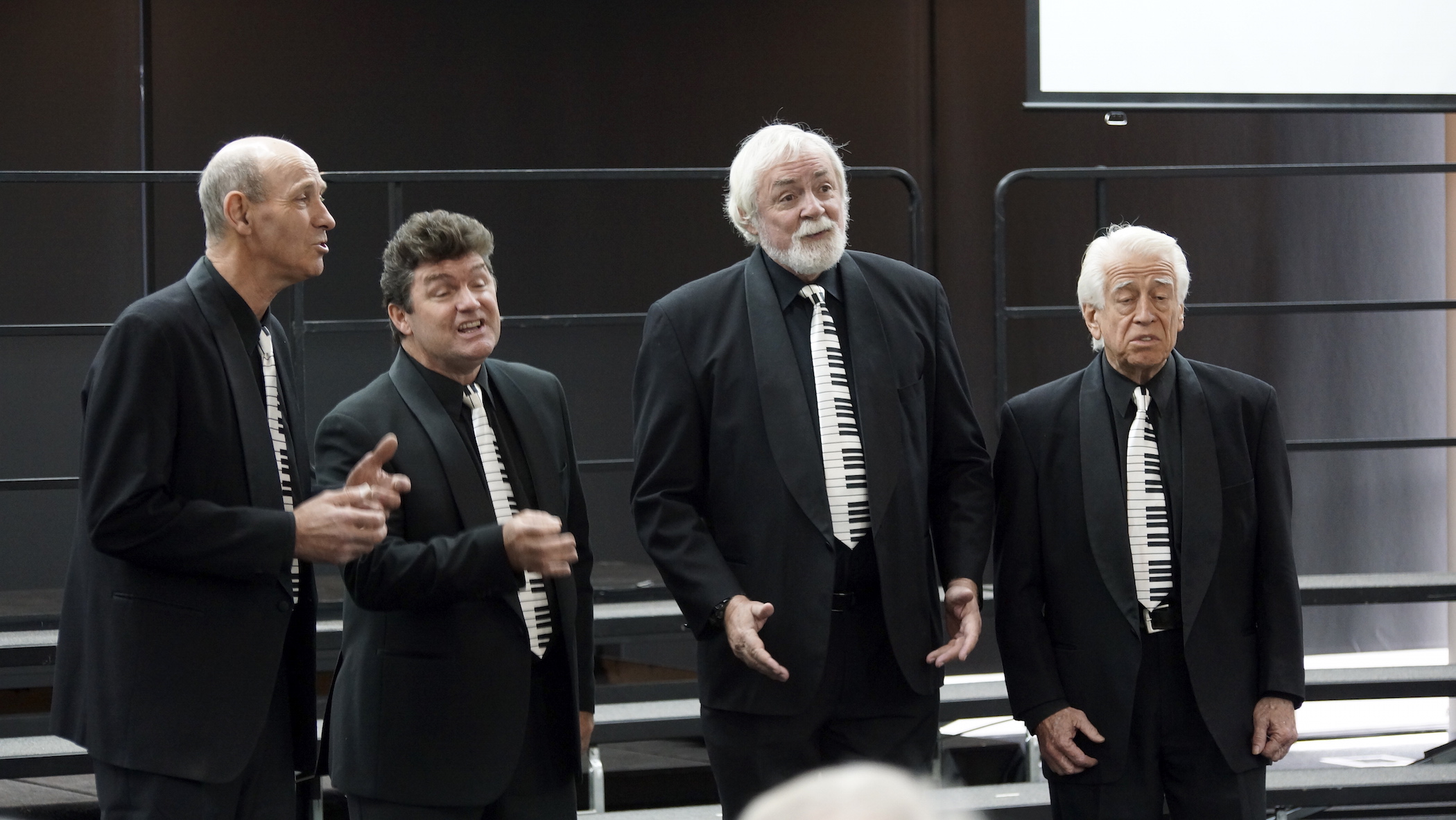 Sound Investment
Both Boardwalk and Sound Investment have made it through and there is still the possibility that our mixed quartet Skeeters will get a Guernsey. The greater exposure to their peers at rehearsal nights, arranged by MD Ian Lushey, seems to be reaping benefits for some of our quartets. It is also encouraging newly formed quartets to "have a go" and it is hoped they will start blossoming soon, and get to show their talents in forthcoming conventions.

Congratulations to all successful barbershoppers, and may you have an enjoyable Hobart Conference.
The members of the Melbournaires were recently given the opportunity to attend a workshop on quartet singing and personal voice coaching by Jen Howson. This was an all-day affair, and the quality of the coaching and humorous approach, made it a valuable and enjoyable session.

THE SAUSAGE SIZZLE.
It was another beautiful Winters day in sunny down town Nunawading, about 25k East of Melbourne, and on a lovely Saturday morning, all the DIY enthusiasts were driving their utes and SUV's to the Bunnings carpark to pursue their favorite weekend passion. On this particular day, there was extra incentive to arrive at this destination, because word had obviously got out that The Melbournaires Harmony Chorus was once again serving up the delicacy otherwise known as sausage-on-onion-on-bread. The combination of the heady aroma from the hotplate and the lofty harmonies from the singing, brought wave after wave of customers to both Bunnings and the food tent, so that 850 snags were sold and The Melbournaires made a profit of nearly $1800.

This was a fantastic effort by Ralph Dodson who organised the event and was kept busy buying more product, and those members of the chorus who gave up their Saturday to spend at least one 2 hour shift over a hot hotplate. As shifts ended they joined in singing for queues and entertaining individuals with well-known barbershop numbers.

Terry Phillips.
(Photos by Frank Blackham)

---
Sound Connection
| | |
| --- | --- |
| Type of post: | Club news |
| Sub-type: | No sub-type |
| Posted By: | Dick Bushell |
| Status: | Current |
| Date Posted: | Tue, 18 Jun 2019 |
Vale Wolfgang Klette.

Sound Connection Chorus is mourning the loss of one of their founding members, Wolfgang Klette, who sadly passed away from oesophagus cancer on 14th May 2019.

To honour Wolfgang and one of his final requests, Sound Connection is humbled to present this raffle which will help support the small son of fellow Sound Connection member Michael Hicks.

A framed, monogramed shirt signed by the Vocal Majority Chorus members of 2004 and nine of their classic CDs.

With only 200 tickets available at just $25.00 each - chances to win this distinctive prize are very good.

AND - all funds will be donated to Eli's family.

Buy tickets here https://www.trybooking.com/BDAIN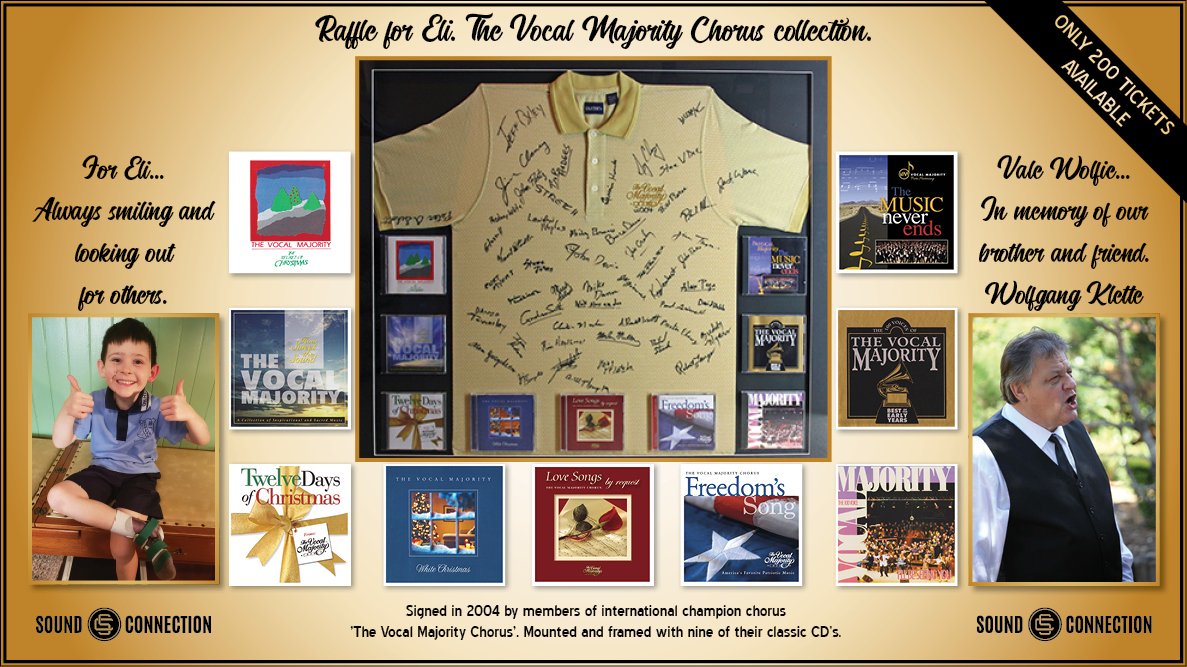 In 2014 little Eli Hicks was diagnosed with Autism. In 2015 he was diagnosed with ADHD. But Eli's biggest battle was yet to come. In February of 2017 after months of tests and suffering, Eli was diagnosed with a Connective Tissue Disease called Ehlers Danlos Syndrome (EDS). EDS is caused by a lack of collagen and elastin in the body. There are many chromosomes in the body that produce collagen but most of Eli's don't work. They are either mutated or missing altogether.

Eli doesn't really understand what is happening to his body but he refers to that time as "When my legs stopped working properly". When he was smaller it wasn't such an issue, but as he grows, his body can't keep up with enough collagen and elastin production. This has caused his joints and ligaments to become hypermobile and 'floppy' in appearance. He has frequent joint dislocation of his ankles and most recently his shoulder.

Enter Wolfgang Klette… 'Wolfie' was a founding member of Sound Connection chorus along with Eli's dad, Michael. Wolfie was a larger than life character with a big heart and a big voice. Many people would know of him if not in person, for his 'terrible' jokes and his penchant for telling a good story.

Many years ago (in 2004) Wolfie was lucky enough to win a framed shirt and CD collection of The Vocal Majority Chorus. This iconic barbershop chorus is 13 times Gold Medal winners in Barbershop Harmony Society chorus competitions, with their most recent win in 2018. It was Wolfie's wish that his cherished, framed CD and signed shirt collection be raffled, and the funds donated to Eli's family to assist with his ongoing medical costs.

Terms and Conditions: 1. The promoter is Pivotal Point Harmony Inc. PO Box 10839 Southport BC Qld. 4215, 2. The prize consists of: A framed collection nine CD's and signed monogramed shirt from The Vocal Majority Chorus. The prize is valued at $400.00 3. Prize is offered as is, is not transferable and cannot be exchanged for cash. 4. No responsibility will be taken for valuation of the prizes. 5. By accepting the prize the winner indemnifies the promoter against any claim rising from the winning of the prizes. 6.The raffle will be drawn via live FB streaming on 2nd September 2019 at approx 9.00pm 7. The judges' decision is final and no correspondence will be entered into. 8.If the winner/s are not present at the draw they will be notified by phone or mail. 9. The winners will need to make arrangements to collect the prize (at their own cost) from the promoter.

Jeannie Hattendorff
---
Sunshine Statesmen
| | |
| --- | --- |
| Type of post: | Club news |
| Sub-type: | No sub-type |
| Posted By: | Dick Bushell |
| Status: | Current |
| Date Posted: | Tue, 18 Jun 2019 |

We would lke to let people know that The Sunshine Statesmen Barbershop Chorus, Buderim, Queensland will be hosting the next Sunshine Region Convention 2020, here on the beautiful Sunshine Coast.
Peter Hall
Secretary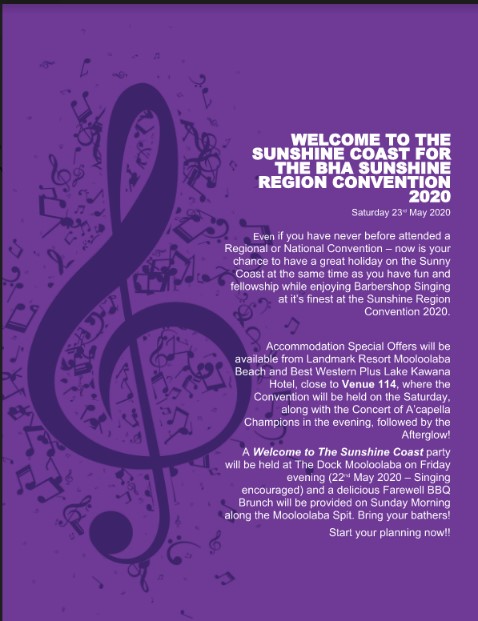 ---
The Blenders
| | |
| --- | --- |
| Type of post: | Club news |
| Sub-type: | No sub-type |
| Posted By: | Dick Bushell |
| Status: | Current |
| Date Posted: | Tue, 18 Jun 2019 |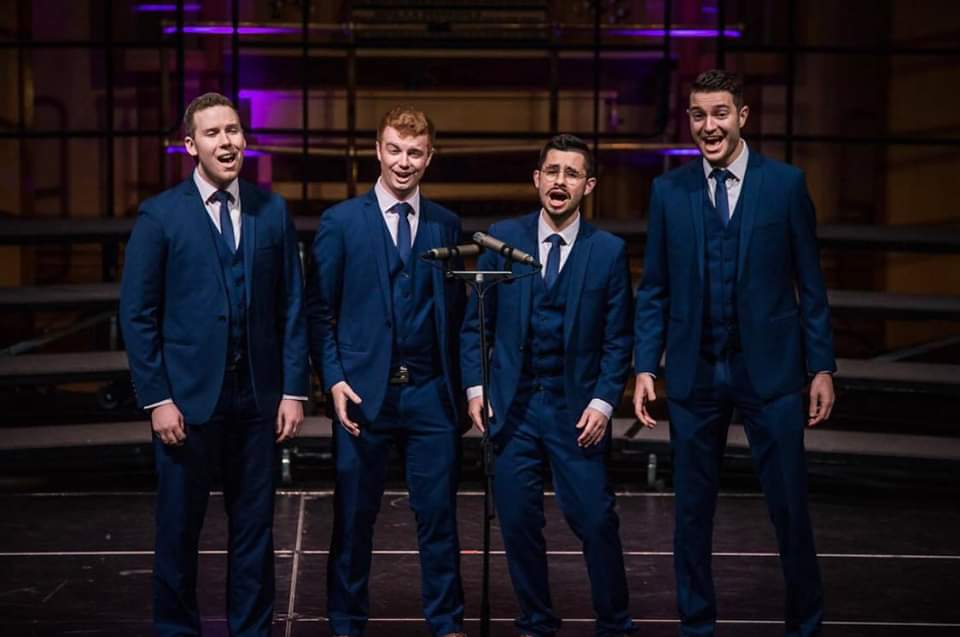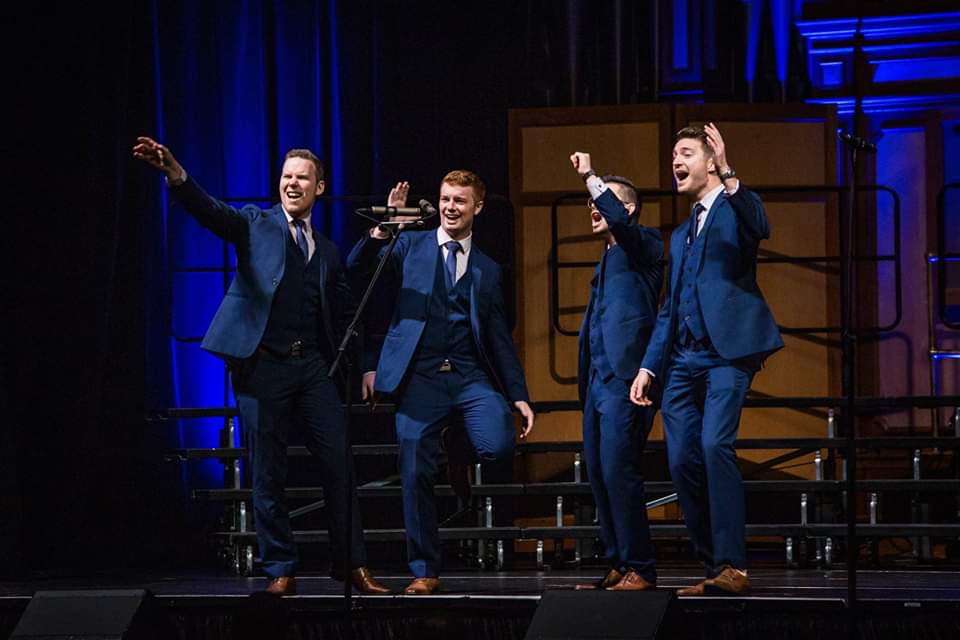 Exciting times ahead for Blenders quartet, Sundays Best who head off to participate in the BHS Collegiate quartet competition in Salt Lake City, USA in early July. We would like to wish Dean, Ryan, Alex and Sam all the very best. We at The Blenders are very proud of them and look forward to hearing about their experience and them sharing their gained knowledge when they return home. The have worked very hard and deserve the opportunity to perform on the 'big' stage.

This last month has been very busy for our chorus. We had a Saturday double header, with performances at a multi-cultural festival in Broad Water Parklands. As soon as we had finished that we had to jump in our cars and race over to Labrador Community Centre for a citizenship ceremony. All in all, a very busy day.

It was also our privilege to sing at a Gold Coast City Council Citizenship ceremony at the Home of the Arts, (HOTA) earlier in the month. On top of this we performed a flash mob at the Arundel Tavern for a very nice wine tasting event. Great fun was had by all and this performance also resulted in another gig to be held in August. The wine wasn't too bad either.

SingGC has just concluded with a concert featuring our sister chorus, Coastal Charisma and the registrants from SingGC. The concert gave the registrants the opportunity to perform to an audience and put their new found skills into practice. The registrants came together 4 weeks previously, with each chorus learning two songs and one combined song.

Our next major event is Voices in Paradise. We are expecting over 100 youth members to register for this event. Blindside and Velvetones are the guest educators. The participants couldn't be in better hands.

Ian Mackey
Secretary
---
The Baden Street Singers
| | |
| --- | --- |
| Type of post: | Club news |
| Sub-type: | No sub-type |
| Posted By: | Dick Bushell |
| Status: | Current |
| Date Posted: | Tue, 18 Jun 2019 |
The Baden Street Singers once again made the journey down to the south-west of WA ("down south", as we call it here) for the Denmark Festival of Voice. Organised by Denmark Arts, this four-day event provides a platform for performers displaying myriad vocal and instrumental talents, with an emphasis on homegrown Western Australian acts.

This year saw the group attend with their largest membership yet, a total of 33 active singers and a whopping 9 new members. Our involvement in the festival consisted of performances and workshops at various locations around the town. Repertoire included all-time favourites such as September by Earth, Wind and Fire, an a cappella medley of popular game show themes and a choral arrangement of Misra Chappu by Australian musician Lisa Young.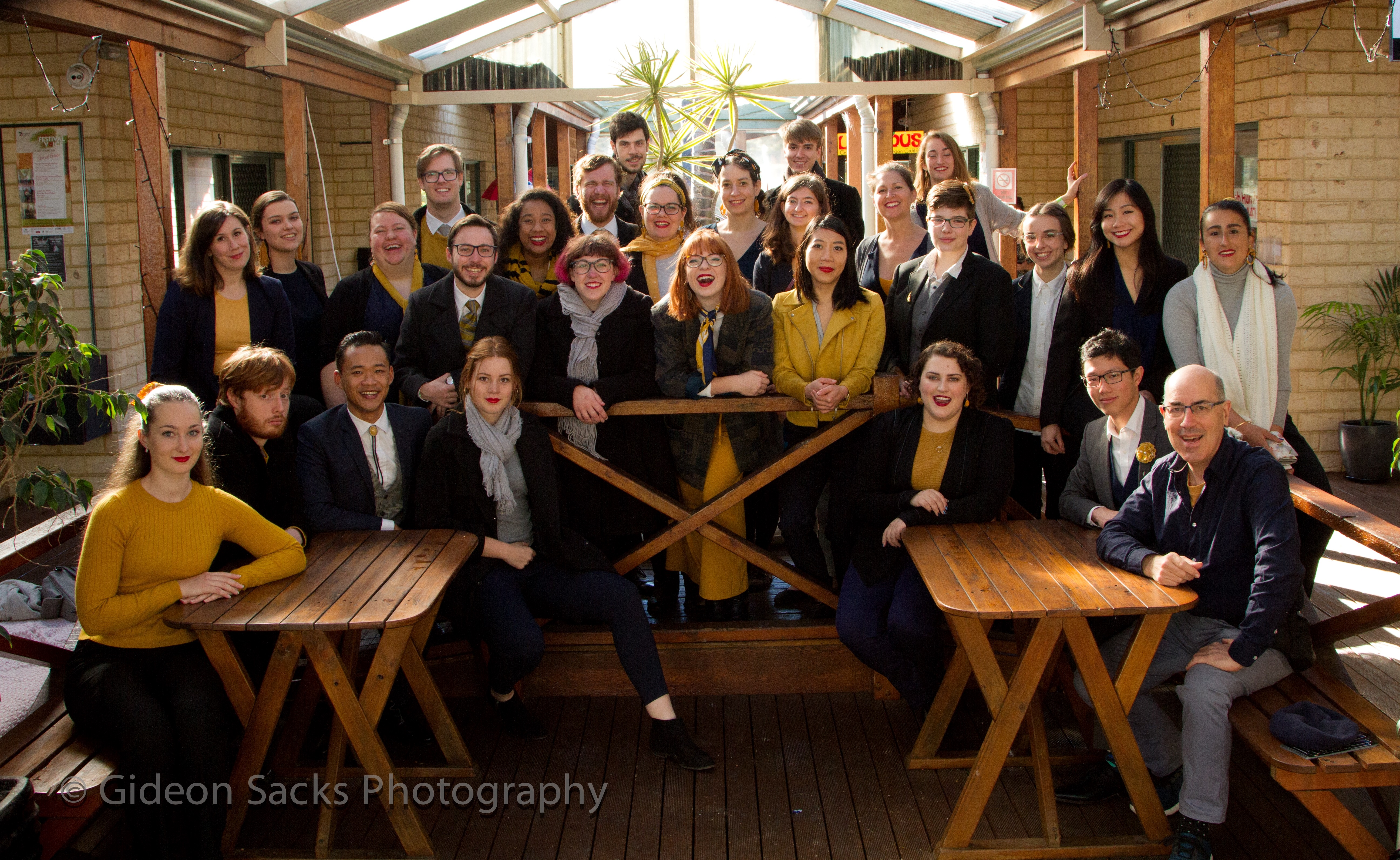 The workshop on stage presence, titled "So You Think You Should Dance", was led by assistant musical director Ryan Nicholson, and was enjoyed immensely by attendees. We also debuted to the public our new contest ballad, written by chorus member Julia Nicholls and arranged by freshly-inducted musical director Nick Schurmann. We plan to perform this at the national convention in September, marking the first time The Baden Street Singers will perform a completely original song on the competition stage, as well as the first-ever original composition performed in the Mixed Chorus category in Australia.

The Baden Street Singers were incredibly well-received at the festival, with one attendee remarking that our performance "gave them hope for the world". We can only hope to bring that feeling to Hobart later this year!

Matthew Chung - Media Officer
The Baden Street Singers
media@baden.st
---
SOUNDWAVES
| | |
| --- | --- |
| Type of post: | Club news |
| Sub-type: | No sub-type |
| Posted By: | Dick Bushell |
| Status: | Current |
| Date Posted: | Tue, 18 Jun 2019 |
We have had a busy time with performances and rehearsals in the last few months.

Soundwaves performed at the Arthouse Wyong Concert "Pictures At An Exhibition" on Saturday 18th May, which was an event highlighting local artists and performers from the Central Coast. There were quite a few nerves as we were the first performers on the night, but we received a very positive response from the audience.

We have performances scheduled for June, with a Probus Club performance at Wangi, and a Citizenship Ceremony at Gosford Council Chambers. Soundwaves are well under way with our annual concert listed for August at Central Coast Leagues Club, Gosford and are busily rehearsing our songs for the National Convention in Hobart.

Our attendances have been very strong throughout the year thus far, with our average attendance on rehearsal nights numbering around the 22-25 Barbershoppers. This is a great improvement from previous years and shows our continued growth, and also increased interest for our Chorus.
We gladly welcome any new members, who wish to experience what Barbershop Harmony singing can offer.

Soundwaves rehearse every Monday night from 7.00pm at Central Coast Leagues Club, Gosford. If anybody in the Central Coast region, is interested, we are always happy to see you. Also, if you are already a BHA member, and wish to join us for a night of great Barbershopping and fellowship, please feel free to drop in.
We look forward to seeing you.

Brian Dye
Publicity Officer
Soundwaves Chorus
---
River City Clippers
| | |
| --- | --- |
| Type of post: | Club news |
| Sub-type: | No sub-type |
| Posted By: | Dick Bushell |
| Status: | Current |
| Date Posted: | Tue, 18 Jun 2019 |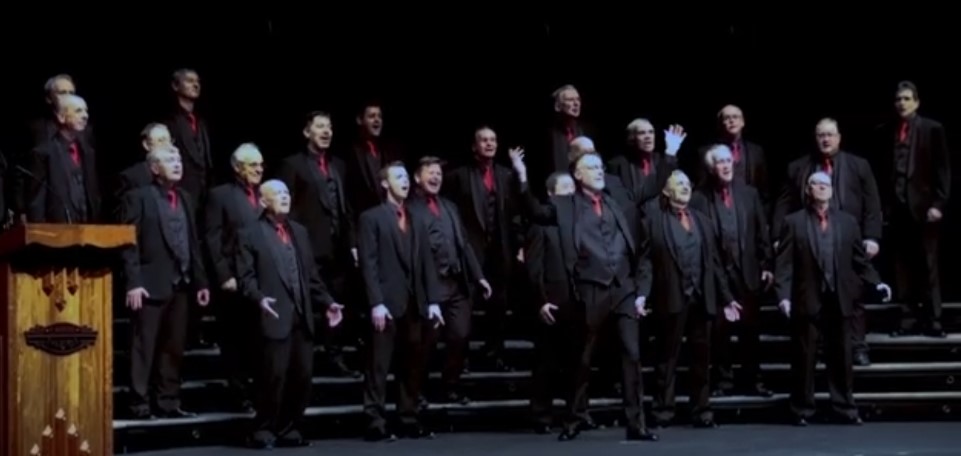 The Regional Convention in beautiful Toowoomba was an outstanding experience for the Clippers, and for all the other participants. Thank you to High Altitude Harmony for their great organisation and wonderful hospitality.

The Clippers had three quartets in the mix, 'Three Squirrels and a Nut', '5 Young Cannibals' and 'Shortlist' as well as our full chorus.

The refurbished Empire Theatre was an awesome venue and provided wonderful big stage performance experience. All groups performed well and with excellent feedback from the judging panel. However standards are high in the Sunshine Region so the Clippers had the pleasure of being in the audience for the fabulous 'Concert of A Cappella Champions' in the evening with outstanding contributions from guest quartet Blindside and dazzling displays of costumes, songs and dance from our talented and dedicated Sunshine Region champions.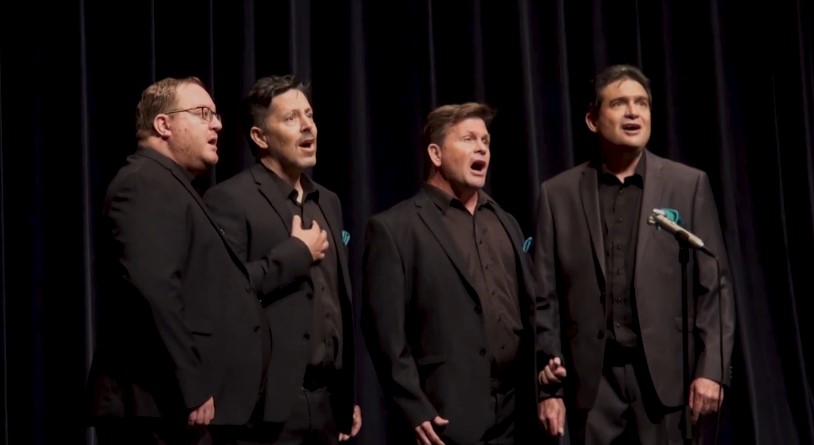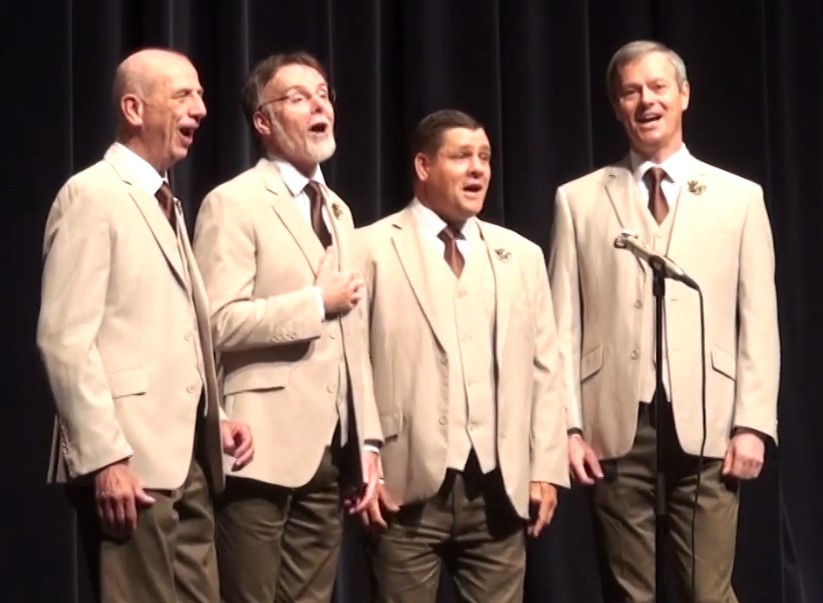 After the concert we adjourned to the neighbouring hall for an exuberant and energetic afterglow. With risers in place the compere got the audience to join groups for fabulous mass renditions of barbershop favourites intermingled with contributions from Blindside and other groups. For those of us who could stay, this was the highlight of the Convention that expressed the best of Barbershop and its community. Well done HTH! A night we won't ever forget.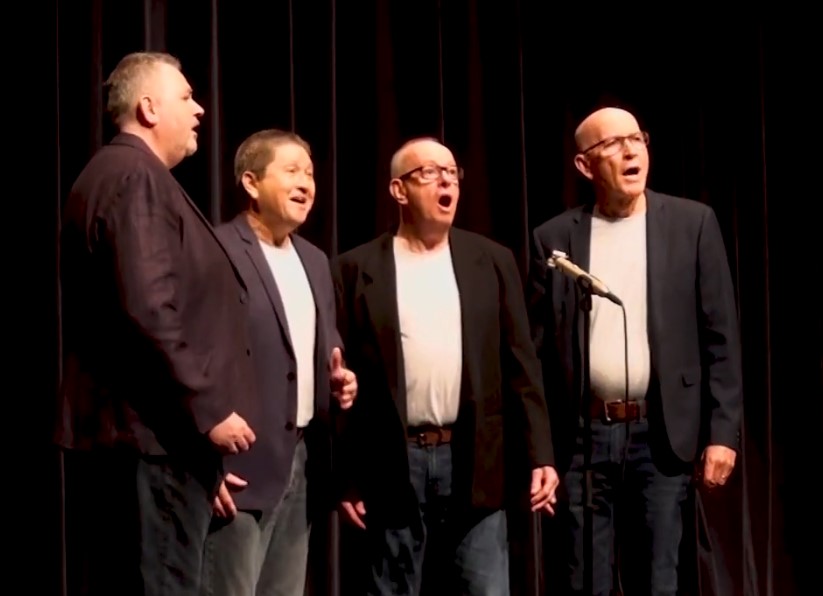 On May 18 the Clippers joined with the Savoyard Singers as the main acts for St Gabriel's church fete in Carindale. The modern church building is a great performance space and the chorus bookended the musical theatre acts of the Savoyard Singers. The mixture of styles and a good supper made for an enjoyable and profitable evening showcasing barbershop as a community activity.

Shoppers at Bunnings in Cannon Hill were treated to a feast of music on Sunday (June 9) as the Clippers ran the fundraising Sausage Sizzle. Sausages were harmonised with onions and given the veneer of sauce for tenor-like sparkle, all on the bass of sliced bread. Appetites were slaked while ears were caressed with many of our favourite songs and polecats. A great way to put the Clippers out there and raise funds for the group.

Special thanks to our indefatigable treasurer and organiser Steve Deans for taking this task one and special thanks to Merv Harcourt who ran this event for 16 years and has now passed on the baton.

Steve Deans
---
Fleurieu Harmony
| | |
| --- | --- |
| Type of post: | Club news |
| Sub-type: | No sub-type |
| Posted By: | Dick Bushell |
| Status: | Current |
| Date Posted: | Sat, 22 Jun 2019 |
Fleurieu Harmony have formed a sub committee to form strategies for recruitment looking not only at revisiting traditional avenues but investigating the various electronic media and finding the best way to reach prospective members, the target is so small when you consider the possible recruitment area, number of males, percentage of those who like singing, availability for daytime rehearsals and that like a cappella four part harmony singing. We have found that most of our present members have come from singouts in public places like Shopping Centres, Markets etc.

We have had fewer bookings to entertain so far this year, which is our main forte, so we have been able to concentrate on new songs for our repertoire and recruitment. Our next engagement is to preform at the Willunga Almond Festival in July and take part in the street parade the next day.

The chorus will unfortunately not be going to Hobart due to key members on holidays and affordability as most of our members, due to their age, rely solely on the government pension and have no super or the little they had was long gone but we will be with you in spirit.

Wishing all a great and enjoyable convention in Hobart

Gordon Tomlinson
President
---
Welcome to our newest members
| | |
| --- | --- |
| Type of post: | Club news |
| Sub-type: | No sub-type |
| Posted By: | Dick Bushell |
| Status: | Current |
| Date Posted: | Tue, 18 Jun 2019 |
| | | |
| --- | --- | --- |
| Karl | Mittermayer | Hobart Men's Barbershop Harmony Club Inc |
| Aaron | Powell | Hobart Men's Barbershop Harmony Club Inc |
| Leon | Toms | Miner Chords |
| Alex | Ng | The Melbournaires Barbershop Chorus Inc |
| John | Menting | The Melbournaires Barbershop Chorus Inc |
| Matt | Murphy | The Melbournaires Barbershop Chorus Inc |
| Jamal | Blakkarly | Barbershop Harmony Club Of Canberra Inc |
| Stephen | Dobson | Barbershop Harmony Club Of Canberra Inc |
| Neil | Fleming | Barbershop Harmony Club Of Canberra Inc |
---