Table of Contents
2019 Hobart Festival - Latest News
Would you like to become a Judge?
Important Youth Survey
Membership Survey feedback
2019 East Coast Harmony College
2019 Eastern Region Competition
2019 Sunshine Region Competition
The Blenders -Voices in Paradise
The Melbournaires
Vocal Evolution
Hills Harmony
Brisbane River City Clippers
Sunshine Statesmen
The Miner Chords
Welcome to our newest members
2019 Hobart Festival - Latest News
| | |
| --- | --- |
| Type of post: | Festival News |
| Sub-type: | No sub-type |
| Posted By: | Dick Bushell |
| Status: | Current |
| Date Posted: | Fri, 19 Apr 2019 |
The second edition of the Festival News has now been circulated to all members. This included important information to everyone as summarised herein.
Click the "Read more" link then click on any of the headings to see the latest Festival News
---
Would you like to become a Judge?
| | |
| --- | --- |
| Type of post: | News |
| Sub-type: | No sub-type |
| Posted By: | Dick Bushell |
| Status: | Current |
| Date Posted: | Mon, 22 Apr 2019 |
The Australasian Guild of Barbershop Judges is seeking applications from people interested in joining the judging program
What does it take to be a judge?

Scoring Judges

If you are interested in being a judge in the Music, Performance, or Singing categories, you should have a strong desire to help our choruses and quartets become better singers, musicians, and performers.

You should have extensive experience and also be actively coaching and teaching barbershoppers.

You must also be experienced with competing yourself in barbershop competitions, either as a director and/or as a singer. Your experience may likely include other areas outside of barbershop, such as arranging music, vocal production training, or work in theatre productions.

The Australasian Guild of Barbershop Judges (AGBJ) is looking for people who can quickly evaluate a performance, assess strengths and weaknesses, and provide instructive feedback, in an appropriate manner, within a short period of time.

Contest Administrators

If you have good organisational and project management skills, and excellent people and communication skills, you may be interested in serving as a Contest Administrator (CA).

The CA is responsible for the orderly management and operations of competitions, resulting in a successful experience for the competitor and audience. You will be expected to have above average computer skills, along with the willingness to maintain and provide your own personal laptop for use at assigned contest events.

CAs do not get the limelight, but they do get the satisfaction of making sure BHA & BHNZ competitions run smoothly.

For all Judges

In addition, you must have a mature attitude and professional demeanor, as well as the ability to make the time commitment needed to serve in this rewarding role.

You should be a person that people say right now, "You would make a great judge." The best motivation for being a judge is having a strong desire to give back to the barbershop community.

There is nothing more satisfying than giving a performer a tool, a technique, an experience, or a pearl of wisdom that helps them improve and they now "get it." If this sounds like you, then you've come to the right place.

On the other hand, if you want to become a judge for the glamour and notoriety, you will be very disappointed!

Can everyone be a judge?

No. Each category is normally limited to a maximum of 8 individuals.

In addition, every certified judge must continue to meet the expectations and requirements that the AGBJ sets for all judges. We want to recruit and keep the best and the brightest – so that we can serve our competitors well.

However, every 3-year cycle we have judges who retire or need to step down, so we must always be prepared to replenish the ranks of every category to ensure we have the best possible judges to serve our BHA & BHNZ competitors.


What's the next step?

The next AGBJ Judges School will be held in Auckland directly before the Pan Pacific Convention in 2020. Successful new candidate judges would be required to attend candidate training in the lead up to this school.

To express your interest in becoming a member of the AGBJ, please complete the form HERE.
---
Important Youth Survey
| | |
| --- | --- |
| Type of post: | News |
| Sub-type: | No sub-type |
| Posted By: | Dick Bushell |
| Status: | Current |
| Date Posted: | Fri, 19 Apr 2019 |
Important Information for Clubs and chorus administrators.

Recently we have decided to run a survey of clubs and choruses to find out exactly what clubs are doing in terms of youth engagement and recruitment strategies. The ultimate aim of this survey is to help share successful youth engagement models between clubs, so clubs can become more adept at recruiting younger members.

This survey will be emailed to club presidents and secretaries so that an executive member of your club/chorus can respond as accurately as possible.
This survey was designed in conjunction with Geordie Cullen, who has been a big help, and will be involved in the analysis of the outcomes of this survey, Thanks Geordie!
Yours in harmony,
Kieran O'Dea
Vice President, Youth Development
---
Membership Survey feedback
| | |
| --- | --- |
| Type of post: | News |
| Sub-type: | No sub-type |
| Posted By: | Dick Bushell |
| Status: | Current |
| Date Posted: | Fri, 19 Apr 2019 |
BHA 2018 Membership Survey Snippets

The BHA National Council has been working through the results of the 2018 BHA membership survey and referencing the information contained within the responses in consideration of the key strategies and objectives for BHA in line with our strategic vision of Enriching Australia Through Harmony.

When it comes to personal member satisfaction, "The pursuit of musical and artistic excellence" tops our survey with a massive 98.1% agreement followed by "The pure enjoyment of ringing chords" with 97.6% agreement. Clearly there is something about our Barbershop style that once hooked, it never lets us go, and drives us to keep improving our craft!

But our camaraderie and outreach are essential elements for personal satisfaction and impact as the next highest scores are "Fellowship with other members in the Association" at 96.2% agreement, and then "The impact we make on people and communities when we sing for them" at 96.1% agreement. This impact is supported by our ability to bring joy to audiences as "Singing on Club Shows and Events" scores a 93.4% agreement.

On a club level we seem to be doing well, with 89.9% agreeing that their club "has good musical leaders" and 86.4% believing that they "have a healthy, positive atmosphere and culture", leading to confidence held by 81% of respondents that the club "is headed in the right direction".

Unfortunately, those results are not translating to confidence when it comes to the club "is likely to grow and improve in the future" with only 64.6% agreeing. We clearly have some work to do to get our message out there and maintain our sustainability.

The results show that our regions and the National Council can have a greater impact with results of agreement for issues such as leadership, vision, consultation and collaboration scoring between 35% and 60% agreement.

We know there is work to do but the results of the survey and discussion in forums with members, Regional Chairs and Club Presidents gives us confidence that as a Barbershop community we still have much to give.

We will continue to analyse the survey information and communicate the lessons we have learned as we move forward with our plans to Engage, Educate and Enjoy.

Paul Adams - Vice President Membership
---
2019 East Coast Harmony College
| | |
| --- | --- |
| Type of post: | Club news |
| Sub-type: | No sub-type |
| Posted By: | Dick Bushell |
| Status: | Current |
| Date Posted: | Mon, 15 Apr 2019 |
The Annual East Coast Harmony College was again held by the Eastern Region Committee over the weekend of 1st to 3rd of March 2019. The venue was again the picturesque Myuna Bay Sport and Recreation Centre situated on the shores of beautiful Lake Macquarie several hours drive North of Sydney. The weekend started with over sixty delegates arriving on Friday afternoon for dinner followed by the first group session. The fantastic faculty comprised Rob Sequera, David Reid, Richard Reeve and Johnno Albertini. The weekend was a great success and culminated in a concert at the nearby Wangi Workers Club in front of a very appreciative paying audience.
Delegates were drawn from ten Choruses all based in NSW and ACT and, aside from the great and congenial learning environment, the weekend provided an excellent opportunity to renew friendships between members of these choruses.
Choruses represented included Novatones, Soundwaves, Hills Harmony, Sydneysiders Express, Sydney Harmony, Vox Canvas, Penrith Harmony, Canberra Chordsmen & Wollongong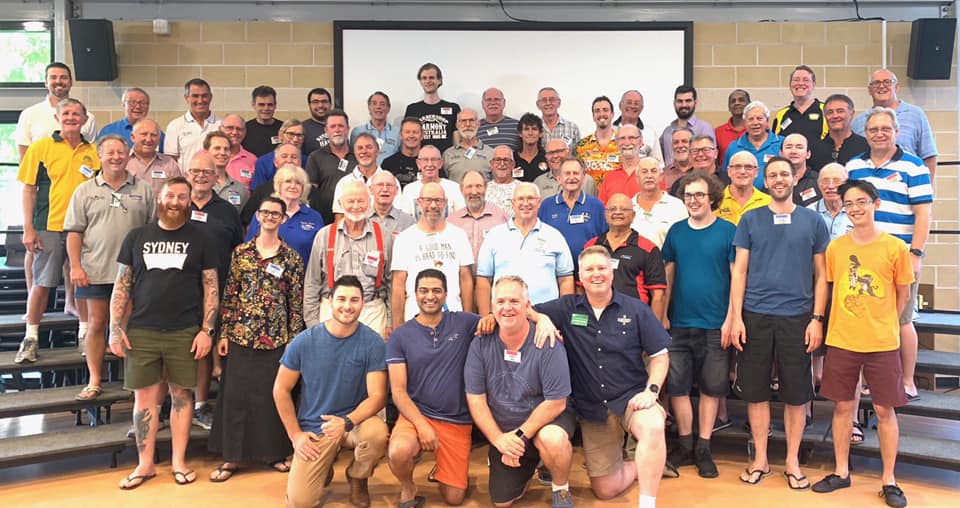 ---
2019 Eastern Region Competition
| | |
| --- | --- |
| Type of post: | Club news |
| Sub-type: | No sub-type |
| Posted By: | Dick Bushell |
| Status: | Current |
| Date Posted: | Fri, 19 Apr 2019 |
The 2019 Eastern Region Qualifying Competition was held on Saturday 13 April at Barker College Hornsby NSW.
The competition included thirteen quartets and five choruses and was notable by the generally high standard exhibited by all competitiors.
The open quartet competition was won by Helix with an average score of 71.7%
The senior quartet competition was won by First Edition with an average score of 64.2%
The invitation quartet competition was won by Alouette with an average score of 74.0%
The Chorus competition was won by Vox Canvas with a brilliant average score of 77.8%
With the sole invitation chorus competitor Circular Keys achieving an average score of 76.0%
Judging on the day was provided by Sarah Bradley (Singing), Paul Roussell (Music) and Richard Reeve (Performance) with Linda Vinall very efficiently administering the the whole event.
The winning open quartet Helix receiving their medal from Past ER Chairman, Brian Bleakley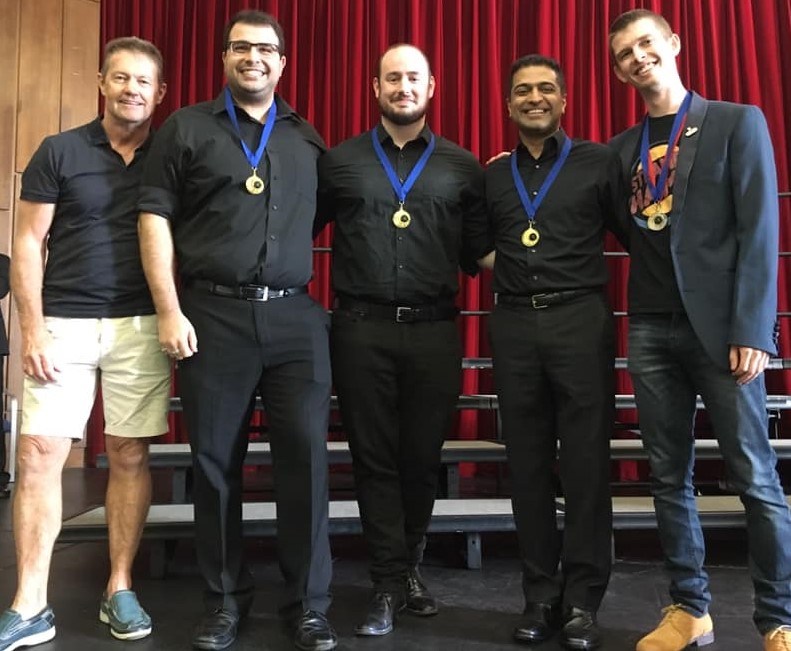 Winning Senior Quartet First Edition receiving their Medal from ER Secretary Owen Stygal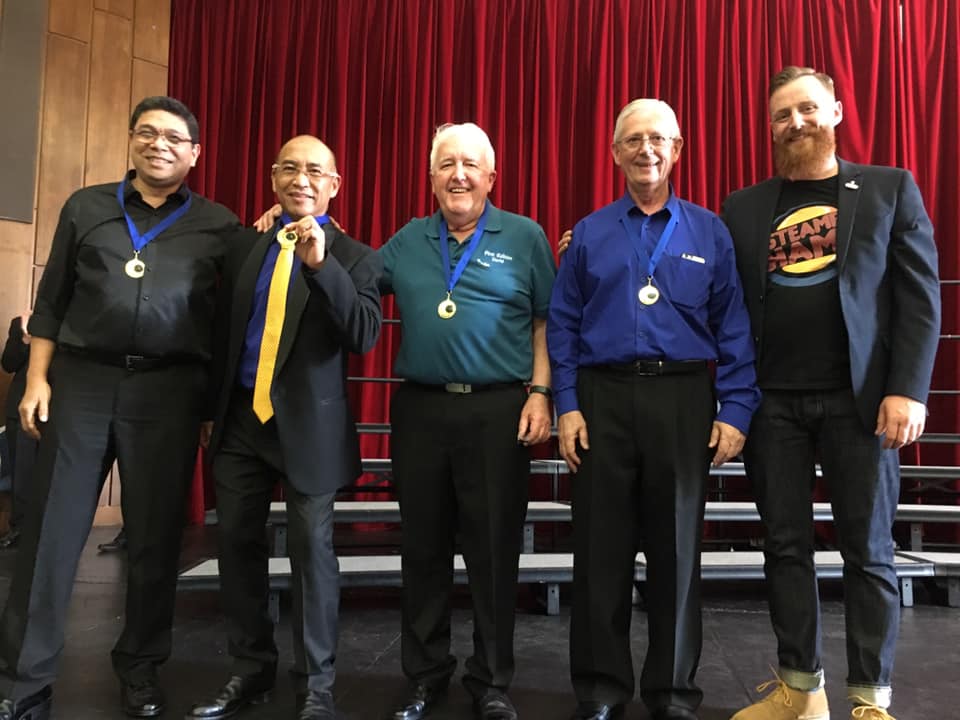 MD Rob Sequeira of the winning chorus, Vox Canvas receiving the winners
shield medal on behalf of his chorus from ER Treasurer Bob Haynes

A representative of the winning invitation quartet Alouette receiving the gold medal on behalf of the other members of the quartet from ER Chairman Taveet Sinanian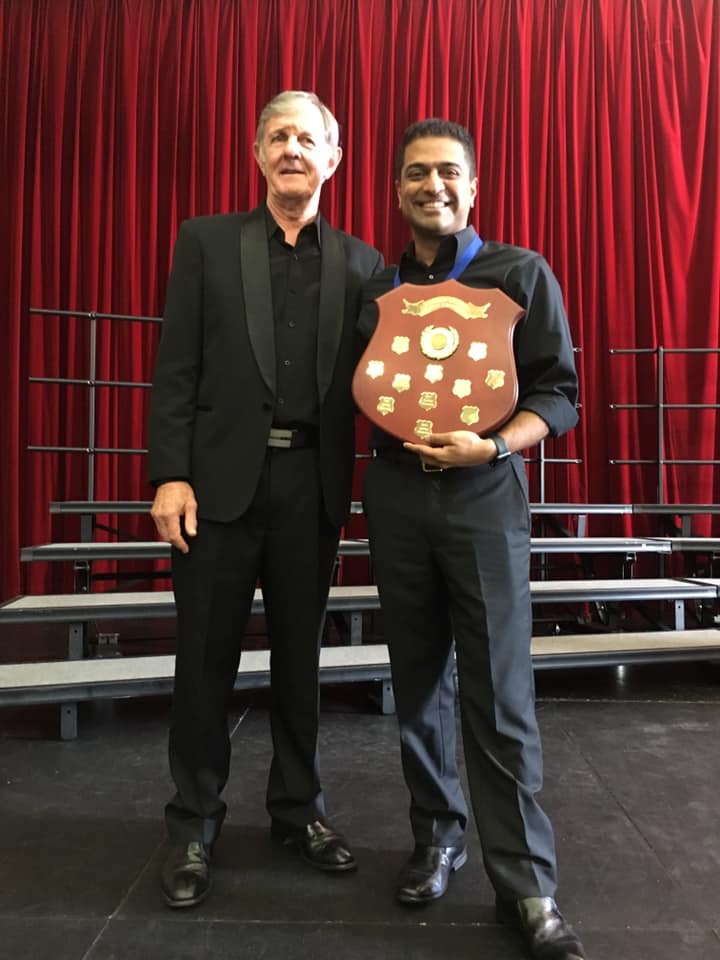 ---
2019 Sunshine Region Competition
| | |
| --- | --- |
| Type of post: | Club news |
| Sub-type: | No sub-type |
| Posted By: | Dick Bushell |
| Status: | Current |
| Date Posted: | Fri, 19 Apr 2019 |
On Saturday April 27 High Altitude Harmony will host the Sunshine Region Convention at the beautiful Empire Theatre in Toowoomba. Our modest sized chorus and the BHA Competition Administrator and judges will certainly have their work cut out for them, with around 220 singers registered across 21 quartets and 8 choruses - including 1 mixed and 2 ladies invitational chorus. Singer registrations are now closed, however supporter registrations will remain open until the morning of the competition. If you plan to sit in on any of the competition sessions you must register for the convention at www.trybooking.com/BAHVL. Each supporter registration includes a ticket to the evening concert.

Competition will kick off with the first of the quartet sessions around 9am, with the chorus competition likely to commence around lunch. The day will culminate with the winners of the various sections performing at the public 'Concert of A Capella Champions' in the evening. If you know anyone in Toowoomba who would like to attend the public concert you can direct them to obtain tickets from the Empire Theatre.

Mark Phythian
High Altitude Harmony
---
The Blenders -Voices in Paradise
| | |
| --- | --- |
| Type of post: | News |
| Sub-type: | No sub-type |
| Posted By: | Dick Bushell |
| Status: | Current |
| Date Posted: | Fri, 19 Apr 2019 |
Voices In Paradise is back!
Registrations are now open and we have a brand new website.

Featuring new guest educators The Velvetones (2018 AUS/ACA Champions) and Blindside (2018 BHA Champions)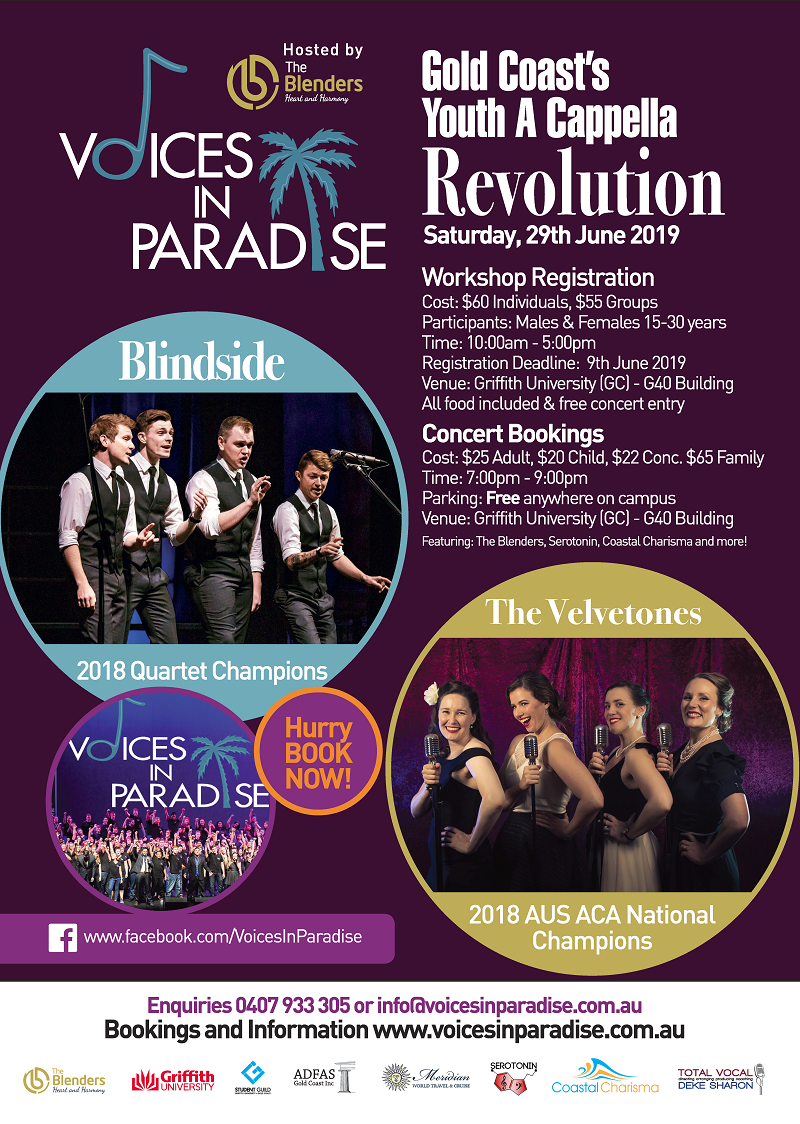 The workshop registration process is now easier for individuals and groups. Click below to purchase your registration. You'll be notified when the songs available.

Click the following links
to register for the workshop or purchase Concert tickets

---
The Melbournaires
| | |
| --- | --- |
| Type of post: | Club news |
| Sub-type: | No sub-type |
| Posted By: | Dick Bushell |
| Status: | Current |
| Date Posted: | Fri, 19 Apr 2019 |

One of the most critical things for the Melbournaires is recruitment. At one time the average age of the chorus was 68 which unfortunately meant that members were fairly constantly falling off the perch. With this in mind, a regular recruitment programme is formulated, where members of the public are invited and welcomed to a live rehearsal and informed about barbershop singing.

The Melbournaires recently conducted the programme on a Monday evening, and those interested visitors were invited to join the chorus on the risers. From past experience, less than a handful of participants stay the course, but on this occasion, numbers were up, and several would-be singers were captured, given one-on-one guidance and tuition, and already a handful has passed the audition. As a result of successful recruitment, the average age of the chorus has declined, but these new guys are the Melbournaires of the future, and this exciting fact means stability and incentive for years to come.

It should be established that the recruitment programme does not just happen. It is because of the hard work and cajoling by many members that make it possible. Two members in particular that come to mind are Roger Archman and Colin Ferns. Success would not be possible without the almost fanatical enthusiasm of Roger in promoting and encouragement of others to perform, or the laid back but highly skillful printing of posters, flyers and cards by Colin. We are lucky to have these two "go to" guys, but thanks to every Melbournaire who gives up their time and energy to help with this all important process.

President John Webb is off to America to travel the Route 66 by motorbike. In the ensuing four weeks, Immediate Past President John Howell will fill the seat extremely well.

Terry Phillips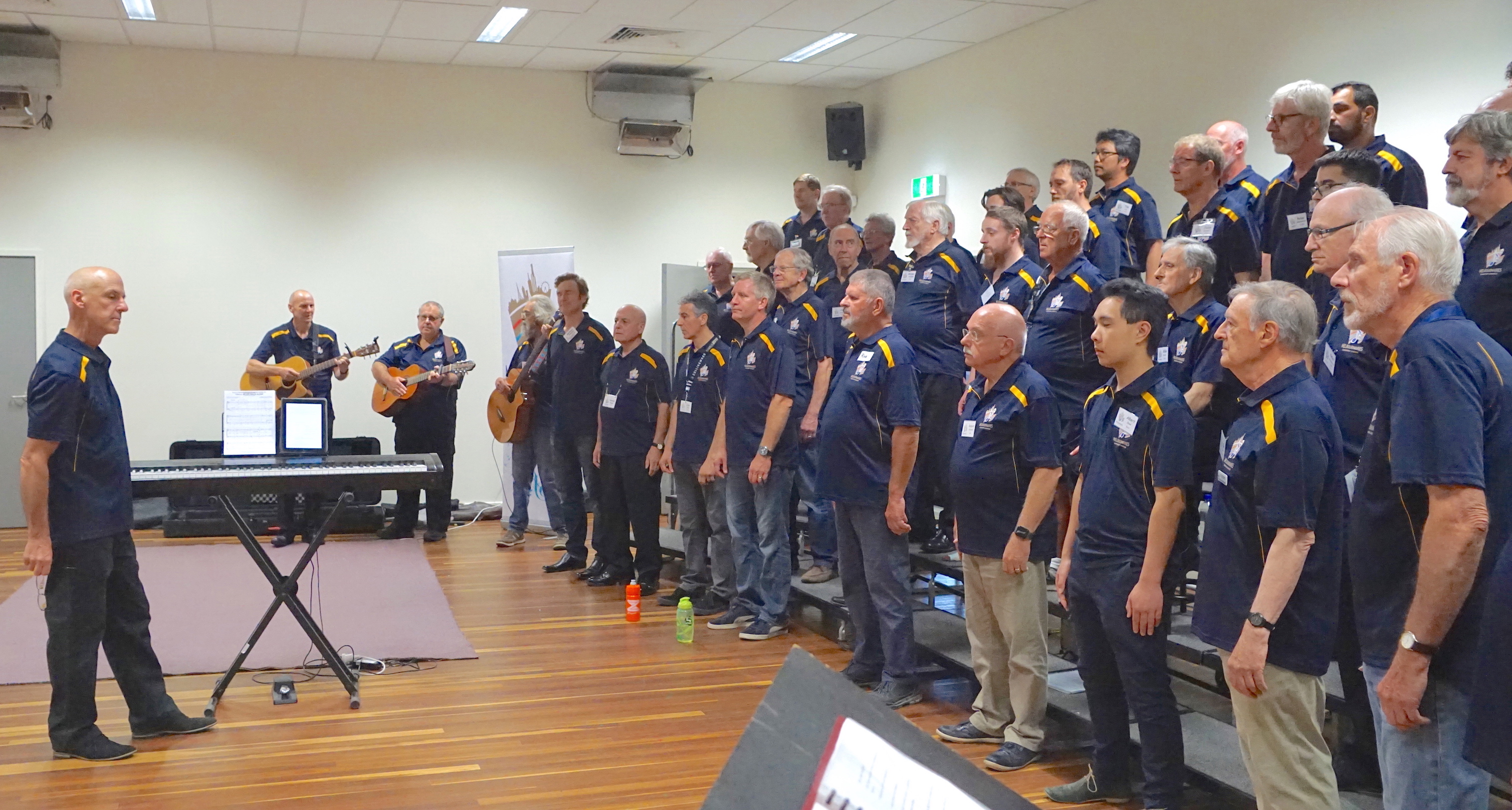 ---
Vocal Evolution
| | |
| --- | --- |
| Type of post: | Club news |
| Sub-type: | No sub-type |
| Posted By: | Dick Bushell |
| Status: | Current |
| Date Posted: | Fri, 19 Apr 2019 |
The Newfangled Four are coming to Australia in August for their first ever tour Down Under! Vocal Evolution in association with The Baden Street Singers, Sydney Harmony and The Blenders are hosting the quartet with workshops and performances happening in Perth, Sydney and the Gold Coast.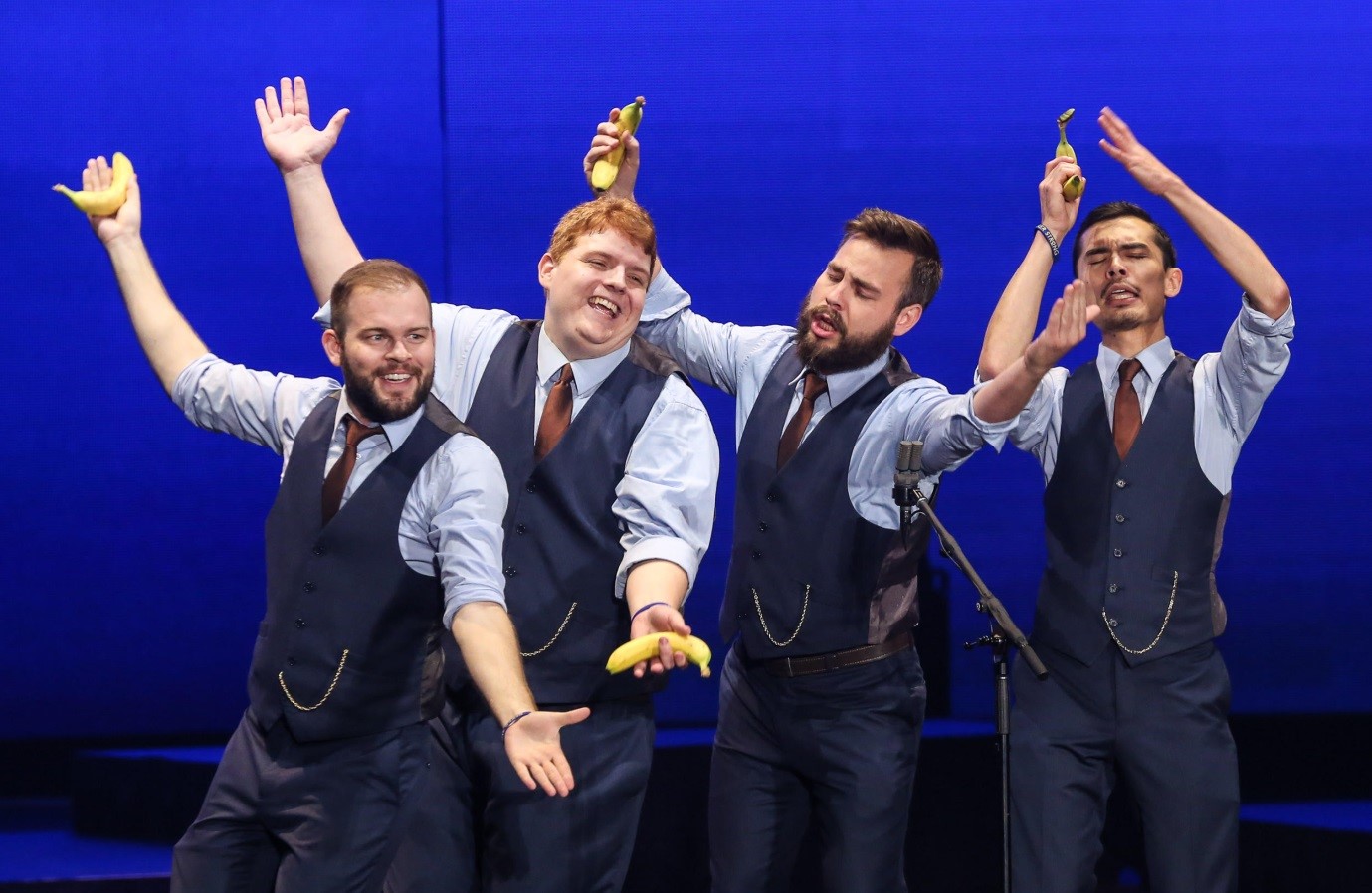 Breaking the mould with their humour and original songs, this award-winning quartet are attracting a new generation of fans to the classic art form of Barbershop. The Newfangled Four are not only singers, they are entertainers. Formed in 2012, they have developed a reputation for their showmanship and their work in promoting the art form through youth education.

In collaboration with The Baden Street Singers, a youth workshop will be conducted in Perth, led by Music Director, Nick Schurmann. Schools and interested parties are encouraged to contact us for more information.

The culmination of their visit in Perth will be a performance at the Heath Ledger Theatre, alongside Vocal Evolution and The Baden Street Singers on August 17th. This promises to be a spectacular night of barbershop entertainment at a magnificent venue.

Tickets for the Perth show will be available from May via www.ptt.wa.gov.au
Information about the Perth Youth workshop available at www.vocalevolution.com/nf4workshop

Eugene Liew - VP Marketing
---
Hills Harmony
| | |
| --- | --- |
| Type of post: | Club news |
| Sub-type: | No sub-type |
| Posted By: | Dick Bushell |
| Status: | Current |
| Date Posted: | Fri, 19 Apr 2019 |
Our thanks to BHA for arranging Ian Mulholland to visit the chorus as a FIFO coach. The guest spot was planned for 2018 but it took till February for the calendars to coincide. The wait was worth it and all our members were able to hone their singing skills and gain something new from Ian's perspective.


Photo courtesy of Jian Zhao, Hornsby Shire Council
Hills Harmony celebrated Seniors Week with two performances. One as centre stage lunchtime entertainment at a local shopping mall and the other as delegates to the Hornsby Shire Council Seniors Week Expo, highlighting activities residents can enjoy when they retire. The select group of singers, i.e. those who didn't have to work, had a great time presenting to a very appreciative audience in the Hornsby RSL.

Many of the concerts we present in retirement villages are return engagements. This month we presented a first time concert for the Mountain View Retirement Village at Dural. We had many of the audience singing along and engaging with the music. Another great afternoon of fun, friendship and good singing.

First Edition shown receiving their medal from ER Secretary, Owen Stygal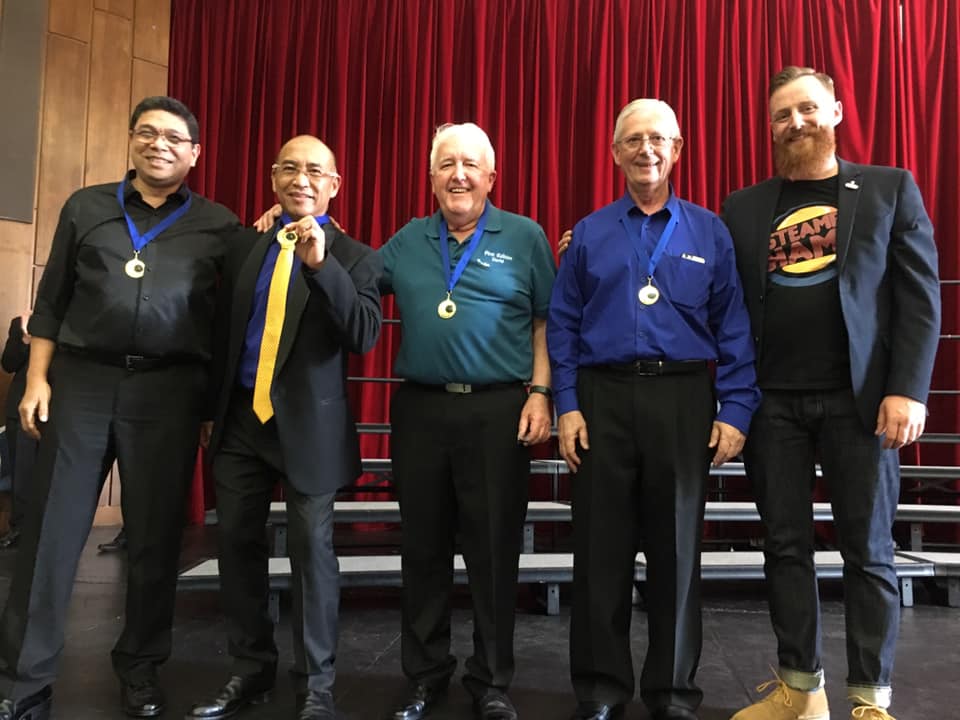 Eastern Region competition was held recently. Our "First Edition" Quartet members Dave Simmons (Bass), Peter Garnet(Bari), Bobby Echaveria (Lead) and Steve Equino (Tenor) were very excited after taking out the Seniors Gold medal with their best ever score. Well done Gents. All the hard work has paid off. They will certainly be looking forward to Hobart. Congratulations also to our first time competitors, Ray Dalton, Craig Rose and Nick Willoughby. Welcome to the world of competitive Barbershop singing.

Paul Meller - VP Marketing
---
Brisbane River City Clippers
| | |
| --- | --- |
| Type of post: | Club news |
| Sub-type: | No sub-type |
| Posted By: | Dick Bushell |
| Status: | Current |
| Date Posted: | Fri, 19 Apr 2019 |
With 2019 steamrolling along we find ourselves in April all of a sudden and yet another chance to perform at the Regional Convention. This year the Clippers will be heading to beautiful Toowoomba, as guests of host chorus High Altitude Harmony. The event promises to be another success, with a number of choruses and quartets competing.

Our Annual General Meeting was held in February and a number of Executive Committee roles have taken up by some of the Clippers newest members, which has been great to see. We thank our outgoing President Mr. Paul Dickie, who has been in the role for 3 years and has been a credit to our organisation in this role. We also welcome our new President, Mr. Shane Downey, who has been a member of the Clippers for less than two years, but has great enthusiasm for the growth and development of the organisation.
The Clippers were fortunate to perform at the Rotary District Annual Conference 2019 in March to a well-received audience. Australian Rotary aims to create meaningful change through practical efforts and with that in mind the Clippers performed a repertoire of songs with a "make the world a better place" theme.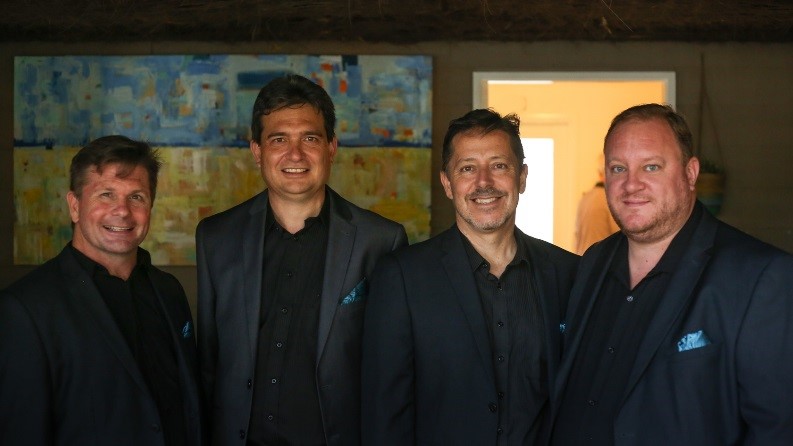 Also in March, our quartets were offered a unique opportunity to perform at a quartets-only event: "Sequins & Songs" hosted by Brisbane City Sounds, with a big thanks to BCS's Michelle Neller for organising the event. Unfortunately, two of our three quartet's had prior commitments – "Three Squirrels & a Nut" and "Short List" – however "5 Young Cannibals" were able to represent the Clippers to an appreciative barbershop crowd. The event was so successful it is now scheduled to be an annual event, the next one scheduled for Saturday 21st March 2020!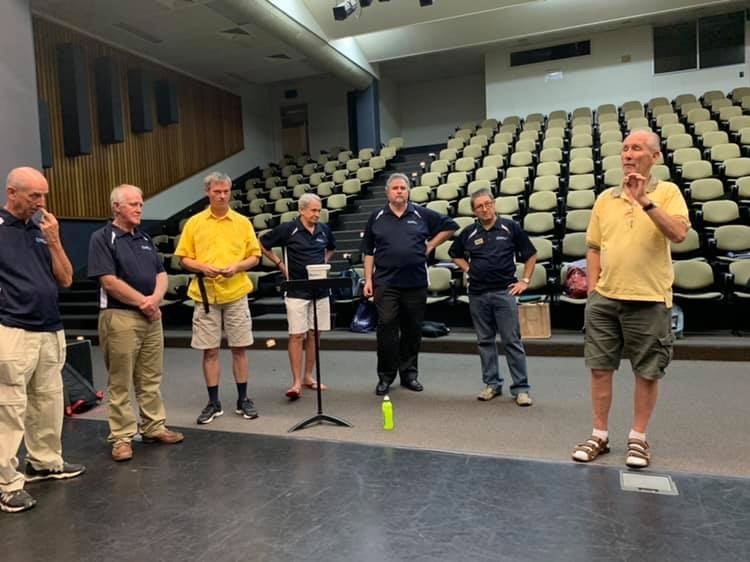 In the lead up to the Regional Convention, The Clippers were extremely honoured to welcome the esteemed Mr. Derek Cosburn of Benchmark and other fame, for attending our Tuesday evening rehearsal for some one-on-one coaching. We very are grateful for your ongoing support in improving our singing techniques.

Lastly we wish to welcome our newest (and youngest!) Clipper, Tom Luxmoore. We hope that your entry into the world of barbershop brings you great joy.

Steve Deans - Treasurer

---
Sunshine Statesmen
| | |
| --- | --- |
| Type of post: | Club news |
| Sub-type: | No sub-type |
| Posted By: | Dick Bushell |
| Status: | Current |
| Date Posted: | Fri, 19 Apr 2019 |
Our chorus continues to grow in stature and we are all applying ourselves in improvements towards the Convention in Hobart in September. We are getting ourselves about in the Sunshine Coast region and building a good reputation, as entertaining singers. Brian Martin, our MD and Graham Kingsford out assistant MD continue to make significant improvements to both singing and the performance categories.

We were privileged to be able to award LIFE MEMBERSHIP to a long standing member, Tony Eccles. of the Sunshine Statesmen in March. Tony has been a stalwart member, including President for a number of years and has been a leading part of both the singing and administration of the chorus.

The chorus and quartets have been involved in a number of sing-outs at retirement villages and resorts on the Sunshine Coast this year and culminated at the recent Love Song to the Earth concert. The Statesmen and our quartet Rimfire were given a chance to strut their stuff and our members were part of a mass sing with over eighty singers belting out "We are the World" in four part harmony.

Following a workshop with Jen Howson in March to improve our performance abilities, we are now focusing on the Regional Contest in Toowoomba at the end of the month with a view to giving ourselves a chance to see if we can perform a themed set.

We look forward to seeing all our fellow Queenslanders in Toowoomba

Malcolm Woods
President
---
The Miner Chords
| | |
| --- | --- |
| Type of post: | Club news |
| Sub-type: | No sub-type |
| Posted By: | Dick Bushell |
| Status: | Current |
| Date Posted: | Fri, 19 Apr 2019 |
The Miner Chords are rehearsing for the Regionals of course. But Gordon (our MD) is really working us a hard and being quite picky with vowel shapes and timing and so on.

Although the Miners will not be competing this year, we are fielding a Quartet - also being worked quite hard by Gordon. I think everyone will enjoy their performance - they have a quirky twist but will still be within the rules. Watch that space.

The Miners will perform however, and we are looking forward to participating in the workshop on Sunday.

Norid Krausz - President
---
Welcome to our newest members
| | |
| --- | --- |
| Type of post: | Club news |
| Sub-type: | No sub-type |
| Posted By: | Dick Bushell |
| Status: | Current |
| Date Posted: | Fri, 19 Apr 2019 |
| | |
| --- | --- |
| Anas Darwish | Adelaide Allsorts Harmony Inc. |
| Bronwyn Keller | Adelaide Allsorts Harmony Inc. |
| Judi Mc Shane | Adelaide Allsorts Harmony Inc. |
| Yvette Minck-Jansen | Adelaide Allsorts Harmony Inc. |
| Pat Piper | Adelaide Allsorts Harmony Inc. |
| Katherine Speed | Adelaide Allsorts Harmony Inc. |
| Chris Crous | Brisbane River City Clippers |
| Tom Luxmoore | Brisbane River City Clippers |
| Thomas Attard | Club at Large |
| Jacob Kuek | Club at Large |
| Emily Moriarty | Club at Large |
| Matthew Provan-Koch | Club at Large |
| Derek Charleston | Gold Coast Barbershop Harmony Club Inc |
| Mark Griffin | Gold Coast Barbershop Harmony Club Inc |
| Rod Huggett | High Altitude Harmony Inc. |
| Peter Nikolic | Newcastle Harmony Club Inc |
| Mark Young | Riverland Ramblers Mens Barbershop Chorus Inc |
| Joshua La Macchia | Sydney Harmony Inc. |
| Tyler Anderson | The Baden Street Singers Inc |
| Gabriela Bekir Fuente | The Baden Street Singers Inc |
| Dominic Depiazzi | The Baden Street Singers Inc |
| Joshua Hollander | The Baden Street Singers Inc |
| Susie Keel | The Baden Street Singers Inc |
| Catalina Lizama | The Baden Street Singers Inc |
| Sophie Nagtegaal | The Baden Street Singers Inc |
| Vanessa Palliser | The Baden Street Singers Inc |
| Kaleb Peters | The Baden Street Singers Inc |
| Darcy Smith | The Melbournaires Barbershop Chorus Inc |
| Joel Dueck | Vox Canvas Club |
| David Faber | Vox Canvas Club |
| Raphael Teixeira | Vox Canvas Club |
---