Issue No. 153 - April/May 2016


Table of Contents
Welcome to the new In Harmony
What's Happening at BHA?
Upcoming Events
Understanding Copyright
Pan-Pacific Conventions
2016 East Coast Harmony College
New Chorus Formed in NSW
Valé – Laurie Russell
CLUB & QUARTET News
Are you using the right forms??
New members - April 2016
Printable Version of this Newsletter
Contribute to this Newsletter
Subscribe/Unsubscribe to this Newsletter
| | |
| --- | --- |
| Welcome to the new In Harmony | |
In Harmony covers the latest activities of Barbershop Harmony Australia. Our newsletter provides information of interest to members, the general public and our barbershop friends all over the world.
Traditionally, BHA has emailed a PDF version of the newsletter out, but as times change and technology becomes more user-friendly, we have made the move to provide an online version of our newsletter.
We've done this for a few reasons:
Newsletters delivered electronically via email (e-Newsletters) have gained rapid acceptance for the same reasons email in general has gained popularity over printed correspondence.

Digital editions have the benefit of reduced cost to the publisher and reader by avoiding the time and expense to print and deliver like a paper edition.

This format is considered more environmentally friendly due to the reduction of paper and energy use.

These editions will have the ability to feature interactive elements such as hyperlinks both within the publication itself and to other internet resources, searching and bookmarking, and can also incorporate multimedia such as video or animation to enhance our articles.

People can read the editions on whatever device they are using at the time – meaning that you can always catch up with the latest news from BHA, no matter where you are.
We look forward to seeing this new direction increasing our readership and member involvement! Happy reading!
---
What's Happening at BHA?
| | |
| --- | --- |
| Type of post: | News |
| Sub-type: | No sub-type |
| Posted By: | Dick Bushell |
| Status: | Current |
| Date Posted: | Fri, 15 Apr 2016 |

An update from your President, Ian Mulholland.
Your Busy Council
Over the last two months, since our face-to-face and goal setting meeting, your BHA National Council has been getting down to the various tasks that we set ourselves. Some of the most important outcomes that affect members are outlined below.

Music scholarships are available to both BHS Harmony University (up to $3,000 available) and BHA Harmony College (this year termed "Masterclasses" due to the shorter duration) (up to $500 available). Please contact our Music VP, Andrew Howson (music@barbershop.org.au) for an application form if you are interested.

We are also making available scholarships to assist with the re-training of BHA judges in the Presentation category to the new Performance category (to a maximum of $1,500), and funding of BHA Judges to attain International accreditation (to a maximum of $1,500) upon application to the Chairman of AGBJ, Alex Morris (contest@barbershop.org.au).

A special Youth Harmony College will be incorporated into the 2016 Convention Masterclass programme, with the second half to be run afterwards, utilising members of the National Education Faculty (NEF), subject to there being sufficient numbers. Youth Development VP, Trevor Rootes has more details (youth@barbershop.org.au).

A Memorandum of Understanding has been signed with BHNZ for the future running of PanPac Conventions (see separate news item).

Your Council has been trialling new technology to conduct its meetings to save the costs of across the monthly country teleconferences. We still have some way to go, but our goal is to save money for members.

A new policy manual (containing policies on membership, scholarships and subsidies and a number of other relevant issues) is being assembled. In due course, when completed, this will be a valuable resource for all members to consult on the website.

A review of our Regional structure is also underway to ensure that we are operating with maximum efficiency and non-duplication. At present the preliminary outline of this is being worked on by a subcommittee of Councillors, with Regional Chairmen to be involved in the next stage.

Training for Club Secretaries in using our website (especially for updating membership details) is available upon request. Please contact our Executive Assistant, Jeannie Hattendorf (admin@barbershop.org.au) if you would like this arranged.

A new Charter document for the continued operation of our Australasian Guild of Barbershop Judges (AGBJ) (shared with BHNZ) is being drawn up by the Chairman of AGBJ, Alex Morris. This will ensure that our judging standards are maintained and improved into the future, and that our judges are utilised to full effect and efficiency.

Owing to recent changes in copyright law in the USA, some of our Clubs and quartets have been experiencing difficulties in securing song arrangements. After an extensive investigation, the Council has drawn up some guidelines that we hope will help. These are referred to elsewhere in this newsletter, and have been posted to the BHA website. Please note that while every effort has been taken to make these guidelines as complete as possible, BHA does not take any responsibility or accept any liability for them. If you are in doubt about a copyright issue, you should contact the relevant authority for advice. BHA does require all of its members, quartets and choruses to follow copyright laws.

Our Secretary, Kieran Hutton, is working on securing DGR status for BHA, which allows tax deductible gifts to be made to BHA, and allows us to more effectively raise funds for such things as Youth Development.

We continue to trial our Mixed Harmony contests in the same format as last year, with the intention of then putting the issue to a vote by members at the next AGM.

We eagerly look forward to our first Annual Convention in Newcastle this year, with the PanPac Convention to follow in Sydney in 2017. The Council is currently calling for Expressions of Interest for Clubs or Regions to assist in hosting a Convention in their home town in either 2018 or 2019 (the Convention in 2020 will be the next PanPac in Auckland, NZ). If your Club or Region is interested, please contact our Events VP, Keith Thornton (events@barbershop.org.au).

So, you can see your Council is working very hard for members behind the scenes, and the above activities are just a snapshot of what is going on.

I will have the pleasure of attending both the Sunshine Region and Western Region contests this year, and I look forward to catching up with those members then. Otherwise, see you in Newcastle!

Sing-cerely,
Ian Mulholland
President
president@barbershop.org.au
---
Upcoming Events
| | |
| --- | --- |
| Type of post: | News |
| Sub-type: | No sub-type |
| Posted By: | Dick Bushell |
| Status: | Current |
| Date Posted: | Fri, 15 Apr 2016 |
2016 will provide plenty of action for BHA Members, with Youth BBDO's, Regional Contests, numerous concerts and, of course, our BHA National Convention "Hunter Harmony" coming up in Newcastle in late September.

Next up: Regional Contests…
If you haven't already entered your Quartet or Chorus, do it now before it's too late, most entry closing dates are not far away. Regional Contests are scheduled for:
Sunshine Region – Sunday, 24 April
Central region – Sunday, 01 May
Victorian Region – Sunday, 01 May
Eastern Region – Saturday, 07 May &
Western Region – Saturday, 14 May

Hunter Harmony…
Preparations are well underway for our 2016 Convention, Hunter Harmony. Newcastle City Hall will be the venue for most of our events and specially our Youth contests and BHA Quartet contests. The newly refurbished Wests City Club will be the location for our Welcome Dinner, Chorus Contest and our Saturday evening Showcase of Champions. The Convention Website is now up and running, you can access this via the usual BHA site.

Points to note:
Early Bird registrations close on 31st May and the savings are substantial, so don't leave it too late, get in early and save!


Accommodation close to the venues will be in short supply, at the moment there is plenty available at all price points, so once again, don't leave it too late.




Quartet results and qualification levels will be finalised by mid-May, so you'll still have time to access early bird registrations.



Forefront is our visiting quartet, check out the website for more information on these four brilliant singers and listen to selected tracks.


New this year, a series of Master Classes replacing Harmony College. A more compact format for the Sunday afternoon, evening and Monday morning.
Pricing options apply this year, buy exactly the package you need for partners and friends, we've made it easier and less expensive, don't miss out!

Now is the time to be making your plans for Newcastle, whether a Chorus or Quartet…
Regards,
Keith Thornton
VP Events
events@barbershop.org.au
---
Understanding Copyright
| | |
| --- | --- |
| Type of post: | News |
| Sub-type: | No sub-type |
| Posted By: | Dick Bushell |
| Status: | Current |
| Date Posted: | Fri, 15 Apr 2016 |
Obtaining the appropriate Copyright approvals for new songs has become a most vexing issue for many Choruses and Quartets. Gone are the days when we could just order what we wanted from BHS and then just wait for the required number of copies to turn up in the mail.
After much discussion with BHS and copyright authorities, BHA have now updated the guidelines covering the process to obtain copyright approval by BHA members. These guidelines can be found by clicking the following link:
http://www.barbershop.org.au/commonfiles/bha/db_uploads/COPYRIGHT_GUIDELINES_May_2016_update_1.pdf
...or by going directly to the BHA website under the 'Downloads/Documentation' tabs.
Trevor Rootes
Vice President
Youth Development
youth@barbershop.org.au
---
Pan-Pacific Conventions
| | |
| --- | --- |
| Type of post: | News |
| Sub-type: | No sub-type |
| Posted By: | Dick Bushell |
| Status: | Current |
| Date Posted: | Fri, 15 Apr 2016 |
New Memorandum of Understanding signed between BHA and BHNZ

Previously, under an informal understanding between BHA, BHNZ and Hawaii, Pan-Pacific Conventions have been run every 3 or 4 years since 1994, rotating between New Zealand, Hawaii and Australia.

Hawaii has been a difficult location for Australians to get to (mainly due to the cost), and Hawaii has struggled to get numbers to Australian PanPacs. Recently, Hawaii indicated that they may be unable to meet their anticipated rotation for 2017.

BHA and BHNZ wish to continue to run PanPacs, and with Hawaii's understanding, have entered into an MOU to operate future PanPacs.

Massed sing at the last PanPac in Wellington NZ in 2014

The goals of PanPac Conventions are to:
Foster and encourage barbershop singing, providing contest opportunities together with educational, social and recreational activities, including Harmony College/University.

Provide contestants the opportunity to compete in a contest with more than one country.

?

Provide the opportunity for BHA and BHNZ contestants to achieve International Qualification from their respective Association.
PanPac Conventions will alternate in future, between Australia and New Zealand, with participation from all countries bordering the Pacific and/or Australia invited (i.e. Japan, West Coast USA, Asia etc.). Each Association may run its own National contest (with associated medals and awards) within the combined PanPac contest.

The 2017 PanPac Convention will be held in Sydney, Australia, with subsequent locations to be agreed, typically three years in advance (the 2020 PanPac is likely to be held in Auckland, New Zealand). When agreed between BHA and BHNZ, a PanPac could be held outside of Australasia.

We look forward to continuing our barbershop brotherhood across the ditch!

Ian Mulholland
BHA President
---
2016 East Coast Harmony College
| | |
| --- | --- |
| Type of post: | News |
| Sub-type: | No sub-type |
| Posted By: | Dick Bushell |
| Status: | Current |
| Date Posted: | Fri, 15 Apr 2016 |
The East Coast Harmony College was held again in February at the picturesque Myuna Bay Conference facility by the shores of Lake Macquarie on the NSW Central Coast.

This annual event attracted around 60 singers mostly from NSW Clubs but also several representatives from Queensland and Victoria.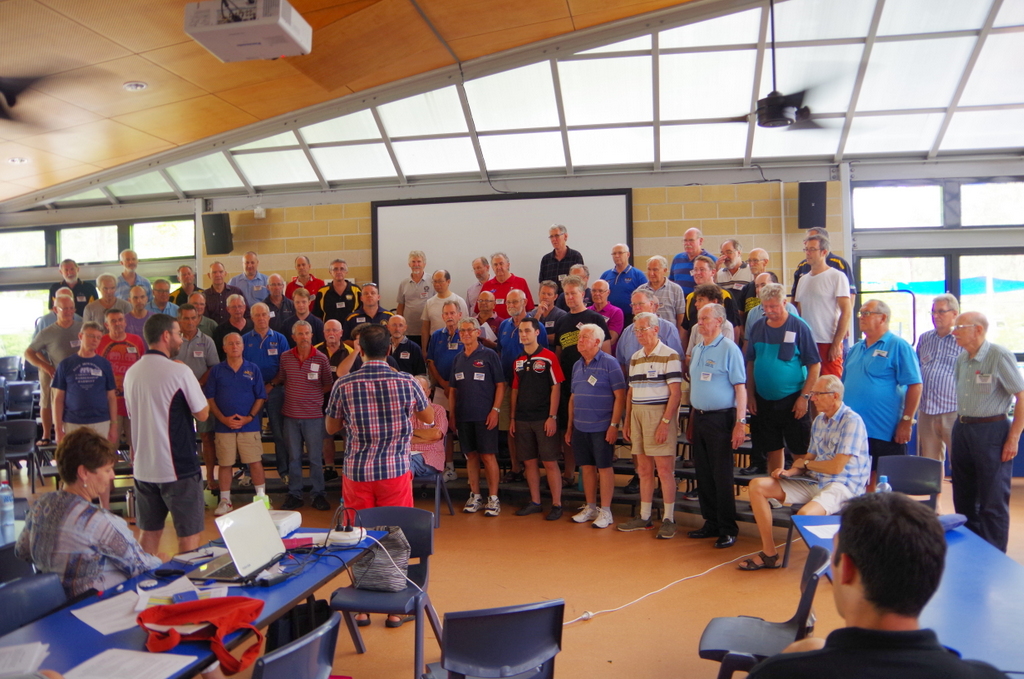 The first class faculty was made up of Andrew and Jen Howson, Lea Baker, Jonathon Bligh and Rob Sequeira.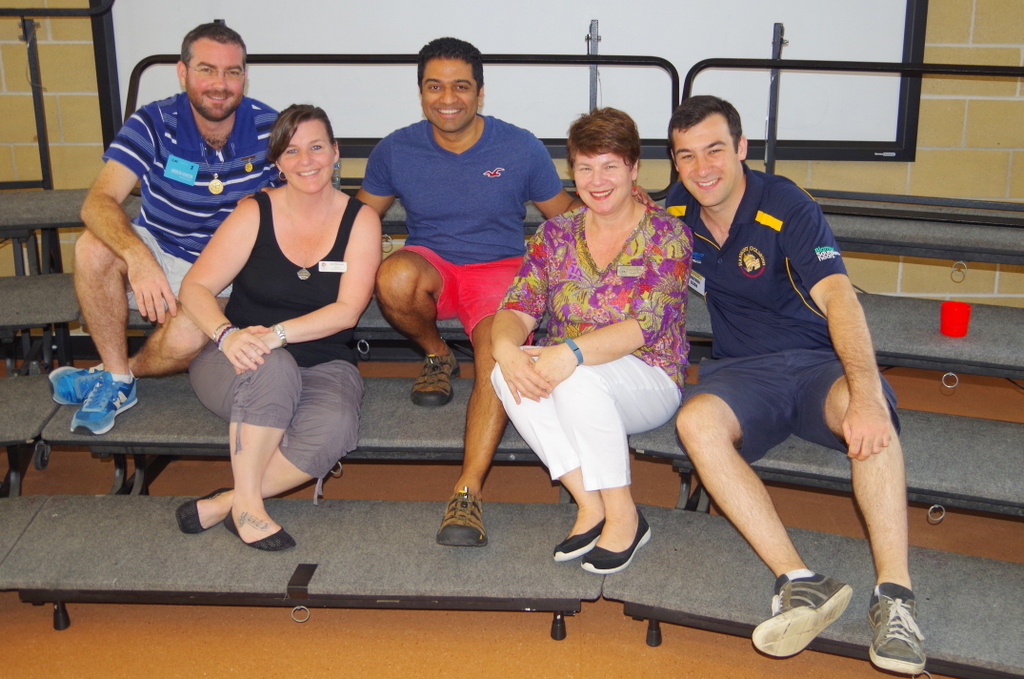 The interesting and enjoyable program was ably arranged by Jen Howson which kept us all engaged for the whole weekend. I am sure we are all now better singers as a result of the weekend.

The College ran from Friday evening until after lunch on the Sunday. The many highlights included the fantastic interaction and fellowship (and just a "little" communal singing complete with essential "lubrication") between all the members of the nine choruses who attended and the great Saturday night show which was held at the nearby Wangi Wangi Workers Club and was attended by all delegates as well as a number of paying members of the public.

Congratulations and thanks must go to the host Chorus SOUNDWAVES and in particular, Stuart Adey and his long suffering wife Beth who organised and provided virtually the entire catering for the whole weekend at an unbelievably low cost.

THANK YOU STUART AND BETH.

Planning is already underway for next year's event and is eagerly looked forward to be all us Eastern Regionites.

Brian Bleakley – Chairman
Eastern Region
---
New Chorus Formed in NSW
| | |
| --- | --- |
| Type of post: | News |
| Sub-type: | No sub-type |
| Posted By: | Dick Bushell |
| Status: | Current |
| Date Posted: | Fri, 15 Apr 2016 |
A new barbershop chorus has been formed at Wangi Workers Club. They sing Thursdays from 7pm and are tentatively called Southlakes Chorus. It has been operating now for four weeks and has 8 new members with singing interest attending.

The first night was attended by members of Soundwaves Gosford who have offered their support to the new guys. Gary Kirk and Stuart Adey are teaching polecats and new songs including Don't Blame Me from the Myuna Bay workshop.

Five of the new members attended the day activities on Saturday 27th February at Myuna Bay and thoroughly enjoyed the experience.

Stuart Adey

---
Valé – Laurie Russell
| | |
| --- | --- |
| Type of post: | News |
| Sub-type: | No sub-type |
| Posted By: | Dick Bushell |
| Status: | Current |
| Date Posted: | Fri, 15 Apr 2016 |
The death occurred in Perth last month of Laurie Russell, following a long illness. The funeral was attended by many lovers of singing and admirers of Laurie's many skills – including John Christie, David Macgill and Bruce Okely.
Very few in the Australian barbershop movement would be aware that, had it not been for Laurie's initial enthusiasm, there might not have been such a movement in Australia.
Laurie, as the founder and leader of a quartet called The Four Notes, was largely responsible for the fact that the quartet, and their wives, attended the 1984 Convention of the Society for the Preservation and Encouragement of Barber Shop Quartet Singing in America (Inc), held in St Louis, Missouri.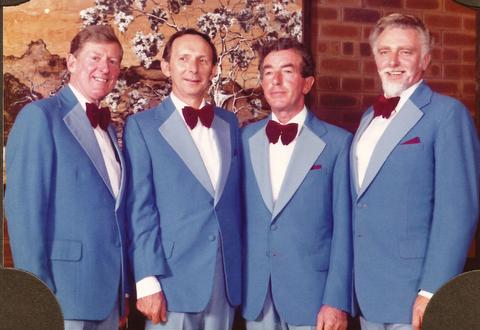 The Four Notes (from left): Laurie Russell, Bruce Okely, David Macgill, John Little
The other quartet members were John Little, David Macgill and Bruce Okely. When they returned to Perth the latter three, full of enthusiasm (and only a limited amount of knowledge of barbershop) set about forming firstly, a barbershop quartet, then a barbershop chorus, which led to a State barbershop association, which led to the National barbershop association – currently known as Barbershop Harmony Australia.
Laurie Russell chose to continue performing and teaching traditional and classical vocal performance. However he never lost interest in his old friends and the progress of the barbershop movement.
John Brigatti President, West Coast Chordsmen
---
View the Club and Quartet News


Clubs contributing to this Edition:

Novatones, High Altitude Harmony, Festival Statesmen, Hills Harmony, Canberra Chordsmen, The Blenders, Melbournaires




Quartets contributing to this Edition:

Lockout, Silver Fox






---
Are you using the right forms??
| | |
| --- | --- |
| Type of post: | News |
| Sub-type: | No sub-type |
| Posted By: | Dick Bushell |
| Status: | Current |
| Date Posted: | Fri, 15 Apr 2016 |
New BHA Membership, Chorus and Quartet registration forms

Application forms to register members, quartets and clubs with BHA have undergone a makeover and are now available through the BHA website.

If you have any of the older forms included on your Club website please delete them in favour of the new documents. Better still, just include the following links on your website to make sure you always have the latest form available without the need to upload new documents each time there is a change!

Also, please check the BHA website for the latest information regarding membership fees.

Membership Application Form

Membership Application Form - Club at Large

Quartet Registration Application Form

Club Registration Application Form

Thankyou
Jeannie Hattendorff
Executive Assistant
---
New members - April 2016
| | |
| --- | --- |
| Type of post: | News |
| Sub-type: | No sub-type |
| Posted By: | Dick Bushell |
| Status: | Current |
| Date Posted: | Fri, 15 Apr 2016 |
WELCOME to our new BHA members!

Your National Council extends a BIG welcome on behalf of all BHA members to the following members who have joined us in recent months.
| | | |
| --- | --- | --- |
| Praveen | Saggurthi | Sydney Harmony |
| Harry | Harris | Sydney Harmony |
| Hugo | Wilesmith | Sydney Harmony |
| Matt | Harris | Sydney Harmony |
| Jerry | Harris | Sydney Harmony |
| Ethan | Acott | Vocal Evolution Inc |
| Ryan | Gonsalves | Vocal Evolution Inc |
| Engelina | de Jong | Adelaide Allsorts Harmony |
| David | Perry | Adelaide Allsorts Harmony |
| Julie | Tynan | Adelaide Allsorts Harmony |
| John | Neldner | South Central Harmony |
| Alexander | Stewart | South Central Harmony |
| Rick | Mason | South Central Harmony |
| James | Jennings | South Central Harmony |
| Noel | Richardson | Fleurieu Harmony |
| Scott | Phillip | Fleurieu Harmony |
| Michael | Colliver | Fleurieu Harmony |
| Michael | Snee | Gold Coast Harmony |
| Simon | Yellend | Gold Coast Harmony |
| Daniel | Pohlmann | Gold Coast Harmony |
| Julie | Donald | Club at Large |
| Emma | Donald | Club at Large |
| Charlotte | Donald | Club at Large |
| Damian | Jones | Brisbane River City Clippers |
| Andi | Alphonso | Brisbane River City Clippers |
---
| | |
| --- | --- |
| Printable Version of this Newsletter | |
---
| | |
| --- | --- |
| Contribute to this Newsletter | |

If you would like to send a contribution to this Newsletter please email your article to editor@barbershop.org.au


Articles should be no more than 300 words and include one or two photos.
---
| | |
| --- | --- |
| Subscribe/Unsubscribe to this Newsletter | |
If you would like to SUBSCRIBE or UNSUBSCRIBE to this Newsletter you can do this by visiting the BHA Website at

http://www.barbershop.org.au/newsletters

and select the approporiate box on the right hand side of the page.
---