Table of Contents
Wow! what a Convention. Thanks Adelaide
Club Of The Year
2018 BHA Medal winner
Club Member of the Year
Convention Photos and Videos Available Now!
Planning for Hobart Convention and Harmony Academy is now well underway
Valé Bob Fritz
Who is responsible for quartet registration?
New Membership Year - What do I need to do?
Obtaining International Music Copyright - A new service from BHS
Member survey closing soon
Club News - Melbournaires
Club News - Hills Harmony
Club News - The Blenders
Club News - Sunshine Statesmen
Club News - The Fellas & Club Sandwich
Club News - Festival Statesmen
Club News - Sound Connection
Fleurieu Harmony
Welcome to our new members
Letter to the Editor - My first Convention
Letter to the Editor - A Bass's Lament
Letter to the Editor - History of Australian choruses at the Nationals since 1993
Harmony College - Lost Jacket
Wow! what a Convention. Thanks Adelaide
| | |
| --- | --- |
| Type of post: | News |
| Sub-type: | No sub-type |
| Posted By: | Dick Bushell |
| Status: | Current |
| Date Posted: | Tue, 23 Oct 2018 |
Still reeling from the euphoria of participating in one of the most exciting events in Adelaide's history? Makes the Beatles appearance at the Adelaide Town Hall all those years ago pale in insignificance doesn't it?

There were certainly many moments in history created over that momentous week that was the 16th Barbershop Harmony Australia National Convention and Contest. How many of you will reminisce in the weeks, months, years to come and say…..

"I was there when……the first time a BHA Convention was held in Adelaide!"

"I was there when……Festival Statesmen achieved the highest score of any Australian Chorus at that time!"

"I was there when……a new drink was invented at Harmony Academy!"

"I was there when…...David Zimmerman, the tenor from Instant Classic announced on stage his engagement to his partner, Laura, while they were visiting the Adelaide Hills!"

"I was there when…………………………………………………………………."
(insert your own special moment here)

People will ask you "Did you hear about that time when…..the ABC recorded the Massed Sing in Rundle Mall and televised it nationally on the news that evening?" and you'll say: "Yes! I was there!"

None of these distinctive life experiences would have happened, of course, without the work of the small army of volunteers that made the event possible. A huge thank you to Cam DuRieu and his magnificent team on the ground in Adelaide who unrelentingly worked over the year and during the Convention to ensure all participants had an awesome experience. Cam drew on his personal expertise in events management and his relationships with local external stakeholders to help accomplish this great outcome.

Big thanks also to all of the BHA National Councillors for their leadership and harmony of mission which provided the template for the volunteers to work with.

We have received some really nice feedback, mainly from members, but one of the best testimonials comes from a non-member couple visiting from Victoria who wrote:

What an absolute privilege it was to have attended last Friday and Saturday evenings in Adelaide for the finals. Oh, how sublime it all was and the trip from Camperdown was well worth every k. travelled.

Congratulations to everyone who was involved, there must have been mountains of work for so long to put the event together. We had no idea how wide the categories were beforehand so everything was a wonderful surprise. Our thanks to you all for a superb experience.

Wishing you all well and it probably won't be long before you begin preparing for Hobart in 2019. Maybe we will too......

And for those that weren't there to experience all of those wonderful moments of history in Adelaide this year, you won't want to miss what's in store for Hobart!

Warm regards,
Richard
Richard Wadick
Vice President - Events
Barbershop Harmony Australia
---
Club Of The Year
| | |
| --- | --- |
| Type of post: | News |
| Sub-type: | No sub-type |
| Posted By: | Dick Bushell |
| Status: | Current |
| Date Posted: | Tue, 23 Oct 2018 |
For the second year running, The Blenders have been awarded the 2018 Club of The Year title, presented by BHA Secretary Mr Trevor Rootes.

The Blenders combination of musical development, community engagement, youth development and education shone through in the submission, and deservedly saw them win the title.

At the Saturday night showcase, the Blenders Youth Chorus demonstrated that barbershop community welcome when they invited the Launceston based School chorus, The Fellas to share the stage with them in what was a wonderful gesture and a demonstration of the wonderful spirit that is barbershop in Australia.

We also acknowledge the innovation and initiatives of other clubs nominated including Vox Canvas and Sydney Harmony.

Yours in Harmony,

Paul Adams
BHA VP – Membership
---
2018 BHA Medal winner
| | |
| --- | --- |
| Type of post: | News |
| Sub-type: | No sub-type |
| Posted By: | Dick Bushell |
| Status: | Current |
| Date Posted: | Tue, 23 Oct 2018 |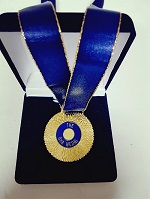 On a magnificent Adelaide evening over-looking the city lights from Adelaide Oval, BHA President Dan Milgate had the honour of awarding the 2018 BHA Medal to Mr Mel McMichael.

Mel's contribution was beautifully summarised by one of the panel members:

"The recipient is truly a standout candidate for the BHA Medal award for 2018 and his credentials speak for itself. His participation and guidance over the years in building BHA into what it is today is unquestionable and exemplary. His participation and contribution to quartets and choruses over the years has been vast, deep and varied and his leadership in all aspects of BHA has proven vital to the growth of BHA and the Barbershop art form. His vision and ability to execute growth plans for BHA have paid off in increasing the appeal and development of Barbershop within Australia."

First awarded in 2017, the BHA Medal is kindly sponsored by Mr Derek Cosburn who was on hand to present the medal which recognises an individual's exemplary contribution to the advancement of barbershop in Australia.

Yours in Harmony,

Paul Adams
BHA VP – Membership

---
Club Member of the Year
| | |
| --- | --- |
| Type of post: | News |
| Sub-type: | No sub-type |
| Posted By: | Dick Bushell |
| Status: | Current |
| Date Posted: | Tue, 23 Oct 2018 |
All Clubs appreciate having committed members who are willing to go the extra mile, and this award is a timely opportunity for Clubs to show the tremendous gratitude that we have for these members who tirelessly contribute to the success of every Club and ultimately BHA.

We know that many clubs consider their awards at the end of year celebrations and for those who do so we would love to publish their names in a later edition. In the meantime the following members were recognised with the traditional single clap at the Adelaide Convention Gala Dinner

Festival Statesmen Mitre Kammash

Adelaide Vocal Union Harvey Lewis

Vox Canvas Paul Mai

Sydney Harmony Owen (Ned) Stygal

The Blenders Joe Lam

The Melbournaires Roger Archman

Deep South Paul Adams

Hills Harmony Chorus Richard (Dick) Bushell

Vocal Evolution Matt Nichols

Canberra Chordsmen Peter Thomas

Novotones Grant McKeand

Yours in Harmony,

Paul Adams
VP – Membership BHA
---
Convention Photos and Videos Available Now!
| | |
| --- | --- |
| Type of post: | News |
| Sub-type: | No sub-type |
| Posted By: | Dick Bushell |
| Status: | Current |
| Date Posted: | Mon, 22 Oct 2018 |
We are still on a high from all the wonderful performances at this year's convention in Adelaide. Did you want to share your performance with your family and friends? Well you can! This year all photographs are available for you to download and share free of charge. We're also in the process of uploading all performance videos to our YouTube channel for you to share as well. Note that we are still in the process of uploading all of these videos, so yours may not be visible yet. Why not subscribe? That way you'll be notified as soon as a new video is released.

So what are you waiting for? Go and grab your photos and share those videos.

Photos: https://jackparkerphotography.pixieset.com/
Videos: https://www.youtube.com/BarbershopHarmonyAustralia

Daniel Beckitt - BHA VP Marketing & Develpoment
marketing@barbershop.org.au
---
Planning for Hobart Convention and Harmony Academy is now well underway
| | |
| --- | --- |
| Type of post: | News |
| Sub-type: | No sub-type |
| Posted By: | Dick Bushell |
| Status: | Current |
| Date Posted: | Mon, 22 Oct 2018 |
Hobart 2019 Convention is from Wednesday 18 September to Sunday 22 September 2019.

The Convention is at Wrest Point Convention Centre

Harmony Academy follows, Sunday 22 September to Wednesday 25 September 2019.

It will be conducted at the Tasmanian Police Academy.

Start planning now. What a great opportunity to visit Tasmania

Come for the Convention, stay for the experience.

Trevor Rootes - BHA Secretary
secretary@barbershop.org.au
---
Valé Bob Fritz
| | |
| --- | --- |
| Type of post: | News |
| Sub-type: | No sub-type |
| Posted By: | Dick Bushell |
| Status: | Current |
| Date Posted: | Mon, 22 Oct 2018 |
Bob Fritz, 1935 – 2018
Bob Fritz died last Friday after a long bout with cancer.

Bob was an exceptionally knowledgeable barbershopper having been singing Barbershop for over 70 years. He joined Sydney Harmony in 1999, while still a member of the Sydneysiders Express. Bob made countless contributions to Sydney Harmony over the past 19 years. He was always the first to volunteer for fundraisers and assisted with the promotion of Barbershop through numerous radio and TV interviews, and had been a marvellous MC at many regional and national conventions and virtually all of Sydney Harmony's own concerts.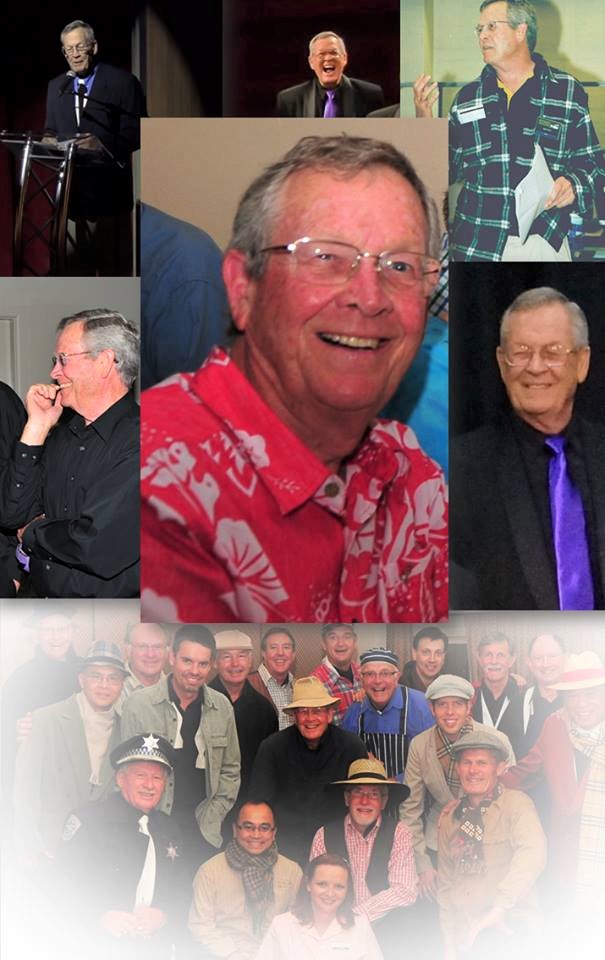 For many years, Bob was a member of the National Executive Team of Barbershop Harmony Australia, responsible for organising national and Pan Pacific conventions. He worked with Sydney Harmony's convention committee when we hosted the 2007 National Convention in Sydney, playing a pivotal role in making that convention the most financially successful to date.

Bob was always dedicated to improving the standard of everyone's Barbershop performance. He was always one of the first members to master a new song including choreography, and was always willing to help others to do the same. Bob was a stickler for riser discipline always being the first onto the risers at each rehearsal. As Sydney Harmony's first 80-yr-old member, Bob never let anything interfere with rehearsal attendance except for trips to the USA to visit his many children and grandchildren.

In 2015, Bob became a Life Member of Sydney Harmony and retired to Toronto, NSW.

Our hearts go out to his wife Sue and family.

David Ojerholm
Sydney Harmony


Farewell Rob Fritz
Rob fell into a deep sleep on Friday the 12th of October and did not wake up. This was a blessing in many ways as he had a very serious form of cancer that stopped production of red blood cells: he had transfusions every two weeks. This has been happening all of this year. To quote him, "I had good weeks and not so good weeks". It was a good week when, in May, he caught the train from Toronto NSW to Hornsby to MC the Eastern Region quartet competition. He then had to take the train home.



I first met Rob around 1995 when he joined Sydneysiders Harmony Chorus and soon put his hand up for the position of Secretary. I next came across him when we were both members of Sydney Harmony where he threw himself into the onerous task of getting men to move and look convincing at the same time. Not one to shrink from any task.





We both served on the AAMBS (BHA) Executive, he as VP Events and I as VP Music. Our joint highlight of this period was the organisation of the Hobart Convention and Harmony College in 2009, the first in this city.





He and his wife, Sue, moved to Toronto, a few years ago, to be closer to family and he fronted up at rehearsals for SOUTHLAKES HARMONY CHORUS which rehearses nearby. His comment was, "How many barbershop singers finish up singing with the same MD when they retire as they did when they first started 20 years before but in a different chorus".





Most will remember Rob as the Austra-American MC at many Convention quartet and chorus competitions over nearly two decades. Some cannot seem to forget his infamous "parrot" story.





We have lost one of Barbershop's gentlemen.





Ian Miller




---
Who is responsible for quartet registration?
| | |
| --- | --- |
| Type of post: | News |
| Sub-type: | No sub-type |
| Posted By: | Dick Bushell |
| Status: | Current |
| Date Posted: | Mon, 22 Oct 2018 |
Quartets are responsible for their own BHA registration.
Once your Club has completed your personal membership registration, due by 31 December, you can register/re-register your quartet.
---
New Membership Year - What do I need to do?
| | |
| --- | --- |
| Type of post: | News |
| Sub-type: | No sub-type |
| Posted By: | Dick Bushell |
| Status: | Current |
| Date Posted: | Mon, 22 Oct 2018 |
The new membership year begins from 1 January 2019.
You don't need to do anything.
Clubs are responsible for Membership Registrations and Club Registrations by 31 December.
Each Club appoints a representative to complete these registrations on behalf of its members.

These registrations provide the following insurances for the club and members from the beginning of the new year:

o Group Accident Cover
o Volunteer Workers Accident Cover
o Management Liability Insurance
o Public Liability

Registration also provides coverage under the Community Band, Choir or Community Group Licence
covering the performance of music from the APRA repertoire at rehearsal and non-ticketed performances events.

It is important that Clubs complete these registrations before the end of the year.

Trevor Rootes - BHA Secretary
secretary@barbershop.org.au
---
Obtaining International Music Copyright - A new service from BHS
| | |
| --- | --- |
| Type of post: | News |
| Sub-type: | No sub-type |
| Posted By: | Trevor Rootes |
| Status: | Current |
| Date Posted: | Fri, 30 Nov 2018 |
GAINING COPIES OF MUSIC FROM BHS THAT DO NOT HAVE INTERNATIONAL COPYRIGHT CLEARANCE

BHS already offers hundreds of arrangements that are available for ordering by international customers. BHA members can order these via BHS's website at https://shop.barbershop.org.

If there is other music in the BHS catalogue without international copyright that you wish to use, there are two ways to go about gaining a Copyright Print Licence for your group.

1. Seek an inspection copy from BHS and then follow the procedures for gaining a copyright print licence in Australia. Details at https://goo.gl/Qr5da7

Some members indicate this is a time-consuming task. Print copies purchased in this way are usually around AU$3.30 a copy.

2. it is also possible to seek copyright clearance for Australia through BHS.

First, you need to complete a BHS Arrangement & Reproduction Request Form (click here for the BHS Arrangement and Reproduction Request Form and submit to BHS via email to library@barbershop.org. BHS then processes the request. Turnaround time is usually 30-45 days, but may take longer, depending on the copyright holder(s) of a song, the number of songs in the arrangement (medley), etc. Submitting the completed form to BHS authorizes them to seek the music clearance on your behalf.

The cost for clearance through BHS is typically US$150 for 4-20 authorized copies (you print on your own) and the permission is exclusive to the performing group only. This fee covers the permission to arrange, the authorized copies needed, and time/materials fee. (Please note arrangers fees are no longer charged.) You will have an option to cancel your order with BHS at any time before the permission order is paid. The BHS cancellation fee is US$50.

BHS employs reasonable best efforts to secure the requested permissions on your behalf for the arrangement. However, US copyright owners have the right and authority by law to charge any fee, determine turnaround time, and even reject the request outright. For this reason, BHS cannot guarantee clearance, in whole or in part, for any arrangement; BHS also cannot guarantee turnaround time, fee quotes, or clearance success.


Trevor Rootes - BHA Secretary
secretary@barbershop.org.au


---
Member survey closing soon
| | |
| --- | --- |
| Type of post: | News |
| Sub-type: | No sub-type |
| Posted By: | Dick Bushell |
| Status: | Current |
| Date Posted: | Tue, 23 Oct 2018 |
The 2018 BHA membership survey received over 200 responses leading up to the National Convention and the early results are demonstrating some clear trends in member experience and aspirations for our Barbershop community.

The draw for the prizes of a $35 BHA shop voucher was held at the farewell luncheon and won by David Merrells and Noel Craig.

If you were one of those people that didn't quite get around to it, you are in luck as we will leave the Survey open until Sunday 4th November so that everyone has had their chance to contribute.

After that we will commence the formal analysis process and make a report available to all members in December.

A big thank you to all those who contributed and congratulations to the draw winners.

Yours in Harmony,

Paul Adams
BHA VP – Membership

---
Club News - Melbournaires
| | |
| --- | --- |
| Type of post: | Club news |
| Sub-type: | No sub-type |
| Posted By: | Dick Bushell |
| Status: | Current |
| Date Posted: | Mon, 22 Oct 2018 |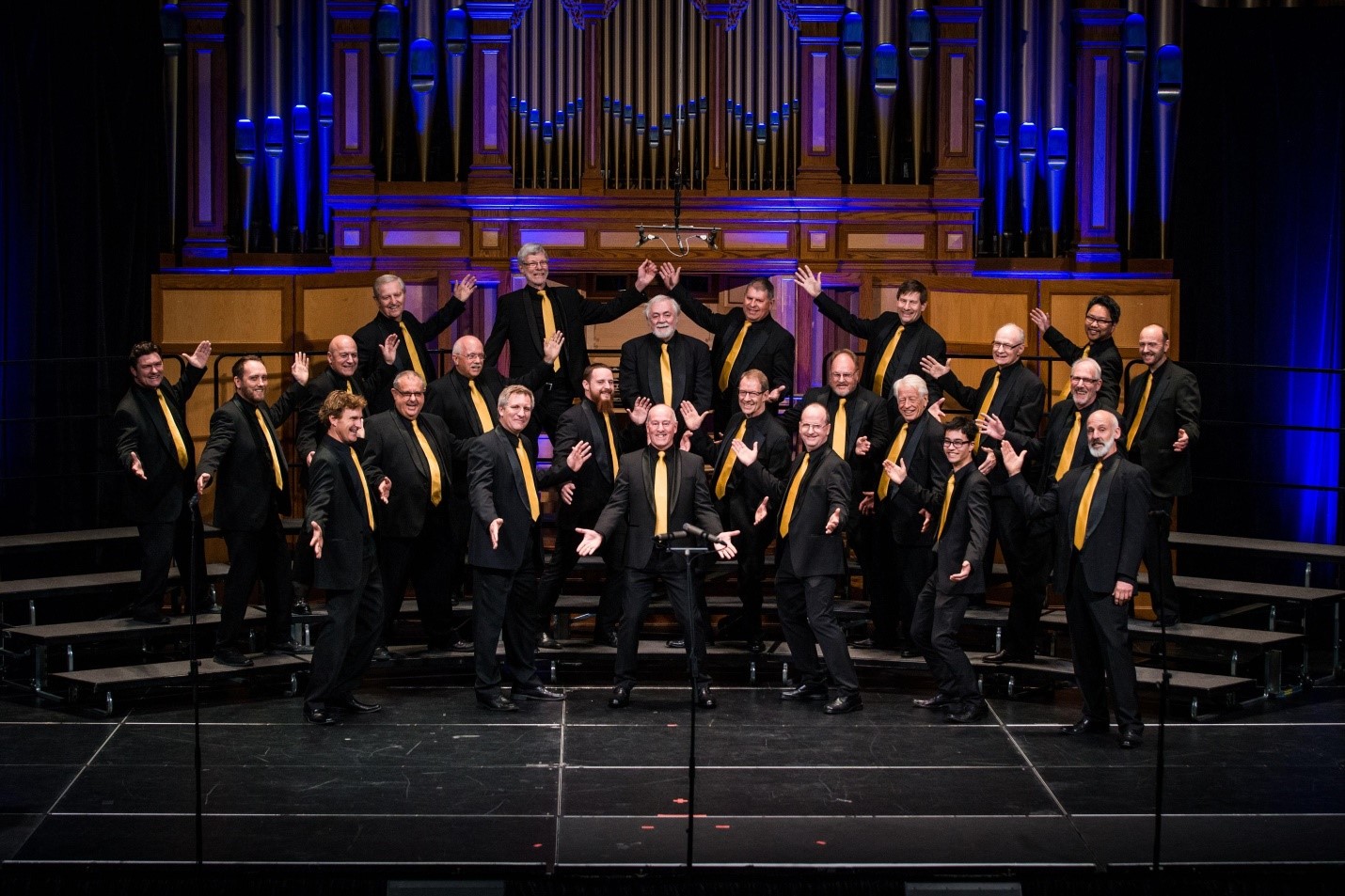 It was inevitable we would be highlighting the Adelaide Convention this month. Not only for the excellent management of the event, but for the successful participation of the Melbournaires Chorus and its quantum of qualitative quartets.

This 2018 convention will be remembered as the first time ever that the Melbournaires chorus, in competition, has scored in excess of 70% which has been a benchmark since its inception in the early nineties. This has been achieved with a smaller than previous chorus, in which section it came sixth out of a total of sixteen.

To add to this success, all the quartets performed well, with special mention to Harmonic Motion who won the silver medal in the Seniors competition, Skeeters with a bronze in the Mixed, and Sound Investment who gained the highest score of any Melbourne quartet in the Open section. The success of Harmonic Motion was even more meritorious when it had to replace its tenor, due to illness, just two weeks before the competition.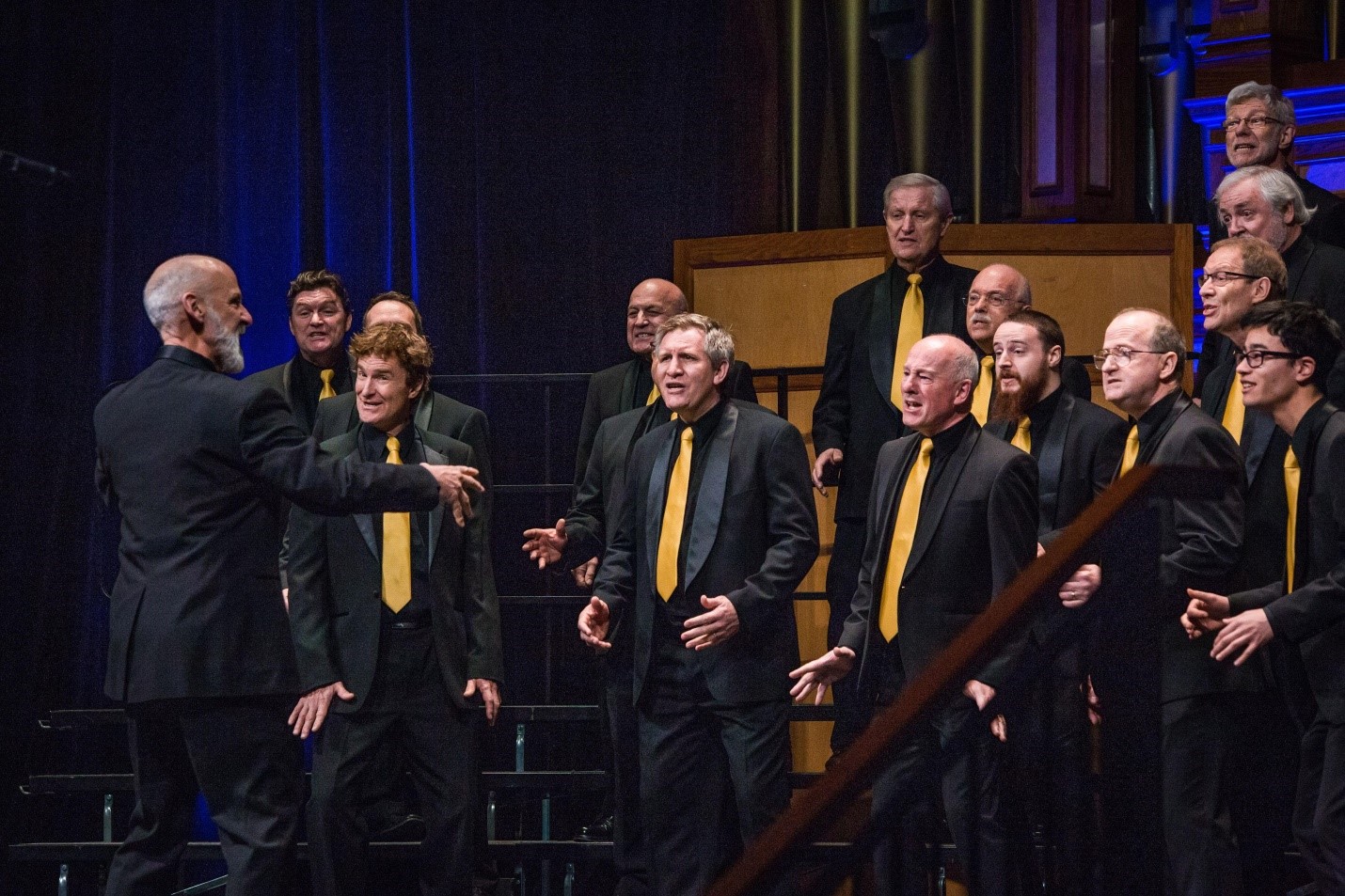 The Melbournaires came home understandably ecstatic but not complacent. The bar has now been raised thanks to the efforts of MD Ian Lushey, additional coaching by Alex Morris, and hard work by the chorus.

In other news, the award-winning Steve Carnie this month celebrated 25 years as a member of the Melbournaires. He was lauded by those who knew of his earlier exploits, and retains his position of bass mentor and leader.

Congratulations to all, and well done Adelaide on a successful and inspiring convention.

Terry Phillips
---
Club News - Hills Harmony
| | |
| --- | --- |
| Type of post: | Club news |
| Sub-type: | No sub-type |
| Posted By: | Dick Bushell |
| Status: | Current |
| Date Posted: | Mon, 22 Oct 2018 |
1. The guys in full flight performing their "Aussie Road Medley" during the Adelaide competition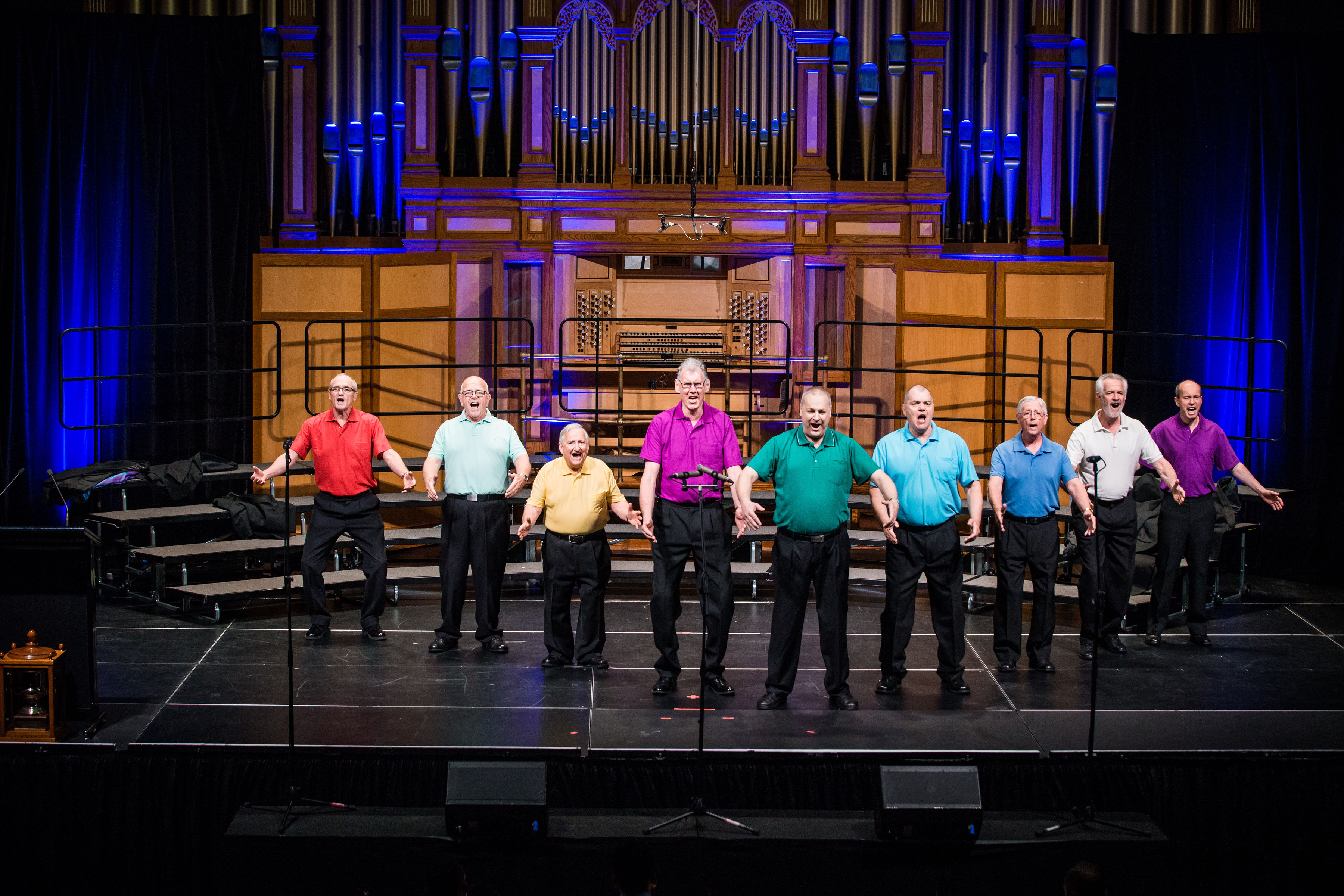 Hills Harmony competed in the recent National Convention in Adelaide with a smaller than normal contingent. There were only two out of the six NSW choruses competing this year although a number of the non attending NSW choruses participated through a composite chorus competing as East Coast Harmony.

We also had two quartets competing, HighJacked and Chromium. It was a first convention for Chromium who entered both the open and senior competitions.

The chorus performed with just nine singers which was the minimum number allowable under the BHA contest rules. We were just pleased just to compete in Adelaide and were pleasantly surprised when we were awarded the Andy Aberle Mature Aged Chorus Award.

Soon after returning from Adelaide we had a sing out at a local retirement village where, along with other show pieces, we performed our contest set.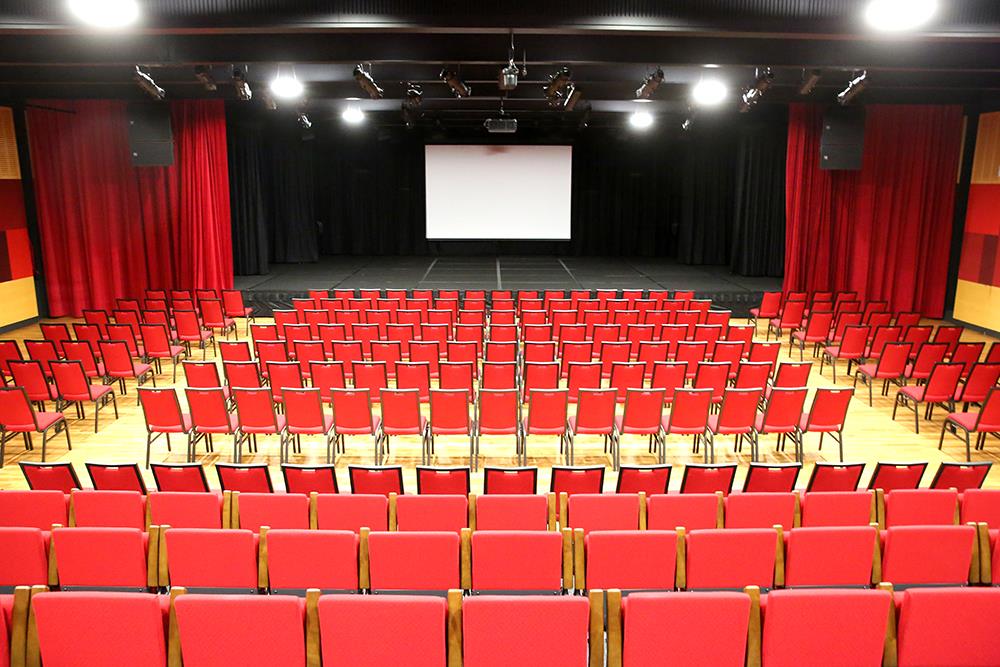 We were recently selected by the Hills Shire Council to perform during the opening season of their brand new Pioneer Theatre. This new state-of-the-art theatre is located at Castle Hill in NW Sydney and is designed to hold an audience of up to 350 people although it can be configured to suit many different types of shows including more intimate audience configurations.

We will be staging our Hills Harmony Showcase Concert in the Pioneer Theatre on Sunday afternoon the 4th of November. Tickets are now available for this unique concert and can be purchased directly through the Hills Harmony website www.hillsharmony.com.au or can be obtained by emailing bookings@hillsharmony.com.au


A substantial donation will be made to

from the net proceeds of this concert.


| | |
| --- | --- |
| For more information, see: | www.hillsharmony.com.au |
---
Club News - The Blenders
| | |
| --- | --- |
| Type of post: | Club news |
| Sub-type: | No sub-type |
| Posted By: | Dick Bushell |
| Status: | Current |
| Date Posted: | Mon, 22 Oct 2018 |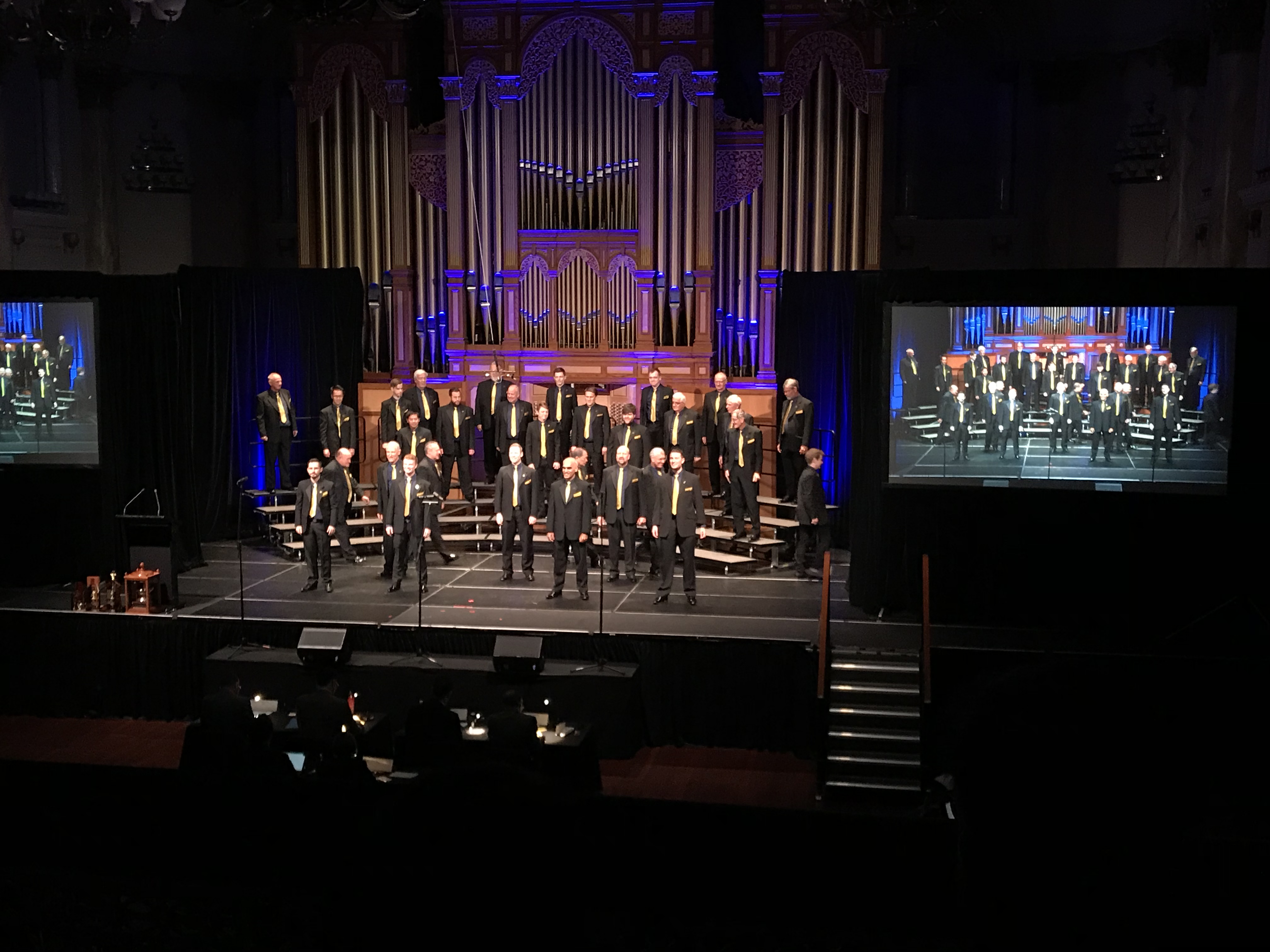 Adelaide has been and gone – what a beautiful city and great Convention. Congratulations must go to the organising committee and the myriad of volunteers who helped make this Convention such a success. Adelaide Town Hall was a great venue with the grand pipe organ providing the back drop, and the innovation of video screens which allowed the audience to get up close and personal with the performers. Thank you to the BHA for the foresight of streaming the competition for FREE on Youtube - it allowed our past-members, friends and family to view and feel part of it, plus we know it was shared wider creating a larger fan and interest base!

Congratulations to The Festival Statesman, scoring an all-time high score for an Australian chorus. We wish their director Jonathon Bligh continued success on his future path and thank his chorus who have well and truly raised the bar for Australian choruses and given us all something to strive for.

Convention day commenced for us with our traditional breakfast setting the scene and tone for the day. Acknowledgment of past and life members, and first convention participants makes for a special part of the breakfast as well as enjoying breakfast with our partners and supporters. We had a very successful Convention, coming away with 1st place in the large chorus and 3rd place in the Open Competition. Our score vindicates our Music Team's decision to take us on the path that they have mapped out for us. We'll continue on that journey and see where it leads us. Credit also to Blenders Youth Chorus (BYC) who won the Youth Competition.

A highlight for The Blenders was a BYC lead initiative that saw them share the stage in a combined performance with their youth competitors The Fellas for the show case concert. It just happened that both choruses had sung the same ballad in competition, Come What May, and My Girl was in both chorus repertoire - albeit slightly different arrangements. With a quick rehearsal, the guidance of Jono Albertini and Jeff Clarke plus the addition of Open Champion Quartet Blindside, a hugely memorable moment was created. Congratulations must go to Jeff Clarke for preparing and bringing The Fellas to Adelaide and getting them involved in The Barbershop world.

Congratulations to Pan Pacific Champions Blindside who won the Open Competition and one of our newer quartets, Sundays Best who won the Youth quartet competition and finished in the Top Ten of the Open competition. Well done to them both. Congratulations also to Benchmark on winning Senior competition featuring one of our Life Members, Derek Cosburn.

To top off the Convention, The Blenders won Club of the Year which is testament to all the effort that goes on behind the scenes and our emphasis on community and youth engagement.

Our next major event is our 30th Anniversary Dinner and Awards Ceremony to be held on the 3rd November. Blenders Alumni will come together with current members to celebrate 30 years of Blenders history. One of the highlights of the evening will be a performance by the combined Blenders and Alumni Chorus. It should be a fantastic night. Bookings are available on www.trybooking.com and are $55 per head. All are welcome.

Ian Mackey
Secretary
---
Club News - Sunshine Statesmen
| | |
| --- | --- |
| Type of post: | Club news |
| Sub-type: | No sub-type |
| Posted By: | Dick Bushell |
| Status: | Current |
| Date Posted: | Mon, 22 Oct 2018 |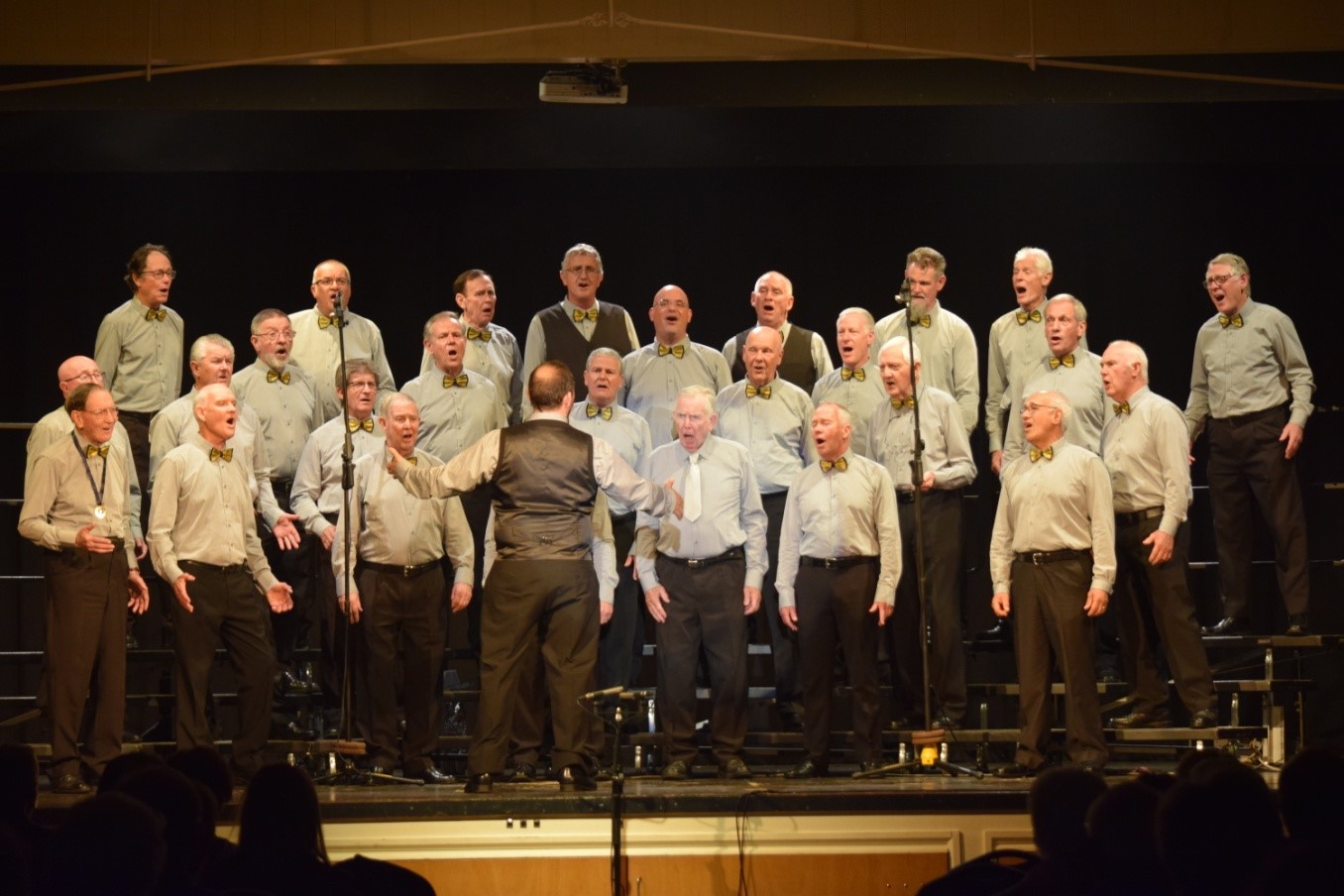 Our chorus is very much on the rise as we scored our best result ever at the recent Convention in Adelaide, something we are very proud of. There seems to be a whole new culture within the club and those songs that we all thought were beyond our abilities are now being reassessed. Brian Martin, our MD and Graham Kingsford out assistant MD have made a considerable contribution to the improvement of the singing.

We are very proud of our founding member, Mel McMichael, who was given the highest accolade in Adelaide with the BHA medal for services to Barbershop in Australia. We were also well represented with three quartets in the competition who all came away with personal best scores.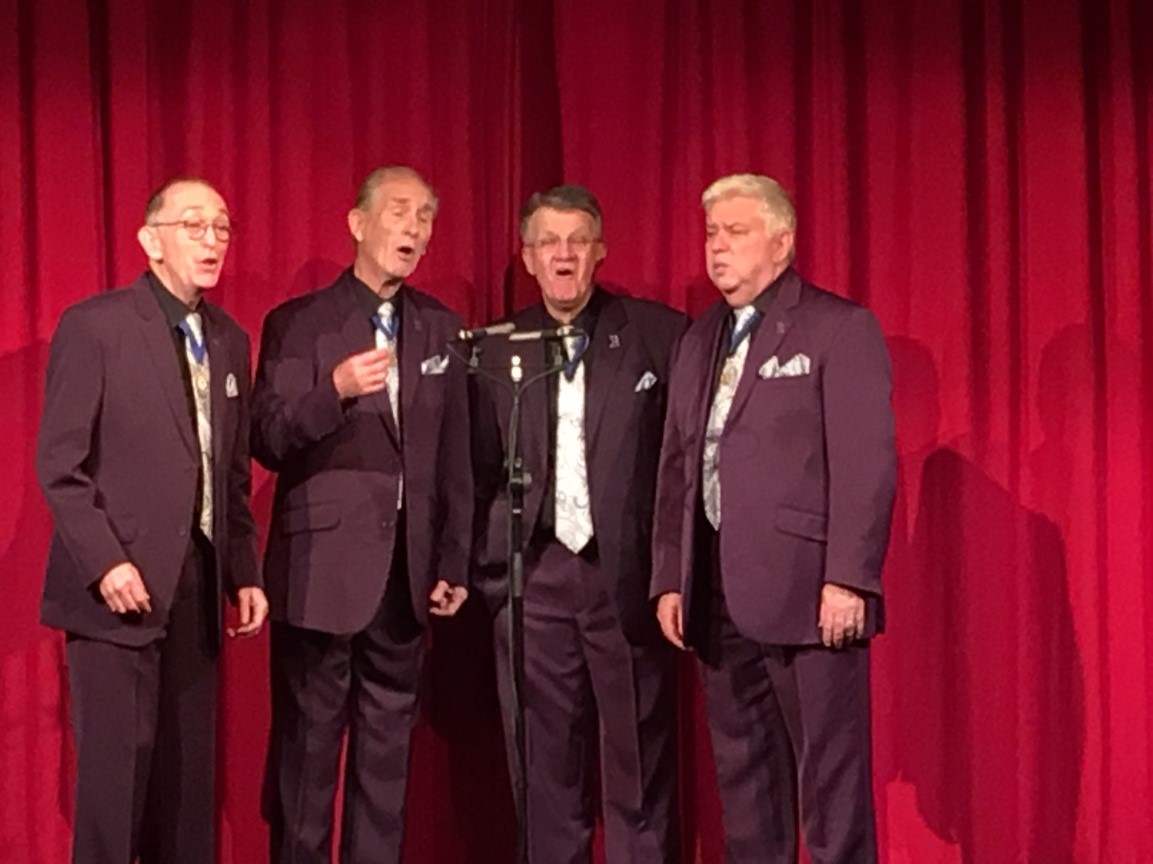 The chorus and quartets have been involved in a number of sing-outs over the past two months and culminated this week-end with our annual fund raising concert. We were very privileged to have Benchmark, the multiple Seniors' quartet gold medal winners, as our headline act. They are always so accommodating with their time and provided two wonderful and entertaining sets. We were also fortunate to gain the services of the Queensland Eisteddfod gold medal winning Oriana choir, who sang three fantastic songs in wonderful harmony and an octet from local school Matthew Flinders High, who sang beautiful acapella songs. We topped this off with a superb Sweet Adeline's quartet, Fancy That and local Statesmen quartet, Rimfire. Sunshine Statesmen rendition of I am Australian, with lights and smoke was well received but unfortunately set off the smoke alarm much to everyone's amusement. All in all, despite the rainy night, the evening was a great success.

We are now looking forward to being part of the Hinterland Harmony Bonanza in Maleny this week-end, and follow this with a retirement village concert with Hot Ginger Sweet Ads Chorus and then into a number of Christmas sing outs.

We are filling up our new web-site with interesting items (http://sunshinestatesmen.harmonysite.com) so please check it out.
Malcolm Woods
President
---
Club News - The Fellas & Club Sandwich
| | |
| --- | --- |
| Type of post: | Club news |
| Sub-type: | No sub-type |
| Posted By: | Dick Bushell |
| Status: | Current |
| Date Posted: | Mon, 22 Oct 2018 |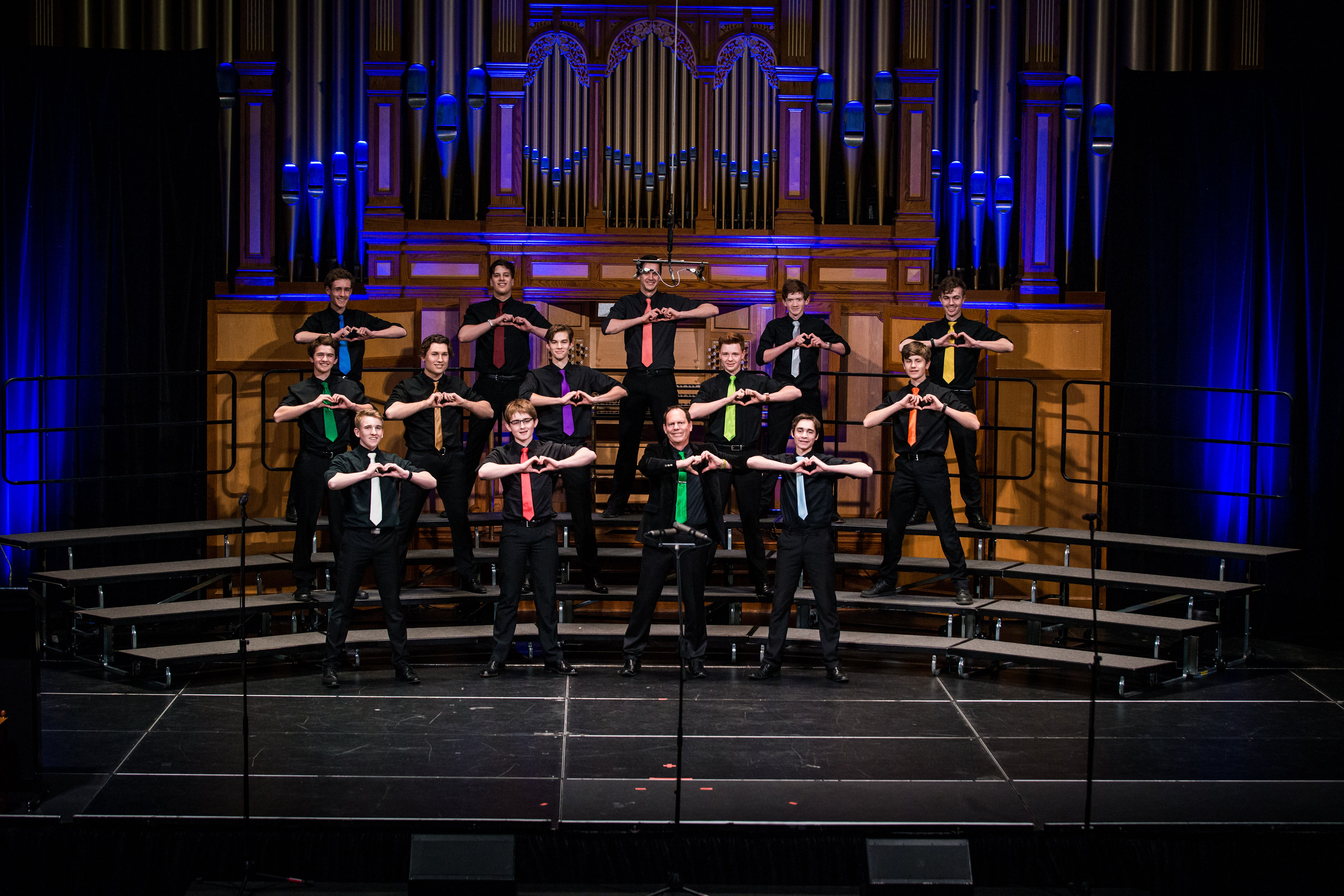 Whilst Launceston only has a very small barbershop community, we have been made to feel so very welcome by the Australia wide community. With the support of Barbershop Harmony Australia and Deep South (our Hobart friends), we were fortunate enough to attend the National Convention in Adelaide and each member of The Fellas and Club Sandwich (Launceston Church Grammar School) had the most amazing experience.

From the schools competition and workshop, youth workshop, the Big Sing, the John Little Show and Chorus Corall, to the Chorus and Quartet competitions, we were so well received by fellow 'barbershoppers', audiences and judges alike.

One of the absolute highlights was performing at the Showcase of Champions, alongside Blenders Youth Chorus, Sunday's Best and Blindside. This will long live in the memories of all the boys and we thank Jonathan Albertini for the invitation!

On our return to Launceston, we shared a concert with the National Boys Choir and, of course, we exposed a very different audience to barbershop singing!

From every Fella and member of Club Sandwich…a most harmonious thank you!


Jeffrey Clarke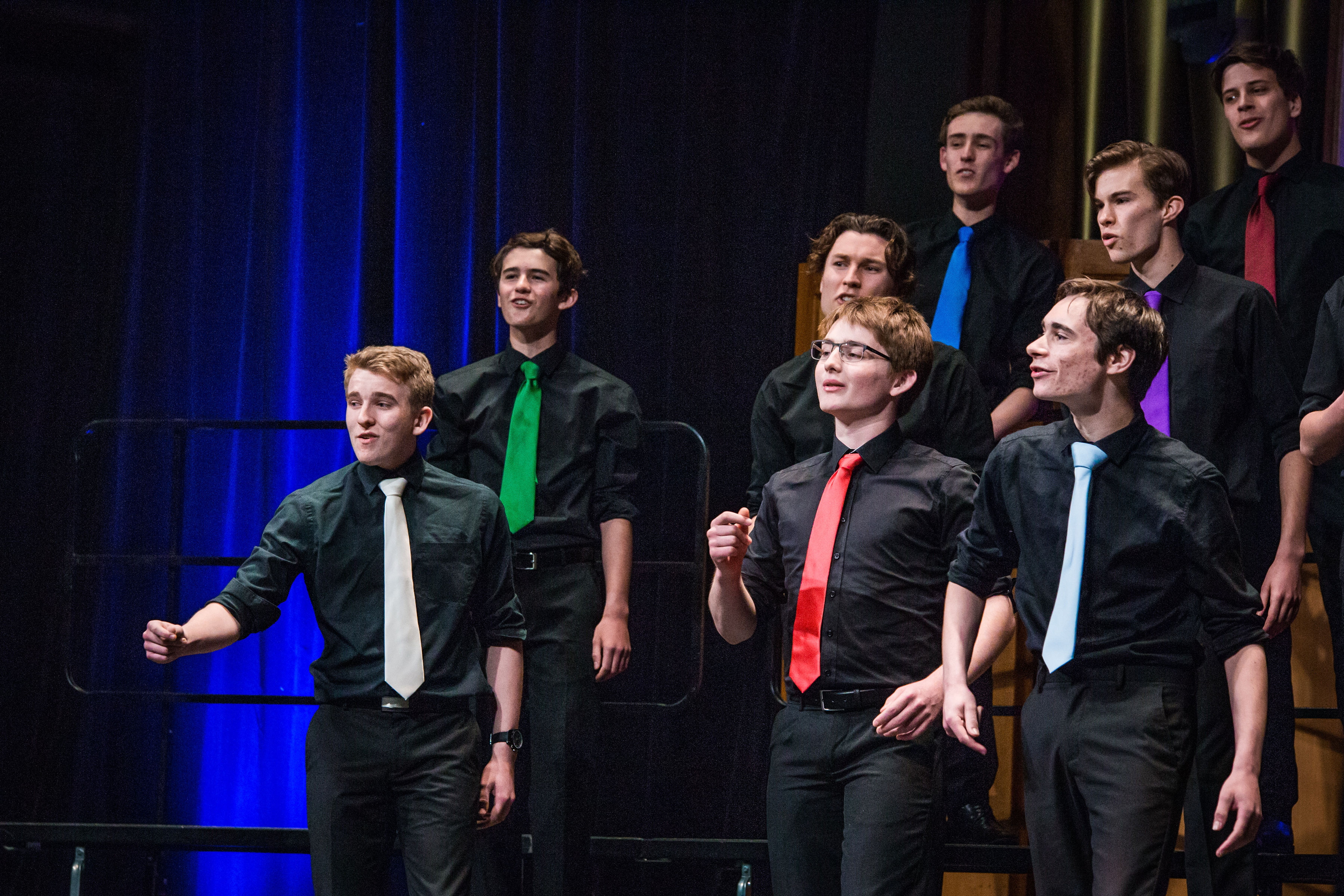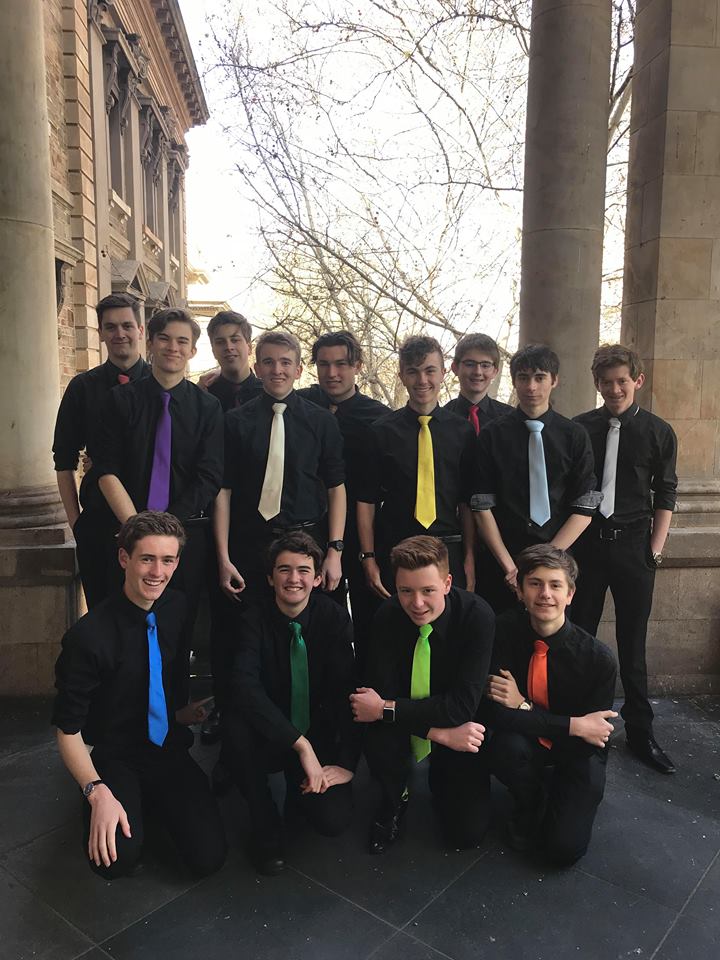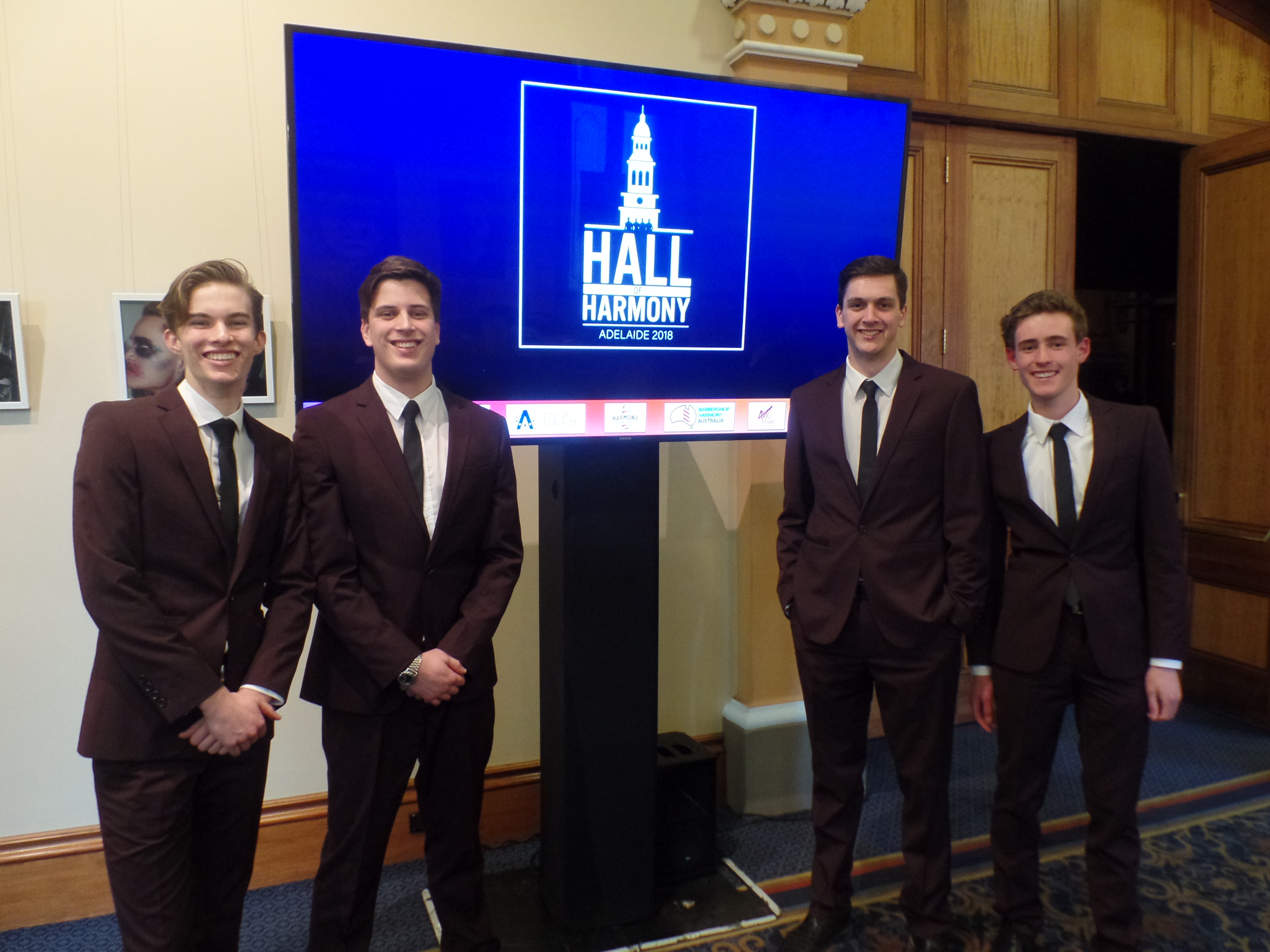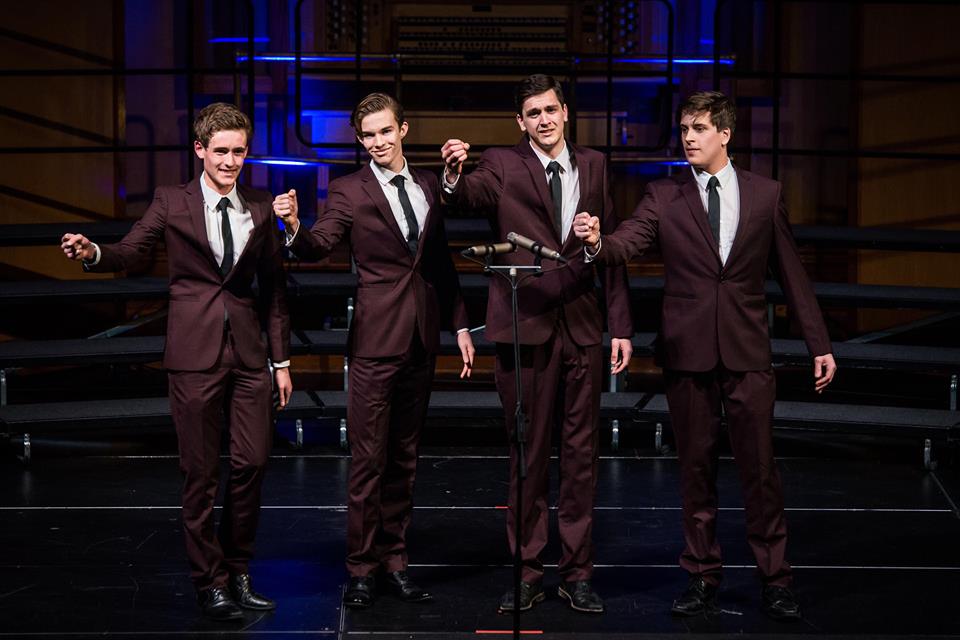 ---
Club News - Festival Statesmen
| | |
| --- | --- |
| Type of post: | Club news |
| Sub-type: | No sub-type |
| Posted By: | Dick Bushell |
| Status: | Current |
| Date Posted: | Mon, 22 Oct 2018 |
WOW. What a few months it has been. We are so proud to be your 2018 BHA Chorus Champions.

Firstly, we would like to thank Cam DuRieu and the BHA National Council for putting on such an amazing convention in Adelaide; I think we can all agree that it was one of the best yet. Also a special thanks to all the other volunteers involved in helping the convention run so smoothly. We hope that everyone who attended the convention came away just as inspired as we have. Some amazing music throughout the week just goes to show how strong barbershop is in this country, which is very very exciting.

We would also like to congratulate all the other groups from around the country on some amazing performances throughout convention week, with particular congratulations to Vocal Evolution and Blenders, and to Blindside as well.

The next few months for Festies is bound to be busy as we ramp up for Christmas season to hopefully bring some Christmas cheer to the audiences of Adelaide. We are also preparing for our Fringe Show for the 2019 Adelaide Fringe and also preparing for an appearance in another Adelaide Festival production. One thing's for sure; we will definitely be doing lots of singing.



We are very much looking forward to the year ahead, representing BHA and barbershop as a whole as the 2018 Chorus champions.
Kind Regards,
Lachlan McGuinness
Treasurer - Festival Statesmen
---
Club News - Sound Connection
| | |
| --- | --- |
| Type of post: | "In Harmony" Newsletter |
| Sub-type: | No sub-type |
| Posted By: | Dick Bushell |
| Status: | Current |
| Date Posted: | Mon, 22 Oct 2018 |
While we were not competing this year, Sound Connection were still well represented at Hall of Harmony in Adelaide. Dan Beckitt and Trevor Bruger at the merchandise desk, Andrew Howson in the scoring pit, plenty of MC's and a few quartets all flew the flag for our Association and our chorus.
We would like to congratulate both Blindside and The Festival Statesmen Chorus for their respective wins and congratulate everyone that took part in the weekend. Our biggest thanks go to the organisers and the army of volunteers that it takes to put together a convention of this scale.
We also had a large contingent of members heading to Harmony Academy straight after convention and all reports indicate that, while there was plenty of learning, there was a heap of fun and games (and ice cream).
After a very relaxing year where Sound Connection did not compete in either the Regional or National Conventions, we are all feeling excited about getting back into the competition swing next year. We have our Christmas concert coming up in November, where we share the stage with our sisters in Vocalescence, and then we begin the road to Hobart. Watch out Tassie, we are coming to town and looking forward to sampling some of your famous local food and beverage offerings.
David Reid
VP Music
---
Fleurieu Harmony
| | |
| --- | --- |
| Type of post: | Club news |
| Sub-type: | No sub-type |
| Posted By: | Dick Bushell |
| Status: | Current |
| Date Posted: | Tue, 30 Oct 2018 |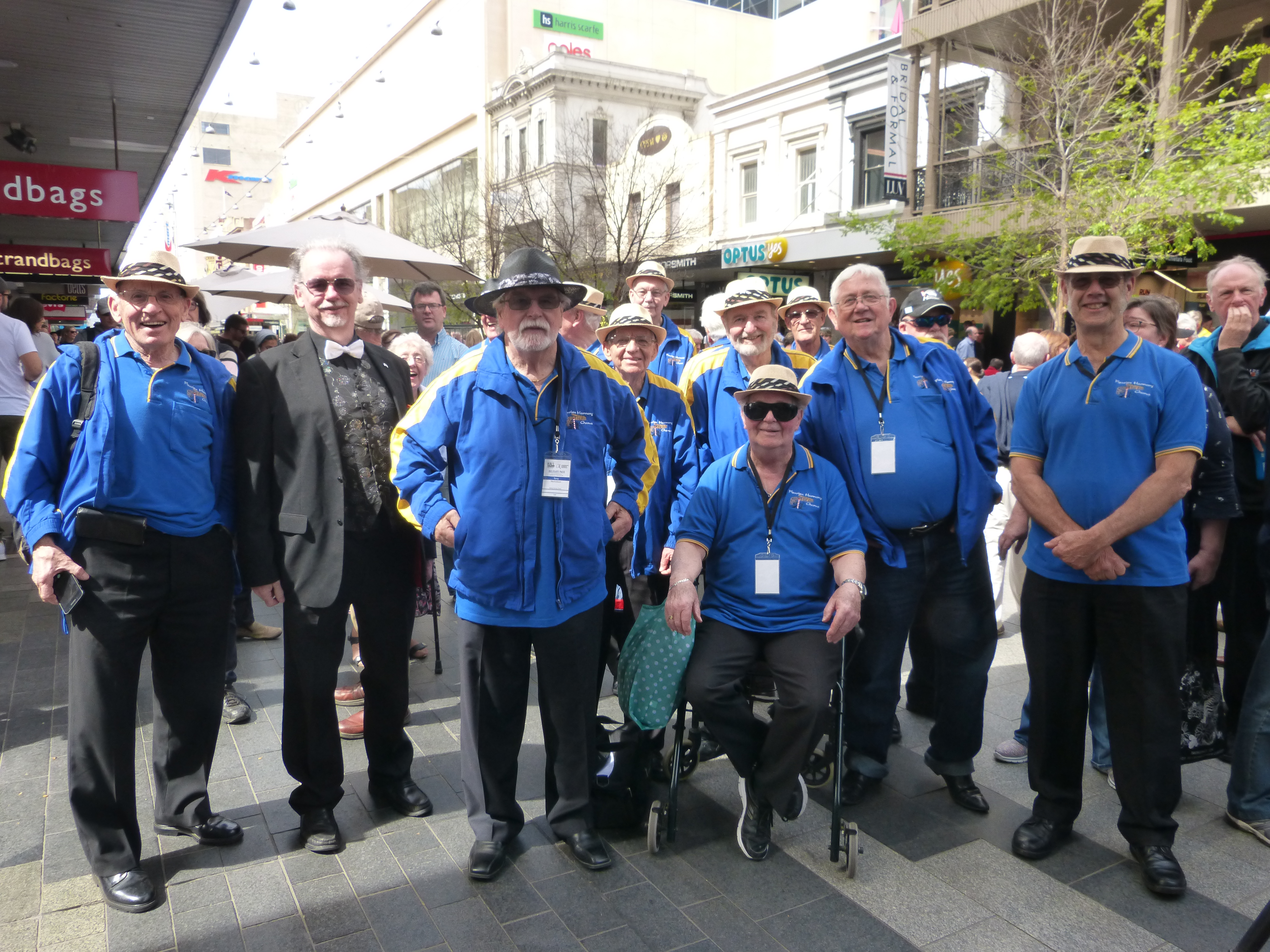 Well what a treat it was to have the National Convention in our home town, firstly thanks must go to the organising committee and Cam DeReiu and his team for such a well organised and thoroughly enjoyable event. Our Chorus and Quartet did not win any medals and did not expect to as we are basically an entertainment chorus, what we did enjoy was just being part of the occasion, however the chorus and quartet did score our best scores. What was really great was meeting up with interstaters and old friends and putting faces to names we see mentioned from time to time. The guest quartet were top rate and what a likeable friendly bunch of fellas, they had time for everyone to have a chat. All in all a terrific week of top class barbershop and thanks again to everyone involved and all those who travelled from far and wide to visit us.

Gordon Tomlinson - President
---
Welcome to our new members
| | |
| --- | --- |
| Type of post: | "In Harmony" Newsletter |
| Sub-type: | No sub-type |
| Posted By: | Dick Bushell |
| Status: | Current |
| Date Posted: | Mon, 22 Oct 2018 |
Jack de la Lande Festival States-men Inc
Tom Helps Festival States-men Inc
Lachie Washusen Festival States-men Inc
Chris Breen Newcastle Harmony Club
Graeme Checkley Central Coast Barbershop Chorus
Lionel Gordon Central Coast Barbershop Chorus
Paul Laxton Central Coast Barbershop Chorus
Graham Woof Central Coast Barbershop Chorus
---
Letter to the Editor - My first Convention
| | |
| --- | --- |
| Type of post: | "In Harmony" Newsletter |
| Sub-type: | No sub-type |
| Posted By: | Dick Bushell |
| Status: | Current |
| Date Posted: | Mon, 22 Oct 2018 |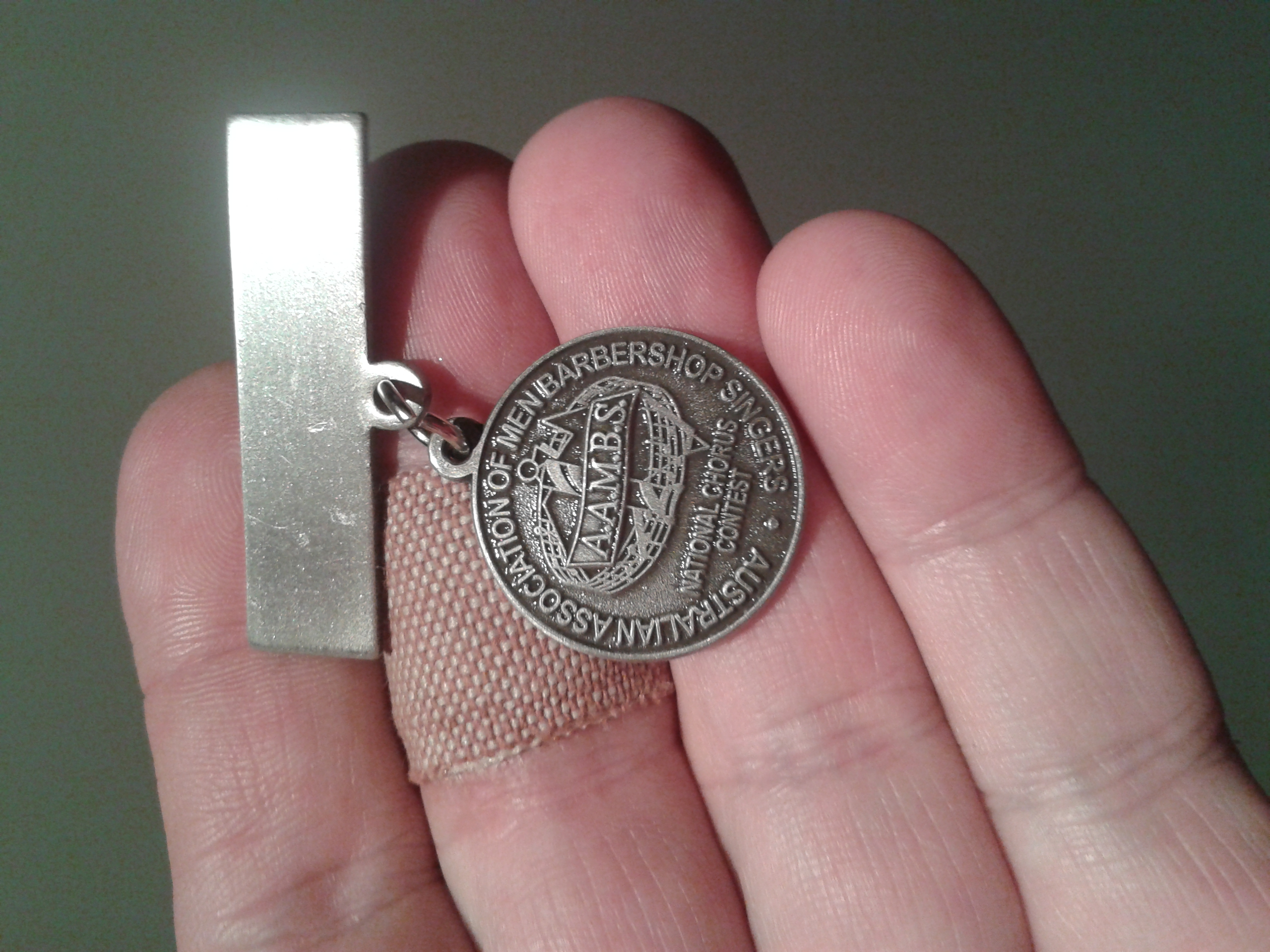 Wow, I won a Chorus silver medal first time at a Barbershop Convention! How did that happen? I have to goldfish some high notes and, like a radio tuning in, I can be pulled away from my part when Quarteting. This is my first year of Barbershopping ever and I am grateful to Barbershop for the many wonderful things that I have been able to achieve. I became a primary Performing Arts teacher in 2018, after many years stuck in the classroom. I wanted to visit choirs around Perth to get some ideas and hopefully find a way to interest boys in singing at school. In January this year, I visited Vocal Evolution intending to sit in the corner and slink away before the end of rehearsal, now I've medalled. At school, I've formed small singing groups of children in need who are much happier as a result and I've passed through a personally challenging year with the ability to call up endorphins at will!

The continuing development of learning programs within Barbershop Harmony Australia will be essential for the growth and evolution of Barbershop in Australia, it's a wave I hope to ride.

Regards

Simon Campbell
Member, Vocal Evolution, Perth
---
Letter to the Editor - A Bass's Lament
| | |
| --- | --- |
| Type of post: | "In Harmony" Newsletter |
| Sub-type: | No sub-type |
| Posted By: | Dick Bushell |
| Status: | Current |
| Date Posted: | Mon, 22 Oct 2018 |
A BASS'S LAMENT
By E. Ralph Andrew

I wasn't feeling very well;
The nurses hovered near.
They seemed a little worried,
But I really had no fear.
I'd sometimes sung a hymn or two,
Or sometimes said a prayer,
So if I shuffled off this coil
I shouldn't have a care.

My quartet came to visit me;
I thought it rather odd
That rather than an uppie piece
They sang, "I'll Walk with God."
And then they sang, "Abide with Me"
As the nurses changed my dressing.
I knew I was in trouble when
I heard "The Irish Blessing."

"I thought you came to cheer me up,"
I said, "Sing something cheerful!"
But the boys seemed sad and out of sorts,
And lachrymose. (That's "tearful").
I had to send them out of there
To come another day.
Then I lay back on my pillow, and
I quietly passed away.

But soon I opened up my eyes
Like waking from a coma.
My nostrils were assaulted by
A sulphurous aroma.
I squirmed in some discomfort,
And no wonder that I did,
Because my comfy bed was now
A heated iron grid.

"At least it's warmer here," I thought,
As I started to perspire,
For all around me I could see
A roaring, blazing fire.
A fellow stood beside me,
Dressed in red, all quiet and still.
"Uh, oh," I thought," this hospital
Has really gone downhill."

The fellow smiled, and welcomed me,
Despite his horns and tail.
"I'm really glad you're here," he said.
I felt myself go pale.
"Don't worry, man, we've plenty here
Of lawyers, priests and coppers.
It's only rarely we can welcome
Any barbershoppers."

I gasped in fear, "Oh, you must be
The Evil One, the Devil!"
He laughed and said, "Don't worry,
I am far below that level.
I'm just about as lowly as
A garbage dump inspector!
In fact, I'm even lower:
I'm our Musical Director.

"A man of your experience
Is really quite a gift!
I want you in our chorus."
And I felt my spirits lift.
"We need a choreographer,
A treasurer as well.
And you'll be singing baritone."
Then I knew I was in hell.
---
Letter to the Editor - History of Australian choruses at the Nationals since 1993
| | |
| --- | --- |
| Type of post: | "In Harmony" Newsletter |
| Sub-type: | No sub-type |
| Posted By: | Dick Bushell |
| Status: | Current |
| Date Posted: | Mon, 22 Oct 2018 |
The BHA website has a record of all the national chorus contests dating back to 1993*. I thought it would be interesting to see how the performance has evolved over the past 25 years. The graphic in Figure 1 shows the overall contest score for each chorus in the open men's competition. I have traced each chorus back through its various name changes and labelled it with its most recent name (see "Notes on chorus names").National contests were biennial until Newcastle in 2016. I have added in the scores for the 2014 Pan-Pacific contest in Wellington which six Australian choruses attended.
The Blenders dominated the competition for many years winning eight times in succession. In 2003 Men In Harmony (the original video winners in 1991) gave birth to Vocal Evolution, who finally wrested the mantle back in 2009. In the same year, current champions the Festival Statesmen had their first tilt at the title competing as the Festival Youth Chorus and finishing a creditable third place. Sound Connection emerged in 2012 and after a few short years brought the title back to the Sunshine region in a very close competition in Melbourne in 2015. The trophy has never been to the Eastern region, though Sydney Harmony came very close in 2001.

Individual choruses have had their ups and downs, but overall there has been a clear improvement over the 25 years. Whereas formerly the average performance was in the low C's, all choruses now are performing at or close to B level.
The graphic also includes the chorus size** grouped into small (20 or less), medium and large (more than 40). The Blenders presented the largest chorus ever in 2005 with 90 singers and won the competition. However second-placed Vocal Evolution with a mere 20 singers showed that even a small chorus could be highly competitive. The trend since then has been towards smaller choruses, and in the last two conventions all choruses presented fewer than 40 singers. These trends are shown more clearly in Figure 2.

I suppose the main message of the story is that 25 years ago most choruses were performing at a low C level and now almost all are solidly in the B's. The first figure shows that upward trend. Even though particular choruses may have gone up and down, the organisation as a whole has improved.

However the graphs are really the starting point for people to make their own discoveries. For example "I remember the Blue Mountainairs – whatever happened to them?", "we came so close to beating the Clippers that year", "wow, we've come a long way since our first contest in Canberra", "we've been amazingly consistent for the last 20 years", "what is it about Melbourne? – the top 3 are only ever separated by one point!"

One final remark is it might spark interest from the data hoarders amongst us. There is a certain amount of missing information on the BHA web site (mentioned in the article) and I'm hoping people might search through their records to recover some of that information. In particular many of the earlier regional contests are not on the web site, and I'm sure there are score sheets sitting in filing cabinets around the country. Also it might transpire that some numerate members will emerge who can help with the digitisation and archiving of this material. This is the "real story": somebody has digitised those contest results so that they can be presented in various and interesting ways. This particular article simply shows two of those ways.

Nick Ellis

Figure 1
Overall percentage contest score for each chorus for all years since 1993. Each chorus is represented by a unique colour/line/symbol combination as given in the legend at bottom. Choruses in the same region have the same colour as given in legend in top left. The larger the chorus (number of singers on risers) the larger the symbol (legend near bottom right). Convention venue is shown along the top.

Figure 2
Chorus sizes at each convention since 1993. Each dot represents a chorus, with large choruses to the right and small to the left (refer to horizontal scale). As in Figure 1 the colour represents the region. The dots have been randomly jittered vertically so you can distinguish them.
Notes on chorus names
Bayside Harmony used to compete as Bayside Barbershop Singers up to 2009; Penrith City Harmony used to compete as Riverland Ramblers up to 2001; Deep South were originally the Wellingtones up to 2005; the Blenders were originally the Banana Blenders up to 2003; Soundwaves used to compete as the Central Coast Barbershop Chorus until 2003 and as Coastal Har-men-y in 1995 (and originally in 1991 as Gosford City Barbershop Chorus); Sydneysiders Express formed in 2000 as the merger of the Sydneysiders (crosses) and Harmony Express (plus signs); Sydney Harmony formed in 1998 as the merger of Harbour City Harmony (triangles) and Broadway (diamond). The current Festival Statesmen were formerly the Festival Statesmen Youth Chorus. As far as I know this chorus is different from the original Festival Statesmen who last competed in 2001.

*There was a chorus contest in 1991, which Men In Harmony won, but the scores have been lost.
**In 1995 the sizes weren't recorded, so in Figure 1 all choruses are annotated as small that year.
---
Harmony College - Lost Jacket
| | |
| --- | --- |
| Type of post: | "In Harmony" Newsletter |
| Sub-type: | No sub-type |
| Posted By: | Dick Bushell |
| Status: | Current |
| Date Posted: | Mon, 22 Oct 2018 |
Gentleman.
I have in my care a lovely suit jacket that was left on the coach on route from Adelaide to Harmony Academy.

If you are missing a 46 Slim Connor brand Blue jacket, please let me know with your mailing address and I will endeavour to return it to you in the coming week.
Melodiously
Linda Vinall
Contest Administrator – Category Specialist
Australasian Guild of Barbershop Judges
calindav@internode.on.net
0412 195 110
---