Table of Contents
Adelaide Convention update - (Early Bird Discount ends June 30)
Some information from the Contest Administrators
Calling all Photographers
The way forward
Copyright and making copies of music
Membership feedback and recognition
Time to get your nominations ready for the BHA Medal
Sunshine Region News
Novatones
Hills Harmony
Vox Canvas
High Altitude Harmony
Melbournaires
Fleurieu Harmony
The Blenders
Perth Southside
Meet our new Members
Letter to the Editor - Another Poem from Andrew Wright
Adelaide Convention update - (Early Bird Discount ends June 30)
| | |
| --- | --- |
| Type of post: | News |
| Sub-type: | No sub-type |
| Posted By: | Dick Bushell |
| Status: | Current |
| Date Posted: | Mon, 18 Jun 2018 |


CONVENTION NEWS
As we hurtle inexorably towards our 2018 annual Convention now less than three months away, your Convention Committee has been working hard to ensure that your event comes to fruition as smoothly as possible with the aim of creating an exceptional experience for all.

You will have noticed whilst exploring the Convention website that your Convention Committee has secured two Primary Hotels for which discounts have been made available:
Intercontinental Hotel has a great offer of 14.5% off the Standard-Rate. There are several King Guest Rooms allocated to Convention delegates available, so why not book now to take advantage of this great offer.
Holiday Inn Express | $150 per night for twin share room, with breakfast included ($75 p/p).
Both hotels are within walking distance from the free tram that stops on Victoria Square, a short walk back to the Town Hall.

I have been in touch with the guys from Instant Classic, our headline quartet and 2015 International Quartet Champions, who are super excited to be joining us in Adelaide to celebrate Australian Barbershop. David, Theo, Kohl and Kyle will be busy during their week-long stay performing at the Rundle Mall Massed Sing, Welcome Gala and Grand Showcase Concert as well as running the Youth Workshop and Sing with the Champs, and joining the Harmony Academy Faculty to deliver an awesome Barbershop educational event. Instant Classic's participation will certainly be a highlight of the Convention.

If your Club administration is arranging registration on your behalf, but you also want to register for Harmony Academy, attend the Sunday farewell lunch or purchase tickets for friends and family to attend the Contests and the Saturday Night Grand Showcase, all you need to do to book these events is go to Registration on the main menu banner on the Convention website and select Add Optional Extras which will then enable you to purchase any additional tickets you need. As the Sunday and Wednesday programs are much shorter with limited content compared to the other days, we have not created the ability to purchase individual day passes for those days, however, there will be activities happening and we don't want you to miss out, so you will be able to come to those sessions free of charge if you purchase tickets for the Monday and Tuesday (note also that the day passes also cover meals). The four-day price of $340 also covers accommodation and transport if required so it's extremely good value for money.

Early Bird registrations close on 30 June 2018, so make sure you register now to take advantage of our special discounts.

Not too many more sleeps to go now!

Hope to see you all there

Richard Wadick
BHA VP Events
---
Some information from the Contest Administrators
| | |
| --- | --- |
| Type of post: | News |
| Sub-type: | No sub-type |
| Posted By: | Dick Bushell |
| Status: | Current |
| Date Posted: | Sun, 17 Jun 2018 |
From the keys of the Contest Administrators…….
We have just completed the successful rounds of Regional contests over three weekends. This has kept John, Aaron and Linda, as the three Contest Administrators in Australia, on their toes, travelling around the countryside. We are very happy with the way everyone has been able to use the online contest entry system we introduced last year. The benefits of entry online have streamlined some of the administrative processes that are required to be carried out by the CA prior to a contest occurring.

We are now preparing for the National Convention to be held in Adelaide in September. You might be wondering why we are busy already? There is so much more to running a contest to just collecting the entries and taking the scores on the day. A snap shot of the responsibilities of a Contest Administrator include:
Venue site visits

Program scheduling – contest draw and evaluation times

Liaising with the local arrangement team

Problem solving skills

Administering the rules and standing orders to ensure that a fair contest is offered to all competitors
As we journey towards the National Convention, we offer our thoughts and guidance herein on what you need to know if you are competing this September.

The online Contest Entry website is ready and waiting for a representative from each competing chorus or invited quartet/mixed chorus to complete their entry. (invitations were sent shortly after the regionals to the qualifying quartets for the National contest)
There are some important steps that need to occur to complete an entry.
Only one person (per entry) completes the online entry on behalf of the quartet/chorus. This individual needs to be one of the competing members. For all the quartets, this will usually be the same person who completed the entry for regional as they are already a registered user on the Contest Website.

All four members of a competing quartet must be fully paid delegates of the National Convention.

For a chorus to submit an entry, you don't need to wait till all the members have registered for convention. If you have at least 8 singers and the MD already registered as fully paid delegates for convention, you can enter your chorus. As more members register as convention delegates, these can be added to your chorus list via the Contest Website using the modify entry option.

All competing members must be financial BHA members (full, youth, associate)

Select the contest for which you are entering. In most cases this will only offer the one that matches your ensemble. (i.e. quartet that has qualified for Open and Senior, two contests. Or if only qualified for Senior then only one option)

Enter your contest songs. You will now also need to complete the fields for the creators of the songs. Words, Music, Arranger and what is the copyright source and confirm that you have purchase the rights to sing the song.

When you have completed all the steps, complete your entry by confirming with the Submit button. This then sends to you an email with a copy of the forms which will be available at "sign on" convention. The CA also receives this email. If you modify your songs or add more members to your chorus, then new forms need to be generated.

Complete the payment for your competing quartet/chorus. There is a handy link off the convention website for payments. This can be done with either a credit card or as a direct transfer int the designated account.
When the entry form and payment has been confirmed, you will receive a note from a CA confirming receipt.

Once the entries are closed a contest order of appearance drawn and then in a timely manner conveyed to the entrants. But that's another article to come!

Melodiously
Linda
Contest Administrator, Category Specialist
---
Calling all Photographers
| | |
| --- | --- |
| Type of post: | News |
| Sub-type: | No sub-type |
| Posted By: | Dick Bushell |
| Status: | Current |
| Date Posted: | Mon, 18 Jun 2018 |
Calling all photographers!

Are you a budding amateur photographer? Do you take photos for a living? Well, if you're planning on coming to our Adelaide convention, then BHA needs you!

We are looking at putting a team of photographers together to take pictures throughout the convention. This will be for things like contest results, the welcome dinner, miscellaneous photos of delegates, photos during Harmony Academy, etc. Rather than have a single person doing all of this work, ideally it would be split among a team so each photographer only has their own area to cover.


Do you think you could help by making yourself available for a small amount of time during the convention? If so please send your details, along with a small sample of your work, to our VP Marketing and Development at marketing@barbershop.org.au.


Note: all photographers who help us throughout the convention will be rewarded with a voucher to our Harmony Marketplace.

Daniel Beckitt - BHA VP Marketing
marketing@barbershop.org.au
---
The way forward
| | |
| --- | --- |
| Type of post: | News |
| Sub-type: | No sub-type |
| Posted By: | Dick Bushell |
| Status: | Current |
| Date Posted: | Sun, 17 Jun 2018 |
Dear members

As our Association reaches its 33rd year, we are now taking some time to focus on building Barbershop Harmony Australia to reflect the views and goals of our contemporary membership.

We want our members to view their singing as more than just a hobby, but as an opportunity for positive change – both in themselves, and in their communities. We have a unique opportunity to lead, to inspire, to create, and to influence.

Your BHA leadership team has been hard at work designing a Vision that reflects our desire to make our world a better place – for ourselves, our families, and our community – through the joy of singing together.

We have refined our Association's Vision and have designed some key strategic objectives which are aligned with our Vision. We want to paint as clear a picture as possible to show how our Vision can support the Association, and how our members can get behind our Vision.

The attached document (BHA Strategic Plan 2018-2021) provides a lot more detail on how we think we can make this Vision come to life.

For now, nothing changes in how we make music together today; rather, the Vision provides new clarity on where we want to go in the future. However, we know that people react differently to change and at a different pace. For some the change will be welcome and for others it can be a concern. We also know that ongoing communication and consultation is an important aspect of implementing any change.

So first, and most importantly, we need your help.

We want to hear from all of you, as we strive to create an environment that helps all of us enjoy our singing more, and every single voice is important to us. This is your Association, and your opinion counts!

If you'd like your voice to be heard as a part of our Strategic Planning process, simply send an email to:
president@barbershop.org.au

All feedback will be treated as confidential. Please provide your feedback by 30 June 2018.

This Vision is just the first step of BHA's Strategic Planning process. Your BHA leadership team will use your feedback and suggestions as we continue to develop Operational Plans for bringing our Vision to life over the next 2-3 years.

Through linking everything that we do to our Vision, we will build a culture of excellence, of sharing, of leadership, of participation, and of community-building. We will build an Association that is dedicated to Enriching Australia Through Harmony.

Dan Millgate
President
| | |
| --- | --- |
| | Attachment (242.9kb) |
---
Copyright and making copies of music
| | |
| --- | --- |
| Type of post: | News |
| Sub-type: | No sub-type |
| Posted By: | Dick Bushell |
| Status: | Current |
| Date Posted: | Sun, 17 Jun 2018 |
COPYRIGHT AND MAKING COPIES OF MUSIC
Recently, Barbershop Harmony Society has tightened up on BHA members being able to buy copies of music directly from the BHS Marketplace.
Under US copyright law, BHS is only able to sell music to Australia where international copyright has been secured. This means it is often unable to sell its arrangements into the Australasian copyright territory.
Fortunately, there is a solution.
A. BHA members can obtain a Reference Copy From BHS
BHS has agreed to provide Australian barbershoppers with one Reference
Copy, free of charge, of any arrangement they publish that is not available
for sale to Australian barbershoppers from the BHS Market Place.
B. Steps to obtain a Reference Copy from BHS:
1. Go to the BHS Marketplace at
http://www.barbershop.org/resources/get-music/
2. Choose the song.
3. Email BHS library at
library@barbershop.org
4. Indicate you are a member of Barbershop Harmony Australia.
5. Indicate you are unable to purchase a copy through the BHS Market Place.
6. Request a Reference Copy of the title.
C. Your Legal Obligation in Australia
If it is decided to include the song in your repertoire, to meet Australian Copyright
Requirements BHA members must obtain a Print Licence to make copies in
Australia.
D. Steps to Obtain a Print Licence:
1. To identify the publishing house that represents the title in Australia,
contact APRA at
print@apra.com.au
with details of the title, composer,
and lyricist.
2. Contact the nominated publishing house, requesting permission to
print the required number of copies of the specific arrangement.
3. They will quote a price.
3. To comply with copyright law, you need to purchase copies for all
members.

Trevor Rootes - BHA Secretary
---
Membership feedback and recognition
| | |
| --- | --- |
| Type of post: | News |
| Sub-type: | No sub-type |
| Posted By: | Dick Bushell |
| Status: | Current |
| Date Posted: | Mon, 18 Jun 2018 |
1. Member Survey drafted and ready for launch!
We are currently testing our most comprehensive member survey since 2005 as we seek to explore the views of our members, clubs and regions and inform the priorities and strategies for Barbershop within Australia.

The survey will be facilitated through the Survey Monkey platform and will be launched in early July 2018. The survey will be open for 6 weeks and we anticipate having the first pass of analysis ready for presentation at the Adelaide Convention membership forum.

Drawing on the latest research by Barbershop Harmony Society, this major survey has been designed to explore the member experience and aspirations for our Barbershop community; informing our clubs, regions and association in plans to ensure our ongoing sustainability.

Watch out for it and ensure you take the opportunity to have your say.

2. BHA National Council contact program.
The clubs are the foundation of our Barbershop Community, but how can the volunteer Council members keep in touch with over 30 clubs? Certainly the ability of one Membership VP to speak to each club is limited.

Whilst most councillors will try and take the opportunity to catch up with local clubs if their travels take them to a location where there are active choruses this doesn't provide a reliable means of contact.

For this reason, the BHA National Council members have each been allocated a number of local clubs and have been tasked with establishing a contact program with the club.

So expect a call from a National Council member over the next two months to seek feedback on your club and enable challenges and opportunities that arise to be considered within the broader perspectives of Barbershop across Australia.

3. BHA Medal and CMOTY reminder
Don't forget to start those club committee discussions on your Club Member of The Year and potential BHA Medal nominees ready for the call!

Yours in Harmony,

Paul Adams
VP – Membership BHA
---
Time to get your nominations ready for the BHA Medal
| | |
| --- | --- |
| Type of post: | News |
| Sub-type: | No sub-type |
| Posted By: | Dick Bushell |
| Status: | Current |
| Date Posted: | Sun, 17 Jun 2018 |
The "BHA MEDAL"
Gentlemen of our southern land.
We have but a short time left to get our thoughts together to choose your next
"BHA Medal" recipient.
When the time comes, please ensure that you have included in your nomination the reasons why you believe he should win.
Remember, the judging committee should have heaps of "stuff" to discuss. Lets give them a truck load of reasons for a robust discussion.'Cos all the nominees deserve their full adjudication.

All members will receive an email in June with details on the nomination process and timelines for submissions
Cheers and good luck.
Derek
---
Sunshine Region News
| | |
| --- | --- |
| Type of post: | "In Harmony" Newsletter |
| Sub-type: | No sub-type |
| Posted By: | Dick Bushell |
| Status: | Current |
| Date Posted: | Sun, 17 Jun 2018 |
"The Sunshine Region held its annual "convention" at the SunPAC Centre in Brisbane on the 28th April, hosted by "The Clippers" chorus. The format of the day, after a bit of hair pulling, was a success. We undertook a change to the traditional way of things and held the chorus event first in the morning followed by the quartets after morning tea. This enabled the quartets to warm up for the qualifications and also ensured we had a good audience to cheer them on. We also were entertained by a number of our lady choruses on the day who were invited to be part of the competition. This gave them an opportunity to perform their competition songs in front of an appreciative audience, prior to their national event in Hobart in May. A few of our MD's were on their toes as they not only directed the men but also the ladies so there was some quick running around the loop and some serious planning to make it all happen.

A coaching session was held on the Sunday at Ipswich hosted by Minor Chords with our 3 judges and our CA taking the reins during the morning sessions.

All in all, the format of the days program worked well. As our region is wide spread, many of our men travelled a fair distance to attend and their efforts to see it through were appreciated.

Our regional event for 2019 will be hosted by High Altitude Harmony in Toowoomba so mark the last weekend in April 2019 as "attending SR regionals".

In Harmony
Shane Graham
SR Chair.
---
Novatones
| | |
| --- | --- |
| Type of post: | Club news |
| Sub-type: | No sub-type |
| Posted By: | Dick Bushell |
| Status: | Current |
| Date Posted: | Sun, 17 Jun 2018 |
Anzac Day 2018
Novatones Men's Chorus was called on to be an active part of two Anzac Day services in the Newcastle Area this year and both were wonderful to be part of.

Nobby's Beach Dawn Service 5:00 am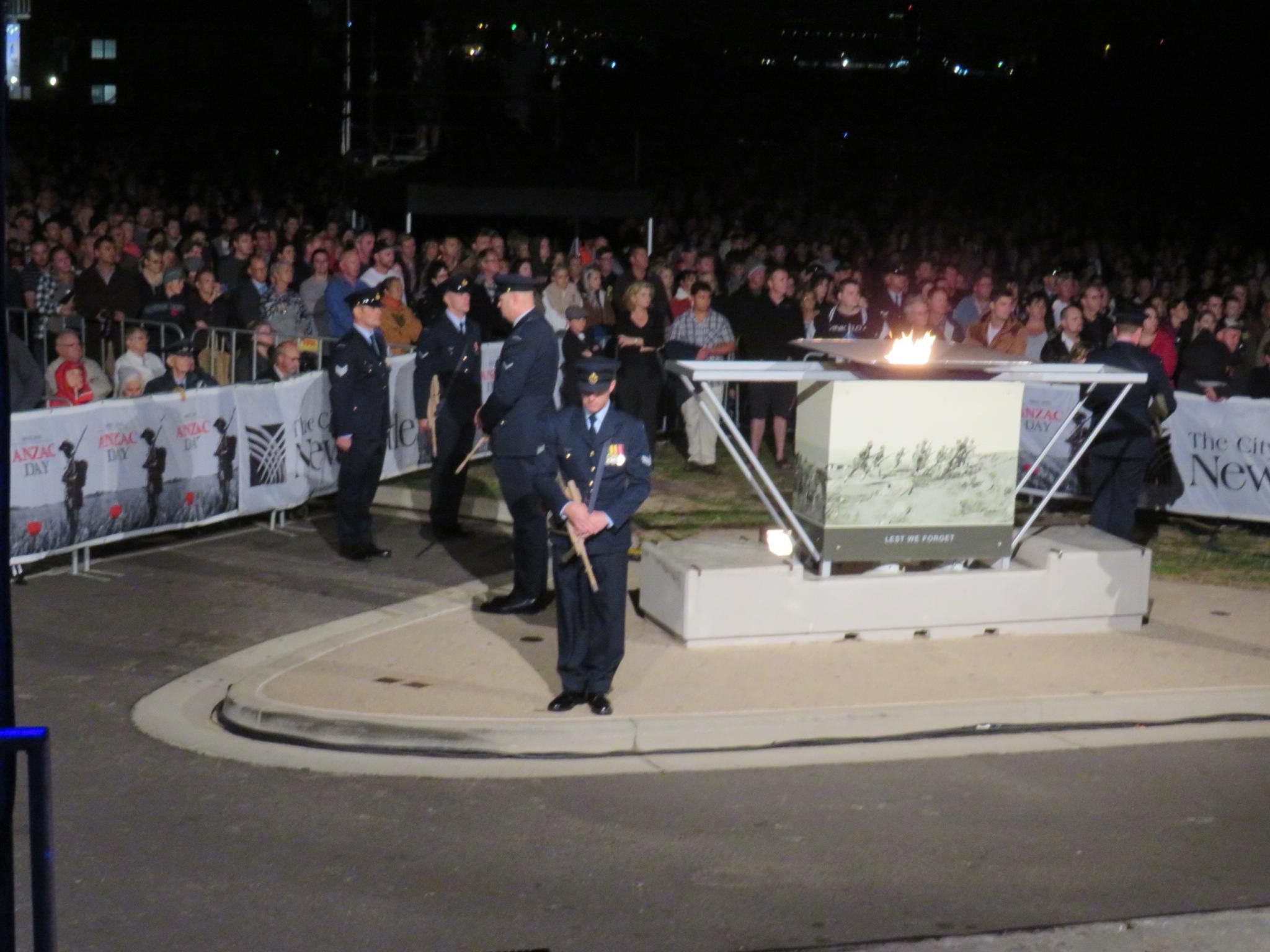 Anzac Day at Nobbies Beach Foreshore Park this year was once again a solemn, proud occasion. This special day is certainly not dwindling in popularity, even though there are no WW 1, and very few WW2 veterans left. The Anzac Day services still refer back to the horrific events of those two world wars, but also acknowledge the bravery, sacrifice and efforts of our service men and woman who have served since those two major wars. This is in places such as: Malaya, Korea, Borneo, The Persian Gulf, Vietnam, and the more recent conflicts that have arisen since 2000, in Afghanistan, Iraq, East Timor, Iraq and Syria. The huge crowd of people who attended this dawn service, were reminded of how lucky we are, and how thankful we should be that we can live in freedom today, due to the efforts of our service personnel.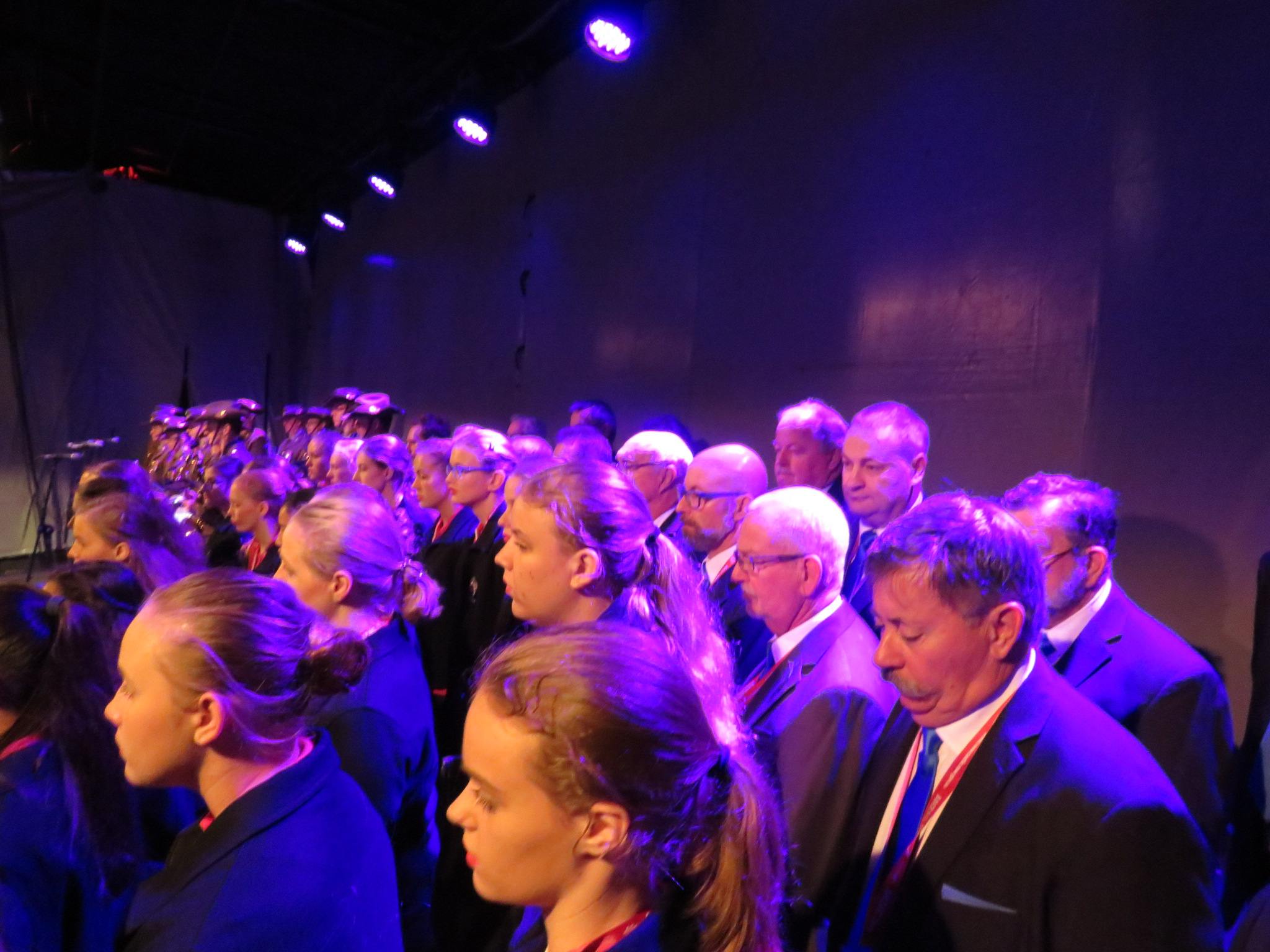 As the attendance was predicted to be large, we were asked to be in the Nobbies carpark at 3:30 a.m. however there were not many cars on the road, so we were able to drive up to and into the carpark, through various car checks- amazing where you can get to with the right security clearance as VIPs! We had rehearsal, alongside the famous Waratah girls' choir, with the Australian Infantry band, before heading in the semi-darkness onto the stage. The programme started at 5:00 a.m., with TV screens. As in previous occasions, it was a very moving ceremony and it was good to be a part of. Our contribution of Anzac Day standards were well received by the crowd and they were not deterred, even when rain started to fall! We were accompanied by the local Army band and our singing, alongside the Waratah Girls' Choir, was ably directed by their leader, Lindy Connett.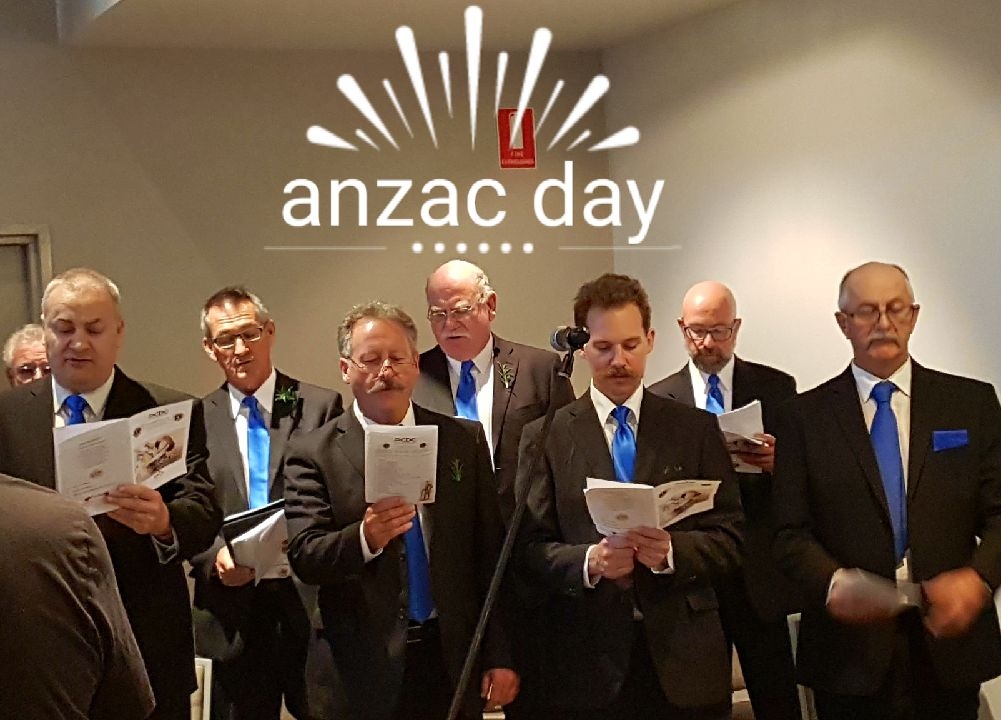 Charlestown 11:00 a.m.
The Charlestown Anzac Day Service was set down to be held at 11:00 a.m. at the Lions Park, Carl Close Charlestown. However due to rain, the venue was moved to the nearby Charlestown Bowling Club. The choir that had been expected to lead the audience in singing the Anzac Day songs, was unable to attend. With little notice, Novatones was asked to fill in for them. This request was accepted and eight of us managed to attend. I was surprised that hundreds of locals attended that service, in the main club hall. We led the singing in four songs, under somewhat difficult circumstances, as one of the songs was not known to us, and we were singing to an old tape, which for some of the songs had an introduction while one did not! I felt that this was a very moving service and that the two main orators did an excellent job. The current school captain of Whitebridge High School spoke very well as did a female, senior Army leader. Once again our group's contribution was well-received and we even asked to attend again next year!

Mark Henley
Novatones Reporter
Memorial Service for Helen Davelaar 22nd May 2018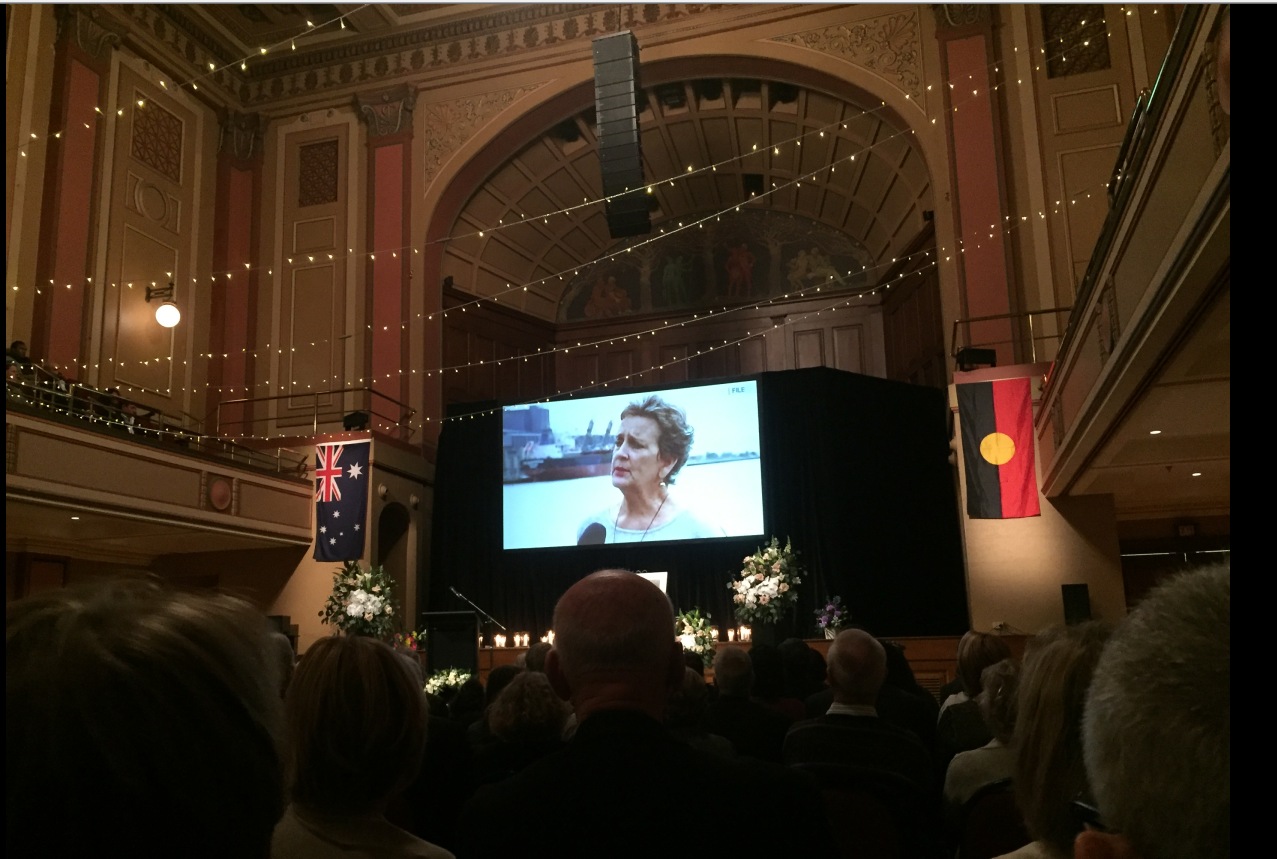 Derek Davelaar, one of the stalwarts of Novatones, recently lost his wife Helen, due to complications following heart surgery. After a small private family funeral service, and at short notice, a Memorial Service for all those who wished to pay their respects, was arranged. Derek is a long-time local solicitor and well-known Newcastle identity. Helen, was also very well-known in the town, so this service was expected to be a big event, and it was! A wonderful celebration of Helen's life enfolded. The Newcastle Town Hall was filled with people from all walks of life. As well as family, friends and work colleagues present, there were quite a number of people who had been helped by Helen, at some low point in their lives. Their feelings for her, were shown in the tears on lots of faces. Stories, pictures and video clips of Helen, standing up for what anything that she believed to be an injustice, were awe-inspiring. Helen had been a champion in the fight for justice for child sexual-abuse survivors in her role as a Maitland-Newcastle diocese child-protection officer. Helen was also a vocal advocate for aboriginal rights and acceptance. This was evident by the number of indigenous people who attended. The 1 hour 40min Memorial Service was a fitting celebration of Helen's life and her work in the community. The large audience was alternatively transfixed in reverent silence, then occasionally howling with laughter as various speakers from the family, her lifelong friends and work-colleagues, spoke of their experiences with this wonderful lady, whose life was cut far too short.

The celebration of Helen's life continued in convention room, at Customs House on the Newcastle Harbour waterfront. Davelaar family photos were on display and they brought back memories for her friends, family and acquaintances, who met up and reminisced about wonderful times with Helen, over some delicious eats and drinks. As a fitting gesture to Helen, there was a solemn aboriginal dance, put on by a young local family unit.
Then it was our turn! In support of Derek, a group of us from Novatones had attended both functions. Derek joined with us to sing to the encouraging audience, which became vocal and enthusiastic, as we sang a couple of rousing well-known songs: 'Mary-Lou' and 'Barbara-Ann'. It felt to those who were there, that at that moment, there was a pressure-release of the tension of the whole sad event. We finished off with the more thoughtful and good wishes of 'Irish Blessing', which was appreciated. It was a real privilege to be involved in a tribute to a lovely lady, devoted mother and grandmother, as well as a much-loved person in the local community!
Our thoughts are with Derek and his family, at this difficult time.
Mark Henley
Novatones Bari


---
Hills Harmony
| | |
| --- | --- |
| Type of post: | "In Harmony" Newsletter |
| Sub-type: | No sub-type |
| Posted By: | Dick Bushell |
| Status: | Current |
| Date Posted: | Sun, 17 Jun 2018 |
Hills Happenings
We are very pleased with the outcome of our "A Cappella for Fellas" course. It has given us five new members keen to begin their Barbershop careers and we are very happy to have them aboard.
We have had input into our education from Vicki Dwyer and Rob Sequeira

Peter Donald does a great job as our MD and we are delighted with our, improvement as singers over the past year. Recently, thanks to a BHA initiative, we have had rehearsal visits from Vicki Dwyer, MD of Sydney Harmony and Rob Sequeira from Vox Canvas. It was great to be coached by such experienced barbershop practitioners who saw our performances from a fresh point of view. We thank them for their perceptions and expertise so freely given. They showed us things we can work on to improve our singing and perhaps more importantly, reinforced what we are doing well, increasing our confidence and enjoyment.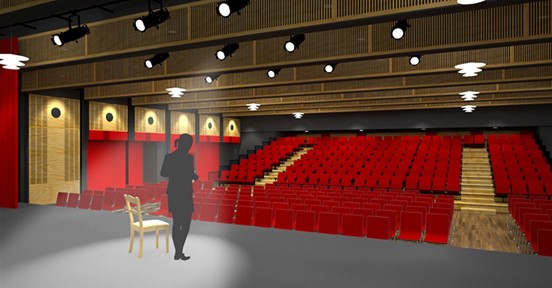 We have three quartets who have qualified for the National competition but are still unsure if we can have enough members in Adelaide to perform as a chorus. A work in progress.

Our local council has finished one of its "works in progress". It has recently refurbished a 350 seat performance space in the local community centre called the Pioneer Theatre and were looking for local groups to use it. Hills Harmony has applied to use it for a spectacular a cappella concert later in the year. We just need the decision to go our way and we will have a new purpose built space for our performances.

Paul Meller
VP Marketing
---
Vox Canvas
| | |
| --- | --- |
| Type of post: | "In Harmony" Newsletter |
| Sub-type: | No sub-type |
| Posted By: | Dick Bushell |
| Status: | Current |
| Date Posted: | Sun, 17 Jun 2018 |
Vox Canvas Album-launch Concert
Vox Canvas has recorded our first album titled: Happy
We are hosting a CD launch concert as a fundraiser to help us attend the Barbershop Harmony Australia National Competition in Adelaide.
Friday June 22,

Alexandria Town Hall, Alexandria, NSW

Doors open 6:30pm.

Show starts 7pm.
"Happy" is the debut album by Vox Canvas, with bonus track: Happy by Pharrell Williams
There will be performances by Vox Canvas, The Macabellas from Macquarie University, Helix – Barbershop Quartet from Vox Canvas and other guests.
There will be baked goods, food and alcohol for sale during the night.
CDs will be on sale, and there will be a raffle!
We have a facebook event set up – feel free to invite friends and follow updates, photos and videos by clicking "attending" on the event.
Thanks for the support!
Ben G. from Vox Canvas
| | |
| --- | --- |
| For more information, see: | voxcanvas.com.au/acappella-album-launch-fundraising-concert/ |
---
High Altitude Harmony
| | |
| --- | --- |
| Type of post: | "In Harmony" Newsletter |
| Sub-type: | No sub-type |
| Posted By: | Dick Bushell |
| Status: | Current |
| Date Posted: | Sun, 17 Jun 2018 |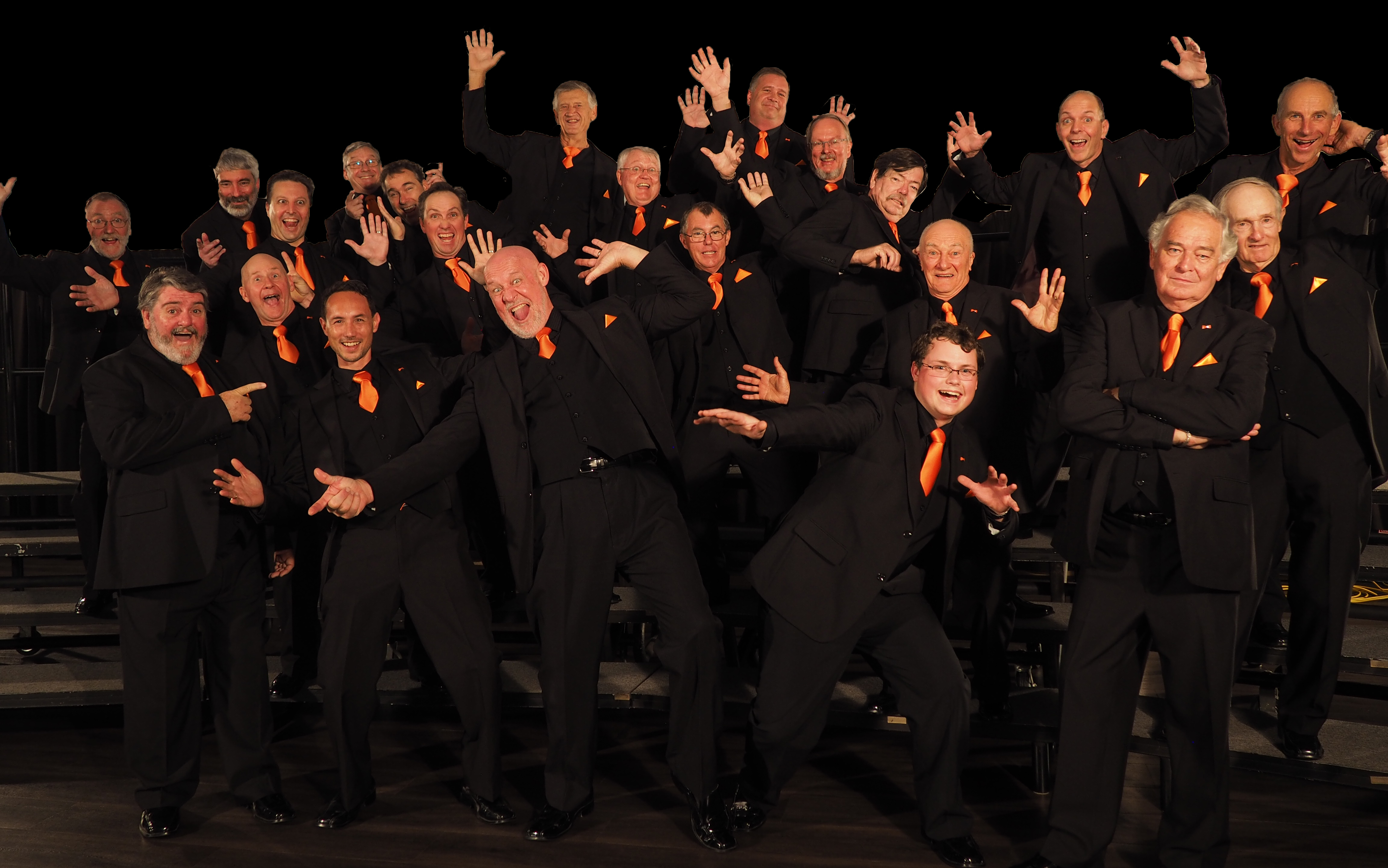 Well Sunshine Regionals are but a distant memory for us now. We competed in the Open Chorus division and came a creditable third, being beaten by The Blenders and The Blenders Youth Chorus. If only they would move to NSW.

Winter is upon us again in SE Queensland but, it hasn't dampened the enthusiasm of our members. A couple of weeks ago we had a 100% attendance. The smiles on the faces of our MD's was certainly broad.

Some time ago Mike Ludwig was spending a weekend at Esk, a lovely little village some 90 minutes away in the Brisbane Valley. He noticed a polo shirt with an interesting logo on a lady and stopped to chat. It turns out she is a member of the Esk Community Choir. One thing led to another and we now have four of their male members coming up to rehearse with us pretty regularly. It just needs a keen eye and a bit of a chat and you don't know where it will end.

Our Music VP, Grant van Heerden has worked extremely hard with some of our other mates to get learning tracks up for us to work on new material. All his hard work is paying off as we are as good as 'music down' on our latest song in only three weeks!

HAH is looking to join the Ballina Headliners on their home turf in October to wow the Ballina locals and they are coming up to see us in August for our annual concert series. Both events promise to be great fun.

As usual, we endeavour to entertain and educate anyone who is interested in our artform by posting clips and other stuff on our Facebook page. If you aren't a regular viewer, have a look and see what we enjoy. We are positive you will. Plus, we are always updating our web-site haharmony.com.au. Check it out!



Paddy Boxall
Secretary
---
Melbournaires
| | |
| --- | --- |
| Type of post: | "In Harmony" Newsletter |
| Sub-type: | No sub-type |
| Posted By: | Dick Bushell |
| Status: | Current |
| Date Posted: | Sun, 17 Jun 2018 |
The recent BHA Vic Region Contest was a successful and entertaining day thanks to the regional President, our own Rob Lee and his hardworking team of helpers. Successful because four of our quartets were medal winners with our mixed quartet Skeeters, being the first to qualify with a score over 70%. The other medal winners were Sound Investment in the open comp, and Harmonic Motion in the Seniors comp. Other quartets scored mid to high 60's, and with the positive and useful judges' comments still ringing in their ears, they have more than enough information to improve their performances.

The Melbournaires have performed a number of times for the Manningham City Council, welcoming new Australians into the local community. Last month we were officially recognised for this work, securing a nomination in the category of Community Service. Although not winning the award, the presentation of a framed certificate from the local mayor in front of a very large and enthusiastic audience. An information package of the Melbournaires delivered by the MC, a long-time radio personality who professed his love of barbershop music. This gave us tremendous publicity, not only for the Melbournaires, but to Barbershop in general. Our thanks to Charles Dougall who heads up our events programme and who was instrumental in achieving this outcome.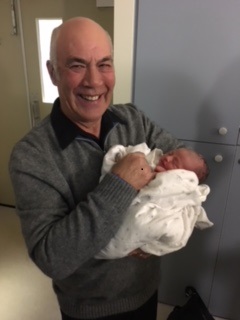 As with most choruses, the Melbournaires are one big happy family, and the passing of any member leaves a very sad note within the chorus. We recently had the misfortune to lose a well-respected and valued member in Tony Hughes.

Tony was known for his musical knowledge and ability, as well as his rather forthright penchant for highlighting to the chorus or group or single member a wrong note. Coming from a musical family and gaining his Batchelor of Music degree at Melbourne University Conservatorium, he was in a strong position to do so, no matter how disconcerting to the target.

Tony taught music education at Deakin University where he also started DUO, which was the Deakin University Orchestra. Having played the trombone since the age of 10, it was here that he perfected his knowledge of all brass and woodwind instruments, and could play them all. He was composer, arranger, and conductor for many years, and before retiring from Deakin, he finished his Masters Degree in Music Composition. Tony's music and family were the lights of his life, and while we mourn the loss of an enthusiastic and well-liked decent bloke, we send our condolences and best wishes to his family.

Terry Phillips
---
Fleurieu Harmony
| | |
| --- | --- |
| Type of post: | Club news |
| Sub-type: | No sub-type |
| Posted By: | Dick Bushell |
| Status: | Current |
| Date Posted: | Mon, 18 Jun 2018 |
Fleurieu Harmony have had had quite a mixed month starting with a septet from the chorus entertaining at the 90th birthday of an old member of the Festival Statesmen, Martin Fruend ,who although incapacitated, remembered and seemed to enjoy the Polecats we sung.

We did a fundraising singout at the local markets and raised $220 for our favourite charity "Prostate Cancer Research". The next week we sung the Irish Blessing at the funeral of our ex member 92 year old Stan Newton. Stan was a valuable member of the lead section and was a member from the very early days and retired about 3 years ago. We were pleased to have a visit from our old friend Kim Sebbage who is always welcomed with his helpful observations and hints. This week we were part of the Adelaide Eisteddfod and although not winning any prizes, acquitted ourselves really well competing against the youngsters in the school choirs.

Now we are looking forward to the Nationals, that for the first time are being in our home state, it will be great to welcome and meet up again with all our interstate brothers and sisters.

Gordon Tomlinson President
---
The Blenders
| | |
| --- | --- |
| Type of post: | Club news |
| Sub-type: | No sub-type |
| Posted By: | Dick Bushell |
| Status: | Current |
| Date Posted: | Mon, 18 Jun 2018 |
Learn to sing program, SingGC has been in full swing at The Blenders for the past two weeks. SingGC is a program which introduces men to singing. SingGC runs over four weeks and provides men and youth with an introduction to singing. Participants learn two songs in 4 part harmony over the period of the program. Twenty five participants registered to be part of the program.

Running concurrently with the male program is SingGC for females with our sister chorus, Coastal Charisma. Both choruses are learning one song which they will perform together at the completion of the program.

It has been a wonderful experience introducing both these groups to the joys of four part harmony singing.

The Blenders next major venture is Voices in Paradise to be held on Saturday 14th July. Voices in Paradise offers an annual youth workshop with professional education and training by internationally renowned a cappella groups and local coaches. Under the direction of The Blenders MD, Jonathon Albertini, participants will experience the thrill of performing live in front of a large audiences after a day of intensive coaching by special guest educators, Blindside and a cappella champions, Drums of War.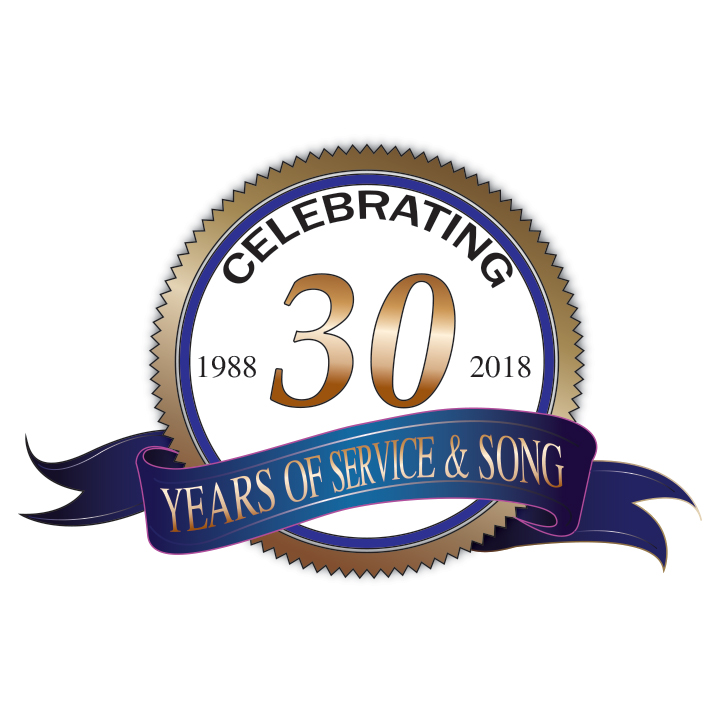 This year is the 30th Anniversary of The Blenders and plans are underway for a major function later this year. During our thirty years we have experienced ups and downs like most choruses but we continue to go from strength to strength through programs like SingGC, Voices in Paradise, community engagement and the camaraderie of past and present members.

Ian Mackey
Secretary
---
Perth Southside
| | |
| --- | --- |
| Type of post: | Club news |
| Sub-type: | No sub-type |
| Posted By: | Dick Bushell |
| Status: | Current |
| Date Posted: | Mon, 18 Jun 2018 |
Perth's Southside Harmony Barbershop Chorus is well underway servicing its program of performances for 2018. The latest Sing Out was at Rowthorpe Juniper Hilltop in Bentley. Forty enthusiastic residents were well entertained by the Chorus as we sang old favourites that were recognised by the elderly audience.
The "solo" slot on the program was filled by a quartet comprising Allan Tuckwell, Merril Claessen, Rod Chadbourne and Rob Sproule.

Community singing led by Rob Sproule was a very successful part of the program with the audience singing heartily from the prepared song sheets. Feedback was very positive and we have been asked to return next year.

The next performance in July is a "Christmas in July" engagement and this will be followed by a further seven Sing Outs to round off the Year.

Gary Thomas
---
Meet our new Members
| | |
| --- | --- |
| Type of post: | "In Harmony" Newsletter |
| Sub-type: | No sub-type |
| Posted By: | Dick Bushell |
| Status: | Current |
| Date Posted: | Sun, 17 Jun 2018 |
We have a record number of new members who joined us over the last couple of months. Make sure to say Hi and welcome to the Barbershop fraternity if you come across them anytime.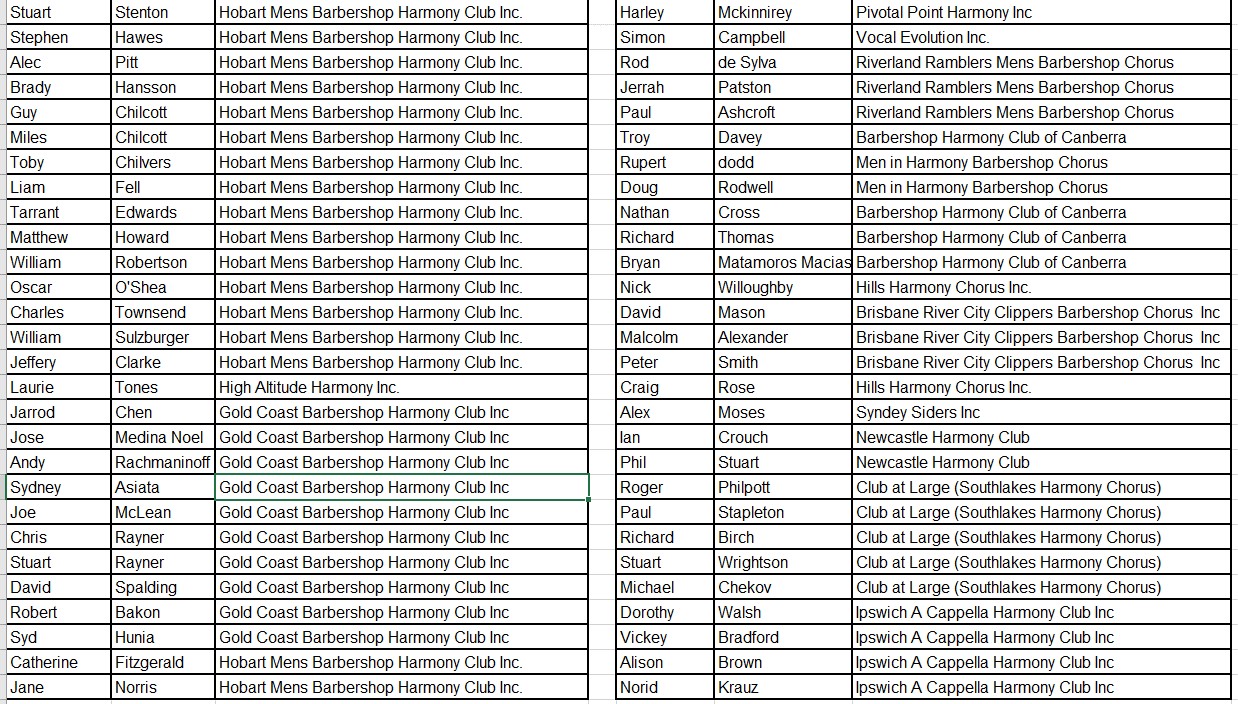 ---
Letter to the Editor - Another Poem from Andrew Wright
| | |
| --- | --- |
| Type of post: | "In Harmony" Newsletter |
| Sub-type: | No sub-type |
| Posted By: | Dick Bushell |
| Status: | Current |
| Date Posted: | Sun, 17 Jun 2018 |
The Long, Long Path to Barbershop Success
Poem Covering a Lifetime of Music Involvement – By Andrew Wright © 2018

1. I've sung in lots of choirs over many, many years
And I've been on stage in musicals as well
've played the violin and I have played piano too
ut here's something rather special – let me tell

2. Way back in 1965 when I was still at school
got together with some friends to sing
We tried to sing in harmony but we didn't sound too good
And the chords we made just didn't seem to ring

3. We thought we had a talent we could offer to the world
But the music we produced was rather bland
So, instead of singing harmony we chose another route
And we formed a rather hopeful skiffle band

4. At this stage in my music life I didn't have the skills
To play guitar like all my friends intended
So, I was chosen as the front-man singing all the songs
And this is why our skiffle era ended…!

5. Our next attempt was R & B so popular at the time
But the gigs we played would drive the mosh-pit mad
It was said by many out the front that we should all retire
And that the R was short for RUBBISH and the B was short for BAD

6. Well, faint heart ne'er a maiden won and we would not give up
So, we turned our skills to another type - called 'Rock'
We grew our hair and learnt to play with the amp turned up to max
And woke up all the neighbours round the block

7. Once again success came slow, in-fact it didn't come at all
Since we only had eleven gigs or so
But ten of those were cancelled 'cos the tickets wouldn't sell
At the other, I was sick and couldn't go

8. So much for rock and roll we thought we must try something else
So, we formed a rather splendid String Quartet
I could play the violin a bit so I stood at the front
And we played the works of Mozart and Bee-zet (Ahem..!))

9. Now after several practices we thought that we were ready
To come before an audience or two
But when they heard us play the works of Bach and Paganini
They thought that we were strangling cats – it's true...!

10. Where do we go from here I mused, our spirits falling low?
There must be some new target I can set us
So, how about we play some Jazz – now there's a great idea
But perhaps our feeble talents wouldn't let us

11. We practised Louis Armstrong songs but found them rather gruff
And Gillespie left us feeling somewhat 'Dizzy'
Thelonious Monk just gave us boys a lot of awful habits
And Count Basie's music put us in a tizzy

12. Fats Waller was a pianist that we tried so hard to mimic
But the way he played was quite beyond our skill
So, we learned to play a tune or two by Ellington, the Duke
But this left our audience feeling rather ill…!

13. It's clear that I could not expect to reach the heights of fame
In R & B or Rock or in the Jazz-scene
Our String Quartet and Skiffle Groups were total failures too
And I thought that I would be the all-time has-been.

14. My friends and I agreed that we should have another go
But, I needed to put on my thinking cap
I sat for hours wondering just what we ought to do
And then suddenly it came to me – it's Rap

15. I have a knack for rhyming verse so
I was asked to write The lyrics for our venture down this path
I really hoped the words I wrote would bring us wealth and fame
As long as all our listeners didn't laugh...!

16. My friends were lined up on the stage, a-strumming their guitars
And our drummer played his kit so very loud
Then out the front with hands held high and fingers stretched out wide
These words are what I offered to the crowd….. Rap Style

17. Oh Yeah, Oh Yeah. My darling gal I got some words for yo
I 'spose you want anuvver guy, 'cos I's no use to yo
I gives yo weed I gives yo speed I gives you all my bread
Then when I comes home for my tea I finds youse off your head
I works so hard at centrelink, a-standing in the queue
I do this twice a week yo know – I does it just for yo
My luv for yo it knows no bounds it is so very strong
I'll stay with you for ever 'til a new gal comes along….Oh Yeah!

18. I thought that we had made it as the crowd stood up as one
As they seemed to like the style of my review
But when the rotten fruit began to rain down on the stage I knew I had to think of something new.

19. Perhaps we should step back a bit – consider where to go
We hadn't tried our singing style for years
Perchance, we've come a long, long way since singing back at school
Performing to our most ungrateful peers

20. So, we formed an a cappella group of four lads, good and true
And we called ourselves 'The Barbershop Elite'
We practised once a week or so for more than half an hour
Then we took our music out into the street

21. The crowds were staggered by the sound that we four lads produced
And we entertained these folk with songs divine
We sang the Polecats, perfectly, each one in several keys
And we finished with the song "Sweet Adeline"

22. So now our destiny was set, no more we'd need to seek
The style of music that would make us great
We'd simply sing in Barbershop and join a chorus too
And get involved before it was too late

23. So, we joined a chorus way down south, in Melbourne to be sure
And we found that we were welcomed without fuss
Our average age was 22 but that was so refreshing
Since the average of the rest was 60 plus

24. At last we'd found our destiny – in singing Barbershop
And we'd never felt so happy and complete
So, if you ever think that you have taken the wrong turn
Just think of me and the 'Barbershop Elite'

25. The joy of singing Barbershop can never be compared
With Blues or Jazz or a simple String Quartet
Nor Rock nor Reggae, Skiffle, Rap not even big Brass Bands
'Cos Barbershop's as good as it can get

A L Wright © March 2018
---