Table of Contents
From our new President
Marketing & Development
Events
Music
Membership
Youth Development
Conditions for entry to the 2018 Regional Contests
Nominations for the 2018 BHA Medal
2018 East Coast Harmony College
Sunshine Region News
Adelaide Allsorts
High Altitude Harmony
Melbournaires
Vocal Evolution
Vox Canvas
Hills Harmony
Three Squirrels and a Nut
Music Director Wanted
Welcome to our New Members
Letter to the Editor - The Barbershop Chorus - A Poem
Call for entries to a new Talent Show
From our new President
| | |
| --- | --- |
| Type of post: | News |
| Sub-type: | No sub-type |
| Posted By: | Dick Bushell |
| Status: | Current |
| Date Posted: | Sat, 3 Mar 2018 |
Believe it or not, I didn't join BHA because I had a love for administration and paperwork. I would hazard to guess that, like you, I joined BHA because I just really liked the music. But now, thirty years later, I find myself in the rather daunting position of guiding our association and ensuring that BHA as an association can provide you, me and all of our members with a great environment in which to enjoy our barbershop music.

This is no easy task, and there are plenty of moving parts. Unlike McDonalds, where you can order a Big Mac and get pretty much the same product anywhere in the world, we have an extremely wide range of products that we present to the world, and all of those products are legitimately called barbershop.

But there are marked differences between each of these Big Macs. BHA is a rich tapestry of diversity and each group has its own special purpose, its own reason for being, its own attraction and its own distinct flavour.

We have groups that have specifically formed to perform and compete at a high level. We have singers who simply enjoy their group for the camaraderie, the mateship and the joy that comes with singing barbershop harmony with your mates. We have groups that wear traditional costumes and sing for their community nursing homes during the week. We have groups of young people who sing contemporary and modern arrangements, wear fashionably hip costumes and sing in groups of boys and girls. We have groups that enjoy singing mixed barbershop harmony with each other. We have school-age quartets and choruses just learning the craft, and we have guys who have been singing barbershop for decades. We even have guys who have just joined their local clubs and still have no idea that BHA even exists.

Regardless, BHA encompasses and embraces the goals and purposes of all of these groups. You are all valued, equal and necessary parts of our association. What we attempt to do is to enable all of your groups to do what it is that we all joined BHA to do – to sing! We do this through striving to provide events and experiences that benefit you, the members, directly, and that allow us to show people just how great singing barbershop can be.

So, as your newly elected President, I am calling on you, all of you, to help me and my team maintain a firm foundation for your singing 'hobsession'. Wherever your barbershop journey has taken you, you have experience, knowledge and suggestions that may be useful to others. I would like you to share that knowledge with me and with the highly talented and passionate guys on Council. We are but the humble stewards of Australia's fine barbershop tradition, and we want to listen to what you have to say so that we can support you to sell a whole lot of Big Macs.

Take the opportunity to be a part of BHA's future direction, as we continue to build this amazing organisation into the future. Contact me, or any member of Council, any time you want to give us your feedback, tell us your ideas, share your successes, make suggestions, or just have a chat! Contact details are on our website.

In the meantime, make sure you read the other articles in this edition – there are some very exciting initiatives on the way, and we can't wait to see them broaden our barbershop market, encourage more participation in our artform, and share in our love of singing good old barbershop harmony. After all, that's why we are all here.

Sing-cerely
Dan Millgate
President
---
Marketing & Development
| | |
| --- | --- |
| Type of post: | News |
| Sub-type: | No sub-type |
| Posted By: | Dick Bushell |
| Status: | Current |
| Date Posted: | Sat, 3 Mar 2018 |
As VP of Marketing and Development, a big part of my portfolio is making sure that the message gets through to you. We have a number of exciting things happening this year so I can't wait for you to hear more about:
Our first National convention in Adelaide. This is going to be a fantastic event in an exciting location.

Who will be our guest quartet this year? As soon as these guys are locked in I'll let you know.

An exciting re-brand of Harmony College. Following the success of last year's Harmony College you won't want to miss what our VP Music has planned for this year.

Plans for updated newsletters and a re-launch of a familiar brand.

Much much more!
Of course I'm still looking at ways to promote barbershop to the wider community. We are Australia's best kept secret ... and it's time we were heard.

Please contact me at marketing@barbershop.org.au if you have any questions about the year ahead, or if your club/quartet has something they'd like to promote through our internal communication channels.

Daniel Beckitt
VP Marketing & Development
---
Events
| | |
| --- | --- |
| Type of post: | News |
| Sub-type: | No sub-type |
| Posted By: | Dick Bushell |
| Status: | Current |
| Date Posted: | Sat, 3 Mar 2018 |
Greetings! I'm your new VP Events, Richard Wadick. I just came back from my first Face-to-Face meeting in Adelaide with your National Council. I am so excited to have visited the city where our next national convention and contest is going to be held. I am also pleased to report that a majority of the groundwork has already been completed by the local team in Adelaide, who, led by Cameron DuRieu, have done a superb job in securing great venues for the Welcome Gala and contests.

Full details will be revealed once other important elements have been put in place, however, in the meantime, ensure that you have set aside these dates in your diary: 12th to 19th September 2018.
Meantime, as local regional events unfold such as Harmony Colleges and prequalifying contests, I will be available to help ensure that these events are executed as well as possible.

I also recently attended BHA's Premier off-Convention Harmony College at Myuna Bay, NSW on the weekend. Seventy three members attended and each of the seven clubs in Eastern Region were represented plus a member of Victoria Region attended as well. The faculty comprised Rob Sequeira, David Reid, Kieran O'Dea, Jono Albertini and Russell Bailey. The Education Team delivered a superb program and all were very engaging. The many attendees benefited from several twenty minute quartet coaching sessions and a record fifty two fifteen minute PVIs. Jono commented that he was surprised by the large attendance number and said "We should have an event like this in Sunshine Region!" Arriving on the Friday night, we started rehearsing a song that was new for the majority of us, If I Only Had a Brain. The faculty took turns at weaving their magic and polishing the song on the Saturday so the combined chorus could creditably perform the song at the local Workers Club on Saturday evening for an appreciative audience of 130 local people. A very special thanks to the ER Harmony College committee: Stuart & Beth Adey who put the whole event together including catering most of the meals and selling the tickets for the Saturday night show.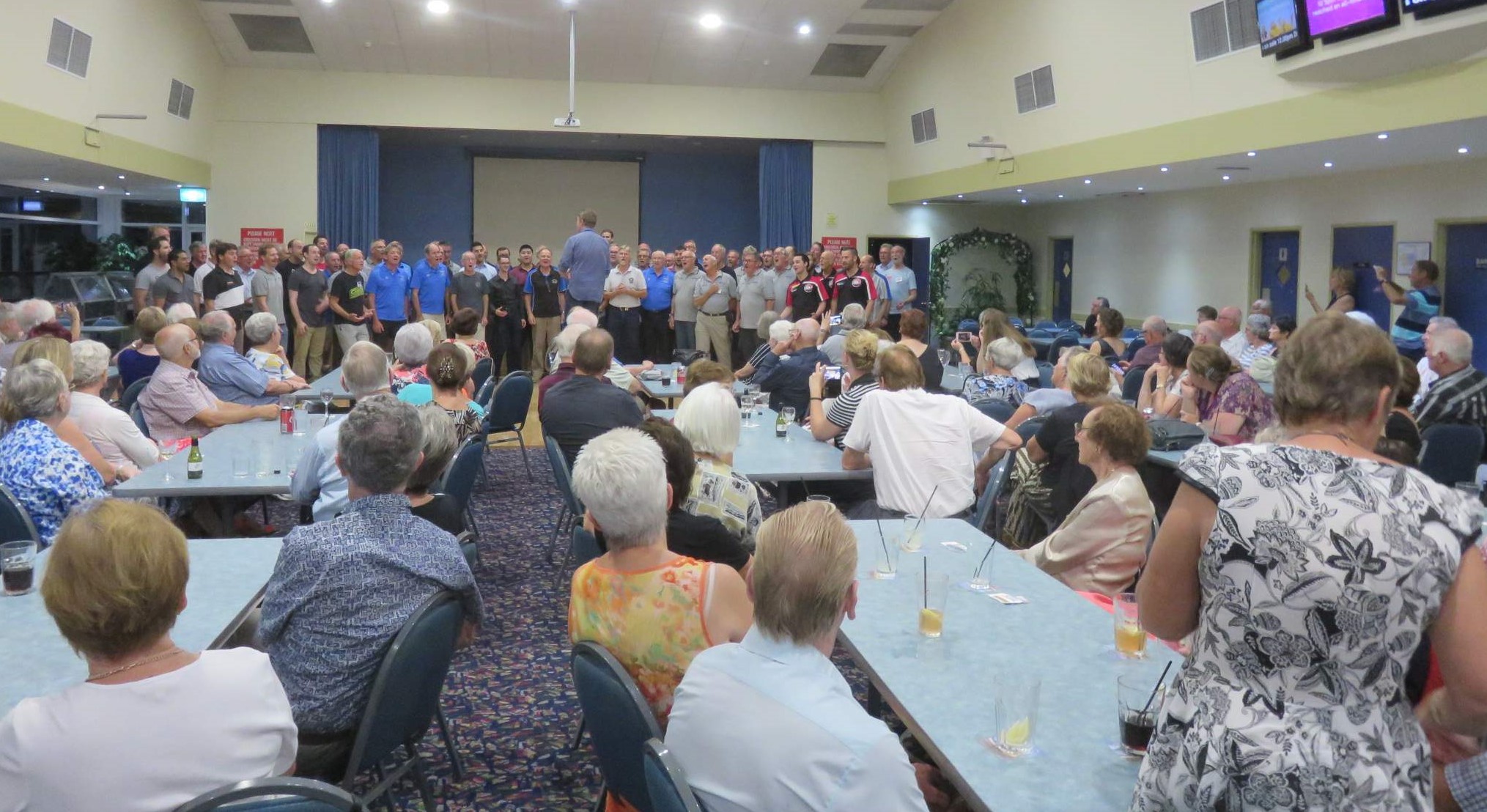 I would love to be instrumental in helping other Regions launch their own Harmony College events, so if you're interested in doing so, please drop me a line at events@barbershop.org.au

I look forward to working with you all!

Richard Wadick
VP - Events
---
Music
| | |
| --- | --- |
| Type of post: | News |
| Sub-type: | No sub-type |
| Posted By: | Dick Bushell |
| Status: | Current |
| Date Posted: | Sat, 3 Mar 2018 |
I hope everyone is ready for a great, harmony filled year. As VP Music my biggest focus is to develop better and more accessible education to help all of our members, choruses and quartets, realise their potential.

Some of the things we are focusing on is to bring you a new look Harmony College with some brand new streams that we are very excited about and are sure you will be too. We will also be bringing out a top level educator this year to tour and coach in Australia for a couple of weeks. Lastly, our Education Faculty Chorus Visit Program is now in its second year of bringing education right to your own choruses backyard. I hope more choruses will take the opportunity to request a visit from our Education Faculty this year as we have some of the best educators Australia has to offer, and BHA is sending them to you for free.

Keep a lookout for information and updates on all upcoming events on the BHA website and facebook page.

Andrew Howson
VP Music


---
Membership
| | |
| --- | --- |
| Type of post: | News |
| Sub-type: | No sub-type |
| Posted By: | Dick Bushell |
| Status: | Current |
| Date Posted: | Sat, 3 Mar 2018 |
We have some new initiatives planned for 2018 to support the engagement of the wider Barbershop membership with the future of our wonderful organisation.

More information will flow over the coming months but here is a snap shot of the key initiatives:

Enhancing the profile of the Club Member of the Year, Club of the Year and the BHA Medal that was launched last year and awarded to Mr Mike Donnelly. Our members and clubs are the foundation of our association and so many do amazing things in support of their community, clubs and the wider BHA family. The current awards are intended celebrate and acknowledge those members but variability in timing and lack of clarity in criteria makes it difficult to give these awards the national prominence they deserve. Our task is to work with clubs to improve this recognition framework and enhance the acknowledgement of those exceptional contributors.

Understanding our members and gaining feedback on our future direction is critical to enhancing our position within Australian harmony. A major survey has been designed to explore the views of members, clubs and regions and inform the strategies for Barbershop within Australia. We anticipate this being the first of an increased emphasis on understanding wider views of our members.

The piloting of the "Membership Advisory Council" to engage more deeply in matters that affect regions, clubs and clubs, to explore in greater depth critical issues from a local perspective, to share knowledge across Australia, and to input into the National Council deliberations and decision-making process.

More details will be provided in the coming months and we look forward to working with you in the advancement of Barbershop within Australia.

Regards,

Paul Adams
VP Membership
---
Youth Development
| | |
| --- | --- |
| Type of post: | News |
| Sub-type: | No sub-type |
| Posted By: | Dick Bushell |
| Status: | Current |
| Date Posted: | Sat, 3 Mar 2018 |
I Need You(th)!

Hello Members.

It's an exciting time to be a BHA member, with so many opportunities to get involved and help spread our wonderful artform to young people all across our nation.

Last year we reached out to educators in the form of our presence at musical education body events and the successful teachers scholarship. This provided educators with the opportunity to attend our Harmony College and to learn from the worlds best! We have decided to continue these avenues of outreach, double down, and offer even more avenues for teachers and their students to get involved with barbershop and BHA.

At this years National Convention in Adelaide, we will be running a schools contest, something that BHA has not done since 2015. With upcoming changes to standing order 6 and 6a, more students and young people will be able to cross the contest stage in quartets and choruses, and get involved with our clubs and regions.

Now, more than ever, I need your help. I need people with the time and motivation to help me reach out to educators and let them know about all the opportunities that BHA can provide. If you can spare some time to help reach out to more young people, and help bring more life into our association, please send me an email at youth@barbershop.org.au

Through your combined efforts we can all help our organisations achieve our vision of enriching Australia through Harmony.

Yours in Harmony

Kieran O'Dea
VP Youth Development
---
Conditions for entry to the 2018 Regional Contests
| | |
| --- | --- |
| Type of post: | News |
| Sub-type: | No sub-type |
| Posted By: | Dick Bushell |
| Status: | Current |
| Date Posted: | Sat, 3 Mar 2018 |
This year we will be using the online entry portal found at Contests.barbershop.org.au. It will be available from 1st March. Closing dates and details for each of the regionals are as shown below.

(Note : The following information is as currently provided to the Contest Administrator : Further information should be available directly from your Region Administration)
Each Contest is open to all financial BHA male and mixed members and invitational for women's choruses and quartets.

V

ideo entries will only be accepted at the Tasmanian Region Contest.

All contest entries are to be submitted online through

contests.barbershop.org.au

Western Region Saturday 21st April start at 9am with an evening showcase concert. Contest Venue - St Mark's Anglican Community School. Evaluations will be held on Sunday 22nd April at St Dominic's School.

$60 entry fee for competing quartets, $20 for non-competing (eval only).

Cost for competitors: $2.00, Cost for public: $5.00. Tickets available at the door or contact the organiser. As per BHA website.

Central Region 21 April 2018.

10 AM at The Corner Uniting Church for Saturday all day, for Sunday afternoon starting at 1PM.

An Afterglow on Saturday night will be held at a nearby pub.

Master class "under glass" education will be held on Sunday afternoon from 1pm till 4pm.

$120 for choruses and $80 for quartets with $40 refund after attendance at evaluation sessions

Victorian Region Saturday 28th April 9am. Contest Venue - Templestowe Baptist Church. $25 entry fee for competing quartets, $2.50 entry fee per attending chorus member.

Sunshine Region. Saturday 28th April, commencing at 9am.

SunPAC Performing Arts Centre,

470 McCullough Street, SUNNYBANK QLD 4109

Each performer will need to purchase from the venue website :

Web page & Contact;

http://www.sunpac.net.au/

Phone: 07 3323 9629 (business hours)

The BHA event will be found listed under the 28 - 4 2018 date

Contest registration; $40 per performer (includes one concert ticket)Concert Booking; $25 adult ($20 children and age concession)

Contest and evaluations Saturday followed by evening concert. Sunday will be remaining evaluations and needed and education.

E

astern Region Saturday May 5th will start at 0930.

Most evals Sat but may have a few local quartets Sunday morning.

Priority to BHA groups, Invitation ensembles are welcome but may have to limit numbers to fit into program and have to give Entry fees off the top of my head $100 for choruses and $80 for quartets - but on website. Invitation groups should register - first in first served - but not pay until after acceptance (which will be a day or so after closing date for registrations)

Tasmanian Region date and time to be advised

Linda Vinall
Contest Administrator (CS)
calindav@internode.on.net
0412 195 110
---
Nominations for the 2018 BHA Medal
| | |
| --- | --- |
| Type of post: | News |
| Sub-type: | No sub-type |
| Posted By: | Dick Bushell |
| Status: | Current |
| Date Posted: | Tue, 20 Feb 2018 |
To all members. Last year at our National Convention, I had the distinct pleasure in designing, producing, then presenting the very first "BHA Medal" to Mike Donnelly.
For all of us who were at the Sydney Convention, we know what the "BHA Medal" represents. But as a short explanation for the "newbies" to our organisation, the "BHA Medal" is awarded to a member who has generally worked tirelessly for his chorus, his quartet, or done anything in your opinion deserves to be nominated for the "BHA Medal"

Without these types of energetic and hard working individuals in our midst, I know it is impossible to have reached the standard we have in this country. To ensure that "These people" continue to get recognised and rewarded for their services, we have to have your nomination/selections information sent through the appropriate form. Please remember it is SOOOOO important to write down the reasons/s for your suggestion. Your explanation/s are VITAL to your nominee being selected, as the committee that discusses the merits of ALL nominees, must have that information. Remember there is only one "BHA Medal" given to a deserving member per year, so gentlemen, let's make it count. Please do not hold back on your superlatives about your choice when the form is sent out prior to our next National Convention in Adelaide. I would hope, about 4 weeks prior.

This letter is just a reminder about how important your vote/nomination will be when the time comes around about August this year. As an aside, thank you to all of you who have contacted me about this medal and the reasons for it. It's encouraging to know that so many are on board with the concept.
Sing-cerely Derek.
---
2018 East Coast Harmony College
| | |
| --- | --- |
| Type of post: | News |
| Sub-type: | No sub-type |
| Posted By: | Dick Bushell |
| Status: | Current |
| Date Posted: | Sat, 3 Mar 2018 |

As a first-time attendee I was impressed with the whole weekend and how well, and how smoothly everything went. At the peaceful and delightful Myuna Bay Sport and Recreation Camp, accommodation is in bunkhouses containing multiple rooms, each having three double bunks and its own toilet and shower room. The location was perfect for our use, as barber-shoppers in that there were plenty of communal rooms, a large hall, verandahs and other areas where small and large groups could congregate.

What a great weekend it was for all who attended: meeting new friends, catching up with old friends, learning new techniques, rehearsing, performing and generally having fun and singing with like-minded people. I understand that a lot of how well the event ran was, in no small part, due to the hard work, and dedication of local resident and Soundwaves member, Stuart Adey. Stuart's wife Beth prepared some delicious dishes for the group. Chorus members were each allotted a name badge, which had a colour on it. This colour denoted kitchen-related tasks that were to be carried out by that colour group, such as cooking and serving dinner and later collecting, washing up, drying and stacking dirty dishes, plates, cutlery etc. All members seemed to work in 'Harmony', cheerfully carrying out their jobs.

As advertised, we were lucky to have the benefit of such great singing coaches as Rob Sequeira, Jonathan Albertini, Kieran O'Dea and David Reid. All these men are great barbershop singers and have a wealth of musical/barbershop singing knowledge. The tutors happily imparted some of this knowledge to others at specific talks, which attendees chose to go to, at various times. Any barbershop member who wanted to have a one-on-one PVI with one of these educators, was given this opportunity. The tutors were very generous with their time and advice. Also quartets from multiple choruses were given lengthy advice on how to improve their performances, by the tutors.


The faculty quartet performing during the Saturday night concert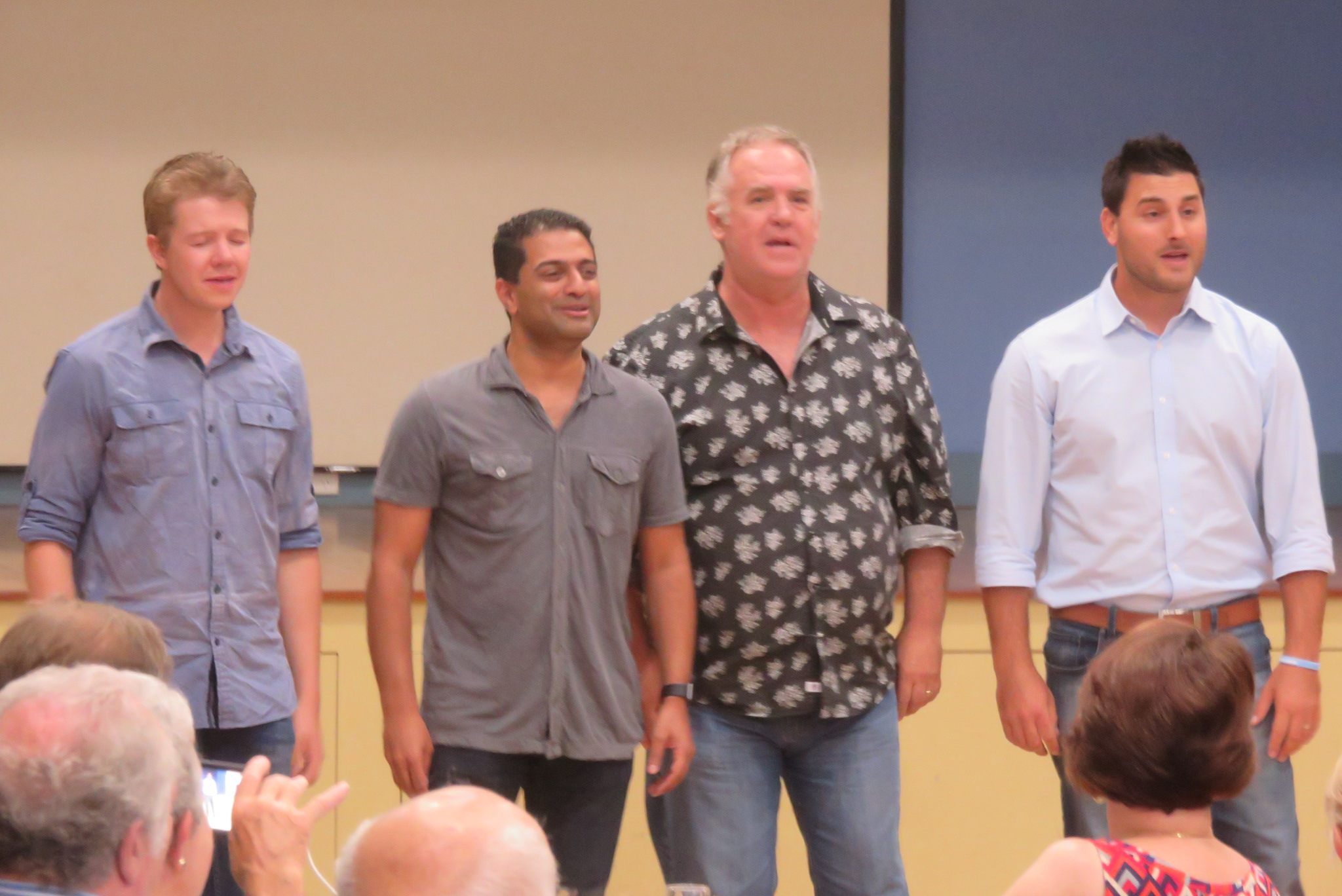 There was one additional educator who was not on the original list. His name is Russell Bailey, formerly of Tasmania, but now living and studying at Wollongong. Russell, a singing coach and former chorus director, was asked if he would like to come along and participate in the weekend's learning activities. People that I spoke to were very impressed with his insight into barbershop singing generally and particularly enjoyed his session on 'making chords ring'.


Considerable time, on Friday and Saturday, was spent by all the educators with the whole group of chorus attendees, in learning and rehearsing the song: 'If I Only had A Brain'. This song, from the 'Wizard of Oz', was sung as the finale, by the combined chorus group at the East Coast concert on Saturday Night, at the Wangi Wangi Worker's Club.

Mark Henley
Novatones Bari & Unofficial Photographer
---
Sunshine Region News
| | |
| --- | --- |
| Type of post: | "In Harmony" Newsletter |
| Sub-type: | No sub-type |
| Posted By: | Dick Bushell |
| Status: | Current |
| Date Posted: | Tue, 20 Feb 2018 |
The Sunshine Region welcomes all newcomers aboard in the Misty Mountain Moonshiners This chorus is starting to grow and we hope to see them in the Regional / National conventions in the future.
The Sunshine Region looks forward to further participation with the chorus from the "Deep North".
---
Adelaide Allsorts
| | |
| --- | --- |
| Type of post: | "In Harmony" Newsletter |
| Sub-type: | No sub-type |
| Posted By: | Dick Bushell |
| Status: | Current |
| Date Posted: | Tue, 20 Feb 2018 |
The Adelaide Allsorts Harmony Chorus will be representing Australia in the inaugural Barbershop World Mixed Chorus Competition in Munich, Germany from 6th to 8th April 2018.
"We are thrilled to have the honour of representing our country at this competition and we are working very hard to do our great country proud", says Chorus Director, Sarah Bradley. "Competition from seven other mixed choruses from Germany, the UK, Canada and Ireland is sure to be fierce but in good spirit. We are furiously fundraising and are aiming to raise $30,000 to assist us to compete. Fundraising has included a successful Murder Mystery night with some 60 people in attendance and an Irish Night with a similar number." Sarah said.
"We were also busy prior to Christmas with eight community carols or singouts events, including two spots in Adelaide's central Victoria Square under its famous Christmas tree."

The Adelaide Allsorts was nominated for the competition by BHA and has been accepted by the organisers, Barbershop in Germany (BinG!).
For further details contact
David Perry
President

president@adelaideallsorts.org
Mob: 0421 469 272
---
High Altitude Harmony - High Altitude Harmony
| | |
| --- | --- |
| Type of post: | Club news |
| Sub-type: | No sub-type |
| Posted By: | Dick Bushell |
| Status: | Current |
| Date Posted: | Sat, 3 Mar 2018 |
What a momentus week we have had. On Tuesday 13th February we turned ten. Last rehearsal evening we had a beaut birthday cake and a visit from the local ABC radio station to put down some tracks for an Open Night we are planning in March.

The breakfast presenter, David Iliffe is such a good friend to us that some time ago we appointed him as an Honorary member and he was presented with his official HAH badge with all the pomp and ceremony that such an event deserves.

The night was also a celebration because we have elevated our Assistant MD, Cameron Ryle to a new position, that of Co-MD with Mike Ludwig. Cameron is one of our popular younger singers and it is a thrill to have him waving his hands out at the front of the chorus (not that we take a lot of notice of him doing so).

Some history. HAH was formed by Mike Ludwig, originally from amongst the teaching fraternity in Toowoomba and surrounds because of Mike's involvement in education. Obviously we have evolved since those early days but, a strong teacher presence is still part of our chorus.
The blokes in the picture are Peter Daly, Cameron Broom, Paddy Boxall, Mike Ludwig, Mark Phythian (cake cutting) Peter Devey (Club President) and Shane Graham (Sunshine Region Chairman)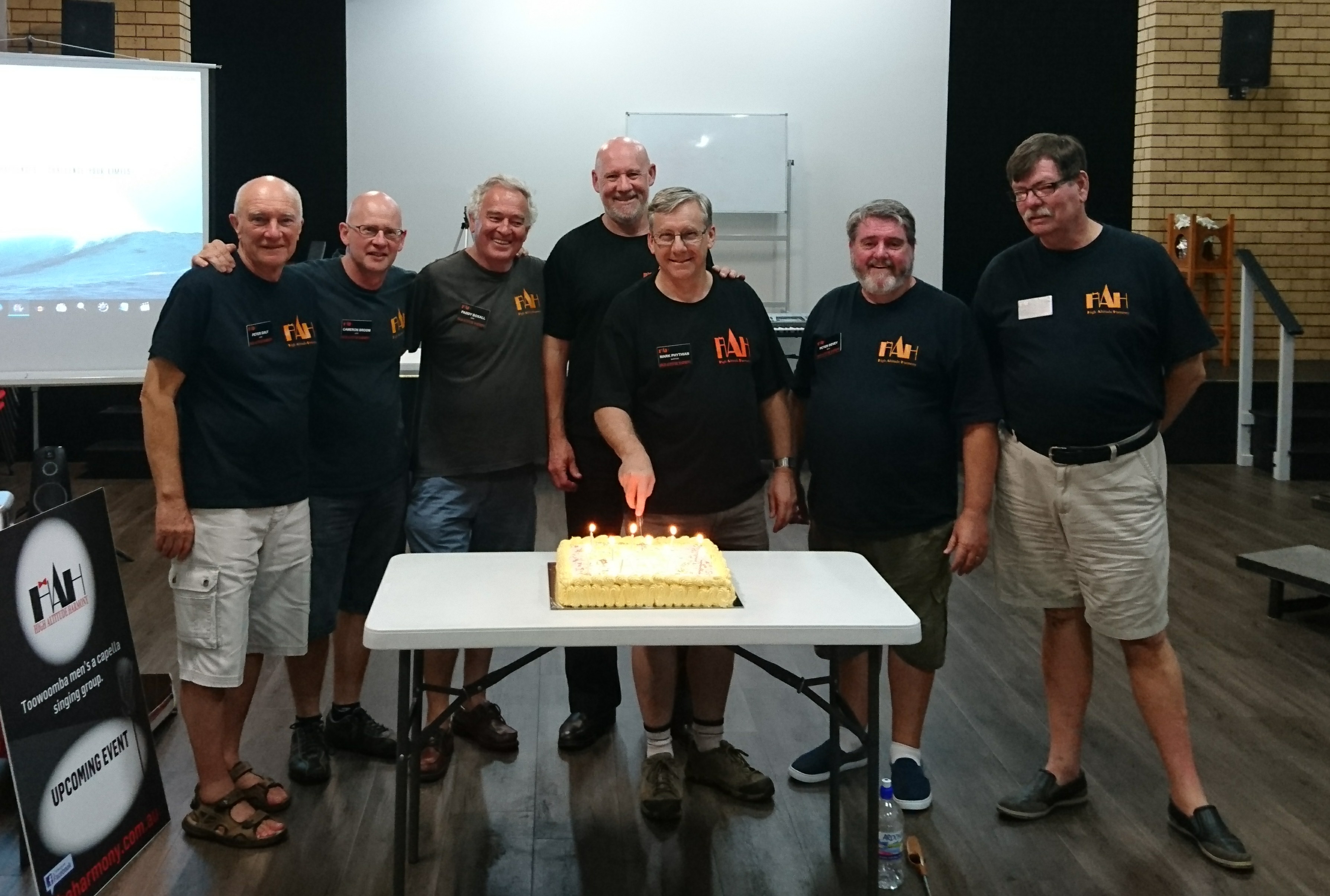 It was lovely to have the only two original members of the chorus, Mike and Peter Devey, our Club President as official cake cutters. They were joined by five other blokes who joined HAH in our first twelve months. Our Support Team has been very special to us and last evening we were lucky enough to have quite a few of them attend to assist in the jollifications.

The year has got off to a quiet start performance wise but, we will kick it off with a singout at a Cancer Council fundraiser on Sunday and the Toowoomba Regional Council's Summer Tunes program the weekend after. From then on it's all hands to the music as we gear up for Regionals in April.

Our resident computer guru and Music VP, Grant van Heerden has put together a clip of our last ten years and it is up on Youtube. Check it out. Or visit us on Facebook. We are constantly putting up interesting music clips and other trendy stuff for your enjoyment. Our web-site is haharmony.com.au

Paddy Boxall
Secretary
---
Melbournaires - Melbournaires Harmony Chorus
| | |
| --- | --- |
| Type of post: | Club news |
| Sub-type: | No sub-type |
| Posted By: | Dick Bushell |
| Status: | Current |
| Date Posted: | Sat, 3 Mar 2018 |
BIG CHANGES AFOOT FOR THE MELBOURNAIRES.
2018 sees a change of rehearsal venue for the Melbournaires Chorus, after 20 years leaving the Uniting Church in Doncaster East and re-settling in the St Peter & St Paul School also in Doncaster East. The Uniting Church is going to God, so to speak, to make way for a new development.

Obviously we have not moved far, so for our regular visitors the trip is the same. For other visitors and choruses, all of whom are most welcome, our new address is:-

23 Leeds Street, Doncaster East.
The entrance is off Beverley Street and the chorus meets on Monday nights still, commencing at 7.30pm.

All enquiries should be made to Andrew Wright on 0418 603 673.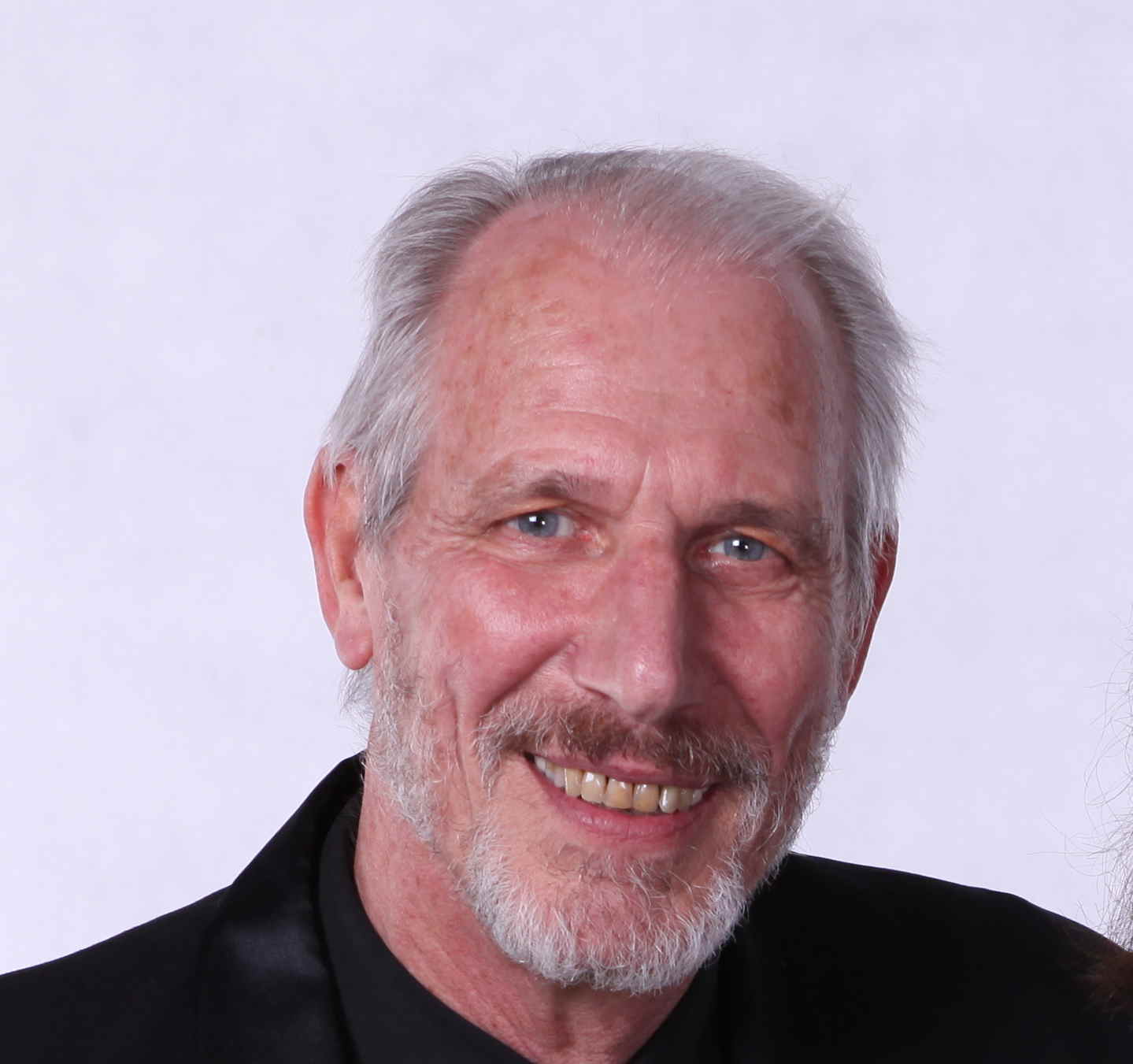 As is customary at the end of each year, all committee positions are declared vacant and nominations called for. The new President, after 23 years a Melbournaire, is the enigmatic and enthusiastic John Webb, who will be remembered for his energetic directing of Between The Bays Chorus at the Melbourne convention. John is also the Assistant Director of the Melbournaires, and following the magnificent work done by his predecessor John Howell, brings a wealth of experience to the position. He has already stimulated some exciting new plans and priorities for performance improvement, recruitment, and events and marketing, using online and social media. He would be pleased to hear from other choruses about any recent successful approaches they have instituted, that we may incorporate in our plans. (gjweb1@bigpond.com)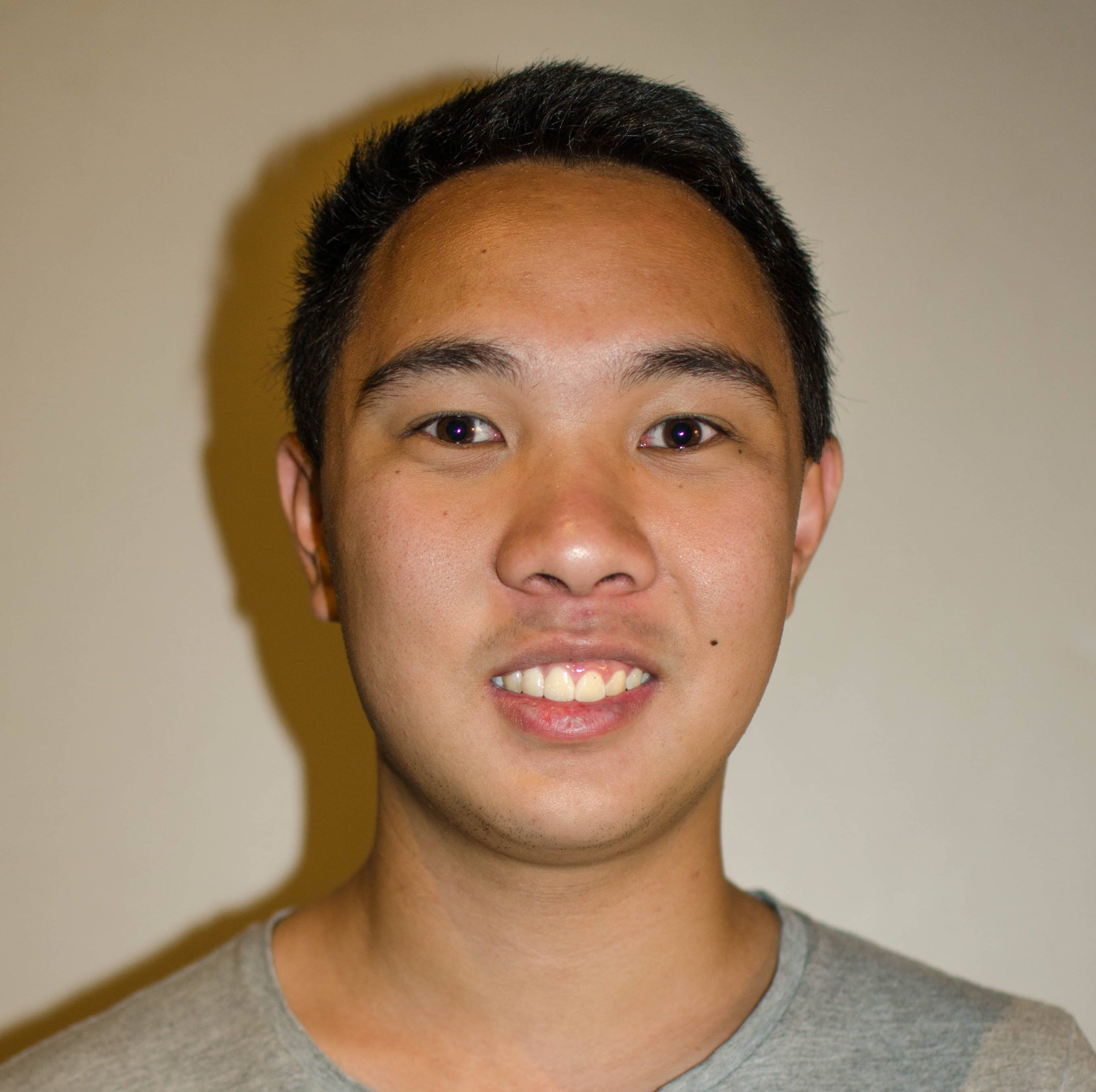 Some other exciting changes are the appointment of one of our younger members, Albert Chow as co-ordinator of our Youth Development Programme. He similarly would be keen to hear of initiatives from other choruses. (abhchow@gmail.com).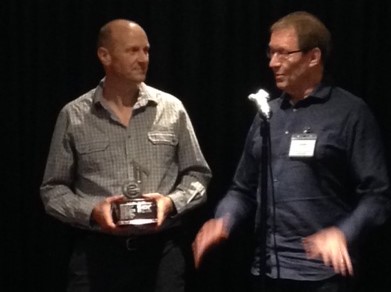 Between The Bays Chorus has recruited Robert Simpson as its new MD, moved its rehearsal venue to Hampton Park and is looking to recruit singers from the new catchment area. (arobertsimpson@gmail.com)

Finally, it is with absolute pleasure to announce the Barbershopper of the Year is Ralph Dodson. Ralph is normally a quiet, unassuming Melbournaire, club secretary and all round dogs body. If anything needs doing, Ralph is the man to step up. Every club should have a Ralph, it makes it easier for others.

Terry Phillips.
---
Vocal Evolution - Vocal Evolution
| | |
| --- | --- |
| Type of post: | Club news |
| Sub-type: | No sub-type |
| Posted By: | Dick Bushell |
| Status: | Current |
| Date Posted: | Sat, 3 Mar 2018 |
Vocal Evolution started our 2018 Barbershop year with the annual Kickstart weekend, where 30 members of the chorus stayed at the Swan Valley Adventure Centre. The weekend included rehearsals, team building and the introduction of our contest songs! We also discussed as a group VE's goals for the year, chorus culture and our "why" for singing. It was amazing to hear the very personal reasons of our members for singing and involving themselves in the chorus. What are YOUR reasons for singing?

The New Year also brings change at the helm with Bec Hewitt taking on the role as Musical Director for the chorus. Bec brings her vast experience from within BHA, Sweet Adelines and her international work to our chorus. It was a seamless transition into the Music team working with our AMDs Ash Schofield and Nick Schurmann. Productive discussions have also been held with the Leadership team with many great ideas discussed and plans set for the coming years ahead. VE would like to acknowledge the contribution of Alex Morris to the chorus as MD over the past years. The impact he has had as a member and MD cannot be measured, and we wish him the best in all his future endeavours.

We look forward to sharing Vocal Evolution's music with our community and (hopefully) on the world stage!
---
Vox Canvas
| | |
| --- | --- |
| Type of post: | Club news |
| Sub-type: | No sub-type |
| Posted By: | Dick Bushell |
| Status: | Current |
| Date Posted: | Sat, 3 Mar 2018 |
Valentine's Day 2018

Vox Canvas decided to embark on delivering Singing Telegrams for Valentine's Day 2018. This was based on the experience that Rob Sequeira (Music Director) had while he was singing with Voices in Harmony in California. The idea was to have quartets dressed in suits deliver Singing Telegrams to sweethearts all over Sydney on behalf of their loved ones. The deliveries would take place in homes and workplaces on and around February 14, 2018. Each quartet would present the sweetheart with roses, macarons, a hand-made card and two love songs.

We started planning in December 2017 by setting our objectives, budget, examining the logistics of quartet deliveries including travel times, acquisition of roses, production of cards, setting the repertoire, still and video photography and telegram-delivery price points.

Quartets were formed in January 2018 and learned two songs: My Girl and Heart of My Heart. These quartets had to qualify in front of the music team in order to be certified to deliver the telegram.

We delivered a surprise singing telegram to one of the chorus members girlfriends in January and used video from the event to showcase the product. We did market analysis to determine the packages we were going to offer and set price points for each package. We started a marketing campaign in mid-January that included Web, Facebook, fliers, word-of-mouth and internal referrals to drive sales.

We delivered over 18 singing telegrams over the Valentine's Day period and brought a tremendous amount of joy to sweethearts around the Sydney metro area. We sang at corporate offices, glass-blowing factories, schools, tennis clubs, shopping centers, medical centers, homes, restaurants and virtually, on the interwebs.

One of the goals of the venture was to raise funds to take the chorus to Adelaide for BHA Nationals 2018. We managed to double our fundraising target and we're planning to keep the service open for birthdays, work-functions, mothers-day and other events during the year.

We'd specifically like to thank the Eastern Region for their ongoing incredible support. We'd also like to thank our volunteers who helped with driving us around, designing cards, designing web properties and media. Finally a big thank you to all the Voxmen who delivered the telegrams.

We are humbled by the generosity and kindness of our community and were thrilled to be able to give back through a cappella and barbershop singing.

Rob Sequeira
Music Director – Vox Canvas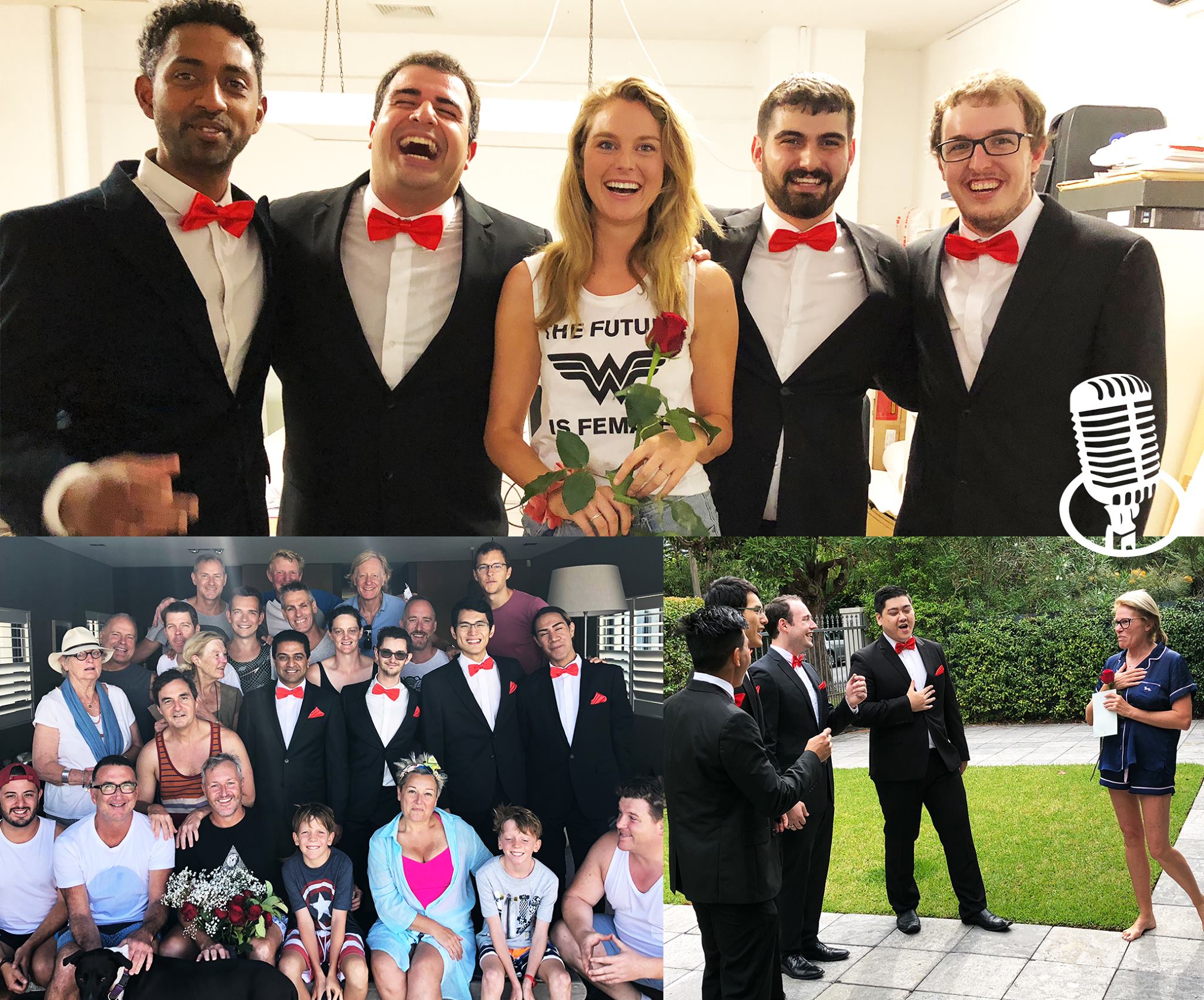 ---
Hills Harmony
| | |
| --- | --- |
| Type of post: | Club news |
| Sub-type: | No sub-type |
| Posted By: | Dick Bushell |
| Status: | Current |
| Date Posted: | Sat, 3 Mar 2018 |
December was a very busy singing month for Hills Harmony. We performed hour long concerts at the Christmas parties in several age care facilities and many of the audience members seemed to really enjoy singing along with the Christmas tunes. Lots of smiles and good cheer all round.

We spent the two Saturday mornings before Christmas as strolling songsters creating a Christmas atmosphere right across one of our local shopping centres. Five, twenty minute sets in different stage areas, was physically challenging but again very worthwhile, with audiences getting involved and obviously enjoying our Christmas themed music. Or they may have just been amused by the sight of a mob of guys in Santa hats. But, as a result we have already been booked for a gig next Christmas.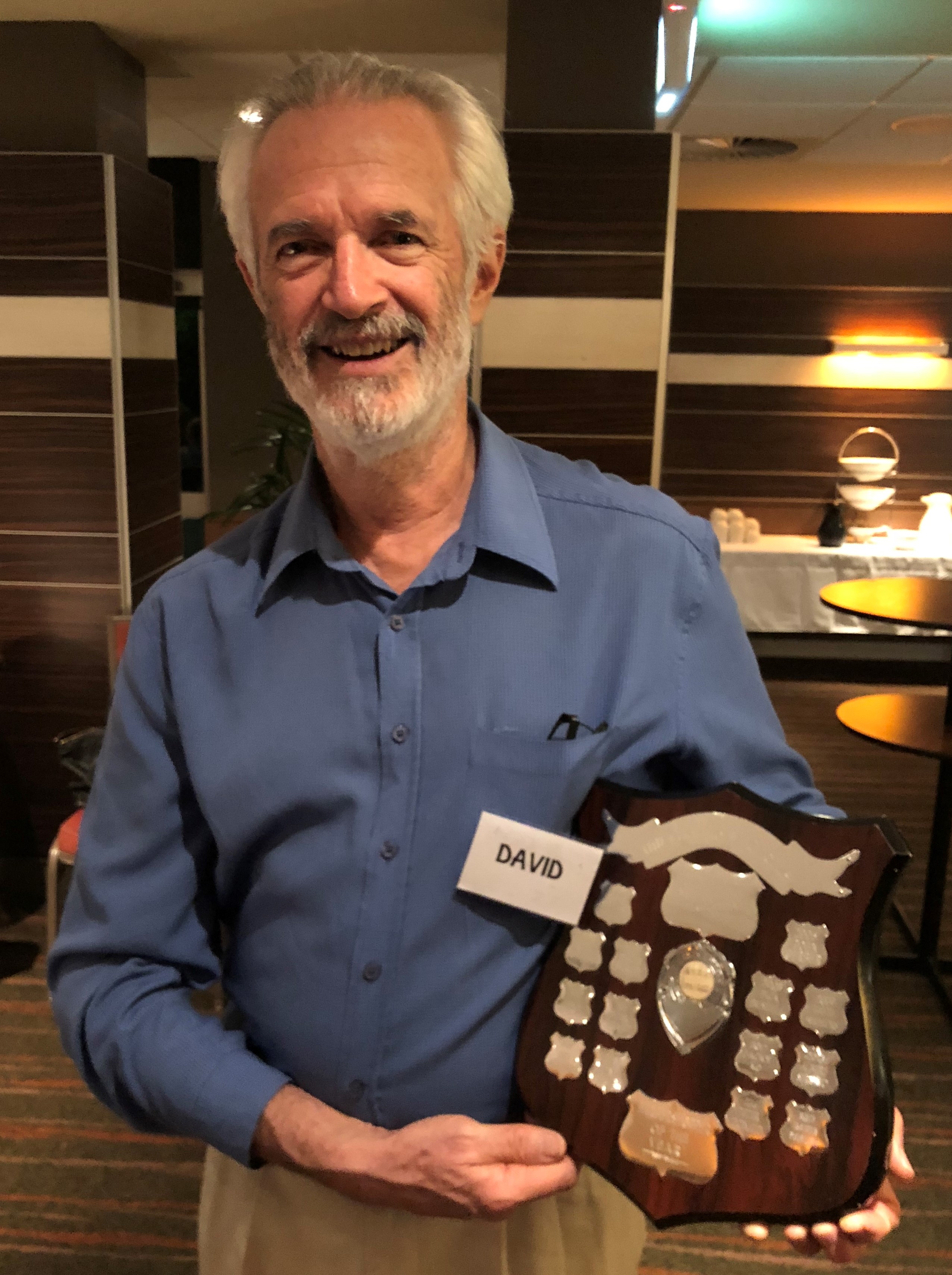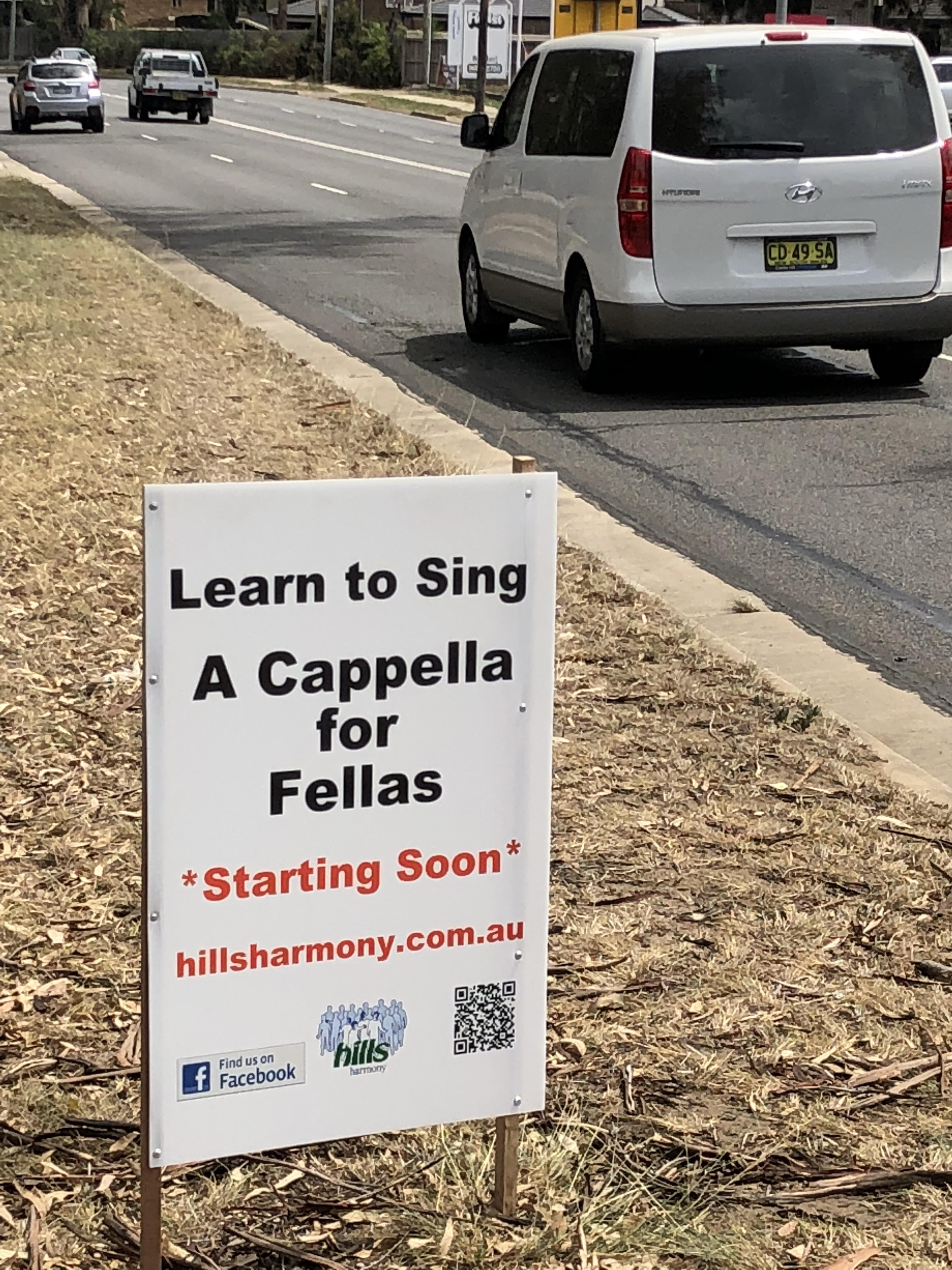 All our members and their partners turned out for our Christmas Social Evening. We had a great meal, excellent fellowship and the entertainment, fantastic. We sang some new songs and some old ones for the pleasure of our guests and thanked them for their support throughout the year. Congratulations to David Farley as the Hills Harmony Barbershopper of the Year. David lends a hand with organising everything, including the National Convention. Peter Garnett was awarded the Club attendance trophy for the year. Peter never missed a rehearsal, performance, executive meeting or training opportunity. We can all do with club members like these guys.

We are all busy with our learn to sing outreach program. "A Capella for Fellas". Like many choruses across the state ours is happening early March and running for five weeks. So if you have any mates who live in Sydney's North West and would like to sing a capella with fellas hook them up with www.hills harmony.com.au.

Paul Meller
VP Marketing
---
Three Squirrels and a Nut
| | |
| --- | --- |
| Type of post: | Quartet news |
| Sub-type: | No sub-type |
| Posted By: | Dick Bushell |
| Status: | Current |
| Date Posted: | Tue, 20 Feb 2018 |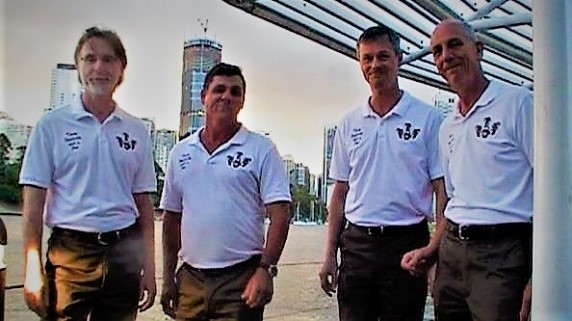 We have had a very busy and interesting start to the year. For our first gig we had a wonderful experience singing as a pop-up quartet for a couple's marriage proposal. Our stage was the beautiful and romantic location of Kangaroo Point by the Brisbane River. There was a fair amount of subterfuge not only with us but also with the videographer and photographer to enable the proposal to be a surprise, which it was. The good news, she said yes!
To gain performance experience under differing conditions we've auditioned to go busking in the city's Queen Street Mall and with a few additional gigs already down in our calendar we're looking forward to a year of song, fun and camaraderie.
---
Music Director Wanted
| | |
| --- | --- |
| Type of post: | News |
| Sub-type: | No sub-type |
| Posted By: | Dick Bushell |
| Status: | Archived |
| Date Posted: | Thu, 18 Jan 2018 |

Are you an enthusiastic and talented Music Director? Or maybe you're a singer/musician who aspires to further develop existing music skills and accept the challenge of becoming an MD?

WA based Men in Harmony Barbershop Chorus, was formed in 1985 and has a memorable history. Individuals from this chorus were notable in the formation and development of barbershop singing both locally and nationally. Our current MD has contributed significantly to enhancing the music product of this chorus for over 3 years and is now moving on. The successful applicant will be offered appropriate induction as they transition into their role to lead us on our continual journey of improvement. Our demographic currently comprises senior male singers. We are a cheerful and fun loving bunch of barbershoppers who enjoy singing and performing to the best of our ability. We succeed in regularly delivering performances which positively connect with audiences. During 2017 this chorus completed 36 performances and also participated at the Sydney Pan Pac Barbershop Convention. We have a solid customer base and many return engagements. We maintain a viable website: www.meninharmony.com.au Facebook presence at: https://www.facebook.com/Meninharmonyperthwa

The successful applicant will be well supported by a competent management committee and music team. We are fortunate to be reasonably well resourced and rehearsals are held in a comfortable air conditioned venue at Wembley Downs a leafy suburb adjacent to the beaches north of Perth.

If you are an established Music Director or an accomplished musician aspiring to develop as an MD please make contact. Call Ross on 0451305669 and /or email president@meninharmony.com.au All enquiries will be treated in confidence.
---
Welcome to our New Members
| | |
| --- | --- |
| Type of post: | "In Harmony" Newsletter |
| Sub-type: | No sub-type |
| Posted By: | Dick Bushell |
| Status: | Current |
| Date Posted: | Sat, 3 Mar 2018 |
Welcome to our newest member.
| | | |
| --- | --- | --- |
| Anthony | Little | Festival States-men Inc |
| Ryan | Smith | Festival States-men Inc |
| Philip | Satchell | Newcastle Harmony Club |
---
Letter to the Editor - The Barbershop Chorus - A Poem
| | |
| --- | --- |
| Type of post: | "In Harmony" Newsletter |
| Sub-type: | No sub-type |
| Posted By: | Dick Bushell |
| Status: | Current |
| Date Posted: | Tue, 20 Feb 2018 |

The Barbershop Chorus
The joy of singing barbershop can never be denied
Except by those who have to listen - often from the side
Of course, our wives and partners will support us to the end
But maybe that's because they simply want to be our friend...!
Let's face it, folks, the songs we sing aren't loved by everyone
But when we get together for rehearsals we have fun
The cricket and the footy and the golf will be discussed
And finally, we'll start to sing but only if we must...!
The MD always stands out front and quietly leads the team
And forces us through exercises just to help us breath
We'll sing some tags and other tunes designed to make us blend
But the chords we make are often rather tuneless in the end.
Of course, we all improve our parts by practising each night
So that basses, leads and baritones can get the notes quite right
The tenors, never have a problem – perfection is their aim
And squealing in falsetto is such a simple a game.
It may surprise you all out there that tenor's what I sing
And with my colleagues we're the ones who make the chords all ring
The basses, leads and baritones they really try so hard
But it's obvious to everyone they've drawn the lowest card.
When practising at home I put in many, many hours
But my wife hides in the lounge room where she blocks her ears and cowers
Last week she said the song I'd sung – I'd really got off-pat
I didn't like to tell her that I'd just stood on the cat.
A special word about the basses must be introduced
If nothing else their sense of worth and value needs a boost
Without the bass-line, all our songs would lack the music tonic
And the basses will provide this - even though they're all moronic.

Of course, I jest, and please forgive my rudeness and bad humour
The poor standard of the basses is just a silly rumour
Without the basses other parts would simply be bare-bones
Which brings me to the obvious – let's tease baritones…!
It's no fun as a Baritone when singing in the choir,
The leads get all the tuneful bits that people most admire,
The basses boom like big trombones, the tenors squeal with glee,
But Baris only get two notes, or if they're lucky, three.
When Baris sing a sacred song, which lifts their hearts in praise
The others get the juicy bits and each harmonious phrase.
Of course, the leads will sing the tune - they always come off best
While Baris only get three notes then twenty-two bars rest.

It doesn't matter what they sing, from ballads or up-tune,
The MD always picks on them – "You've come in far too soon...!
Too high! Too low! Too fast! Too slow! You held that note too long!"
It doesn't matter what they do, it's certain to be wrong.

Oh! Shed a tear for Baritones: they're martyrs and they know
In ranks of chorus singers they're considered rather low.
They are so very humble that a lot of folk forget 'em:
They'd love to sing with tenors but their vocal chords won't let 'em.

So, when the final chord is due the Baris take a stand,
With Leads and Tenors, Basses too, will form the heavenly band.
And when they sing the final Tag to some enchanting song,
The Baris in the choruses will never get it wrong….!
I haven't finished yet because the leads still need a mention
They bring brightness to our music even though they're on the pension
The melody flows from them all - in sounds so rich and clear
But sometimes you'd think most of them had been out on the beer.
The leads are needed desperately to keep the song in pitch
But as they slide we'll find ourselves all singing in a ditch
However, if the song is long the leads don't need to moan
The final tag will surely be within their comfort zone...!
Once again, excuse me, please, for being so darned rude
I only joke and jest like this 'cos I'm a naughty dude
I'm really sure that humour is the thing that makes us tick
And singing with a chorus give us all a mighty kick.
Our Choruses exists because of many loyal friends
And the members who give so much time for organised events
Our wives and partners, friends & mates who give us their support
And help us with so many things without a second thought.
So, in conclusion let us thank the people in the wings
Who give their time anonymously for every guy who sings
The supper crew, the riser guys and folk from low to top
Without them I can surely state – there'd be no Barbershop.
© A L Wright 2017-2018
---
Call for entries to a new Talent Show
| | |
| --- | --- |
| Type of post: | "In Harmony" Newsletter |
| Sub-type: | No sub-type |
| Posted By: | Dick Bushell |
| Status: | Current |
| Date Posted: | Sat, 3 Mar 2018 |
I am a producer on a new talent show, All together Now and we are reaching out to extraordinary vocal artists to see if they would be interested in applying. The show has recently aired on the BBC, here is a link if you would like to have a look here is the youtube link.
https://www.youtube.com/watch?v=mdIu0JIItsI
We would be thrilled if your group or members would consider applying. If you are interested I have attached a flyer with all the relevant information.
If you have any questions feel free to contact me.
Thanks for your time.
Amelia
This electronic mail, including any attachments, is intended for the addressee only and may contain information that is either confidential or subject to legal professional privilege. Unauthorised reproduction, use or disclosure of the contents of this mail is prohibited. If you have received this mail in error, please delete it from your system immediately and notify Endemol Shine Australia by contacting us at

www.endemolshine.com.au

.




---