Issue #162
October/November 2017


Table of Contents
PANPAC ROUNDUP
Volunteers make the difference
2017 AGBJ Category School
Harmony College – What a Blast!
Message from Mike Donnelly
CLUB NEWS
Penrith Harmony - A visit to Tokyo Barbers
Miner Chords - Going for Growth
Sound Connection
Melbournaires - PanPac highlights
The Blenders - Loving Sydney
Misty Mountain Moonshiners
River City Clippers
Welcome to our newest members
LETTERS TO THE EDITOR
Thank you from Nerida White
Impressions of a Barbershop "Newbie"
BHA Riders
A tale from the PanPac Convention
PANPAC ROUNDUP
| | |
| --- | --- |
| Type of post: | News |
| Sub-type: | No sub-type |
| Posted By: | Dick Bushell |
| Status: | Current |
| Date Posted: | Tue, 17 Oct 2017 |
It is hard to believe the PanPac is done and dusted. There were certainly many great highlights but the one that sticks in my mind the most is the welcome Gala Dinner. What a wonderful night that was. The camaraderie and bonhomie in that room on the night was positively uplifting and enjoyable. I heard later that the Kiwis are thinking of re-introducing this dinner to their future conventions because they were blown away what a great event it was. There were, of course, many other highlights, not the least of which was the gold medal performance from Vocal FX and the numerous performances by Crossroads. What a great bunch of guys!
The Convention proper got underway on the Thursday in the fantastic Pyrmont Theatre within the new Sydney Convention Centre. The first and second quartet semi-final sessions were held during the day followed by that wonderful Welcome Gala dinner in the evening. With an unprecedented fifty seven quartets competing in the various competitions and categories, it was necessary to hold a third quartet semi-final session on Friday morning. Following the completion of this third session the successful quartets qualifying to compete in the finals in the evening were notified.
The traditional Massed Sing was held in the Amphitheatre of Sydney's Martin Place at midday following the third quartet semi-final. Hundreds of barbershoppers performed to the sometimes bemused and delighted lunch time crowds liberally sprinkled with "party faithful" who had come along to enjoy this rare spectacle. The appearance of Crossroads electrified the audience and almost certainly spurred on out ticket sales to the Showcase of Champions show on Saturday night.

Massed Sing in Martin Place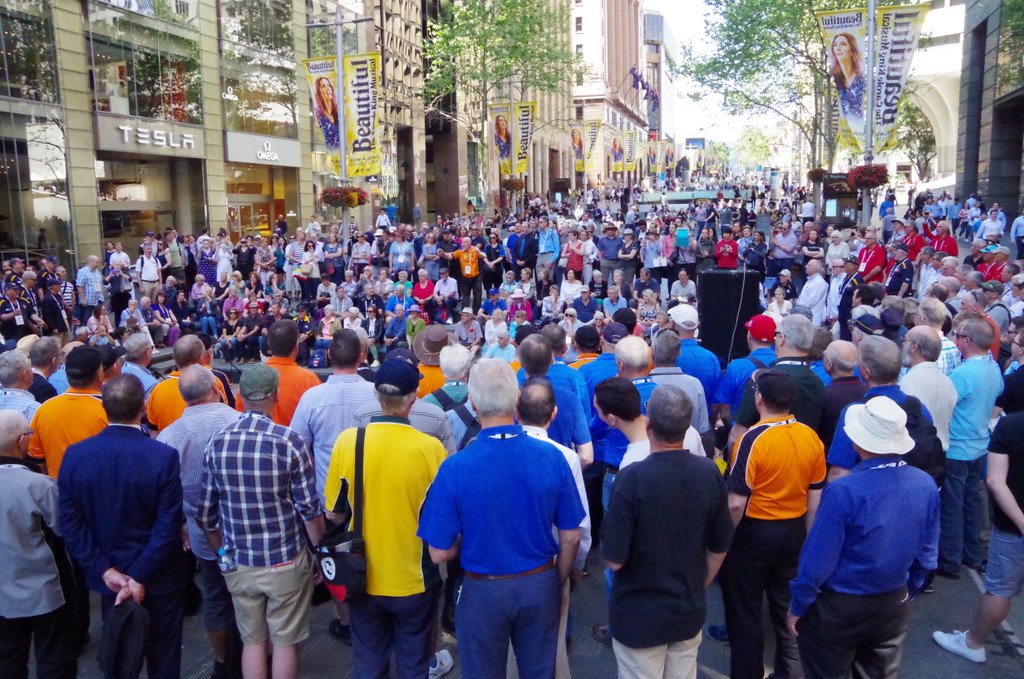 As a prelude to the chorus competition on Saturday, the Chorus Corral was held in the Pyrmont Theatre during Friday afternoon with most Choruses informally performing in front of an appreciative audience.
Seventeen quartets lined up for the finals in the evening which were made up by the top ten PanPac finalists, the top ten BHA finalists and the top seven BHNZ finalists.
The PanPacific Open Quartet Gold Medal was taken out by Gold Coast based quartet Blindside with a score of 77.9 (Blindside were the 2016 BHA Gold Medallists and, under BHA rules, are required to stand down from the 2017 BHA quartet competition)
The BHA Open Quartet Gold Medal was taken out by Perth based Quartet Lockout with a score of 76.6
The BHNZ Open Quartet Gold Medal was taken out by Wellington based quartet Revelation with a score of 76
The PanPac Seniors Quartet Gold Medal was won by Gold Coast based quartet Benchmark with a score of 69.2
The PanPac Youth Quartet Gold Medal was won by Adelaide based quartet Paragon with a score of 71.0
The PanPac Mixed Quartet Gold Medal was won by Perth based quartet Twice on Sunday with a score of 73.7
Full scoring details of all other medal winners and competing quartets can be found on the BHA website under the Contest Scores tab.
The Chorus Competition got underway at 8.30am on Saturday morning in the much larger Darling Harbour Theatre. A total of twenty five choruses performed throughout the morning and early afternoon with Chorus sizes ranging from the largest of 42 singers down to the smallest with just 10 singers.
The PanPac Open Chorus Gold Medal was taken out by the Wellington based Chorus Vocal FX with a stunning score of 88.5
The BHA Open Chorus Gold Medal was taken out by Gold Coast based Chorus Sound Connection with a score 79.2
The BHNZ Open Chorus Gold Medal was taken out by Might River Harmony from Hamilton with a score of 70.3
The BHA Youth Chorus Gold Medal was taken out by the Gold Coast based Blenders Youth Chorus with a score of 69.0
The BHA Mixed Chorus Gold Medal was taken out by Perth based Chorus The Baden Street Singers with a fantastic score of 79.7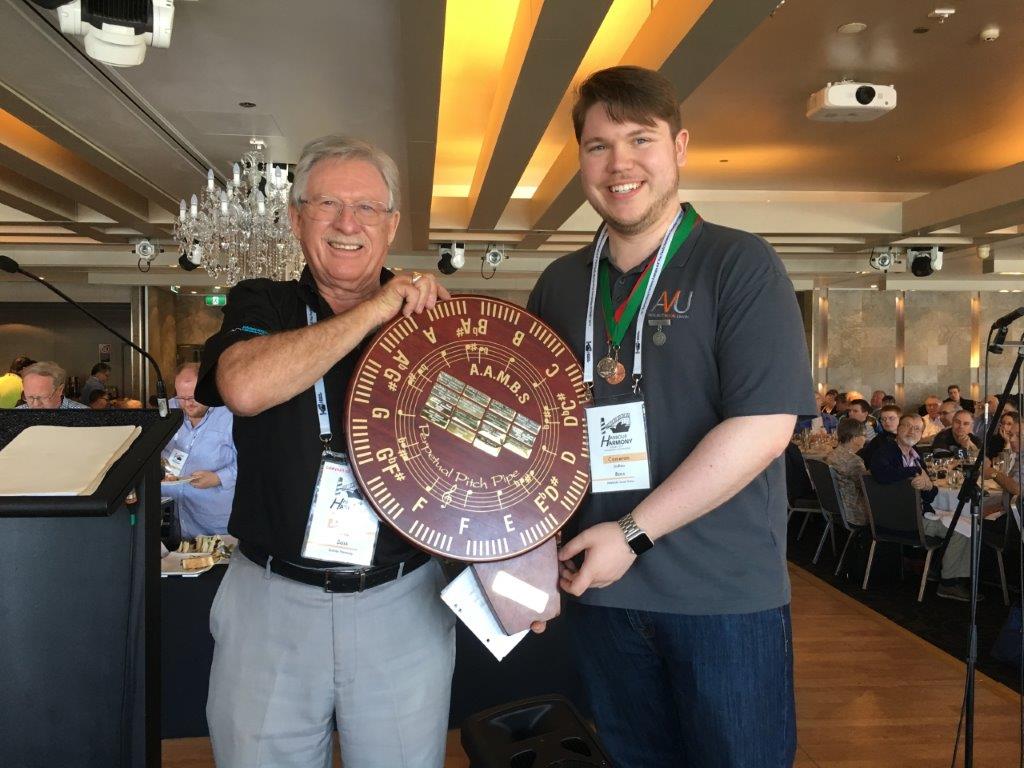 The highlight of all conventions is generally the Showcase of Champions on the Saturday night. The PanPac show well and truly lived up to this reputation with upwards of fifteen hundred people being treated to a wonderful show of the finest in barbershop singing culminating in a once in a lifetime performance from Crossroads.
With many delegates on their way home, those remaining gathered for the farewell lunch overlooking the vibrant Darling Harbour and were again treated to excellent food, great fellowship and, yet another brilliant performance by Crossroads.
For those who attended, we are sure you all enjoyed the Convention, for those of you who were unable to attend, we hope this gives you a small taste of what a great event it was and encourage to consider coming to the Adelaide Convention in 2018.
The final official act of the Convention was for the Ceremonial Pitchpipe to be handed over by 2017 Convention Chairman Warren Lewis (left) to the incoming Chairman for the 2018 Adelaide Convention, Cam DuRieu.
Dick Bushell - Editor
---
Volunteers make the difference
| | |
| --- | --- |
| Type of post: | News |
| Sub-type: | No sub-type |
| Posted By: | Dick Bushell |
| Status: | Current |
| Date Posted: | Tue, 17 Oct 2017 |
What a great Convention we've just had. Full of events and activities. The fact that everything seemed to run so smoothly was wholly due to our hard-working band of volunteers. I gave lots of accolades at the Convention to these people, but I want to put it in writing again.
A big thank you to the leader of the local team, Warren Lewis, and members of Sydney Harmony, Hills Harmony and Penrith Harmony, Jerry Harris, Alex Richards, Richard Wadick, Dick Bushell, Ros Bushell, David Farley, Tony Sykes, Guy Gibson, Phillip Powell and Mal Woods.
And a second big thank you to the BHA team, VP Events, Dan Millgate (overall management), Trevor Bruger – Treasurer (Finances & Contracts), Dan Beckitt - VP Marketing & Development (Marketing & Advertising), Kieran O'Dea - VP Youth Development (Deke Sharon workshop), Andrew Howson - VP Music (Harmony College), Alex Morris – AGBJ Chairman (Contests, Judges, & Judge's School coordination), Paul Adams (Membership Awards), and Trevor Rootes – Secretary (Deke Sharon workshop).
Putting on a Convention like we did in Sydney is a huge effort, and it wouldn't have been possible to do that without the help of many other volunteers, too numerous to mention individually. Thank you all. You made a difference.
Congratulations to our competitors. Without you we wouldn't have an event like this. While there are medal and trophy winners, it is the contribution of every competitor that makes a successful Convention, so thank you all. All results are listed on the BHA website.
We now look forward to the holiday season with several fund-raising opportunities singing Christmas Carols generally available, and then a break in January to plan for 2018.
Coming up we have the BHA AGM in December and there will be some Motions necessary to change our BHA Constitution to bring it into line with new legislative requirements. There are also changes afoot to the National Council. I recently informed the BHA National Council of my intention not to re-contest the position of President at the end of this year. Of my 30 years membership of BHA (and AAMBS) I have been on the National Council in one capacity or another (e.g. VP Music, VP Events, President) for around 15 years – half my membership, with the four most recent years as President. I have been honoured to work alongside many others dedicated to developing BHA to the point where we now have a strong international profile, we are relevant to our modern and evolving society, and we "move with the times". Thank you all for your support over the years.
I do encourage everyone to consider nominating for some sort of leadership position, whether it be in your quartet, your Club, your region, or on the National Council. Our organisations won't run without volunteers, and they all need you! Keep Australia (and the whole world) singing!
Ian Mulholland
BHA President
---
2017 AGBJ Category School
| | |
| --- | --- |
| Type of post: | News |
| Sub-type: | No sub-type |
| Posted By: | Dick Bushell |
| Status: | Current |
| Date Posted: | Mon, 23 Oct 2017 |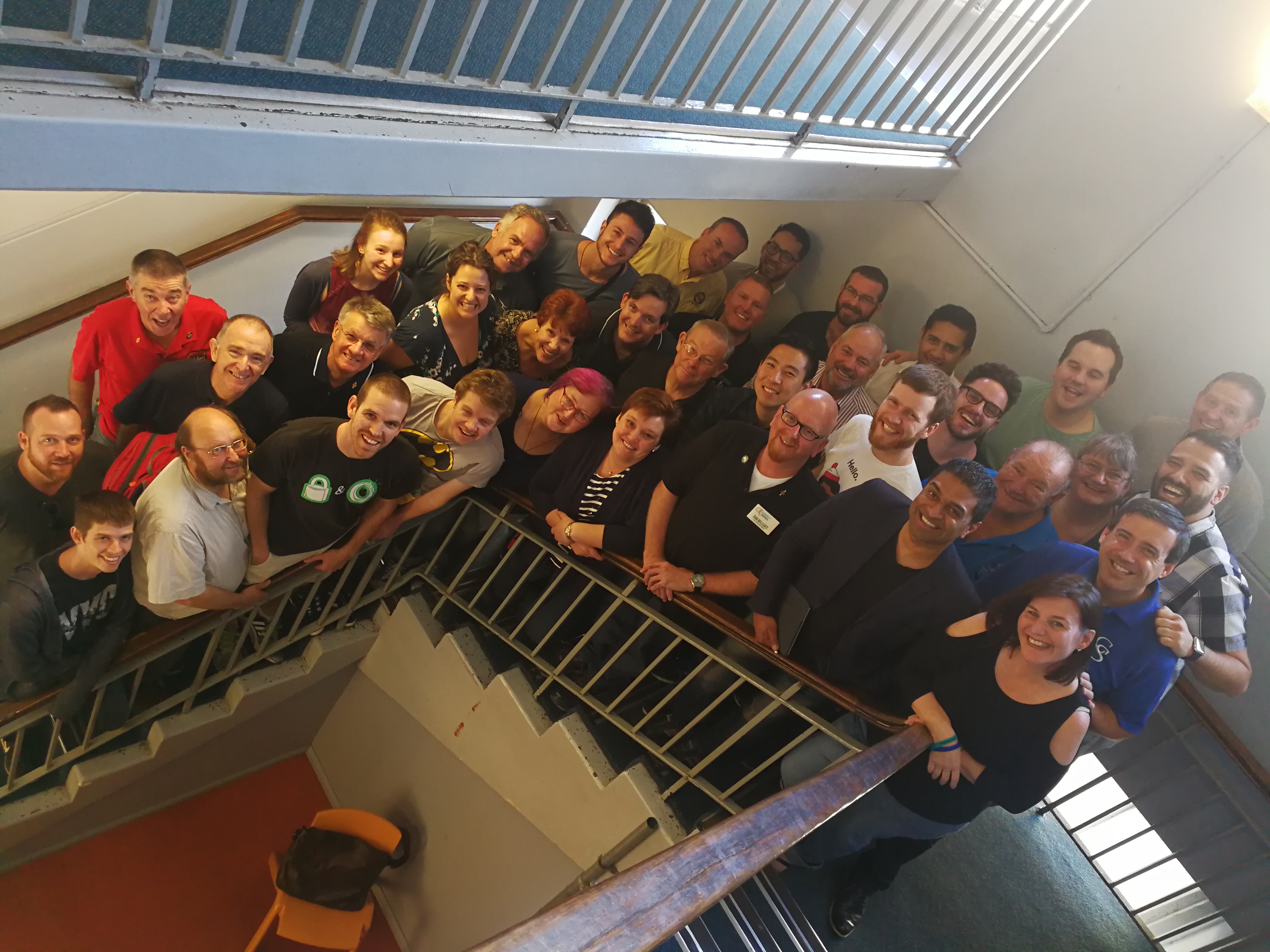 Prior to the 2017 Pan Pacific Convention in Sydney, the AGBJ held it's 3-yearly Category School to train our talented pool of judges in Australia and New Zealand. We were joined by a stellar faculty in Kevin Keller (MUS), Sean Devine (SNG), Rob Mance (SNG) and Linda Vinall (CA) who ably led our judges through what was an incredibly intense but educationally enriching three days.
I want to again, thank John Faris for his tireless efforts in the creation and development of our new Scoring Software, Barbershop Organiser. Thanks also to Mark Virture for his work in developing the back end integration of this software with the BHA online database.
At the conclusion of the school we certified at total of 8 judges per scoring category and 5 judges in the Contest Administrator category across Australia and New Zealand. I want to thank each and every attendee at this years' school who continue to volunteer their time for the betterment of our respective organisations.
We are incredibly lucky to have our very own judging program in the pan pacific region that continues to grow and evolve as the needs of our organisations change. Our judges are at the forefront of global barbershop education and I can honestly say that the future of our music making is in very safe hands!

Alex Morris
Vice President Contest & Judging
Barbershop Harmony Australia
---
Harmony College – What a Blast!
| | |
| --- | --- |
| Type of post: | News |
| Sub-type: | No sub-type |
| Posted By: | Dick Bushell |
| Status: | Current |
| Date Posted: | Wed, 18 Oct 2017 |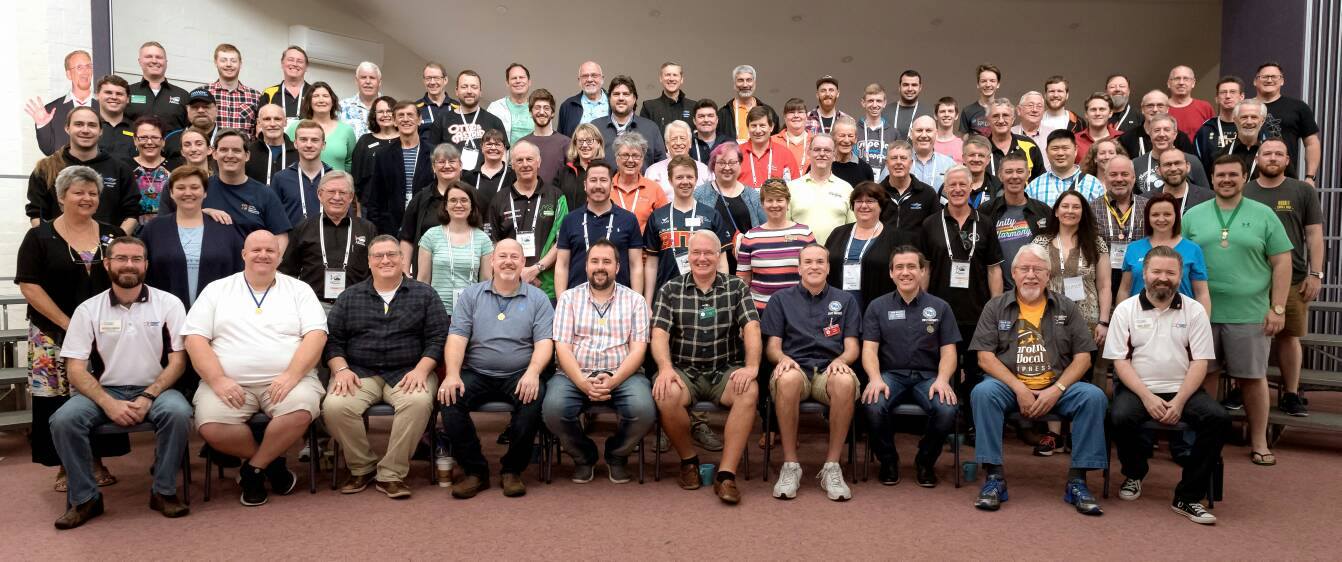 Eighty or so souls signed up for the Harmony College at the Naamaroo Conference Centre following the completion of the PanPac Convention with high expectations and anticipation. It can be categorically stated they were not disappointed and it would not be an exaggeration to say their expectations were far exceeded.
The once-in-a-lifetime faculty included all four members of Crossroads , Jim Henry, Fred Farrell, Mike Slamka and Brandon Guyton together with visiting judges, and barbershop legends, David Krause, Rob Mance, Kevin Keller and Dale Comer.
What a great bunch of knowledgeable and likeable guys.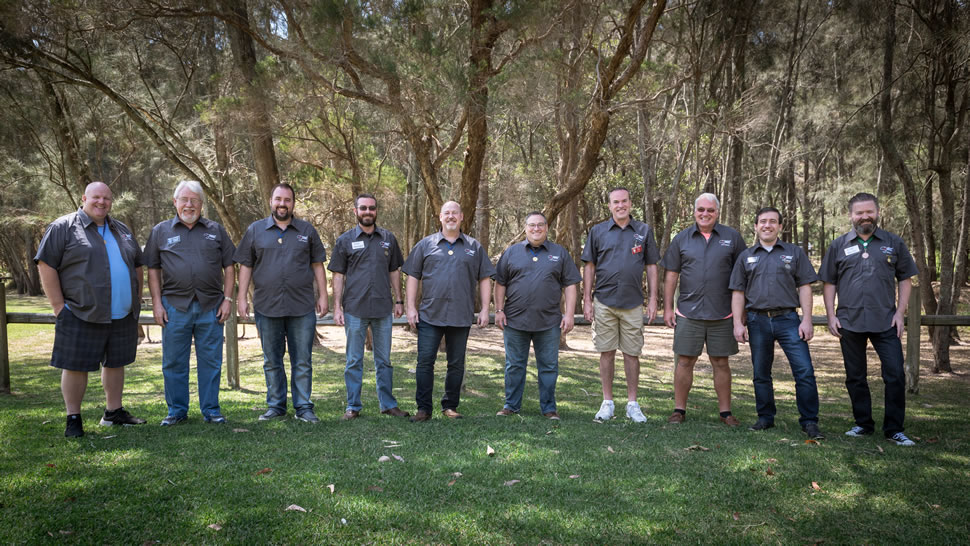 L to R Fred Farrell, Dale Comer, Brandon Guyton, Andrew Howson, Mike Slamka, Jim Henry, Kevin Keller, David Krause, Rob Mance & Dan Beckitt
The sessions were full on and started on Sunday afternoon soon after everyone had arrived at the Conference Centre and carried on until around 10.30pm each evening.
The program, which was put together by Andrew Howson assisted by Dan Beckitt, included a great mix of general sessions, smaller, specialist classes and lots of personal voice instructions for both quartets and individuals.
Not surprisingly, all the available personal sessions were quickly booked up with Bec Hewitt from WA stepping in to offer additional PVI's to those who missed out on a session with one of the faculty members.
For those of you who decided not to come to Harmony College because "you had heard it all before" boy! How wrong you were. All the sessions included new, interesting and stimulating ideas and discussions. Not to single out any one in particular but the voice coaching from Rob Mance and the various Chorus sessions with Jim Henry were outstanding.
The social side of Harmony College was also outstanding culminating in the "Showcase" on the last evening. What a night with some brilliant and unusual performances. The duet performed by Bec Hewitt and Jo Oosterhoff left us spellbound and the one man improvisation session by Brian Martin was amazing. It was so great to also share in a reunion performance by Alliance. They showed they still have it and it was great to see these guys back together again.
The best part of the evening came during the Afterglow when Crossroads sang virtually every song they knew to a spellbound late-night audience sitting on the floor around them in the foyer of the canteen. A truly magical experience.
We said our farewells on Wednesday morning and went our separate ways after a fantastic three days. I am sure all those who attended will remember it for a long time.

Thanks must also go to David Farley from Hills Harmony who organised the overall logistics of the event. Great job David.

Dick Bushell - Editor
---
Message from Mike Donnelly
| | |
| --- | --- |
| Type of post: | "In Harmony" Newsletter |
| Sub-type: | No sub-type |
| Posted By: | Dick Bushell |
| Status: | Current |
| Date Posted: | Tue, 17 Oct 2017 |
Mike pictured with Derek Cosburn after receiving his award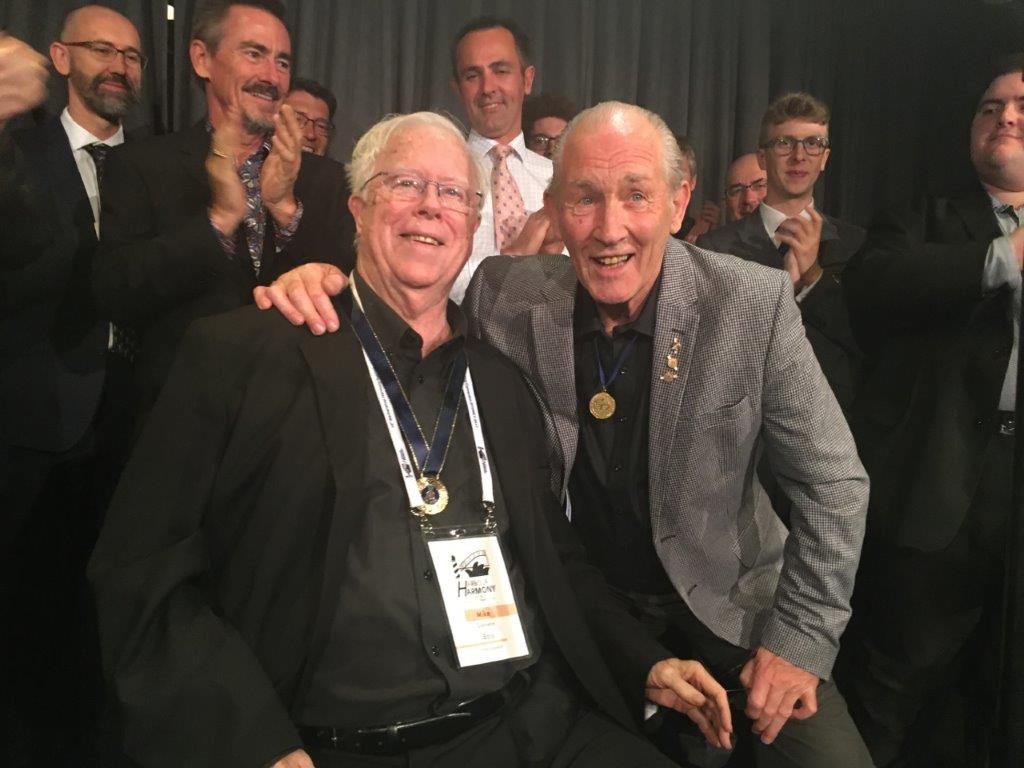 I am extremely proud, and equally humbled, to be the inaugural recipient of The BHA Medal. The men nominated were a formidable group of AAMBS and BHA leaders, in every aspect of our artform. To be considered in company with them is an honour in itself.

As described, "The BHA Medal recognises an individual's exemplary contribution to the advancement of barbershop in Australia, for sustained outstanding leadership, innovation, influence or initiative development…" I have always believed the extraordinary success and progress of barbershopping in Australia is due to the pervasive volunteer efforts of barbershoppers of all talents, across our entire age spectrum. As much as in any sport, barbershopping is a team effort which requires the involvement and commitment of every player to maintain and increase our excellence. The total number of our members willing to assume any and every task that needs doing, or fill any leadership or music position is the key to our success and enjoyment, and a great example of "all hands on deck." I hope the new BHA Medal will inspire each and every one of you to personally contribute to the team, and strive to become a candidate for the prestigious new BHA Medal.

And most sincerely, profound thanks go to Derek Cosburn who proposed the concept, sponsored the program, and designed and produced the stunning medal.

In Harmony,
Mike Donnelly
---
Penrith Harmony - A visit to Tokyo Barbers
| | |
| --- | --- |
| Type of post: | "In Harmony" Newsletter |
| Sub-type: | No sub-type |
| Posted By: | Dick Bushell |
| Status: | Current |
| Date Posted: | Tue, 17 Oct 2017 |
Just finished practice. A gruelling 4 hours.

Voice warm up coach, the M.D., co- MD, choreographer then M.D.

Not that gruelling. Good fun but they are in serious competition mode!

Sworn to secrecy so no hints about their presentation.

Amazing how they learn tunes and then the English words.

Met by Takahira my contact, who could speak good English.

Gave them welcome from Penrith Harmony and a warm welcome to the Pan Pacs in Sydney. I mentioned that their performances are always memorable and popular.

They are a friendly bunch and I enjoyed the afternoon.

Really worthwhile, if you have the opportunity, to sing with another Barbershop Chorus overseas.

Although my Japanese is very limited, I knew exactly what the voice coach was saying re: horizontal or vertical sounds, come from over the top and I am sure Rob that she made a point about sounding out the vowels!

Malcolm Geeves
Penrith Harmony
www.penrithharmony.com
---
Miner Chords - Going for Growth
| | |
| --- | --- |
| Type of post: | "In Harmony" Newsletter |
| Sub-type: | No sub-type |
| Posted By: | Dick Bushell |
| Status: | Current |
| Date Posted: | Tue, 17 Oct 2017 |
Over the last few months and following a lot of Singouts, with the decision of opening ourselves to female membership, the Miner Chords has gained a very significant growth in new membership. We now have female voices in tenor, lead and baritone parts. These voices have added a lovely quality to our sound and harmony within the Chorus.
Additionally, under the well prepared work and encouragement of our MD Gordon Dryden, we are gaining much more confidence.
A decision to review our music selection has had a very positive response and this has flowed through to a greater acceptance from audiences. Interestingly several of our new members have come as a result of our performances in public. Word of mouth advertising combined with positive response to people with enquiries have shown to be very valuable.
In respect to Singouts, Miner Chords has accepted all invitations to sing this year resulting in us having a busy year singing to Seniors functions on several occasions, Ipswich Historical Society Open Day, The Welsh Communiy Fete, Rotary Club Change over Night and now several Christmas Functions.
One of the challenges we now face concerns our costumes. We are now reviewing our public appearance because polo shirts do not suit all body shapes.
Finally, we wish BHA members and all the hardworkers for Barbershop singing, a Merry Christmas.

David Green
---
Sound Connection
| | |
| --- | --- |
| Type of post: | "In Harmony" Newsletter |
| Sub-type: | No sub-type |
| Posted By: | Dick Bushell |
| Status: | Current |
| Date Posted: | Tue, 17 Oct 2017 |
Sound Connection returned from the Las Vegas BHS International Convention in July a little disappointed that we didn't sing at our best, and determined to do better at the Pan-Pacific Convention in Sydney. In the lead-up rehearsals, our director, Andrew Howson, constantly reminded us to relax, sing cleanly and simply, and focus on producing beautiful music and entertaining our audience. As Andrew said, the scores would take care of themselves. Just for a change, we actually listened to our director, and enjoyed ourselves on stage immensely. The icing on the cake was, of course, a BHA gold medal and a Pan-Pacific silver medal. As thrilled as we were to win, we noticed that the scores were VERY close, and a gold medal could just as easily have been a bronze medal.

And then there was Vocal FX, from Wellington, winning the Pan-Pacific gold medal with a staggering 88%, showing us all on this side of the Tasman just how well this art-form can be done! Amazing work, guys!

We've had a big year, and achieved many of our long-term goals. So what's next? We've realised that it's time to set some NEW goals: Broaden our repertoire, increase our membership, have more fun, and ring more chords. Simple, right?

Mark Virtue
Secretary, Sound Connection.
---
Melbournaires - PanPac highlights
| | |
| --- | --- |
| Type of post: | "In Harmony" Newsletter |
| Sub-type: | No sub-type |
| Posted By: | Dick Bushell |
| Status: | Current |
| Date Posted: | Tue, 17 Oct 2017 |
Recollections and impressions from the Melbournaires.
From MD Ian:
WOW! It didn't seem to stop for the entire 5 days and everything went so well. And what a result! Firstly our own Rod Stow taking a bronze medal in the highly contested mixed section with a 67.1% if you don't mind. I don't think any Victorian quartet has been in that stratospheric position. We are so lucky to have him sing with us, (the girls and Alex were pretty good too!) Then we followed that with a silver medal in the Seniors quartets to Harmonic Motion. We need to note that Steve was added to that quartet two weeks ago, and learned the two parts for the comp. in a week. Then in the Open Competition, Sound Investment were a sensation with strong intonation and a smooth performance. Both Sound Investment and then Boardwalk now hold the two highest % scores for any Victorian quartet in National competition.
The chorus had two 8.00am rehearsals where they sounded wonderful. Perhaps we could have some more of those early bird calls! Everything went to plan on the day, and we finished up in 7th place for BHA, and collected the seniors chorus award with 69.8%.
Hearing Crossroads and seeing them in the flesh, (and there is quite a bit of flesh), was sensational.
And this from our President John:
Harmony College was sensational. I nearly didn't go, (haven't I heard it all already?), but that would have been such a mistake. The faculty was second to none, with Crossroads and most of the judges available 16 hours a day. Classes with different streams were dauntingly wall-to-wall from 8.00am each day, but a real pleasure to attend with these world class presenters, willing audience participants, and the latest techniques for improving singing: posture, vocal production, anatomy and direction: a lot of old theories revisited/revised.
And this from a first timer: "So this is what barbershop is all about."
What more can we say: Well done Sydney.

Terry Phillips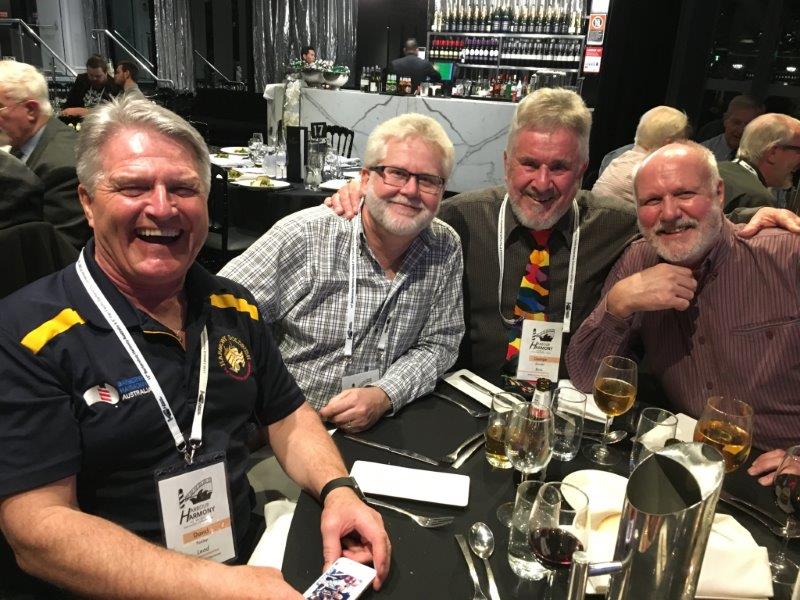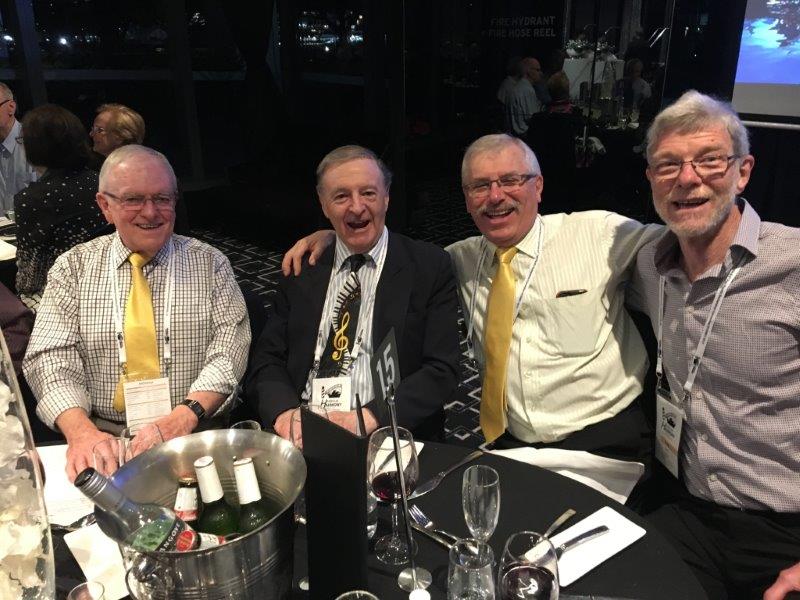 ---
The Blenders - Loving Sydney
| | |
| --- | --- |
| Type of post: | "In Harmony" Newsletter |
| Sub-type: | No sub-type |
| Posted By: | Dick Bushell |
| Status: | Current |
| Date Posted: | Wed, 18 Oct 2017 |

We came, we sang and we had an awesome time getting together with all you barbershop friends new and old. More than a few of our members and friends have remarked that it was the most fun they have had at a convention. We pay respect to our music team leadership Dan Koopu and Jonathan Albertini for having us well prepared and most of all relaxed; secret to a fun time.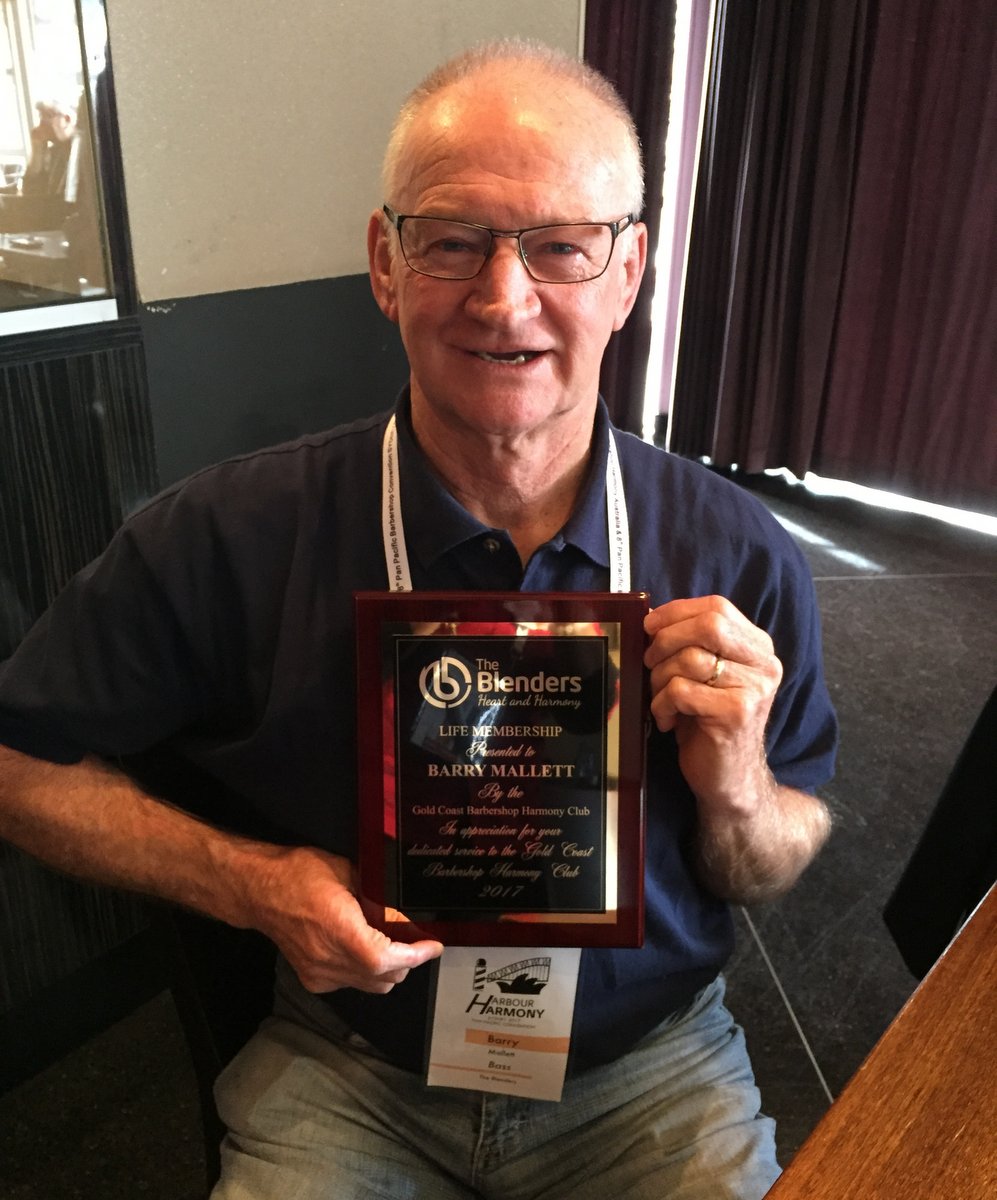 Blender events included our traditional pub get together which was a rollicking sing, chat and laugh for all. One wonderful highlight was our Thursday rehearsal which started as normal with some Lydian above the pitch warmups and then the great Dr. Jim Henry arrived. It was rumoured but when it happens that is a wow moment. OF course, like most barbershoppers who travel in packs of four or more he brought some Crossroads friends who put us through our paces. That kind of rehearsal is a floating experience not to be missed. Thanks Dr. Jim, pyramid man.

On the Saturday competition day, we watched our beloved BYC deliver first up and hats off to the guys, they sounded great. We moved into our traditional Blenders breakfast before our performance which is one of the great moments of brotherhood we all cherish. The club honoured one of our stalwarts, past President Barry Mallet (shown right), with Life Membership. We love what you have done for the club over many years and you deserve the recognition and honour Barry, congratulations.

"Go on girls,make me beautiful!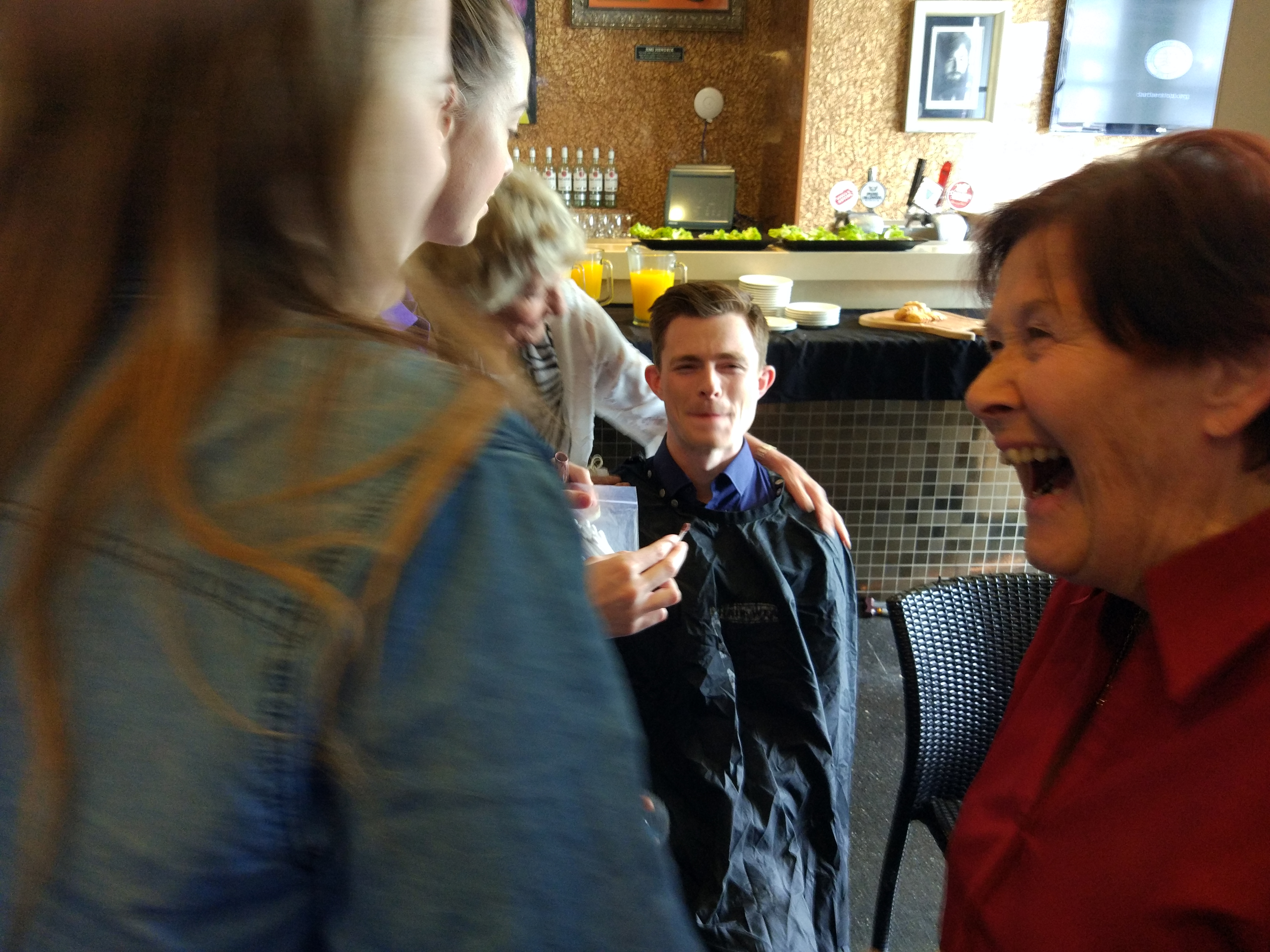 And then on with makeup and the contest. Is it really Blindside's Gareth Clarke in this shot or maybe a young man at the barber for his first hair cut???
New Year and a New Committee
The Blenders AGM was held post PanPac contest and I am happy to announce President has remained with Damon Newman, Ian Mackey taking up Secretary, Tom Lawson moved to Treasurer and Tim Green taking the Music VP reigns from Dan Koopu who is assistant director to Jonathan Albertini. Thanks to Dan for the many years of MVP passion and drive; big shoes for Tim to fill but he is in the bass brotherhood so no worries!
Sing GC
The Blenders membership drive jointly running with sister chorus Coastal Charisma started October 16 and the first roll up has been great. Time to start budgeting for extra risers it seems.

Tom Lawson
---
Misty Mountain Moonshiners
| | |
| --- | --- |
| Type of post: | "In Harmony" Newsletter |
| Sub-type: | No sub-type |
| Posted By: | Dick Bushell |
| Status: | Current |
| Date Posted: | Tue, 17 Oct 2017 |
Greetings from the deep north of Queensland. 300 sunny days a year here! We have the best weather in the world but don't tell anybody or it will get too crowded.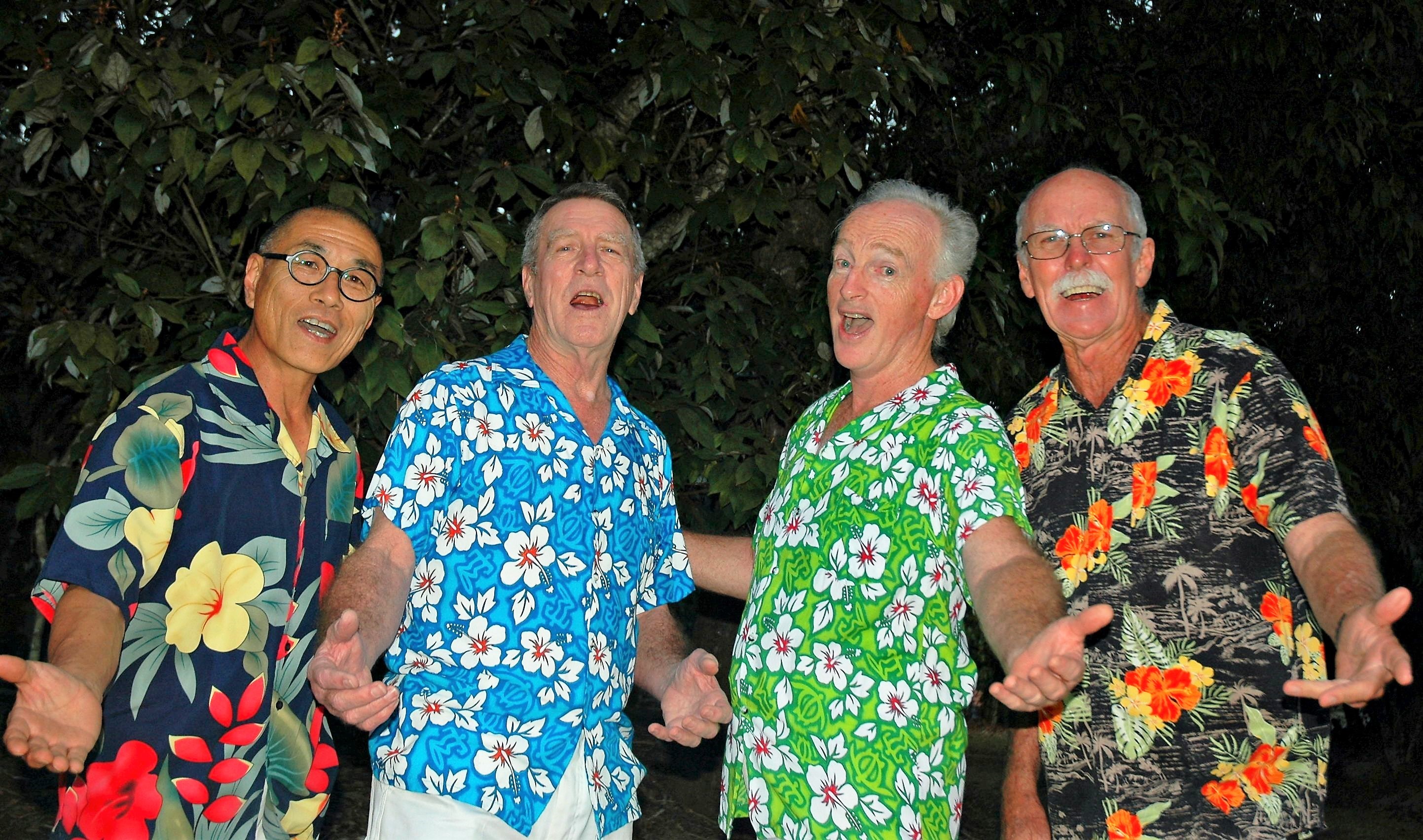 Misty Mountains Moonshiners Quartet in action L-R Sunny Lee (Bari), Jim Fitzgerald (Bass), John Grant (Lead) & Graham Morrow (Tenor)
The Misty Mountain Moonshiners have been having a recruitment program which has been very successful to date. We should more than double our numbers and some of the talented people we have attracted will hopefully encourage all to stay on board. We have great plans for this and next month which I will give a detailed report on next issue.

In the meantime we would like to applaud all those who participated in the Convention and congratulate all the winners. Maybe we will be there next time.

Yours in Harmony,

Graham Morrow
---
River City Clippers
| | |
| --- | --- |
| Type of post: | "In Harmony" Newsletter |
| Sub-type: | No sub-type |
| Posted By: | Dick Bushell |
| Status: | Current |
| Date Posted: | Wed, 18 Oct 2017 |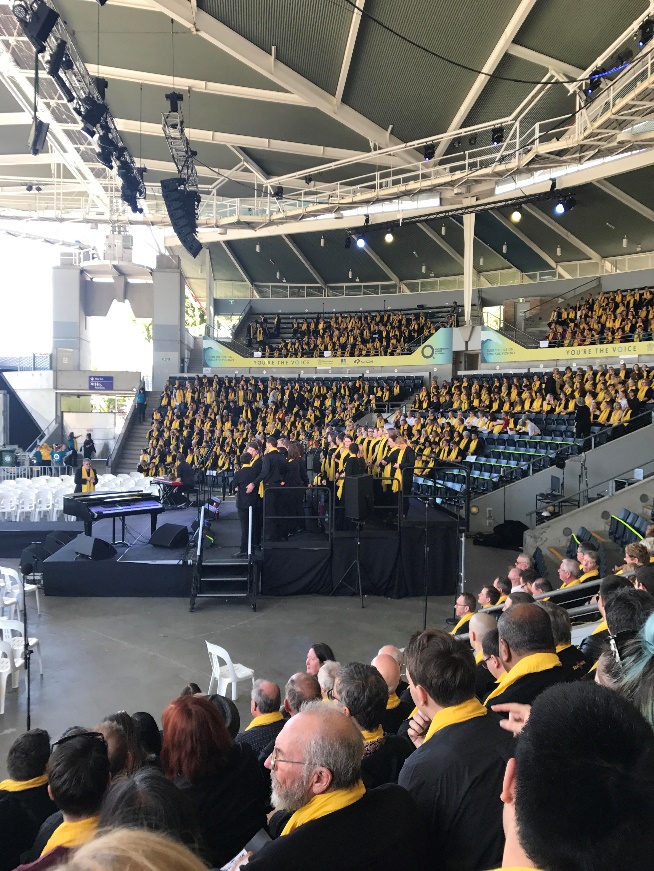 The Clippers will be presenting their annual Clippers and Friends concert at their rehearsal venue, St Laurence's College, on Sunday 22 October. They will be joined by the neighbouring award winning Sweet Adelines' chorus, Redland Rhapsody, the Villanova College Stage Band and the Vic Kena Duo. The chorus members and their partners will continue the celebration at a nearby restaurant following the concert.
The Clippers were privileged to participate in the recent Queensland Music Festival event 'You're the Voice' which focused on the problem of domestic violence. Surprise guest, John Farnham led a choir of 2500 which was conducted by the inspirational Johnathan Welch.
This year the chorus has concentrated on increasing membership and has been successful in attracting a number of very enthusiastic younger members. Also for the first time in a number of years, the chorus was represented at the Pan Pacifics by our own quartet, Three Squirrels and a Nut comprising, Nick, Roger, Colin and Damian and they performed very successfully.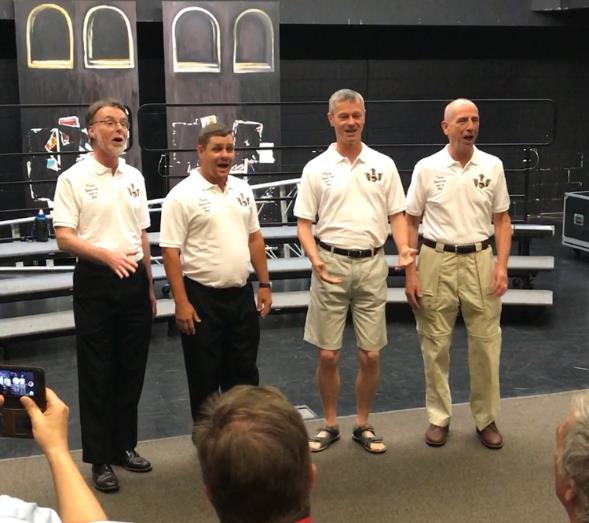 In 2018, the Clippers will host the regional competition in April at the new Sunnybank Performing Arts Centre, shortly after the conclusion of the Commonwealth Games. We are hoping for a good representation from the region leading up to the Adelaide convention.
Chorus members wish everyone in the fraternity all the best for the coming festive season and a successful 2018.

Steven Deans
---
Welcome to our newest members
| | |
| --- | --- |
| Type of post: | "In Harmony" Newsletter |
| Sub-type: | No sub-type |
| Posted By: | Dick Bushell |
| Status: | Current |
| Date Posted: | Wed, 18 Oct 2017 |
The following members have joined us since our last edition. Please give them a great welcome our our Barbershop world.
| | | |
| --- | --- | --- |
| Stan | Benjamin | Fleurieu Harmony Inc. |
| Matthew | Micallef | Barbershop Harmony Club of Canberra |
| Tim | Wotton | Barbershop Harmony Club of Canberra |
| Roger | Hunt | Barbershop Harmony Club of Canberra |
| Shaun | de Plater | Barbershop Harmony Club of Canberra |
| Joseph | Nguyen | Gold Coast Barbershop Harmony Club Inc. |
| Art | Shrimpton | Hobart Mens Barbershop Harmony Club Inc. |
| Brian | Mawson | Hobart Mens Barbershop Harmony Club Inc. |
| Peter | Gunn | Hobart Mens Barbershop Harmony Club Inc. |
| Alvin | Nguyen | Eastern Region Barbershop Harmony Club |
| Kelvin | Steele | Sunshine Coast Barbershop Chorus Inc |
| Paul | Mai | Eastern Region Barbershop Harmony Club |
| John | Nicholls | Sydney Harmony Inc |
| James | Massey | The Baden Street Singers Inc |
| Lei | Savage | Eastern Region Barbershop Harmony Club |
| Nathan | Alison | The Melbournaires Barbershop Chorus Inc |
| Peter | Ramsbotham | The Melbournaires Barbershop Chorus Inc |
---
Thank you from Nerida White
| | |
| --- | --- |
| Type of post: | "In Harmony" Newsletter |
| Sub-type: | No sub-type |
| Posted By: | Dick Bushell |
| Status: | Current |
| Date Posted: | Tue, 17 Oct 2017 |
My family and I would like to express our extreme thanks and gratitude to Members of BHA for the lovely thoughts and wishes we received from so many of you following the recent death of our father and husband, Kevin James White. They really meant a lot to us. It was very sad to see Kevin go but his life had never been the same since he developed a tongue cancer 2½ years ago which meant that he was no longer able to sing which was one of the many the passions of his life. Luckily he went peacefully under the wonderful care of the Palliative Care staff at Gosford Public Hospital.
His years with AAMBS/BHA were very precious to him and he loved being able to help the Association in any way he could but in particular with legal matters as he was a Solicitor and the Chief Legal Office for the NSW Law Society. He was greatly surprised and deeply honoured to be presented with the associations 9th Honorary Membership Award at a BHA Convention, and which he treasured deeply.
I know he would wish that all BHA members continue to enjoy their singing and the great camaraderie that comes with being a Barbershop Singer, so please enjoy it for as long as you can!

Sincerely,
Nerida White
---
Impressions of a Barbershop "Newbie"
| | |
| --- | --- |
| Type of post: | "In Harmony" Newsletter |
| Sub-type: | No sub-type |
| Posted By: | Dick Bushell |
| Status: | Current |
| Date Posted: | Tue, 17 Oct 2017 |
New to barbershop, I have been enthusiastically belting out my part as a lead with Vocal Evolution for about 6 months. My qualifications were dubious:- member of my school's choral society (35 years ago), playing Diesel in West Side Story and a lifetime singing along to the radio in the car or shower, but they were all enough to enable me to pass the audition.

As a newbie it has been a daunting experience and, in my desperation to fit in, I have learnt to nod sagely during rehearsals when we have been variously instructed to "sing from our eyes" or "to emphasise the embellishments". Thankfully the chorus has generally done what has been asked because, invariably, the next collective attempt is followed by a cry of "YES" from our MD as we are conducted into the next section.

I have been way too shy to say "no" when asked whether something "makes sense" and when we do the "wee, wee, wee" harmony exercise (as we do every week in warm up) I have learnt to mimic the nearest person to me, whether tenor, bass or, even (can you believe) baritone.

During breaks in rehearsal I have thoroughly enjoyed watching YouTube clips of, amongst others, Crossroads and I have learnt to audibly gasp when I hear that featured quartets have scored over 90.

I have remained largely clueless about what to listen and look for so I have only been able to describe performances as, "good", "loud" or "repetitive", whereas the more experienced crew use words like "blended" "passionate" and "emotional". I have learnt to murmur agreement to their analysis.

And so, in registering for the BHA convention for the first time, you can appreciate my nerves were frayed as I felt I was, at long last, about to be exposed as a fraud.

What a difference a few days make! I have been educated, humbled, impressed, enthused and delighted by being part of the barbershop community. I was awed by all the performances and with new and better friendships forged my confidence has built dramatically.

The evaluations we received were incredibly useful and I am still left pondering how the judges were able to deliver such insight given the number of performances they scored. I now know why 90 is so good and so worthy of a gasp.

I have felt very welcome on the barbership. I have learnt that I'm on a journey that never ends and is one that promises to get better and better. Thank you to all involved last week, whether in organising, partaking or listening, and I look forward to seeing everyone again next year and beyond.

Adam Maxwell, Perth, WA
---
BHA Riders
| | |
| --- | --- |
| Type of post: | "In Harmony" Newsletter |
| Sub-type: | No sub-type |
| Posted By: | Dick Bushell |
| Status: | Current |
| Date Posted: | Tue, 17 Oct 2017 |
At Harmony College 2017, I and a few other delegates were sitting on the "Naamaroo" verandah enjoying a well-deserved cuppa and discovered that three of us all enjoyed riding bikes – that is, motorcycles not Pushies!
Got to wondering, firstly, just how many East Coast Barbershopers ride motorcycles and, secondly, how many would enjoy an occasional ride together.
I'm thinking perhaps once or twice a year (could be more if the idea catches on) with a fairly central country destination being the target. Of course, a northern NSW destination would open an opportunity for our Queensland friends to join in, similarly, a southern NSW destination would allow our Victorian friends to ride in.
A format that has worked well for me in the past is a 3 day ride with day 1 reaching the destination, day 2 at the destination/day ride, day 3 returned home.
Each attending rider would be responsible for arranging their own accommodation/meals, and their own safety, security and welfare.
Contact could be via email or Facebook /messenger group. Initially, please contact me by email should you be interested.
David Farley
Hills Harmony Chorus, Sydney
david@farley.id.au
---
A tale from the PanPac Convention
| | |
| --- | --- |
| Type of post: | "In Harmony" Newsletter |
| Sub-type: | No sub-type |
| Posted By: | Dick Bushell |
| Status: | Current |
| Date Posted: | Tue, 17 Oct 2017 |
The Hulk of the Dunkirk
"Ladies and gentlemen, the Captain has activated the fasten seat belts sign would you please return to your seats…."
I am back in normality and quite frankly I was lucky to make it.
"Cabin crew please be seated for landing"
6a.m and I sprang out of bed, threw most of my stuff into the suitcase and the rest in my backpack, Jeans and T shirt on ……out of the Dunkirk hotel room number 10 door and into the corridor heading for the bathroom. No ensuites for me matey.
Nope. Someone's in there already. Ok let's head down to the next floor and use that one. Better lock my door it's a hotel and I don't know who my neighbours are. Pull it closed. The latch clicks into place. Wait a minute…. room 9!!!! Oh no.
I tap my key on the bathroom window.
"What"
"Mate I've locked your room door".
"What did you do that for"!
"Thought it was my room".
"You idiot!".
"I'll go down and see if I can get someone".
I inferred two significant details from this conversation. 1. He didn't have his key 2. He wasn't thrilled.
I tried my key in his lock. It slid in but wouldn't turn. Down to the ground floor and everything is locked up and totally deserted. Race up again to meet the tattooed hulk at the top of the stairs.
"You idiot"
"Look can you stop saying that I've already told myself that".
"What the *#*#*#"
"That's not helping. I'll phone the pub number": 'Please call back during our opening hours 8a.m to…….

I've got to walk to the harbour, wait for the light rail every (24minutes) change to the railway station, get to the airport, check in and ----you know the deal. I'm not doing well at this point. If going on stage at the Pan Pac's was 2, I'd estimate this was 8 on the panic scale.
I look closely at my door lock and try to see where the latch fits into its metal recess. I need a plastic card. Myers points card. It goes in past the rebate but then I can tell that it's bending to the side.
The hulk is on the roof garden making a phone call. I throw my stuff out of the suitcase and search for the multi tool—can't find it. Hulk comes back.
"You idiot"
"Will you quit saying that ---the point is to get the door open".
I get the cutlery tray out of my room and get the steak knife, I'm not sure how he's going to interpret that if he ever bothers with the concept of interpreting.
I try the knife and it slots in but it's just under the catch.
I get hulk to take over so that he stops thinking about throwing me down the stairs.
While he's occupied trying to break in I think about Mr Bean and wonder if I can do that kind of sly furtive look, sort of wave goodbye and sneak downstairs and run for it.
I get out into the corridor just as hulk clicks the latch and swings his door open. He smiles. We high five.
Ker-Thump. Jees that was a bumpy landing is the undercarriage still intact?
Bob Rutter Qld
---