Issue 2

Welcome to the next Edition of the Newcastle Convention Newsletter.


Table of Contents
2016 Newcastle Convention Website is now up and running
A great range of accommodation Options available for Newcastle Convention
Become a member of Wests City Club Newcastle to save time and money at the Newcastle Convention
2016 Newcastle Convention Website is now up and running
| | |
| --- | --- |
| Type of post: | News |
| Sub-type: | No sub-type |
| Posted By: | Dick Bushell |
| Status: | Current |
| Date Posted: | Thu, 31 Mar 2016 |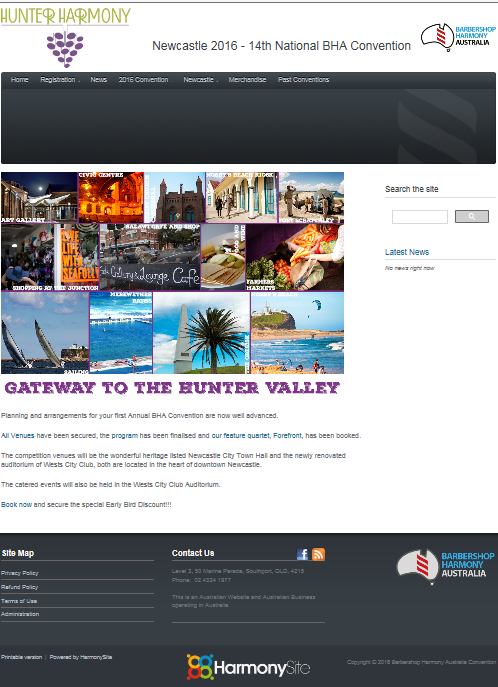 The BHA Convention website is fully functional and jam packed with great information about the coming Convention in Newcastle which is due to start on Wednesday 28 September 2016. Visit the website via the link below to find the following information about this, the 14th National BHA Convention. It also has the distinction of being our first annual Convention.
Registration (Substantial Early Bird registration discounts apply up until 31 May 2016)

Convention Schedule

Venues

Special Events (Details about the special events which will form part of the Convention)

Headline Quartet (Top International Quartet Forefront)

Webcast (For those who are unable to attend the Convention to enjoy the great singing live the Newcastle Convention will again be available via Webcast. Visit this tab to make the required arrangements to view various events)

Hunter Harmony Master Classes

Competitor information

Accommodation

Visitor information

Day Tours

Convention Merchandise
Don't delay, get onto the website and check it all out.
| | |
| --- | --- |
| For more information, see: | www.barbershopconvention.com.au/dbpage.php?pg=home |
---
A great range of accommodation Options available for Newcastle Convention
| | |
| --- | --- |
| Type of post: | News |
| Sub-type: | No sub-type |
| Posted By: | Dick Bushell |
| Status: | Current |
| Date Posted: | Fri, 1 Apr 2016 |

Newcastle offers a wide variety of accommodation options ranging from budget rooms in backpackers or pubs, to self-contained apartments and 4.5 star hotel options.

Below is a summarised list of accommodation options located in close proximity to Newcastle City Hall and The Wests City Club. Many of these hotels are also within easy access to the fare free bus zone, which operates between 7:30am and 6:00pm Monday to Friday.
Serviced Apartments

Chifley Apartments Newcastle (3 minutes*) (Pictured)

Crown on Darby (5 minutes*)

Quest Serviced Apartments (5 minutes*)

Hotels

Newcastle Beach Hotel (3 star) (15 minutes*)

Hotel Ibis Newcastle (3.5 star) (5 minutes*)

Travelodge Newcastle (4 star) (10 minutes*)

Quality Hotel Noahs on the Beach (4 star) (15 minutes*)

Novotel Newcastle Beach (4 star)(15 minutes*)

Crowne Plaza Newcastle (4.5 star) (3 minutes)

Pub style

The Lucky Hotel (7 minutes*)

The Grand Hotel (15 minutes*)

Backpackers

Newcastle Beach YHA (15 minutes)
Details and booking links to all these establishments can be found under the Newcastle/Accommodation Tab on the Convention Website or by clicking on the link below. A location map can also be found through this link

*(Approximate walking distance from Newcastle City Hall)
| | |
| --- | --- |
| For more information, see: | www.barbershopconvention.com.au/dbpage.php?pg=accommodation |
---
Become a member of Wests City Club Newcastle to save time and money at the Newcastle Convention
| | |
| --- | --- |
| Type of post: | News |
| Sub-type: | No sub-type |
| Posted By: | Dick Bushell |
| Status: | Current |
| Date Posted: | Fri, 1 Apr 2016 |
One of the main Convention venues will be the newly refurbished Wests City Club located in downtown Newcastle on the corner of King Street and Union Street Newcastle. It is open seven days a week and is one of Newcastle's favourite entertainment and functions destinations. Their large auditorium and other Club facilities will host a number of key events including :
Thursday 26 September 2016

President's Reception

Pre-Dinner drinks

Welcome Dinner

Afterglow

Saturday 1 October 2016

All Saturday events including the Chorus contest and the Showcase of Champions

Sunday 2 Ocotber 2016

Various meetings and the farewell lunch
The club also features several first class eating venues including Wests City Kitchen and Wests City Patisserie, both with impressive menus to choose from, designed by the club's head chef Hudson Daley.
Save time- Save money - Become a member of Wests City Club
To save time signing in each time you go to this club, apply for membership NOW.
Go to this link and complete the application process.
http://membership.westsnewcastle.com.au/new-membership#step1

Or… fill in the application form (see link below) and take it with you, and complete the process when you arrive in Newcastle.
http://www.barbershopconvention.com.au/files/Wests_membership_Application.pdf

NOTE: be aware that when either using the link and completing the process online, or, filling out the form, you will need to produce ID (Driver's Licence is OK) when going to reception to collect your membership card.
| | |
| --- | --- |
| For more information, see: | www.barbershopconvention.com.au/dbpage.php?pg=venue |
---