Issue 156 - October/November 2016


Table of Contents
Newcastle 2016 Convention Round-up
A Successful Convention
Sydney takes up the Challenge
Young Singers in Harmony Festival
Newcastle Videos now available for viewing
A Barbershop success story
Voices in Paradise 2016 Christmas workshop and concert
Andy Aberle and thirty one years of Barbershop
Reflections on attending the BHS Judging Category School - Nashville July 2016
Club and Quartet News
Welcome to our new members
Letter to the Editor - Organise your sheet music
SOME IMPORTANT DATES FOR YOUR DIARY
PRINTING THIS NEWSLETTER
CONTACT THE EDITOR
Newcastle 2016 Convention Round-up
| | |
| --- | --- |
| Type of post: | News |
| Sub-type: | No sub-type |
| Posted By: | Dick Bushell |
| Status: | Current |
| Date Posted: | Sun, 9 Oct 2016 |

Delegates started converging on the NSW port city of Newcastle on Wednesday 28 September 2016 to attend the 14th National BHA Convention. This was the first annual Convention following the switch from biennial conventions after Melbourne last year. Newcastle is the second largest city in NSW and the eighth largest in Australia. It also has the distinction of being the first non-capital city to host a BHA Convention.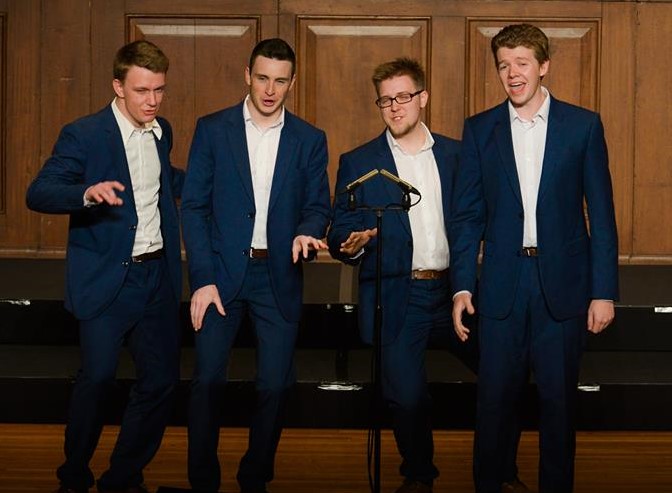 The competition kicked off on Wednesday with the BHA Youth Contests which were combined with the Young Singers In Harmony Contests. Both were keenly contested in their various Categories.
The BHA Youth Quartet Contest was won by Skyline with the BHA Youth Chorus contest won by the Blenders Youth Chorus.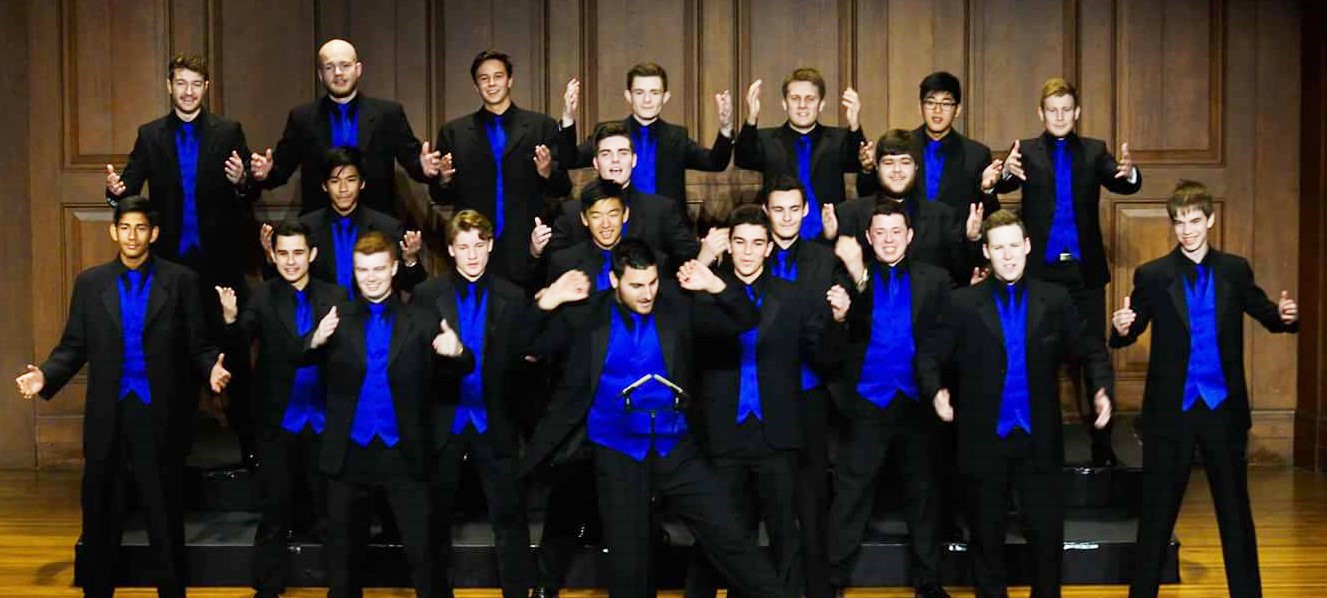 The Young Singers in Harmony Ensemble Contest was also won by Skyline with the Chorus competition taken out for the second year in a row by the Baden Street Singers.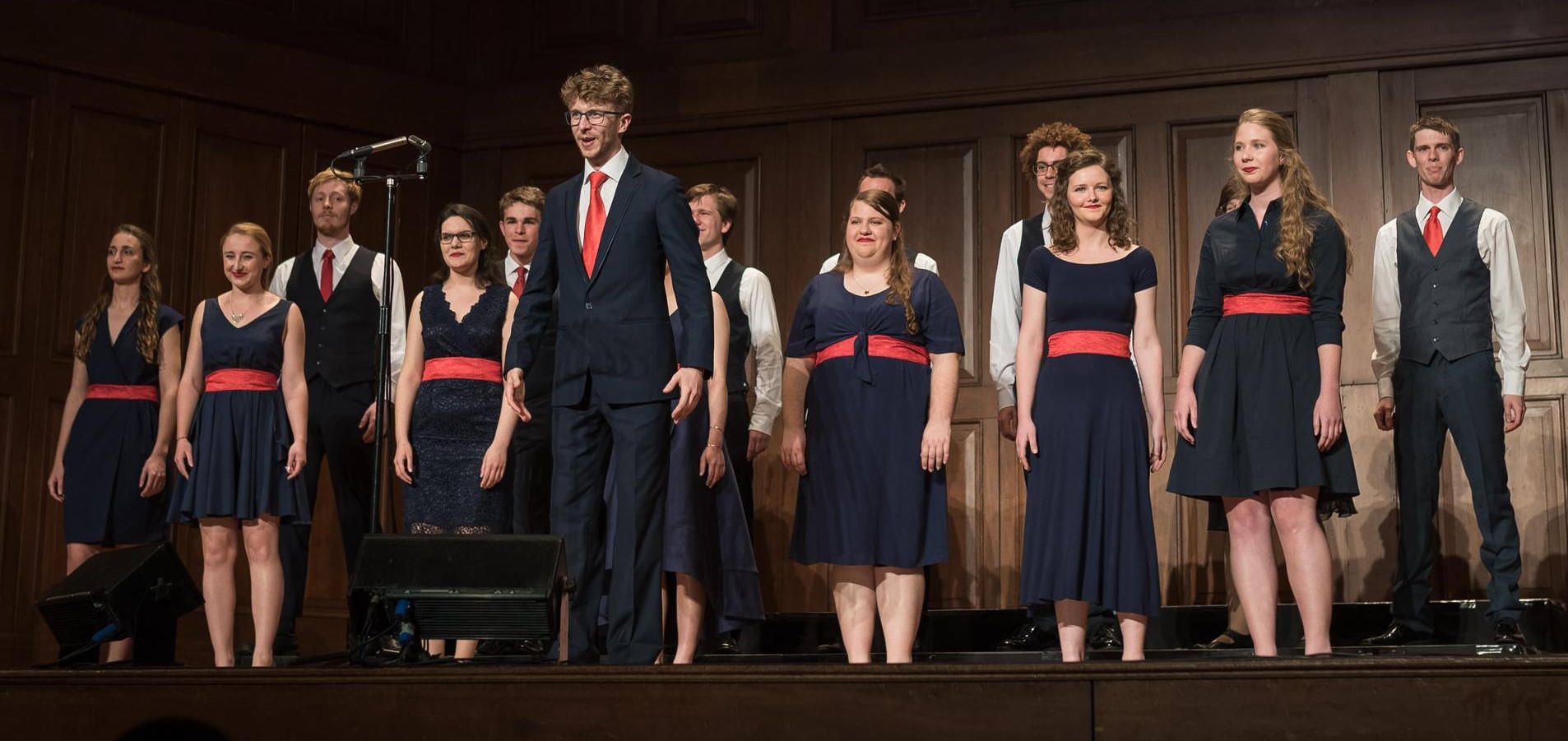 A full summary of the Youth winners and placegetters, together with their respective scores, can be found on the BHA Website under the
Convention results tab

Wednesday evening saw the John Little Quartet show give competing quartets the chance to perform in front of their peers. This undoubtedly helped them hone their skills for the competition the following day as well as providing a very enjoyable and relaxed show for an enthusiastic audience.
The open quartet competitions got underway on Thursday in the fantastic Newcastle City Hall. Thirty four quartets competed in the various categories including Open-Semi Final , Seniors and Mixed following several last minute withdrawals due to illness. The Current BHA Quartet Gold Medallists, Lockout were unable to compete this year under new BHA Rules precluding the winning quartet from the previous year competing in the convention the year following their win.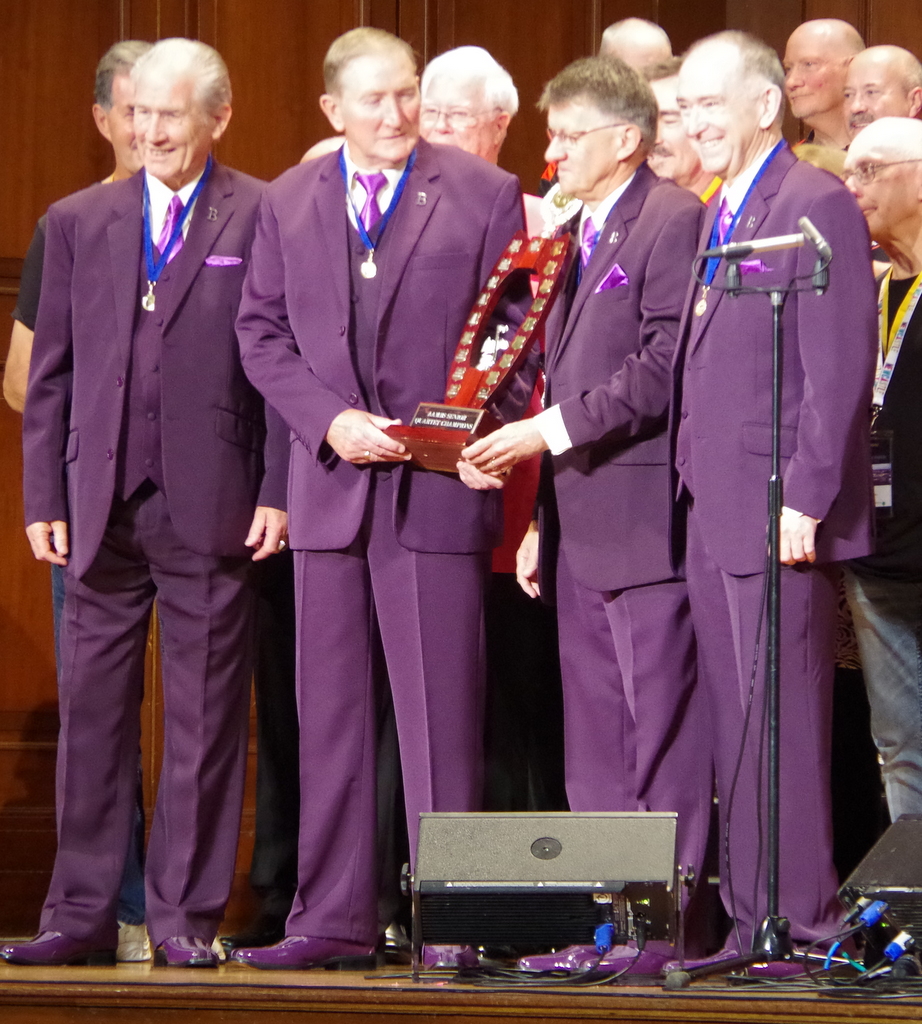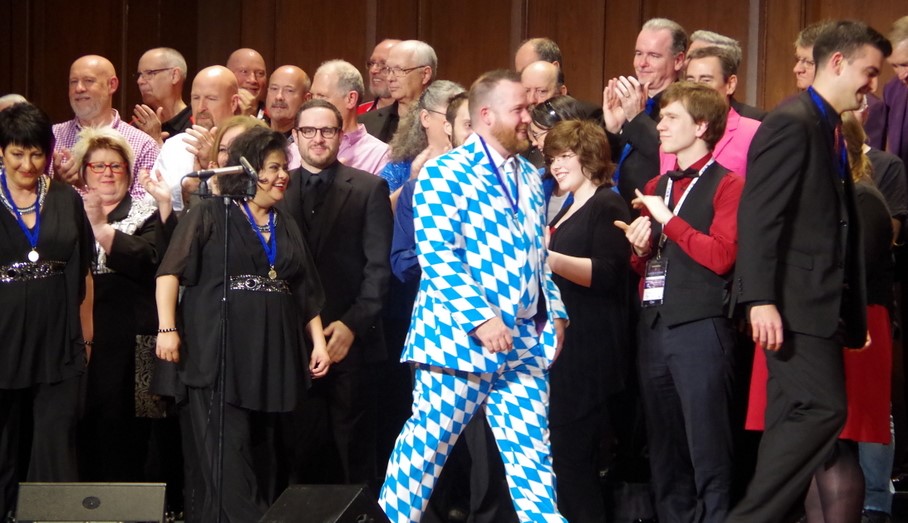 Senior Quartet stalwarts, Benchmark took out the Seniors Gold Medal again for the 5th Convention in a row with the mixed quartet Shopaholics taking out the gold in their category. The top ten open quartet finalists were announced to slug it out in the quartet final on Friday night.

The quartet semi final was followed in the evening by the traditional welcome dinner where we saw the brilliant Forefront, perform for the first of many enjoyable times throughout the Convention.

Friday morning began with the Youth Showcase Concert, then at lunchtime the massed sing in cold and windy conditions in the Newcastle Civic square. We were treated again to another performance from Forefront as well as being welcomed by the Newcastle City Deputy Mayor Cr Jason Dunn. A number of our Music Directors, including our illustrious President, Ian Mulholland, then took turns at leading the assembled group in song.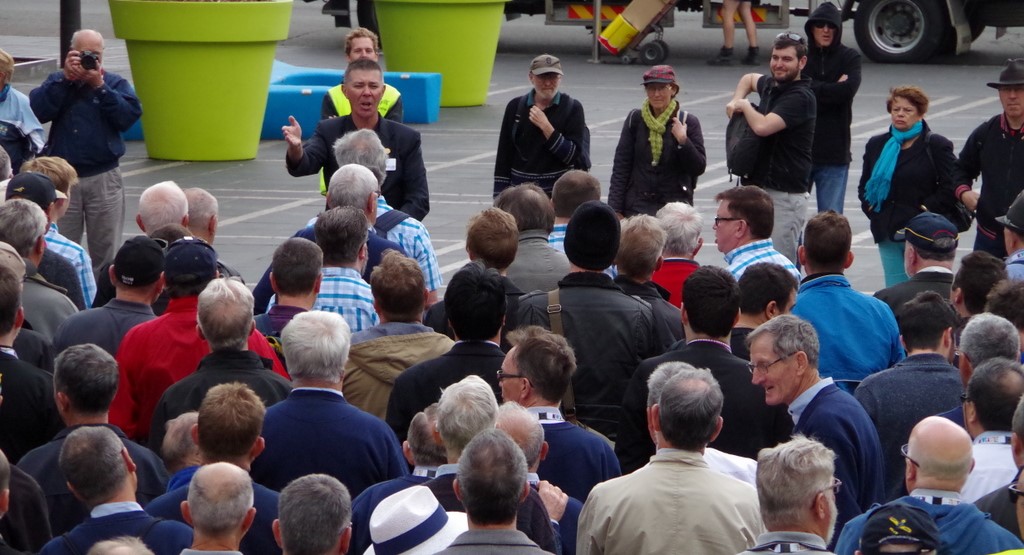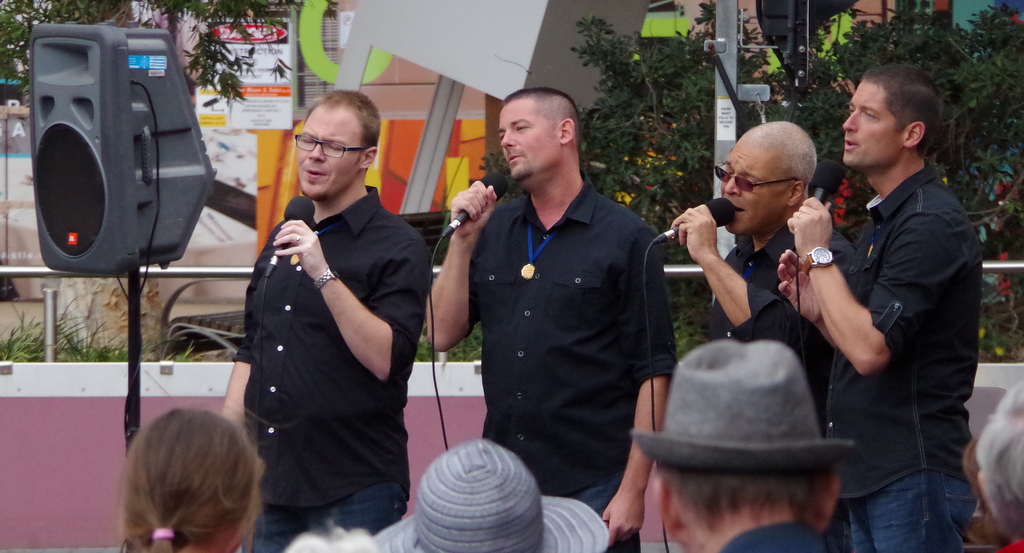 The big event for Friday was the quartet Final which was held in the evening in the magnificant Newcastle City Hall. Mike testers Out of Time, who took out the most improved quartet award with an improvement of 6.95, set the scene for some brilliant singing through the evening with Bindside coming out on top with a score of 80.0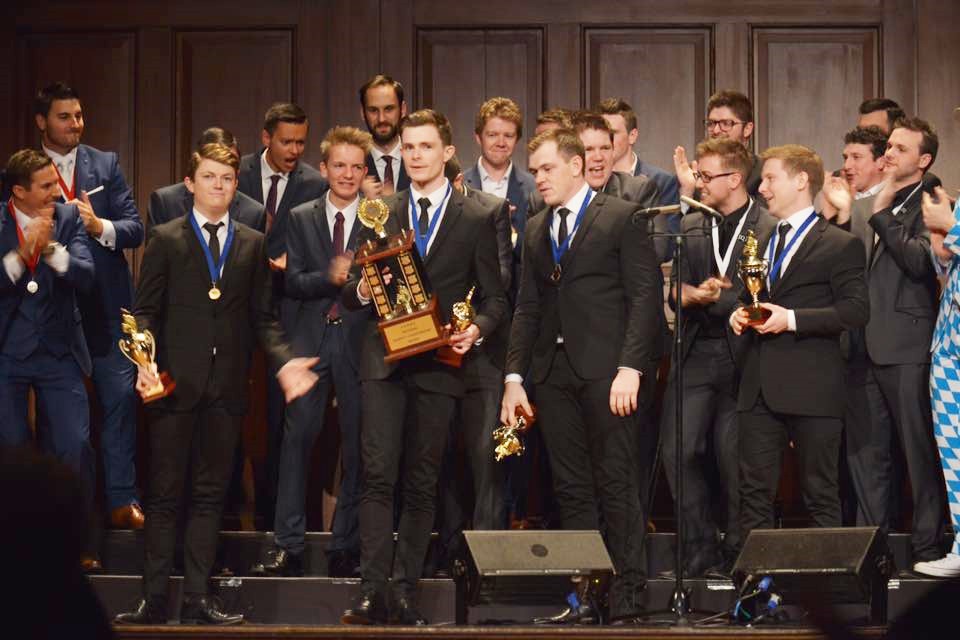 followed by Upgrade with 77.0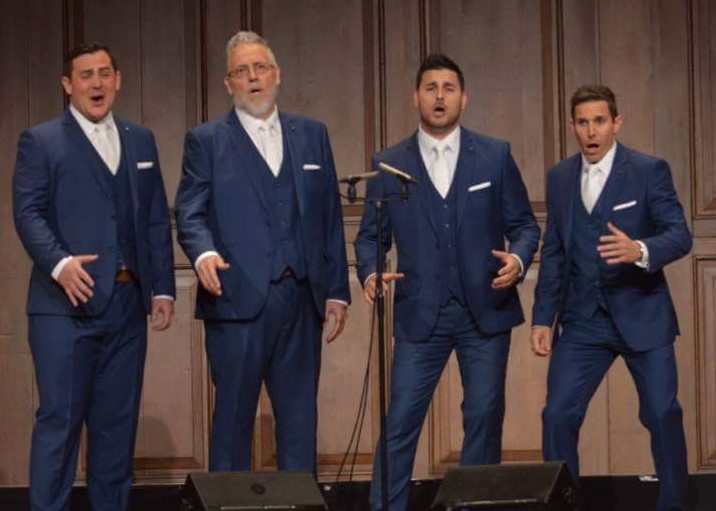 and Catalyst hot on their heels with 76.7.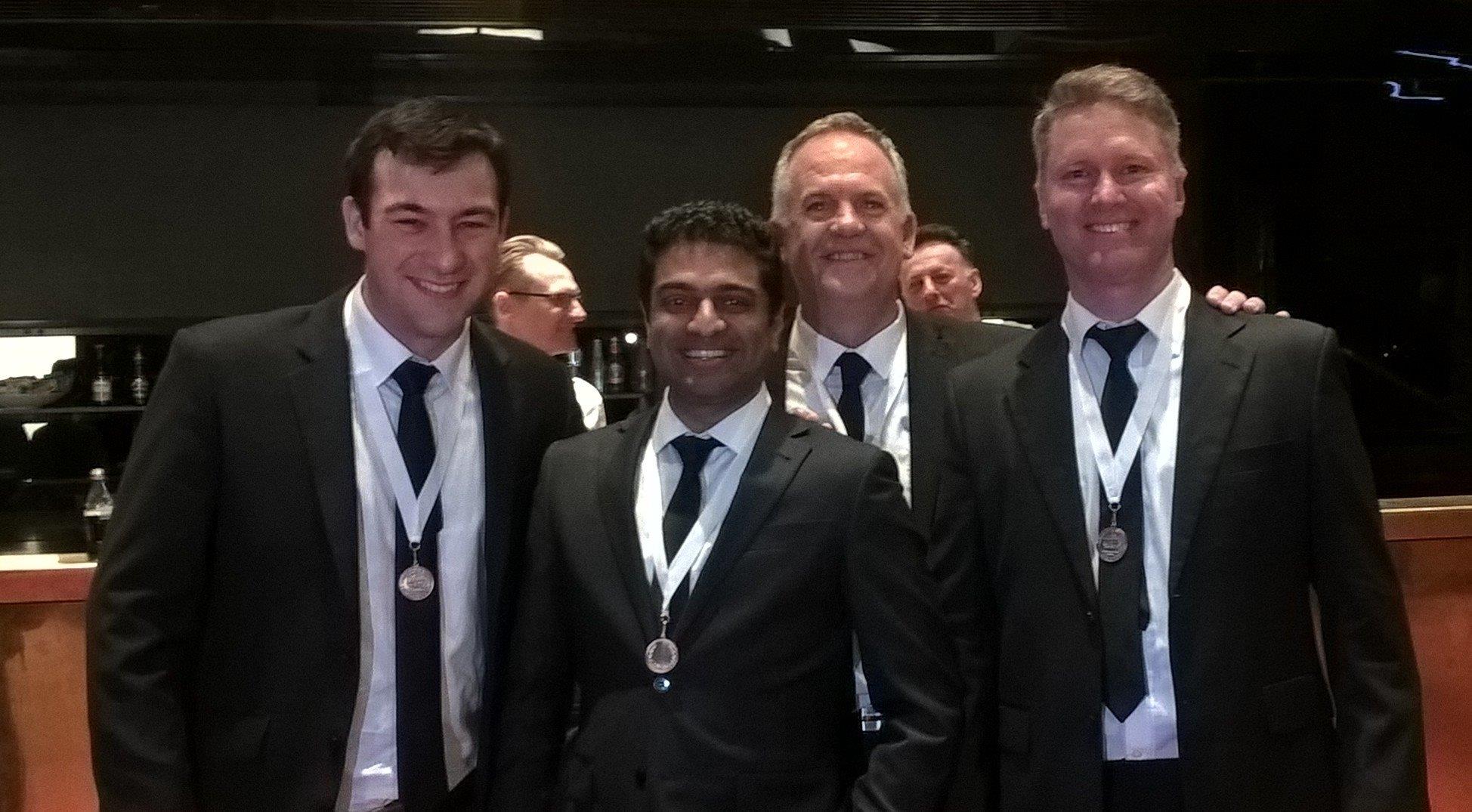 On Saturday the competition shifted to the larger auditorium in the Wests City Club just up the road from the Town Hall to accomodate the Chorus Competition. Fourteen Choruses competed with The Blenders again being the largest Chorus on the risers with sixty four singers and Sydney based Vox Canvas being the smallest with just nine singers.
As with the quartets, the current Gold Medal Chorus, Sound Connection were unable to compete this year under new BHA rules.
The Open Chorus Gold medal was taken out by Vocal Evoution, who also won the Large Chorus Award, with a score of 79.8 closely followed by the Festival Statesmen, who also won the Medium Chorus Award, with a score of 78.5 and The Blenders with a score of 76.6. The Small Chorus Award was won by Vox Canvas with a score of 64.8. The Most Improved Chorus Award was won by Hills Harmony who also took out the Mature Age Chorus Award with a score of 65.8 and a score improvement from last Convention of 5.75. A full listing of scores can be found on the BHA Website under the Conventions/Contest Scores tabs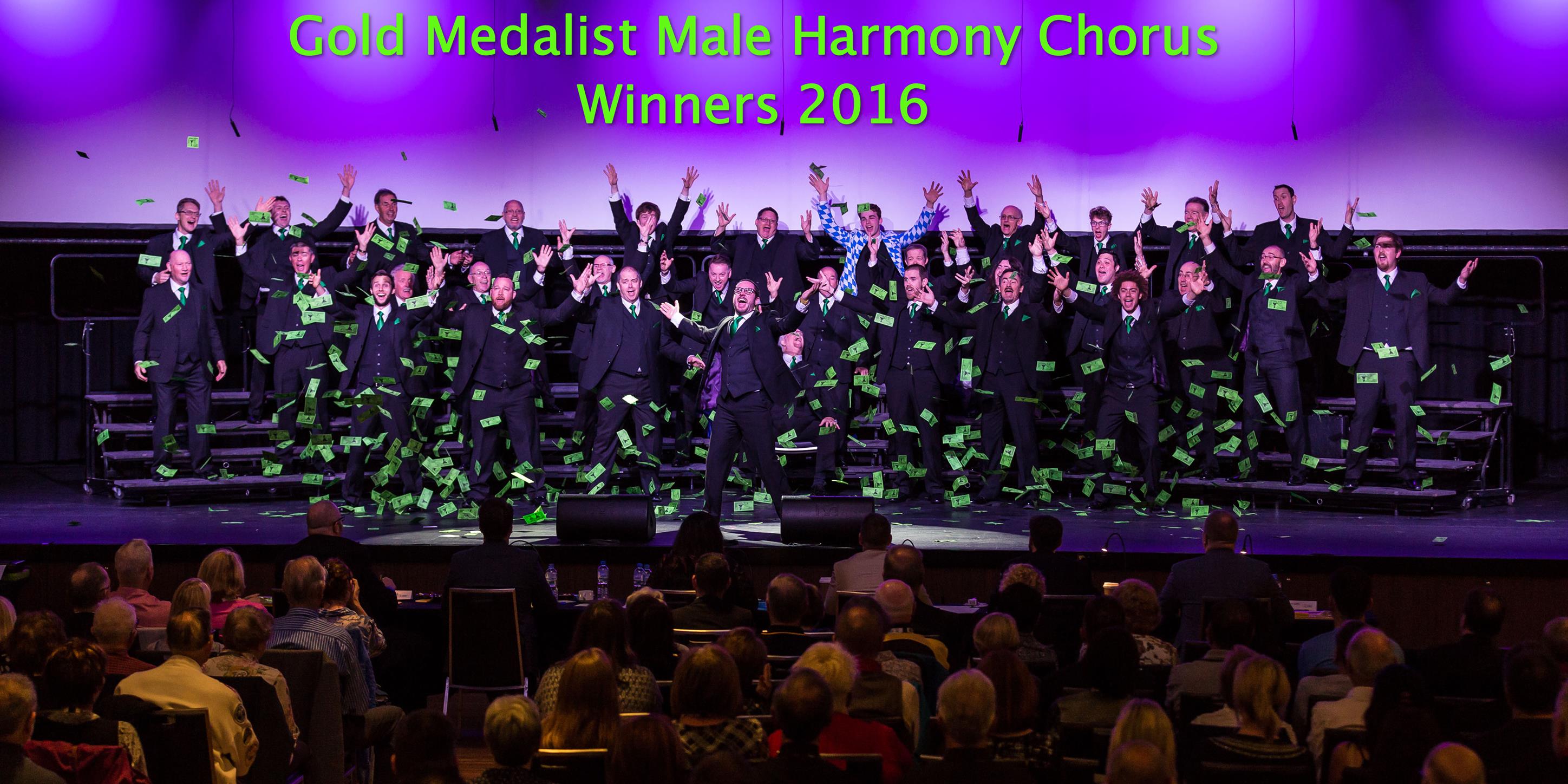 ---
A Successful Convention
| | |
| --- | --- |
| Type of post: | News |
| Sub-type: | No sub-type |
| Posted By: | Dick Bushell |
| Status: | Current |
| Date Posted: | Sun, 23 Oct 2016 |
Well, didn't we have a great time in Newcastle? What a great Convention! A huge vote of thanks to Keith Thornton, Trevor Rootes, Brian Bleakley and the team from Novatones and Eastern Region. And our visitors from the USA – Forefront – Drew, Kevin, Aaron and Brian, and our judges – Steve, Joe, Dusty and Tony – a nicer bunch of blokes you'll never meet, not forgetting Henrietta and Michael from New Zealand, and Linda and Vicki from Australia!

Congratulations to all who competed. Your contribution to the festival atmosphere was greatly valued. We had four fun filled days of harmony at the highest level.

And now, on with the show! Next year's Convention is already creeping us on us with the special deal of being a PanPac, and featuring quartets and choruses from New Zealand, Japan, west coast USA etc. We're really looking forward to being in the brand new Sydney Convention Centre at Darling Harbour, which should be a blast.

Your Council continues to work behind the scenes for you. Every Councillor had a role in running the Convention, or assisting in some way, and we're also working to make our organisation run smoother and more efficiently for every member's benefit.

A few Council decisions and actions of late, which you may be interested in were the approval of a Code of Ethics, a Policy on International Subsidies, application for Deductible Gift Recipient (DGR) status for BHA (still in progress), Life Membership Criteria, Champions Code of Conduct – "What Do We Expect of You?", and modifications to Standing Orders concerning contests, to name a few.

We held a well-attended BHA Forum in Newcastle, and the topics covered included: the cost of the welcome dinner and the quality of food served, associate members (i.e. females) being able to sing in mixed groups, the size criteria for chorus awards (currently 16 and less = small, 17-30 = medium, >30 = large), the excellence of the judges and evaluations, sharing ideas complied from Club of the Year entries and sharing these with all Clubs, marketing of barbershop (and BHA) to schools, coaching next year, leadership training for Clubs and MDs, the concept of a "festival" rather than a "convention", availability of Council meeting minutes to members, music copyright and publishing issues, World Voice Day and World Barbershop Quartet Day, communication with members at large, and arrangement of a modern song to become a polecat. While the Council answered a lot of the questions at the Forum, we will follow-up some. In addition, in the next edition of In Harmony we will give a fuller account of the Forum, the topics discussed and the answers provided.

Sing-cerely,

Ian Mulholland
President
---
Sydney takes up the Challenge
| | |
| --- | --- |
| Type of post: | News |
| Sub-type: | No sub-type |
| Posted By: | Dick Bushell |
| Status: | Current |
| Date Posted: | Sun, 9 Oct 2016 |
The symbolic Pitchpipe was recently passed on at the Newcastle Convention farewell luncheon by Novatones President, Brian Bleakley to Hills Harmony President, Dick Bushell who was representing the three Sydney Clubs, Sydney Harmony, Hills Harmony and Penrith Harmony who will be co-hosting the Convention in Sydney next year. "This is going to be a big Convention as it will not only be a PanPacific Convention but also the National Competition for both Australia and New Zealand" said Dick. "We have some big shoes to fill as the Newcastle team have done a fantastic job but with the resources of our three clubs led by Keith Thornton, the dynamic BHA VP for events, I am sure you are in for a great convention".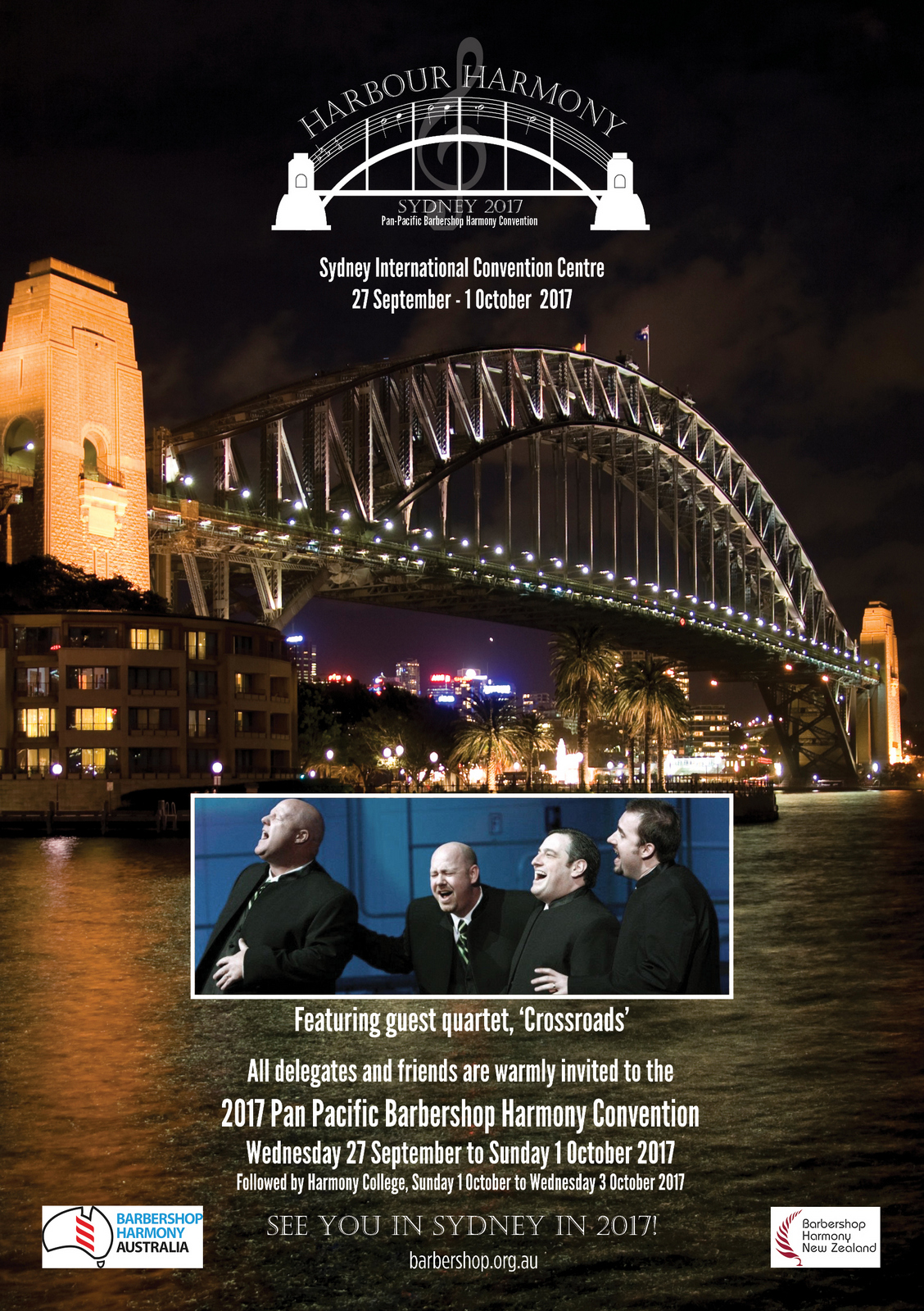 ---
Young Singers in Harmony Festival
| | |
| --- | --- |
| Type of post: | News |
| Sub-type: | No sub-type |
| Posted By: | Dick Bushell |
| Status: | Current |
| Date Posted: | Sun, 23 Oct 2016 |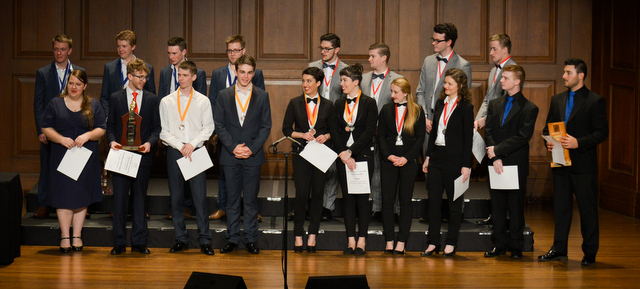 Our youth members brought a great deal of energy, enthusiasm and quality to our recent Newcastle convention.

Overall, there were nine quartets and two choruses contesting in both the youth and open events.

In addition to contests, youth joined the Combined Youth Chorus that performed at our Welcome Dinner and at the Youth Concert. No doubt this was the best combined chorus to date. Thanks to Jonathan Bligh, Jono Albertini and Lionel Pierson. Forefront also held a separate workshop with the chorus.

Youth members also had the opportunity of working with David Holst a member of the Swedish quartet Trocadero, the 2015 international collegiate contest winners.

Finally, the Youth Concert attracted a large crowd of delegates on the Friday morning. It was a great celebration.

Trevor Rootes - BHA VP Youth

Photo courtesy of Genik
---
Newcastle Videos now available for viewing
| | |
| --- | --- |
| Type of post: | News |
| Sub-type: | No sub-type |
| Posted By: | Dick Bushell |
| Status: | Current |
| Date Posted: | Mon, 24 Oct 2016 |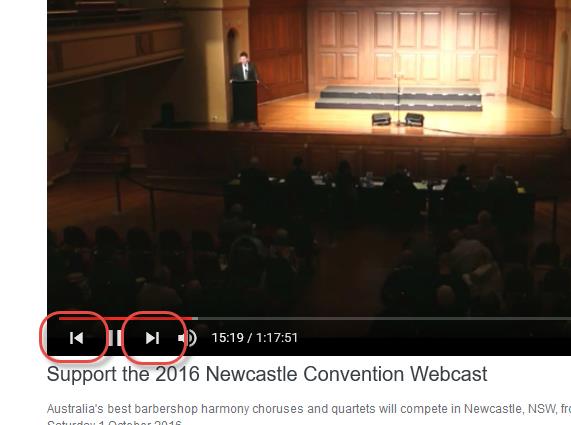 The Webcast videos taken during the various performances at Newcastle have now been uploaded to YouTube and are available for viewing.
They can be viewed by either Clicking on the embedded link in the Webcast page of the Convention website https://www.barbershopconvention.com.au/Webcast and using the >> and << buttons as shown to navigate between the various videos.
Alternatively, the separate YouTube addresses are listed below.



Quartet Semi-Finals – Session 1 https://www.youtube.com/watch?v=uPfxT9zJ-qs
Quartet Semi-Finals – Session 2 https://www.youtube.com/watch?v=Ya8-9U4pI5E
Quartet Finals https://www.youtube.com/watch?v=Jp7nKHzwmWI
Chorus – Session 1 https://www.youtube.com/watch?v=BpC8CpkyHxE
Chorus – Session 2 https://www.youtube.com/watch?v=3XzfxZyz55U
Chorus – Session 3 https://www.youtube.com/watch?v=4y-Fm0SYlho
Chorus – Session 4 https://www.youtube.com/watch?v=JBwbSlaQnUM
Showcase – Session 1 https://www.youtube.com/watch?v=15QRdlOqqU4
Showcase – Session 2 https://www.youtube.com/watch?v=rZ7OBhKpoJI

The following schedule may help you to locate a specific performance.

---
A Barbershop success story
| | |
| --- | --- |
| Type of post: | News |
| Sub-type: | No sub-type |
| Posted By: | Dick Bushell |
| Status: | Current |
| Date Posted: | Sun, 23 Oct 2016 |
AUSACA is a well-established annual A Cappella event conducted in Melbourne by Vocal Australia.
In September, barbershop ensembles were successful in the finals with Festival Statesmen Chorus (mini) taking first prize in the League Division. They also won the award for the best contemporary song.
Individual awards for members of Festival Statesmen went to Jono Webb for best soloist, and Daniel Maley for best vocal percussion.
Topping off the success of barbershop in the finals was Hi-Jinx, the champion Sweet Adelines Adelines quartet, who won second prize. Hi-Jinx also received the award for the best barbershop song.
Also, congratulations to Blenders Chorus director Jono Albertini who took his mixed Griffith University group Serotonin to the finals of the University Division.

Trevor Rootes
BHA VP Youth

---
Voices in Paradise 2016 Christmas workshop and concert
| | |
| --- | --- |
| Type of post: | Youth news |
| Sub-type: | No sub-type |
| Posted By: | Dick Bushell |
| Status: | Current |
| Date Posted: | Sun, 23 Oct 2016 |
It is now just seven weeks until the next Voices in Paradise workshop and Concert.

For further details on how to register visit the Voices in Paradise website at http://www.voicesinparadise.com.au
---
Andy Aberle and thirty one years of Barbershop
| | |
| --- | --- |
| Type of post: | News |
| Sub-type: | No sub-type |
| Posted By: | Dick Bushell |
| Status: | Current |
| Date Posted: | Sun, 23 Oct 2016 |
BHA President, Ian Mulholland speaking at the function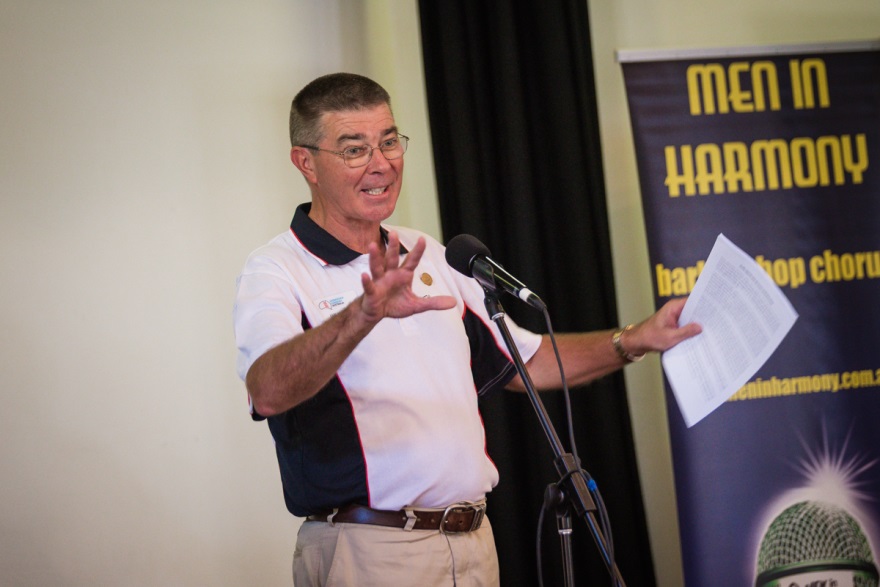 A function was recently held to farewell Andy Aberle, BHA and Men In Harmony Life Member, who has retired from active barbershop singing after 31 years and at almost 92 years "young". Andy is our oldest active BHA member.

Many of you will know Andy. He was one of the founders of AAMBS (now BHA) and was Convention Chairman for the 1993 and 2003 Perth Conventions. Andy was also a talented show producer, and was a stalwart in that capacity for Men In Harmony for many years.

BHA Life Member, Bruce Okely, speaking at the function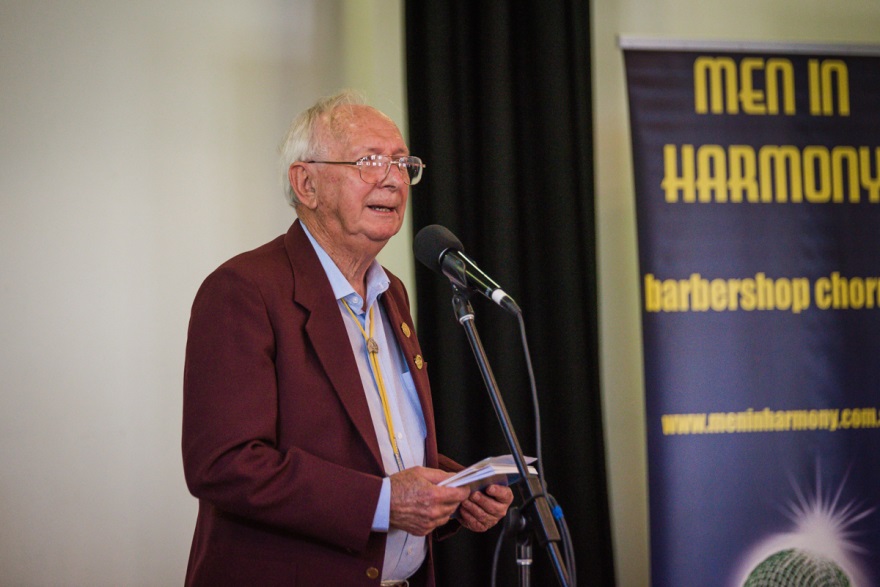 The function gathered together as many of Andy's past and current barbershop buddies as could be mustered and was a special occasion for all. Speeches were given by BHA President and Life Member, Ian Mulholland, and AAMBS Founder, inaugural Secretary and BHA Life Member, Bruce Okely. They reminisced about Andy's time in barbershop and entertained the assembled throng with stories of Andy's involvement.

Andy returned fire with a stirring rendition of the Sir Arthur Conan Doyle poem, "Bendigo" which enthralled the crowd. In his speech Andy said that he only started barbershop singing when he retired from full-time work. He remembered the start of AAMBS back in 1985 and the book he wrote "The First Twenty Years of AAMBS, 1985-2005". After the event Andy spent some time signing copies of his book for his adoring fans. Andy also gave recognition to his wife Gwen, who has always supported him in his barbershop activities.

It was a wonderful afternoon, and while we will miss Andy singing with us on the risers, we're sure he'll still be coming to concerts and barbershop events in the future. We wish Andy well in his retirement from retirement.
Andy giving his return speech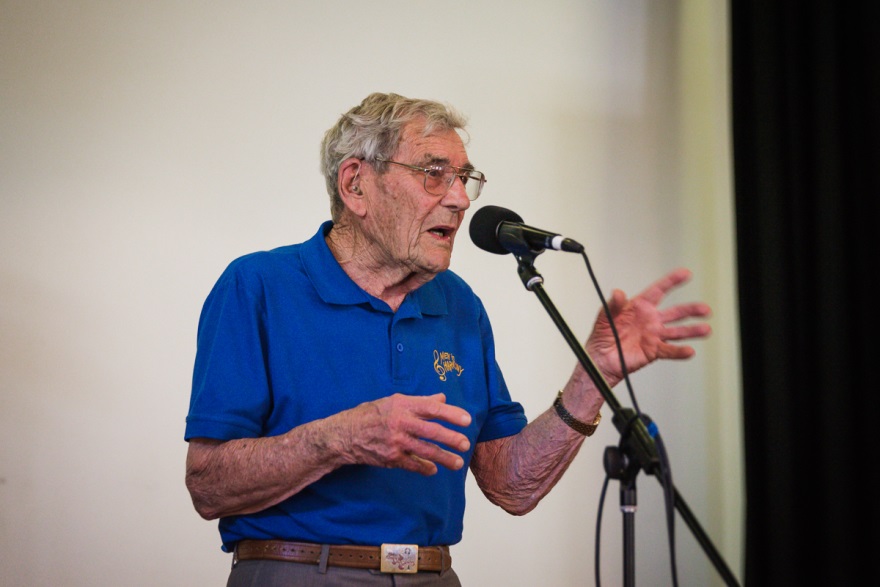 The assembled throng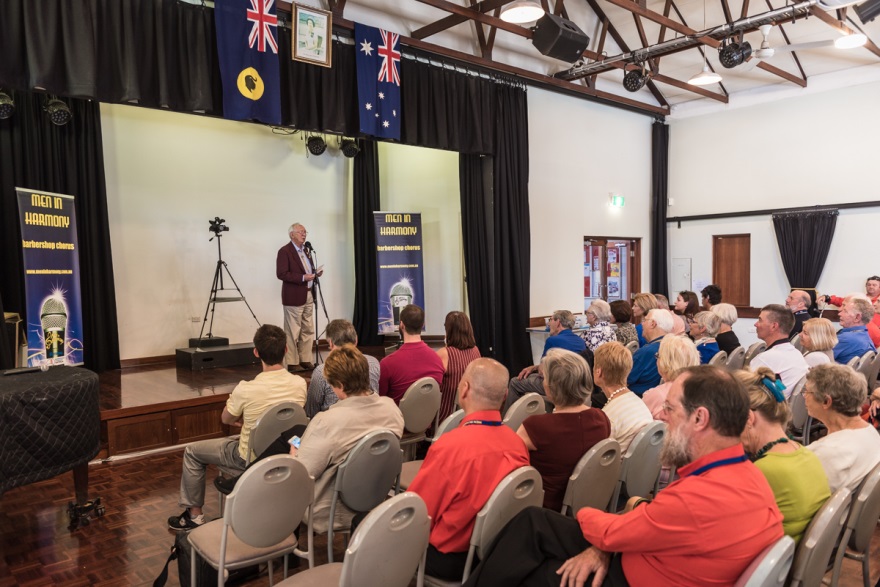 ---
Reflections on attending the BHS Judging Category School - Nashville July 2016
| | |
| --- | --- |
| Type of post: | News |
| Sub-type: | No sub-type |
| Posted By: | Dick Bushell |
| Status: | Current |
| Date Posted: | Sun, 23 Oct 2016 |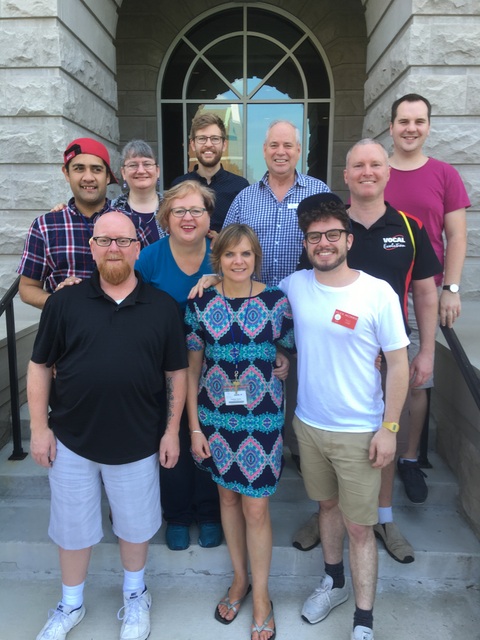 In July I was fortunate to be invited to attend category school at Belmont University, Nashville along with a small contingent of AGBJ members. Being the only Contest Administrator, I joined my BHS and Harmony Inc counterparts as we spent several long days (8:30am – 10pm) discussing and sharing our challenges and learning from each other about how contests are facilitated. I was invited to share with the class the AGBJ experience and to discuss the differences in how we operate and what roles CA's have in Australia and New Zealand. We certainly do way more in the preparation and planning for a contest than the CA's do in USA. I am grateful for the grant assistance that I received towards the cost of attending the school from BHA. Some of the learnings have already been enacted with the recent BHA and BHNZ contests and will be incorporated into the forth coming regional events. As with any barbershop gathering, there is lots of fun singing, fellowship and of course ice-cream.
Linda Vinall CA CS

Photo : front row L-R: Dan Millgate, Charlotte Murray, Alex Morris Second row: Matt Gifford, Linda Vinall, Richard Reeve, third row: Sarah Bradley, Andrew Carolan, Eddie Klimowicz, Michael Markham
---
Welcome to our new members
| | |
| --- | --- |
| Type of post: | Club news |
| Sub-type: | No sub-type |
| Posted By: | Dick Bushell |
| Status: | Current |
| Date Posted: | Mon, 24 Oct 2016 |
The following members have recently joined Barbershop Harmony Australia. Please make them welcome.
| | | |
| --- | --- | --- |
| Brian | Dye | Central Coast Barbershop Chorus Inc |
| Owen | Stygal | Sydney Harmony |
| Dennis | Broadby | The Blenders Chorus |
| Michael | Fernandez | The Blenders Chorus |
| Marton | Erdos | The Blenders Chorus |
| Noel | Grummit | The Blenders Chorus |
| Lila | Raudenheimer | The Baden Street Singers |
| Bronwen | Herholdt | The Baden Street Singers |
| Andrew | Beckitt | Sound Connection |
| Alex | Garins | Sound Connection |
| Albert | Chow | Melbournaires Barbershop Harmony Chorus |
| Joel | Cini | Melbournaires Barbershop Harmony Chorus |
| Greg | Franklin | Melbournaires Barbershop Harmony Chorus |
| Brian | Chung | Sydney Siders Express |
| Brian | Jeffery | Sydney Siders Express |
---
Letter to the Editor - Organise your sheet music
| | |
| --- | --- |
| Type of post: | Club news |
| Sub-type: | No sub-type |
| Posted By: | Dick Bushell |
| Status: | Current |
| Date Posted: | Sun, 23 Oct 2016 |
If your Musical Director's words, "And now we're going to look at ..." is generally followed by a flurry of activity as people search frantically for the sheet music, negotiate a loan or arrange themselves so they can look on to someone who can find the right sheet, then it might be time to look at how you arrange your sheet music.

Perhaps you could rearrange your sheet music with your current repertoire in one folder arranged alphabetically. This works brilliantly until you introduce a new song. Plastic sheaths are great for protecting your music, but makes it difficult to add notes. I'd suggest, forget the plastic sheets, just don't rehearse in the rain or while eating. I've tried a few sheet music filing systems. This is my most successful yet.
You will need:
A two hole punch

D-Ring folder

A spreadsheet

A printer

A stapler
Filing:
Step 1: File each stapled arrangement into the D-Ring Folder
Step 2: Number each arrangement as close to the top right corner as possible with it's position in the folder. I put a circle around the number to make it easier to find.
Step 3: Enter one line in the spreadsheet for the arrangement you've file ie:
number – title – some keywords to reflect the genre etc
| | | |
| --- | --- | --- |
| Nr | Title | Keywords |
| 1 | Rudolph the Red Nose Reindeer | Christmas |
| 2 | Wild Irish Rose | Pole cat |
Repeat step 3 until you've either filed all your music or filled the D-ring, in which case start a new D-ring file.
Step 4: Alphabetically sort your spreadsheet. In most cases, highlight the rows (excluding the title) then choose from the menu bar select data-sort.
Step 5: Print your index and add it to the front of your D-ring folder.

Finding Music:
At rehearsal: Scan the alphabetically sorted printed index for the song you're looking for. The number to the left will give you the exact position in the folder.

If you have thousands of arrangements in your sheet music repository and you are searching for particular arrangements, Open your spreadsheet and search (CTRL-F) for title or genre key words.
Adding Music:
To add music to your sheet music repository, just scribble on your index sheet until such time as it gets untidy, then update your spreadsheet (remember to re-sort) and reprint your index.

For the tech-savy, in the field two below your last entry, enter '=max(' then with the mouse highlight the column above (excluding the heading), then close the bracket with ')' and press enter. It means you'll always know what the next number should be. You don't NEED to do this because the next number will be the top of your D-ring folder + 1, but it's nice to have a cross reference to make sure you've remembered to put the top sheet back.
| | | |
| --- | --- | --- |
| Nr | Title | Keywords |
| 1 | Rudolph the Red Nose Reindeer | Christmas |
| 2 | Wild Irish Rose | Pole cat |
| | | |
| xxx | <-last number added | |


Robin Vysma - Western Melbourne Men's Chorus
Director of Membership and Audience Development
---
SOME IMPORTANT DATES FOR YOUR DIARY
| | |
| --- | --- |
| Type of post: | News |
| Sub-type: | No sub-type |
| Posted By: | Dick Bushell |
| Status: | Current |
| Date Posted: | Mon, 24 Oct 2016 |
2017 Regional Conventions
Central Region – Saturday, 22 April 2017
Sunshine Region – Saturday, 22 April 2017
Victorian region – Saturday, 29 April 2017
Eastern Region – Saturday, 06 May 2017
Western Region – Saturday, 13 May 2017
Tasmanian Region – Saturday, 13 May 2017

(NB : could the organisers of each of these events please ensure full details are listed on the BHA Events Calendar)

2017 PanPacific Convention - Sydney - 27 September to 1 October 2017

BHA Schedule of Events
Make sure you list all your public events on the BHA schedule of events located on the BHA website.
https://www.barbershop.org.au/dbpage.php?pg=events
You can do this either by getting your webmaster to tick the appropriate box on your own listing of the event on your Harmonysite website or by emailing Jeannie Hattendorff on admin@barbershop.org.au

If you do this it will give more profile to your event and, even if we can't attend, let all our members know what your Chorus or quartet is up to.
---
PRINTING THIS NEWSLETTER
| | |
| --- | --- |
| Type of post: | Club news |
| Sub-type: | No sub-type |
| Posted By: | Dick Bushell |
| Status: | Current |
| Date Posted: | Thu, 16 Feb 2017 |
There is a Printable Version option at the head of the email distributing this Newsletter as well as with the Newsletter listed on the BHA Website under the Newsletter Heading.

Previously it was necessary to print the Newsletter and the Club and Quartet News separately but since publishing this Newsletter in has been modified to now enable the whole Newsletter to be printed as a single document.

Click on the following

link

to take you to this New single document format. Just use your browser print function to print the document.

Dick Bushell
In Harmony Editor
editor@barbershop.org.au
---
CONTACT THE EDITOR
| | |
| --- | --- |
| Type of post: | Club news |
| Sub-type: | No sub-type |
| Posted By: | Dick Bushell |
| Status: | Current |
| Date Posted: | Sat, 17 Dec 2016 |
If you have any feedback or queries regarding this Newsletter please direct them to
editor@barbershop.org.au. I will endeavour to answer your queries or respond to your feedback as quickly as possible.

Thanks
Dick Bushell - Editor - In Harmony Newsletter
Babershop Harmony Australia
---